CERTIFICATES

CONTACT US

Email:jackdu999@yahoo.com

Tel:+8675586718316
Phone:+86-15811882441
semi-automatic vial crimp capping machine vials ampoule bottles crimper equipment desktop pharmacy packaging
Model YX-1035
voltage 220V/50Hz
power 50w
Sealing diameter 10-35mm
Capacity 20 bottles/min
Apply bottles heigh 30-180mm
size 35*25*65cm
Net weight 26kg
Material Stainless steel
Bottles capacity 1ml-50ml

Description
This machine is mainly used in a variety of glass bottles, aluminum combination lid, aluminum lid,easy-open lid seal, not suitable for screw cap cover. Semi-automatic sealing machine,applicable to the sealing of the oral liquid bottles, vials, penicillin bottles, antibiotic bottles,
glass bottles.
1ml-50ml bayonet glass bottles, not suitable for spiral mouth glass bottles.
The whole novelty, beautiful, machine design is reasonable, lightweight.
Table and protective cover are
stainless steel manufacturing, wheel strength, wear resistance, long life,
good sealing the bottles rolled aluminum cover.
Is the most ideal for small batch production of major hospitals, pharmaceutical companies,
research and capping equipment.
Application of manual crimping machine for oral liquid vials ampoule bottles with aluminum caps Model YX-1035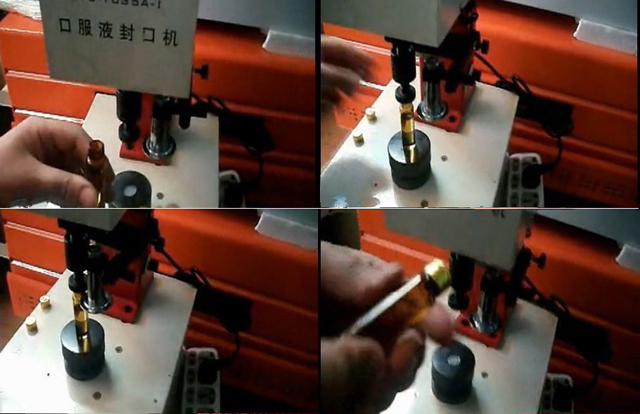 1. a bottle of good irrigation liquid and fitted lid into the next tray,
leaning against the V-shaped branch block,
hand held onto the bottle with one hand and the handle toward the down taut,
then tray care bottle lift, until the cap and rolled hijab pressed.
2, when the cap and rolled hijab pressed, the three capping of
the spinning heads rotate a few laps, the cap rolled tight.
(Note) The motor must be clockwise operation.
3, the handle forward and push the rolling good cover lid with the tray back into place,
the whole operation process is complete after each rolling a cap, repeat the above operation
Basic parameter of model YX-1035 small bottles oral liquid vials crimping machine
| | |
| --- | --- |
| Model | YX-1035 |
| voltage | 220V/50Hz |
| power | 50w |
| Sealing diameter | 10-35mm |
| capacity | 20 bottles/min |
| Apply bottles heigh | 30-180mm |
| size | 35*25*65cm |
| Net weight | 26kg |
| Material | Stainless steel |
| Bottles capacity | 1ml-50ml |
Crimping samples for vials oral solution glass bottles with aluminum caps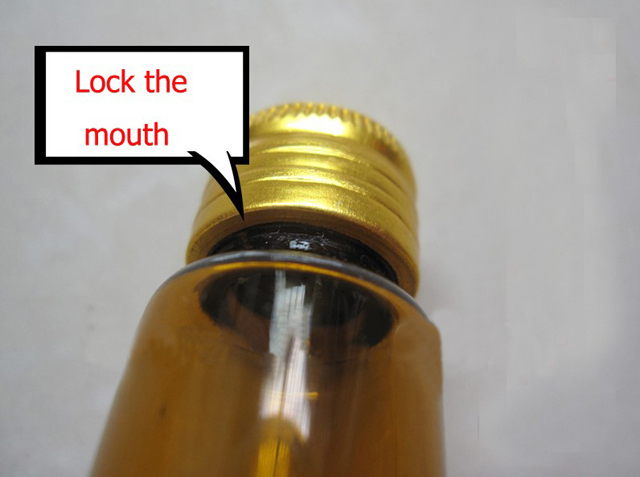 Fumigation-free wooden case packaging for manual crimping machine model YX-1035
Business terms for model YX-1035 aluminum caps crimping locker equipment for oral liquid ampoule containers