CERTIFICATES

CONTACT US

Email:jackdu999@yahoo.com

Tel:+8675586718316
Phone:+86-15811882441
perfume bottles vials ampoule aluminum caps manual crimping machine hand crimper equipment for flip off caps sealing
Model YX-MC13 YX-MC13A
YX-MC15 YX-MC15A
YX-MC20 YX-MC20A
Suited caps 13mm
AL caps 13mm
AL –PVC caps 15mm
AL caps 15mm
ALcaps 20mm
AL-PVC caps
Production capacity 24-30 bottle /min
Overall Size L*W *H=300×60×80mm Weight 1.6kg

Description
Manual Crimping Machine 13mm-20mm vial crimper vial flip off cap Crimper for flip off cap and tear off cap
Hand Crimpers are ideal for sample preparation operations. The hand crimper provides the user with a simple, but effective, and repeatable means of securely crimping aluminum crimp seals to vials and bottles.
The hand crimpers are provided with an adjustable stop, allowing the operator to repeatedly achieve a quality crimped seal. We also offer hand crimpers that have an adjustable plunger or block, for crimping vials and bottles where the stopper thickness varies.
The adjustable hand crimper is designed and built with an adjustable pressure block in the crimper head that allows the operator to adjust the overall length of stroke that the cone moves when the seal is crimped. This allows the user to obtain a tight crimp seal with a range of liners with thicknesses from 0.25mm to 3.0mm.
Feature of manual crimping machine:

1. the vial crimper is ideal for low volume crimping operations and sample preparation operations.
2. the capping is safe, credible, tight, slick, good sealing.
3. crimping machine reduced housing pumps offers a lower cost alternative to screw-on pumps, yet provides an upscale look to your finished package.

4. crimping machine is safe and practical, there is no requirement for electricity or compressed air, trouble-free operation.

5. crimping machine head is machined to precise limits, more accuracy.

Technic data for 20mm vials manual crimping machine :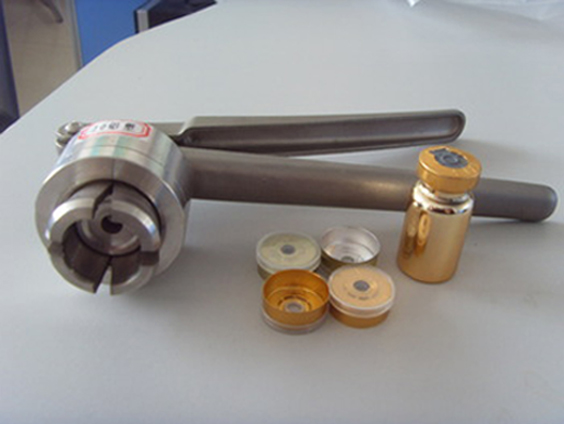 Item:stainless steel Hand Crimpers, Vial Crimping Hand Tools for aluminum-plastic cap sealing 20mm

Material: stainless steel
Used for manual crimping tool for sealing
Weight:1.6kg
Dimensions: 180mm * 120mm * 45mm
Size arrange:12.8mm-20mm
Color: Silver
Production capacity: 20-30 bottle /min
All models in technic parameters :
Model

YX-MC13

YX-MC13A

YX-MC15

YX-MC15A

YX-MC20

YX-MC20A

Suited caps

13mm

AL caps

13mm

AL –PVC caps

15mm

AL caps

15mm

AL-PVC caps

20mm

ALcaps

20mm

AL-PVC caps

Production capacity

24-30 bottle /min

Overall Size

L*W *H=300×60×80mm

Weight

1.6kg
How to use:
this machine is widely used in perfume industry, where small and medium scale production is required. If there is more production required, and if it is more human labour available, then also this machine is suitable.
1. put the spray on bottle, put the crimping head above perfume pump and hold the crimping hand tight.
2. the tool covers the spray and a pulling action of the tool is occurring during pressing the handle. This causes the perfect cap sealing to the bottle.
Crimping samples from manual crimper machine:
Besides the manual crimping machine for vials/perfumebottles crimping there are another model
for finishing the crimping process for these bottles.Below are the basic information for semi automatic
oral liquid ampoule bottles/perfume glass bottle crimping machine.
1.10-35ml oral solution hand crimp machine&manual Desktop crimping equipment for medical vials
2.small bottle capping machine perfume containers semi automatic pneumatic capper الهوائية آلة العقص
Business terms for international transaction of crimping machines YX series
♦Payment Methods♦
These payments of T/T, L/C, Western Union, MoneyGram,Paypal are accepted. If you have any problem with the payment, please leave a message to us.
♦Logistics♦
DHL, EMS and UPS, Fedex are our choices. If you prefer other reliable shipping company. Please leave a message to us.
♦Tracking Number♦
Tracking number will be informed within 2-3 work days after delivery goods. If you have any problem with it, please leave a message to us.
♦Feedback♦
Any comments, suggestions are accepted. We will be very grateful to your positive footprints left in our company. If you have any problem with our products, please leave a message to us.
♦Refund♦
Any damage or shortage of our goods when you receive your items. Please take some photos for a witness. We will deal with it in 24 hours. Frequently, we will send a new part of items for alternative and heavy-damage, Before refund is accepted, please leave a message to us.