CERTIFICATES

CONTACT US

Email:jackdu999@yahoo.com

Tel:+8675586718316
Phone:+86-15811882441
glass bottles vacuum air washing linear filling vacuum capping labeling for vegetable oil production fully automatic fill line
The Vegetable oil filling line including three parts :
1.model YX-VW02 glass bottles washing machine
2.model YX-5030 oil filling machine 4heads
3.model YX-160B vacuum capping machine
4.model YX-630A round bottles labeling machine


Description
The Vegetable oil filling line including three parts :
1.model YX-VW02 glass bottles washing machine
2.model YX-5030 olive oil filling machine 4heads
3.model YX-160B vacuum capping machine
4.model YX-630A round bottles labeling machine
The fully automatic filling line can be customized according to customer's requirements and the samples
offered by the buyer .As below there listed the basic information for this fully automatic filling line for food industry:
►glass bottles air washing machien vacuum washer equipment model YX-VW02
it is an automatic bottle washing machine by air. the capacity depends on air washing nozzles.
Air compressor transport the air inside the vacuum container, gas through the solenoid valve and the ion generator was been purified,
the tracheal gas shampoo blow gas into bottles through the gas wash mouth, blow foreign out from gas wash mouth by the pressure of gas,
back tracheal exhausted waste gas to the outside through emission control.
| | | | |
| --- | --- | --- | --- |
| 1 | Control panel | 2 | Bottles |
| 3 | Belt for feeding bottles | 4 | Sensor for bottles feeding |
| 5 | bottles-fixing structure | 6 | Rinsing injet |
| 7 | Electrostatic Tuyere | 8 | Bottles fixing point |
| 9 | Belt for output of bottles | 10 | Guide bar |
Basic parameter of model YX-VW02 rotary air washing machine automatic for glass bottles:
-Model YX-VW02
-Suit to bottle: 20-1000ml
-Production Capacity: 8 cleaning nozzles: 3600~4800bph
-Air pressure range: 6~8kg/cm2
-Air consumption: 25m3/h
-Power supply: 220V 50/60Hz
-Power consumption: 0.75Kw
-Single machine noise: ≤70dB -Purified air: 0.2μm
-Cleaning time: 3~5s -Net weight: 350kgs
-Overall dimension: 1200 x 800 x 1600mm
►Oil filling machine 4 heads linear filler model YX-5030 Automatic inline olive filling machine with four nozzles

The 4heads olive filling machine,controlled by the microcomputer,combines the photoelectricity with pneumatic operation,
thus widely is applied for the liquid filling of the agriculture chemical、solution、liquid detergent、cosmetic as well as olive.
The filling volume is precise,foamless and stable.The machine can fill the liquid with the range from 25-1000ml,
meanwhile there is no special requirement on the shapes of bottles.That is to say,
it can fill the liquid for the normal bottles as well as the irrugula-shaped bottles.

Model YX-5030
Filling range 50~3000ml
Filling speed  <20-30b/m(for 500-1000ml liquid)
Accuracy ±1%
Power/suppy power 0.8kw、220v
Working pressure  5~6kg/cm3
Air consumption  0.5-0.7mpa
N.W 500kg
Outer dimention 2000×800×1900mm
Mark:The filling nozzels can be designed and manufactured according to requirements from customers on the filling range and filling speed
►Linear vacuum capping machine model YX-160B jars capper equipment:
This linear capping machine is researched and developed by our company with years of experience,
it is unique in domestic .Integrated automatically cap arranging with covering, vacuum capping.
Adopted manual vacuum pump to achieve high vacuum. With the functions of no bottle no covering,
alarming when no caps are available. Enjoyed high automation. The main pneumatic and electric parts are from world famous brands.
With stable and reliable performance. It is widely used for vacuum capping of the Glass Jars with iron caps
in the industries of canned food, beverage, seasoning, health care products etc.

Main technical parameter of three heads vacuum capper linear capping machine for glass jars:
Power: ≤2.3KW(including the vacuum pump)
Production capacity: 50-60BPM
Cap diameter: ¢30-¢55mm ¢50-¢85mm
Bottle height: 80-250mm
Bottle diameter: ¢30-¢85mm
Max vacuum: -0.08mpa
Capping torsion: 5-20N.M
Air consumption: 0.6M3/0.7Mpa
Machine dimensions: about3000×1000×1900mm
Weight: about 850kg
►round bottles jars labeling machine automatic model YX-630A
Application: require circumferential surface of the membrane attached label or product.
Industry: Widely used in food, medicine, cosmetics, cosmetic, electronic, metal, plastics and other industries.
Application: PET round bottle labeling, labeling plastic bottles, canned food and so on.
Basic parameter of model YX-630A labeling machine:
Suitable label length (mm): 20mm ~ 314mm
Applicable Label width (backing paper width / mm): 15mm ~ 150mm
Applicable Products diameter (for round bottle) and height: diameter: φ25mm ~ φ100mm
Height: 25mm ~ 230mm
Applicable standard roll diameter (mm): φ280mm
Applicable standard roll diameter (mm): φ76mm
Labeling accuracy (mm): ± 1mm
The standard speed (m / min): Servo: 5 ~ 25m/min Stepping: 5 ~ 19m/min
Labeling speed (pcs / min): Stepping: 30 ~ 80pcs/min (with the bottle and label size)
Servo: 40 ~ 120pcs/min
Conveyor speed (m / min): 5 ~ 25m/min
Weight (kg): about 185kg
Frequency (HZ): 50HZ Voltage (V): 220V
Power (W): 530W (traction stepper) 980W (traction servo)
Device dimensions (mm) (L × W × H): 1950mm × 1100mm × 1300mm
Glass jars bottles for the washing-filling-capping-labeling line
Wooden case packing for PENGLAI machines:
After-sales service for filling line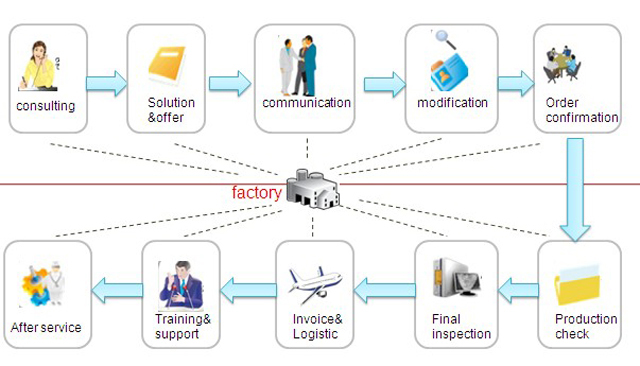 We guarantee the quality of the main parts within 12 months. If the main parts go wrong without artificial
factors within one year, we will freely provide them or maintain them for you. After one year, if you need
to change parts, we will kindly provide you with the best price or maintain it in your site. Whenever you
have technical question in using it, we will freely do our best to support you.
Guarantee of quality :
The Manufacturer shall guarantee the goods are made of Manufacturer's best materials, with first class workmanship,
brand new, unused and correspond in all respects with the quality, specification and performance as stipulated in this Contract. Quality guarantee period is within 12 months from B/L date.
The Manufacturer would repair the contracted machines free of charge during the quality guarantee period.
If the break- down can be due to the improper use or other reasons by the Buyer, the Manufacturer will collect repair parts cost.
Installation and Debugging:
The seller would dispatch his engineers to instruct the installation and debugging. Cost would be bear on
buyer's side (round way flight tickets, accommodation fees in buyer country).The buyer should provide his site assistance for the installation and debugging.