CERTIFICATES

CONTACT US

Email:jackdu999@yahoo.com

Tel:+8675586718316
Phone:+86-15811882441
East Europe Bosnia and Herzegovina for liquid filling machines semi automatic soft tubes filling sealing
Published by: PENGLAI INDUSTRIAL CORPORATION
Date:2014-01-08 17:34:47
On monday this week we test the machine liquid filling with hand for our customer from East Europe Bosnia and Herzegovina who placed the order about filling machine sealing as well as tube filling sealing. here the video shows the operation of liquid filling equipment one from five for the small filling machinery.
below is the basic description of filling sealing machines for cream lotion as well as water:
1.plastic soft tubes paste cream liquid filling sealing machines semi automatic
plastic soft tubes paste cream liquid filling sealing machines semi automatic أنبوب ملء آلة الختم designed and manufactured by our engineer team in cosmetic&food&pharma making and packaging machinery is widely used in the daily chemical industry like plastic soft tubes paste cream liquid filling sealing machines semi automatic أنبوب ملء آلة الختم and such like.We as a famous manufacturer moreover can design and produce the packaging machine according to the special requirements from customers.
Below is the basic information about tubes filling sealing machinery semi automatic tested for customer from east europa Basonia Mr Ante.
The filling and sealing machine is used mainly to fill liquid material into various kinds of tubes like plastic laminated or aluminum ones with fixed quantity and seal the tube .
It is widely used for the packing of products of pharmaceutical, foods, and chemical industry .
Working process: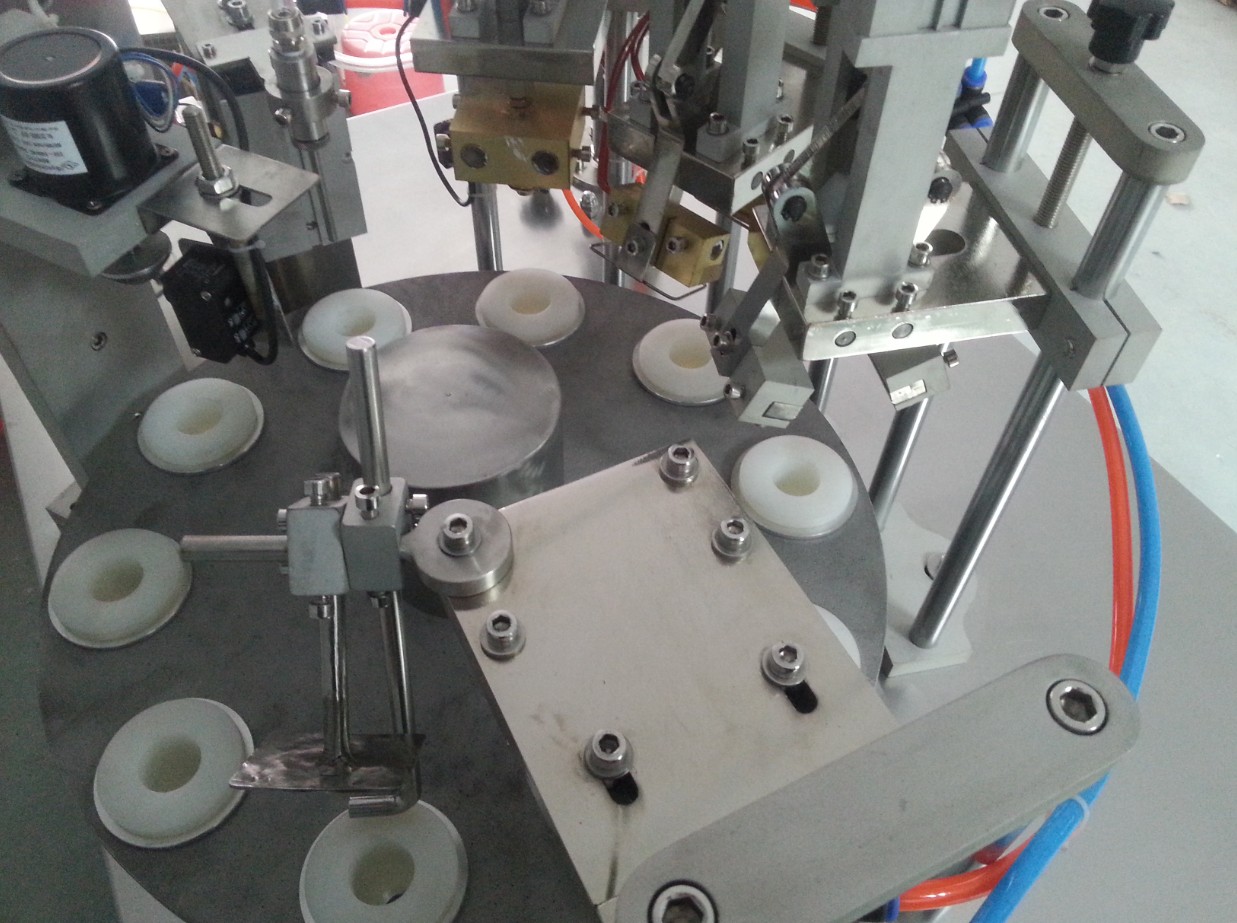 Manually put the metal tubes into the tube-holding base. Change angular potion of each tube by means of mechanical transmission. Photoelectric device is used to
detect the position of tube and if there is any tube in right position, the filling system starts to fill the tube with fixed quantity. The tube will then be dual-sealed, and with a number printed on the surface the tube is finally ejected.
Features of plastic soft tubes paste cream liquid filling sealing machines semi automatic أنبوب ملء آلة الختم :
The machine, with a controllable filling volume or quantity, is featured with a reliable performance performance. The machine is suitable for the filling of metallic tubes
of any type because the tube-holding base can be easily replaced in purpose. A perfected and reliable sealing can be reached. The parts which touches material is made
of stainless steel.
Specification of Tubes filling sealing equipment semi automatic:

1. Power Supply: AC220V±10% 50HZ
2. Work Temp: 5-50ˇć
3. Filling Quantity: 5-30 5-75 30-150g 100-200g
4. Quantity Error: less than 2%
5. Motor power: 0.75~1.1kw
6. Compressed Air :pressure0.6~0.7Mpa Volume: 0.2m³/min
7. Capacity: 10~50tube/min adjustable
8. Dimension: 1500mm×1200mm×1700mm
9. Weight: 300kg
2.magnetic pump liquid filling machine semi automatic in high precision:
the trial run of operation of high precision liquid filling machine semi automatic:
1.pump and motor use Japanese import brand, timing control uses OMRON,
2. Pump head of the magnetic pump filling machine is made by 316L stainless, with acid
proof,anticorrosive,wildly used and suitable for any kinds of liquid, especially it used for oils,washing liquid ,Acid and Base liquid ,
high corrosive fluid.

3. Use inverter operate, keep high filling accuracy.
4. gear pump driven by magnetic.
5.The filling time,can be accurate to 0.01 second, so as to ensure the filling accuracy, the error is less than 2%.
6.The material mouth can be extended,the tubed flap can be moved ,the machine can meet 5ml-2000 ml filling capacity requirements,
it not restricted by the filling capacity.
7.You can operate the machine by hand or pedal ,Automatic intermittent filling, intermittent time can be adjusted.
This magnetic pump filling machine is a new-style filling machine adopted high precision Mini magnetic pump,
rotate speed and time to measure volume.
technical parameters of Magnetic Pump Filling Machine for pharmaceutical liquid: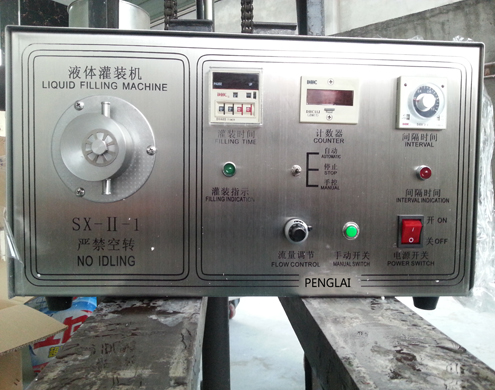 Model YX-I
Volt 220V 50/60Hz 40W
Filling range 5ml-500ml
Filling accuracy less than ±0.6%
Size 350×320×190mm
N.T. 23 KG
3.liquid filling equipment hand for cream lotion as well as water hand liquid filler semi automatic:
The YX-A manual filling machine is specially designed for medium or small size interprises, laboratory,hospital or beauty parlor in daily use chemical section.
Its configuration is compact,acts agility and easy to use,all the parts which dip in the materiel are made of stainless steel and PTFE.
Basic Parameters of YX-A manual liquid filler:

Filling range 5-70g Meansuring accuracy 1% Hopper capacity
Gross weight after packaging 20kg Dimention 270x270x700mm
Packaging pictures about our machine exported
Guarantee: for all the machine, it claims three years for guarantee.(Excluded from the warranty are problems due to accidents, misuse , misapplication, storage damage, negligence, or modification to the Equipment or its components. ALSO THE EASY BROKEN SPARE PART IS NOT INCLUDED IN THE GUARANTEE)
Installation: after the machine arrive your factory,if you need,our technician will go to your place to install and test the machine and also training your worker to operating the machine (The time of train depend on you worker). The expenses (air ticket ,food , hotel,the travelling fee on your country) should be on your account and you need paid for the technician USD50 per day. also you can go to our factory to do training.
After service: If you get the problem on the machine ,our technician will go to your place to fixed the machine as soon as possible . The cost should be in your account.(as above).