CERTIFICATES

CONTACT US

Email:jackdu999@yahoo.com

Tel:+8675586718316
Phone:+86-15811882441
Strip tubes filling ultrasonic sealing machine automatic liquid ceramic pump metering filler tube tails sealer equipment inline type
Basic parameters of automatic tubes filling and ultrasonic sealing machine model YX-AUF400A:

Model: YX-AUF400A
Power supply: AC220V 50/60HZ singe phase Power consumption: 2.6Kw
Working air pressure: 0.6Mpa
Filling pump: 5 sets of ceramic pumps
Suitable material: Essence or water like products
Suitable tube material: PE (need to receive strip tube samples first for machine test)
Filling Range: 0.3-10ml Filling accuracy: ±0.5%
Max. Sealing Length.: 140mm Max. height: 120mm
Capacity: 15-20 tube strips/min
Dimension: 1300*1300*1950mm Packing size: 1450*1350*1890mm Gross weight: 514Kg
HS code: 84223090


Description
Plastic tube sealing machines are used in a production line to hermetically seal plastic tubes containing various liquid or gel products, including food ingredients, cosmetics, glues and pharmaceutical creams and medication.
Click the number list below-marked for easier navigation on the product page:

►1.Basic parameters of model YX-AUF400A strip tubes filler ultrasonic sealer:
►2.Working process of tube filling sealing machine:
►3.Configuration of model YX-AUF400A tubes machine:
►4.Features of tubes filling and sealing machine:
►5.Samples of tubes strip type:
►6.How does the ultrasonic sealing technology work?
Plastic tubes are sealed in a number of ways depending on the type of tube material and the product contained within the tube. Sealing methods include hot-air sealing, ultrasonic sealing, impulse sealing and hot-jaw sealing options.

For example, composite tubes are made with a combination of thin aluminium and plastic materials layered together to form a strong, flexible tube. These types of tubes are commonly used as toothpaste tubes, which are probably the most popular types of tubes purchased every day by consumers from shops and supermarkets.


Basic parameters of automatic tubes filling and ultrasonic sealing machine model YX-AUF400A:
Model: YX-AUF400A
Power supply: AC220V 50/60HZ singe phase
Power: 2.6Kw
Working air pressure: 0.6Mpa
Filling pump: 5 sets of ceramic pumps
Suitable material: Essence or water like products
Suitable tube material: PE (need to receive strip tube samples first for machine test)
Filling Range: 0.3-10ml
Filling accuracy: ±0.5%
Max. Sealing Length.: 140mm
Max. height: 120mm
Capacity: 15-20 tube strips/min
Dimension: 1300*1300*1950mm
Packing size: 1450*1350*1890mm
Gross weight: 514Kg
HS code: 84223090
Machine Body: 304# stainless steel
The tube filling and sealing working process

Empty tubes are carried to a tube filling machine open-ended and held in a hopper for automated feeding into the filling machine. In some cases, open-ended tubes may be added to filling machines by hand for smaller runs and test sample production. Some production lines use high-speed robotic machinery to load tubes into the filling machine pucks.

Once a tube is placed upright with its open end up into a puck, a nozzle is lowered into the open end of the tube to blow ionised air into the tube to remove debris, which is then removed by vacuum.

The tube is then ready to be filled and a nozzle will lower into the open end of the tube to dispense the product cleanly, maintaining itself just about the product level in the tube to avoid contact with the product and to keep the sealing area of the tube clean and free of any product splashes.

Once the tube is filled with the correct amount of product, it will be moved to a plastic tube sealing machine where hot air is carefully blown around the open end of the tube to soften the plastic.

The tube will then go on to be sealed where sealing jaws will clamp the warm plastic walls of the tube together. Because the end of the tube has been warmed by hot air, the two walls will weld together keeping the two sides together and sealing the tube closed.

Hot sealing jaws can often be fitted with changeable character stamps to imprint a batch code, creation date or use by/expiry date into the crimped plastic seal.

The tube will then go on to be trimmed where any excess plastic will be cut away from the seal to leave a clean aesthetic look and finish to the tube. Finished tubes can then go on to be inspected before being packed into any further packaging, such as boxes or branded packaging.


Main Parts of tubes filling and sealing machine:

Touch Panel WEINVIEW,China Taiwan
Photoelectric switch Omron,Japan
Machine PLC: Mitsubishi Japan
Ceramic pumps touch screen and PLC: Coolmay China
Servo Motor and driver: Lichuan China
Stepping motor and driver: Leadshine China
Cylinder and solenoid valve: AirTac TaiWan


Features of model YX-AUF400A strip tubes filling and sealing machine: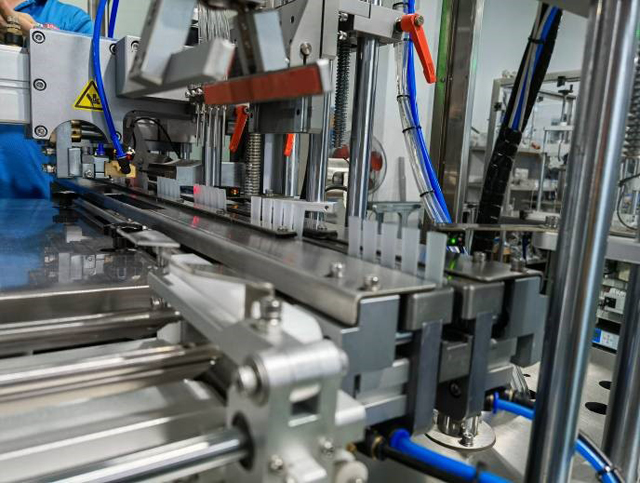 * Machine is specially designed for 5 in 1 tubes, suitable for mass production of 5 in 1 tubes.
* Manually tube feeding, automatic filling, sealing, end trimming.
*Adopts ultrasonic sealing technology, no need warm up time, more stable and neat sealing, no distortion and low reject rate less than 1%.
* Independent R &D for digital ultrasonic automatic tracking electrical control box, no need manual adjust the frequency, with power auto compensation function, avoiding the reduction of power after long time use. Could freely adjust the power based on tube material and size, stable and minimum the fault rate, extend the life span than the normal electrical box.
* PLC with touch screen control system, providing friendly operation experience.
* Made of 304 stainless Steel, acid and alkali resistance, corrosion resistance.
*Standard equipped with peristaltic pump filling system, high accuracy filling, and suitable for liquid filling.
*No tube, no fill, no tube, no seal function, reducing the machine and mould loss.
* Cam indexing system could position precisely for six working stations.


Samples of strip tubes sent from customers
Annotation: How does ultrasonic welding(sealing) work?


Ultrasonic welding is a process used to join two plastic parts together to form a strong, finished assembly. The process relies on high-frequency (ultrasonic) vibrations being generated and applied to the parts via a horn. Welding occurs as the vibrations are absorbed in the interface between the two parts, generating friction and causing the plastic to melt. The ultrasonic vibrations are generated by a series of components, including the power supply, converter, booster and horn, which ultimately delivers the mechanical vibration to the parts.

The role of the power supply is to convert the incoming line voltage (at 50 or 60Hz) into a new frequency. This electrical energy then is sent to the converter, which as the name implies, converts the electrical energy into mechanical vibrations. The converter consists of piezoelectric ceramic discs, which expand and contract at the rate of the supplied electrical energy. The magnitude of the vibrations is referred to as amplitude, a term that becomes very important when specifying an ultrasonic system for a given application. The vibrations then are transmitted through the booster, which typically increases the amplitude by a predetermined multiple, also known as gain. Finally, the booster's output amplitude is transmitted through the horn, where it then can be delivered to the plastic parts. The combination of converter, booster and horn is commonly referred to as the ultrasonic stack.

To deliver the vibrations to the parts, the stack is placed in an actuator, a mechanical system that applies the next critical element of ultrasonic welding: force. The actuator may consist of a pneumatic cylinder or other means of actuation to drive the stack down to the part. Actuators often contain other sensors and devices, such as linear encoders or load cells, to provide feedback during the weld. The actuator drives the horn down to the part and applies force until a trigger force is met; at this point, ultrasonics is applied. The vibrations then are delivered to the parts, where they become focused on a triangular bead of material – known as an "energy director" – which can be considered sacrificial melt material in the weld joint. Once the material melts, the ultrasonic vibrations are terminated and the actuator continues pressure until the plastic is solidified and a strong bond is formed. The entire weld process, from start to finish, typically is completed in one to two seconds.


As mentioned, one of the most important elements of ultrasonic welding is the amplitude (vibrations) that the stack provides. The reason for this is that certain plastics require more amplitude to weld than others. Amorphous polymers (ABS, polycarbonate, polystyrene) tend to require low amplitude, while semi-crystallines (nylon, polypropylene) require significantly more amplitude to weld.

An experienced applications engineer always can work to determine the proper frequency and tooling selection for a given assembly and material type.

Ultrasonic welding is a widely accepted assembly method in the plastics industry for a variety of component assembly applications in all major markets: medical, B&CE, automotive, appliance, nonwovens, packaging and more. Advantages to ultrasonic welding include short cycle time, high-strength bonds and the elimination of consumables (i.e., adhesives). When considering whether ultrasonic welding is right for an application, it is best to consult an experienced applications engineer to determine the appropriate assembly method.
ALL RIGHTS RESERVED by ®PENGLAI INDUSTRIAL CORPORATION LIMITED