CERTIFICATES

CONTACT US

Email:jackdu999@yahoo.com

Tel:+8675586718316
Phone:+86-15811882441
spout bags filling machine semi automatic pouch stand up liquid filler equipment for juice oil milk drinking
Model YX-SF03 stand up pouch filling machine
Filling Volume 5-125ML 10-250ML 50-500ML 100-1000ML 500-2500ML 1000-5000ML
Filling precision ≤± 1%
Weight 30/50KG(20-500ml type )
Dimension 1100×300×400mm (20-500ml type )
Fragile pieces Sealing ring
Filling Caliber 12mm(Standard)16mmNon-standard
Material GMP standard
Throughput (30 bags per minute)

Description
Stand-up pouch filling machine to determine the filling volume of new filling equipment using high-precision
micro-pumps and pump speed and pump operating time, the pump head PEEK material for manufacturing,
acid, corrosion; widely used, almost all energy flow the liquid can filling, especially for oil, the washing solution, alkali solution, an etching solution of high filling liquid.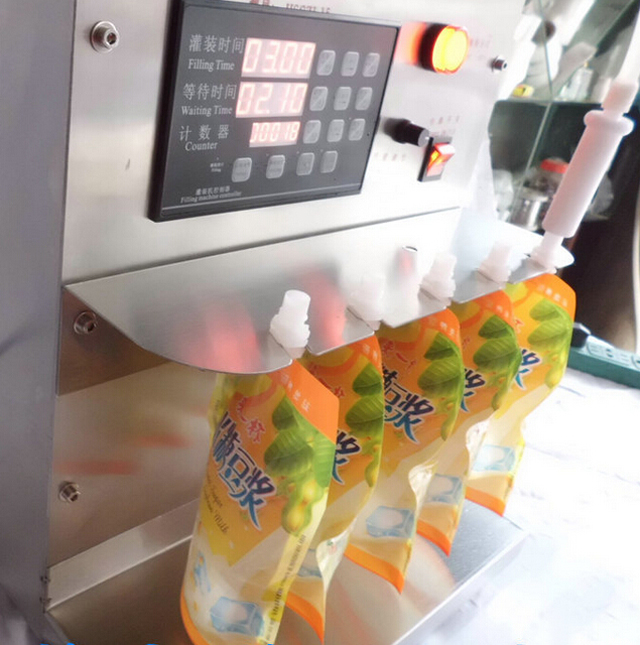 Its structure is simple, easy to operate. And the discharge nozzle extension, any mobile skin tube filling, the filling can meet 5ML- unlimited capacity requirements,
not limited filling capacity, is a reliable and durable filling equipment. Fully functional, you can manually, foot intermittent filling, but also automatic intermittent filling,
adjustable time interval. . Widely used in breakfast, soy milk, soy milk, beverage, wine, cosmetics, edible oil, pharmaceutical, and chemical products. Simple structure,
easy to operate, and can be switched discharge nozzle size, any mobile filling hose to meet 50-1000 (ml) over an infinite amount. (Arbitrary regulation of
filling capacity requirements, and unrestricted filling capacity, is a reliable and durable filling equipment)
Features of semi automatic magnetic pump filling machine for spout stand up bags:


1. When the working fluid flows only in the hose, and the pump is completely non-contact, non-polluting filling can be achieved;

2. filling different liquid materials can replace the hose, no possibility of cross-contamination, decontamination is very convenient;

3.stepper motor control, measurement precision, the error is less than 1%;

4. hose disassembly is very easy, without any tools, easy to learn, extremely easy to use;

5.widely applicable, almost all flowable liquid can filling, especially for health conditions demand a high nutrition, biological agents, and toxic agents, will pollute, corrosive liquid filling;

6.long filling can be coupled with positioning device and conveyors, automatic filling machine can be made.
Main Parameter of model YX-SF03 stand up bags filling machine:
| | |
| --- | --- |
| Model | YX-SF03 stand up pouch filling machine |
| Filling Volume | 5-125ML 10-250ML 50-500ML 100-1000ML 500-2500ML 1000-5000ML |
| Filling precision | ≤± 1% |
| Weight | 30/50KG(20-500ml type ) |
| Dimension | 1100×300×400mm (20-500ml type ) |
| Fragile pieces | Sealing ring |
| Filling Caliber | 12mm(Standard)16mmNon-standard |
| Material | GMP standard |
| Throughput | (30 bags per minute |
3. How to use
Ready to use liquid filling, connected to 220v power, regulate the filling time, and intermittent time, timer, press the jog switch test machine, electrical work,
according to the manual key, use a foot switch control irrigation installed work, riding about, filling machine working again, press the Auto button, automatic filling machines working continuously at a set time.
Step by step in operation for model YX-SF03 series spout bags filling machines

1. Install time adjustment

A, press the Set button, the time flashes, press UP 0-9, set the time required for this position.

B, then press the right shift, to a specified location, according to the increase in the median time to adjust, you can repeat the operation.

C, according to the unit key to move the decimal point before determining unit time

D. Press the Escape key, setup is complete.

2. intermittent time adjustment and filling the same time adjustment

3. adjustable timer


A. Press the Set button, the timer flashes, press to increase the number keys 0-9 to adjust the position, press the right shift adjust other number of bits, you can set the desired number.

B. Press the Mode button, when the lights to the specified number of filling, filling machine stopped working. Isochronous not lit, continuous work and continuous count.

4. Press the filling to set the filling is set, filling machine to work, such as filling when the amount you need, then press the button to set the filling, the filling time is the filling time display
The amount of time required. (This feature is our microcomputer filling machine is unique, so you can quickly quantitative time
that you want to fill the desired product, then you can fine-tune the exact filling, similar manufacturers The product does not have this feature)
Stand up bags samples
Wooden case packing for shipping of spout bags filling machine:
Other model stand up bags filling machine pneumatic filler equipment for juice
PENGLAI INDUSTRIAL CORPORATION LIMITED