CERTIFICATES

CONTACT US

Email:jackdu999@yahoo.com

Tel:+8675586718316
Phone:+86-15811882441
USA regular customer for bottles filling labeling machine semi automatic filling flat bottle labeling line
Published by: PENGLAI INDUSTRIAL CORPORATION
Date:2015-08-22 16:41:07
our regular customer from USA ordered another labeling machine model YX-LM520A rolling labeling machine for two kinds of
bottles .after receiving the bottles samples sent from our USA customer,We customized our current labeller machinery in stock and finished the machine
within one week which caught up with the delivery time.our customer is rather satified with our machine.
The machine labeling will be together with their another ordered machine filling equipment for herbal oil and sent to
USA land via Courier.
As below there is the information for this successful business transaction
PO issued from our USA customer
Bank slip for filling labeling machine
Samples sent from USA customer :
Testing run of video for filling machine model YX-LC06-500ml
Testing run of video for model YX-LM520A rolling labeling machine semi automatic:
Wooden case packing for filling labeling machine in two cases
As below there is the basic information for Filling labeling machine semi automatic
►model YX-LC06-500ML semi automatic filling machine with mixing function
The custom cream sauce filling machine is characteristic with convenience in operation and elegance in appearance when adapted with piston and push-pull rod structure.
The machine can fill the high viscosity&low fluid materials like peanut butter because the machine works causing the vacuum tube which can suck the materials with more powerful force.
The sticky materials filling machine functions with advantage of quantity filling/filling at uniform moation/adjustable speed as well as boosting pressure for materials filling.
All the control parts and acutator parts in the filling machine consists of pneumatic part ,and there is no strong friction and collison during operation of machine.
The main parts from the machine like main body/T-joint/hopper/feeding hose/filling nozzles is composed through scuffle-like clamp which can make easy the maintenance installation
dissambly of machine.The machine can be used in the explosive-proof circumstance.
The application of machine is suitable for filling liquid sauce oil milk and such like material without granules ; also the filling machine suitable for materials with microgranules or soft
granules like cream sauce etc .The machine can be chosend in the field like pharmacy/food packing/lubractive oil/petroleum/chemical/cosmetic etc .It is the ideal equipment for improving
production efficiency and saving labor from heavy work when the products require filling process .
Machine features :
1£©Controlling and acutator parts are made from brand like Festo in Germany/ AirTac in Taiwan/SNS in China.
The contact part is made of SUS316 or SUS304 stainless steel materials,GMP standard; The non-metallic part with high quality materials.
The sealing part is made of Silicon and polyfluo; The Polfluo stands out with its anti-corrosion/temperature-resistance and anti-abrosion.
2£©The Pneumatic parts for acutation is driven with compressured air without needing power supply; explosion-proof and safe in operation;¡£
3£©The Measure way adopts fixed volume and push-pull rod structure which is controlled by the subtle switch and positional stroke ; As well the single-direrction valve is the swift and accurate
cylinder valve so the filling accuracy is in high standard and lower indifference .
4£©The filling nozzle adapts cylinder valve or mechanical valve inside which there is installed with the anti-drop blocking in order to avoid drops or fiber drawing .
The length and diameter of filling nozzles (various sizes available)can be adjustable when installed with the lifting support.
5£©There is no need special tools for assembling the machine.
6£©There is two modes for machine controlling : auto and manual ; The "Manual" is controlled by pedal switch while the "Auto" in continuous filling way
Basic parameter of filling machine customized for high viscosity materials with mixing hopper:
| | | | |
| --- | --- | --- | --- |
| Model | YX-LC06-500 | Series number | YXLC10-2046 |
| Air pressure | 0.6MPa-0.8MPa | Power | --- |
| Filling volume | 50ml-500ml(adjustable) | Nozzle | 1pc |
| Indifference | ≤±0.5% | Filling Speed | ≤30bpm |
| Temperature | 10¡æ-90¡æ | Relative Humidity | 10%-85%£¬undensable |
| Protection level | IP 32 | Hopper size | 15Kg30Kg(Standard)Customized |
| Materials | Stainless steel | Nozzle diameter | 10/16mm()19mmcustomizable |
| Dimension | 1160mm×200mm×400mm(Standard) | Weight | 45Kg |
►model YX-LM520A rolling labeling machine semi automatic flat bottles labeller equipment with date function:
Equipment operating instructions on rolling labeling machine: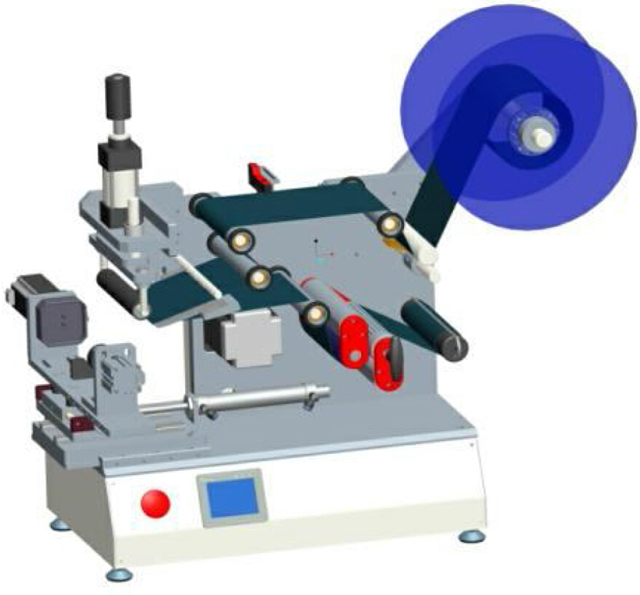 Device model£ºYX-LM520A
Name: semi-automatic plane & round bottles labeler machinery
Circumstance for operating the rolling labeling machine
1.Use this device is strictly prohibited in the following environments,
lFierce local temperature change
lWhere high humidity and dew
lVery strong vibrations or shocks
lPlace in the dust
lWhere the splash of water, oil, chemicals
lWhere there are explosive, inflammable dangerous goods
2£® Make sure the power outlet and the power supply interface can be in close contact or loose contacts may be resulting in a fire hazard.
3£® Do not place heavy objects on the power cord and damaged power cord may cause electrical shock or fire hazard.
4£® Before cleaning or in antirust oil, be sure to unplug the power cable from the device, otherwise in danger of fires and damage to equipment.
5£® Do not use loose or damaged power outlet, or of electric shock and fire hazards.
6£® Use the correct grounding, use is not properly grounded outlet will cause risk of electric shock and damage to equipment.
7£® Do not wet the hand when touching the power outlet, or risk of electric shock.
8£® When the mobile device, make sure the power cord from the power supply, or they risk of fires and damage to equipment.
9£® At the right voltage/current standard using devices, without appropriate voltages/currents work will lead to the risk of electric shock, fire, or damage to your equipment.
Chapter I Labeling machine
1-1Labeling machine introduce
Labeling machine is automatically label affixed to the product surface the short name of an automation device,
it can replace manual labeling, improve production efficiency and quality. According to the degree of automation
can be divided into manual labeling machines, semi-automatic labeling machine and automatic labelling machines;
according to the shape of the product can be divided into round bottle labeling machine, partial-around labeling machine
and special-shaped bottle labeling machine; according to the labeling and product placement can be divided into vertical and horizontal labelling machines.
1-2 Drawing explanation on model YX-LM520A rolling labeling machine for round&flat bottles:
1-2-2Back of machine
1-3Technical parameters of model YX-LM520A rolling labeling machine:
1. apply label length:10 mm~150 mm
2. apply the label width:10 mm~150 mm
3. apply paper roll internal diameter:40mm or 76mm
4. the paper roll external diameter:φ≤250 mm
5.indoor temperature: -10° c ~40° c
6.indoor humidity: 35~85©‡
7.power supply:220V,50HZ
8.overall dimension:550*550*650 (L*W*H)
9.weight:78kg
1-4The scope of
1.widely used in food, pharmaceutical, cosmetics, cosmetic, electronic and other industries.
2.for semi-finished products or finished products in print and partial arc surface semi-automatic labeling.
3.it can label both flat or round or oval or other shapes of bottles see the samples pictures as below :
Wooden case packing before shipping rolling labeling machine