CERTIFICATES

CONTACT US

Email:jackdu999@yahoo.com

Tel:+8675586718316
Phone:+86-15811882441
Phillippine customer bought bags labeling machine and powder auger filler semi automatic
Published by: PENGLAI INDUSTRIAL CORPORATION
Date:2022-07-27 19:27:20
Our customers from (Phillippine) placed another order on two(2*) pcs of machines: one is filling powder machine semi automatic with elevator model YX-F02; the other round bottles labeling machine Model YX-LM510.
For all the machines purchased it is clear to confirm all the information on the products so we often ask our customers to freight the samples to test and commission the machines in order that the machines and customer's products gains the best compatibility and adaptability.
After getting the confirmation &samples of the product in sizes and drawing for manufacturing the filling+labeling machines
we spent only 15 working days finishing everything and made the machines ready after testing them in a satisfactory feedback.
Recently our customers sent us the positive commentar on the machines which keep running very well in their factory ever since the machines arrived their factory.
The machines was shipped via courier to Valenzuela Makati City 1208,Philippines. The documentaries certificated with ISO&CO&CE together with other files necessory are sent via DHL to customer for assisting customers to clear the custom.

As below there listed the basic information on the successful transaction between PENGLAI and their south-east Asian counterpart:

Purchased order issued &Key communiction points During Business Discussion:

(5years passed the machine is still in operation and customers need the replacement of the easy-worn parts!)
Samples sent from customers in South-East Asia:


Bank copy of Down&balance payment for purchasing YX Seriesfilling labeling machine


Testing videos on filling labeling bags machines semi automatic:


Wooden case packing of semi automatic bags powder filling labeling machines.


As follow there given the description on the machines purchased respectively
manual labeler equipment for flat surface objects planes articles like spout bags High precision semi-automatic plane labeling machine(with display touch screen controlling system) Model YX-LM510:
Spout bags plastic bag labeling machine semi automatic labeler equipment customized labeling machinery for flat surfaceModel YX-LM510
I, The basic purpose of labeling machine semi automatic pneumatic labeler equipment for flat surface containers
Application of suction stickers labeling method to achieve the various parts of the plane on the labeling, such as cosmetics flat bottles, boxes, plastic cover labeling and so on.
Change overlying scale mechanism, suitable for uneven surface labeling, such as concave flat, circular surface labeling and so on.
Changing fixture, suitable for a variety of irregular work piece labeling.
Optional ribbon printer or inkjet printer, print production date on the label and batch number, to achieve a code – Labeling Integration.
II,Scope applied from plane bottles labeling amchine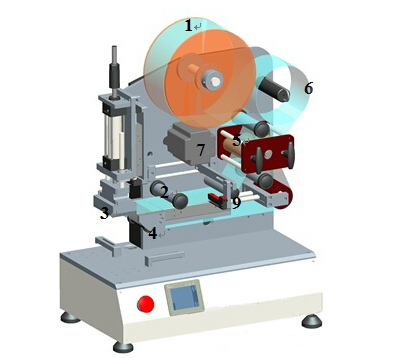 Applicable Label: self-adhesive labels, self-adhesive film, electronic supervision code, bar code, etc.;
Applicable products: requirements in flat or curved, circular surface, concave, convex, or other surface attached label products;
Industry: Widely used in cosmetics, food, toys, cosmetics, electronics, pharmaceutical and other industries;
Application: Shampoo flat bottle labeling, packaging labeling, bottle caps, plastic shell labeling and so on.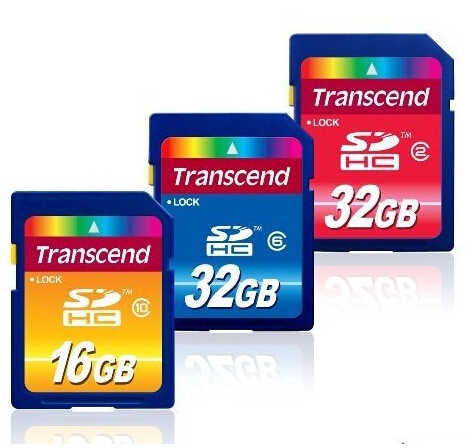 III,the work process on model YX-LM510 bottles labeling machine semi automatic:

* Core Working principle: The sensor detects the product in place or send product foot position signal, sucking down labeling tip labels and covered standard, then returned the next label in situ adsorption, wait for the next signal labeling, a label the attached action is completed.
* Procedure: put the product -> judgment in place (device detection control or manual control) -> Labeling and covered standard (device automatically) ->take out the labeling products.
IV,Technical parameters: (The following technical parameters for the standard model, other special requirements and functions can be tailor-made)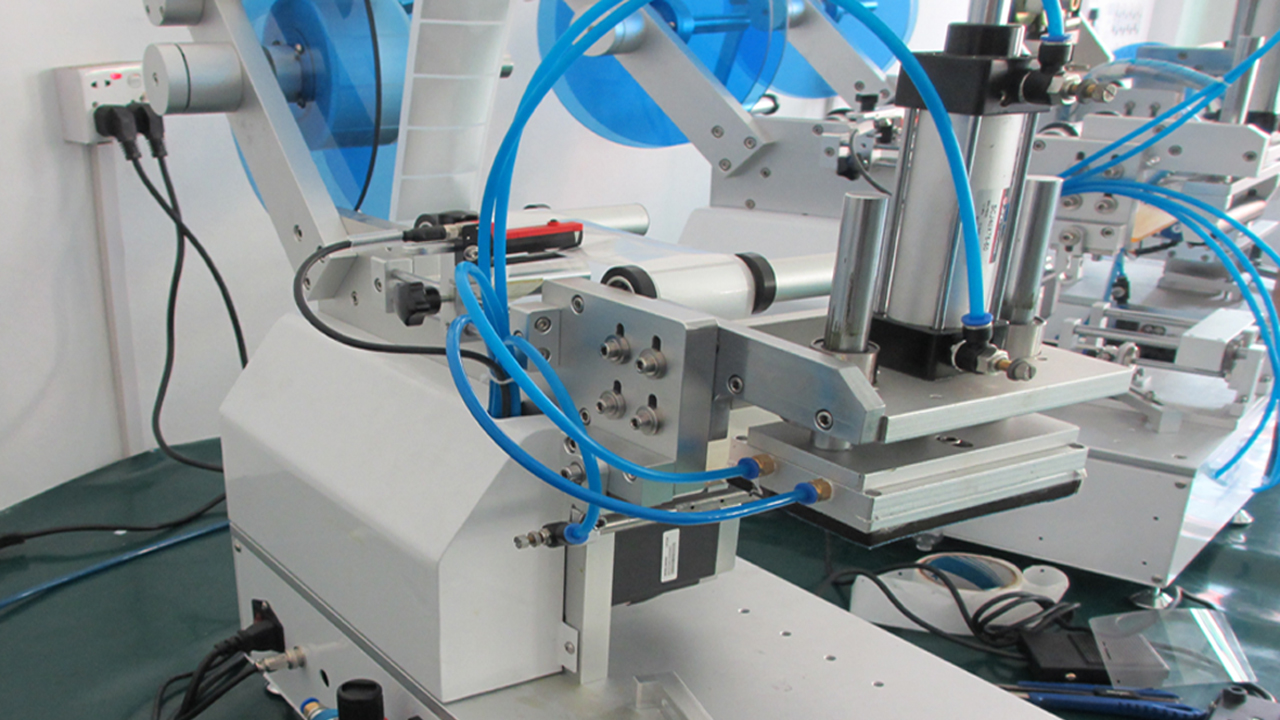 Model YX-LM510
Applicable label length (mm): 15mm ~ 100mm
Applicable Label width (backing paper width / mm): 15mm ~ 150mm
Applicable Dimensions (length × width × height / thickness): Length: 20mm ~ 200mm
Width: 20mm ~ 150mm
Thickness: 0.2mm ~ 120mm
Applicable standard roll diameter (mm): φ340mm
Applicable standard roll diameter (mm): φ76mm
Labeling accuracy (mm): ± 0.5mm
The standard speed (m / min): 5m/min
Labeling speed (pcs / min): 20 ~ 45pcs/min
Weight (kg): about 48kg
Frequency (HZ): 50HZ
Voltage (V): 220V
Power (W): 145W
Device dimensions (mm) (L × W × H): about 850mm × 410mm × 720mm
Pressure (Mpa): 0.4 ~ 0.6Mpa
V,Features of plane bottles labeling machine semi automatic model YX-LM510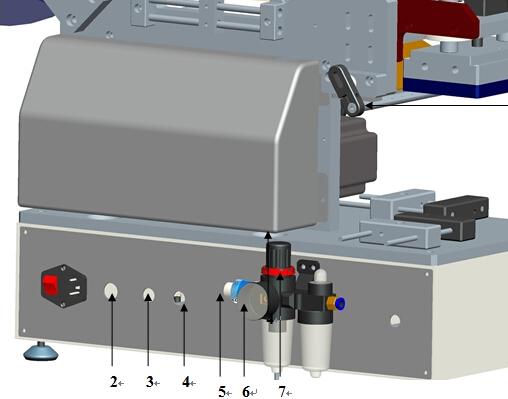 powerful, can be used in various parts of the flat, circular surface, the concave plane of labeling, labeling can be used for irregular workpieces;
accurate labeling, high stability, using PLC + standard stepper motor drive to send to send standard indeed; discharge institutions configurations brake function, to ensure standard belt taut, ensuring precise label detection; marked with detour corrective mechanism to prevent label offset about;
strong and durable, the circuit layout with separate gas, gas purification device configured to prevent moisture damage air appliances, prolong equipment life; machine using advanced aluminum and stainless steel materials, quality firm;
easy to adjust, height adjustable stroke configuration functions, different height product labeling, without repeated replacement fixture;
appearance, using bottom-mounted computer white box, with stainless steel and high-alloy, beautiful, lifting equipment level;
with manual / automatic two kinds of labeling control, workers may need to select the use of sensors to achieve labeling or foot control; setting manual and automatic control buttons, the standard length can be regulated;
Optional functions and components:
hot coding / marking function;
automatic feeding function;
automatic rewinding function (combination of product considered);
special label sensor.
Semi-automatic flat labeling machine structure details:
Order

Structure Description

Structure Fuction

Prevent the semi-automatic flat labeling machine loose the excessive

Put label coil is used for semi-automatic flat labeling machine

Semi-automatic flat labeling machine

Semi-automatic flat labeling machine pin labels, ensure the tension of label

Used for semi-automatic flat labeling machine round labels

Semi-automatic flat labeling machine test label

Semi-automatic flat labeling machine recycling label at the bottom of the paper

Used for semi-automatic planar labeling machine traction mechanism locking

By drawing the bottom paper, stripping, its firmness can be adjusted by screws

For plane labeling machine semi-automatic machine circuit configuration

Used for semi-automatic labeling machine put workpiece fixture

In the process of tag stripping, hold label, a smooth transition to the suction head

Used for semi-automatic flat labeling machine to complete labeling

As semi-automatic labeling machine plane slight adjustment of the height of the head and the workpiece

Ensure the semi-automatic flat labeling machine tension labels

P

rovide semi-automatic flat labeling move to
VII Applicable products from semi automatic plane surface labeling machines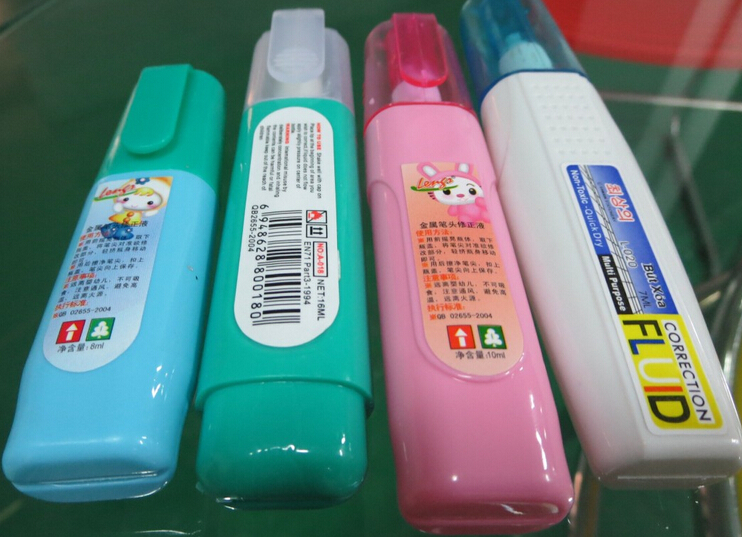 Samples from customized labeling machine semi automatic model YX-LM510
This Powder filling machine is completely made of stainless steel, Filling system is driven by servo-motor , and Taiwan made maintenance-free reducer is used for agitating motor , Product cabinet is specified as fully closed , damper air-pressure control , made of stainless steel and glass .The dust extraction device is mounted in the mouth of the filling tube , designed for reusable working table height adjustable , with a waste product drawer under the table .
1. Main Features on powder filling machines semi automatic for baby talcum powder :
►Made of stainless steel : totally adapt to the require of GMP or other food sanitation certification suitable for packing corrosive chemicals ;
►Filling better stability and higher weighing precision ;
►Filling system is driven by BuJin motor , high precision , high torque , long operation life and rpm settable ;
►Taiwan made maintenance-free reducer is used for agitating motor: low noise level , long operation life , maintenance-free for life time ;
►Designed for working condition changeable in any time ;
►Max.10 recipes can be saved for later using ;
►Contacted material steel is food type stainless 304;
►Product cabinet is fully closed , damp air-pressure controlled and made of glass with stainless steel , product's movement in the cabinet is clear at a glance no powder leak , dust extraction device mounted in the mouth of the filling tube lead to clean plant environment ;
►Trough changing accessories , the machine is suitable for multiple products , no matter super fine power or large grain .

3. Specification of powder filling machine auger measuring feeding filler equipment


| | |
| --- | --- |
| Model | YX-F02 |
| Measuring way | Auger measuring&feeding |
| Weight range | 50-500g |
| Accuracy | 2% |
| Speed | 10-30 bottle/min |
| Voltage | 220V (customizable) |
| Hopper | 25L |
| Filling nozzles | 10mm (another for 15mm、18mm、20mm、25mm) |
| Power | 1.2KW |
| G.N. Weight | 230/200kgs |
| Size | 800×850×2000mm |
4.ILLUSTRATION OF powder filling machine with Touch screen controlling:
5. filling machine pictures:
Elevator screw feeding materials loading&feeder
Installation for materials feeding&loading:

l Two direction switch; Forward/reversal rotation respectively for feeding materials and unloading materials from the bottom outlet
► The Shaft-coupling of reducer cannot be blocked .After installation the shaft-coupling should be tensile and Flexible in order to the burnt damage from overloading in the motor. During the installation the Flange bolt can be properly adjusted;
►The end of auger pin should never be fixed too tight lest the rotating auger touch the pipe wall due to bent auger.Please screw tight the nut to fix the pin in order to fix it.Every time the auger is pulled out for cleaning and re-installation should be considered of this point.
►The volume and height of elevator can be integrated with packing machine by means of series induction. There is no feeding materials from the elevator without materials in the tank.
►The elevator joint-works with powder filling machine, automatically feeding and stopping。
3.technic parameter for elevator:
model

YX-F02-R

Transferring volume

1M3/Hour(integrated with filling machine)

hopper

100L

Elevating height

2000mm (配合灌装机使用)

Motor power

1.5KW

Supply power

380V/50-60Hz

Height between hopper and ground

800-900mm

Motor brand

Juli

Hopper materials

SS304, Thickness 1.50mm

Pipe for feeding materials transfering

SS304

Diameter 103mm

Thickness 3.00mm

Auger

SS304,thickness 3.00mm

Shaft

SS304,Diameter 35mm

Weight

150KG

Size

1900*880*2100mm (customizable)
Packaging&shipping for auger filling packaging machines semi automatic for power into bottles&bags
Guarantee: for all the machine, it claims one year for guarantee.(Excluded from the warranty are problems due to accidents, misuse , misapplication, storage damage, negligence, or modification to the Equipment or its components. ALSO THE EASY BROKEN SPARE PART IS NOT INCLUDED IN THE GUARANTEE)
Installation: after the machine arrive your factory,if you need,our technician will go to your place to install and test the machine and also training your worker to operating the machine (The time of train depend on you worker). The expenses (air ticket ,food , hotel,the travelling fee on your country) should be on your account and you need paid for the technician USD50 per day. also you can go to our factory to do training.
After service: If you get the problem on the machine ,our technician will go to your place to fixed the machine as soon as possible. The cost should be in your account.(as above).
ALL RIGHTS RESERVED by ®PENGLAI INDUSTRIAL CORPORATION LIMITED