CERTIFICATES

CONTACT US

Email:jackdu999@yahoo.com

Tel:+8675586718316
Phone:+86-15811882441
High precision pharmaceutical liquid filling machine semi automatic small quantity 0.2ml to 10L filler equipment
Model One(1head) model YX-I-A
Volume 0.2-10,000ml(10L)
Accuracy 0.5%(10ml tested)
Filling Speed 25bpm for 100ml
Driving mode step or servor motor
Filling material Liquid&ointment
Driving mode step or servor motor
Filling product Liquid&ointment
Supply power 1P 220V 50-60HZ 0.38KW
Size 310*430*320mm(L*W*H)
Net weight 20kg

Description
APPLICATION OF high accuracy gear pump medical liquid filling machine small bottles filler:
Used in the pharmaceutical industry, food industry, cosmetics, agriculture and other industries, such as fruit and vegetable drinks, soy milk, acetone, glutaraldehyde, shampoo, etc.
Basic parameter of filling machine small quantity filler:
Two nozzles to 6nozzles filling machine
1
Model
One(1head) model YX-I-A
two(2 heads) Model YX-II-A
2
Volume
0.2-10,000ml(10L)
0.2-10,000ml(10L)
3
Accuracy
0.5%(10ml tested)
0.5%(10mlactual measurement)
4
Filling Speed
25bpm for 100ml
100ml 40P/min 300ml 30P/min 1000ml 18P/min
5
Driving mode
step or servor motor
Step or Servo motor
6
Filling material
Liquid&ointment
Liquid&Ointment
 
Supply Power
1P 220V 50-60HZ 0.38KW
1P 220V 50-60HZ 0.75KW
7
Size
310*430*320mm(L*W*H)
460*530*300mm(L*W*H)
8
Net Weight
20kg
35Kg
 
Remarks
Can be used with a conveyor belt
Features of model YX series small bottles liquid filling machine: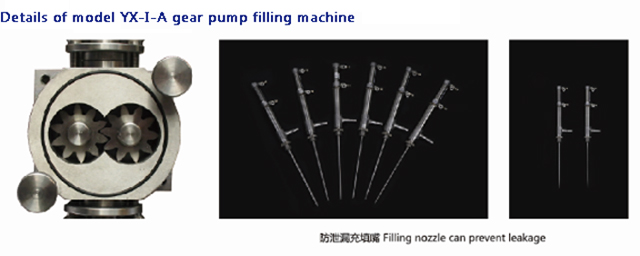 *Flexible use,can be used alone,also can be connected and used with a conveyor belt.
* Large range filling volume,from 0.2ml to 10,000ml(10L),free adjustment,especially suitable for the customers needing large range filling volume.
*The accuracy control of the machine, using the stepping motor or the servo motor,accuracy of up to 0.5%(10ml actual measurement).
*A little change on the machine,can be filling ointment&viscous Liquid,such as cream of medicine & cosmetics、grease、honey, juice, etc.
*The machine can be easily disassembled and washed at your convenience, without requiring any additional tools.Pump body can also be operated offline high temperature cleaning.
*Can be adding the filling nozzle without leakage.
*According to customer requirements,can be expanded to 8-12 heads, filling at the same time.
Drawing of model YX-I-A single head gear pump filling machine
Wooden case packaging for liquid filling machines before courier shipping
FAQ
1.How to choose suitable machine?
Considering that machinery are different base on different customer's requirement, we advise you discuss with our sales engineer firstly, then confirm the order. Our engineer will advise you a suitable machine for your application to avoid wrong machine ordered. If current machine cannot meet your requirements, we will custom made machine for your application.
2. Quality
(a)We offer good quality machinery and it mainly shows in three aspects: (a) Working Life: about 7-8 years; (b) Good Stability: stability is basic and most important performance of machinery; (c) Lower Expenditure of machinery daily maintenance.
(b) All the machines before delivery, our QC will inspect it carefully to ensure good quality.
3. Price
Our machine prices are based on reasonable prices; because we should ensure machine has good quality firstly, so machine parts used are also should be good quality and also very different costs on design & manufacture costs.
4. Warranty Period
(a) 12 (Twelve) months dated from delivery (Consumable parts and man-made broken are not included); If need much longer warranty period, you need buy this extra service. During warranty period, we offer replaced new parts for free.
(b) Out of warranty period, we will offer spare parts and technical support too and help customer to solve problems; If need replace parts, we will charge parts costs
5. Shipping and Packing
For machinery, normally, it was packed into wooden case to avoid broken on the way and normally delivery by sea or by air; for small products will be packed in carton box and normally delivery by courier. We will choose a suitable packing for your ordered products to avoid broken on the way.
6. How to install new machine?
(a) Most of our machines don't need our engineer to visit customer's factor to install, under this circumstance, just refer our user manual to install machines; if you have any questions, you can consult with our professional engineer and they will give you instructions to guide you how to do via pictures, videos etc.
(b) For some complicated machinery, customer can arrange their engineer to come to our factory for training before we delivery machines; if do need, our engineer also can go to your factory to install it, but you have to bear all the travel costs including board and lodging costs , round-way air tickets and Daily labor costs
7. How to offer maintenance for old machine?
(a) If old machines have any problem, customer can describe this problem to us via email; In order to avoid false understanding problem, we advise you offer us pictures and videos to show us real problems occurred; under this circumstance, we can easy to judge the problem and advise you how to solve. If need replace parts, your engineer should obey our instruction to change it.
(b) If your engineer has no this ability to repair the machine, you can also delivery the machine back to us for repair or request our engineer go to your factory to solve it; All repair costs occur should be paid by buyer.
(c) Maybe in your regions, we have local agent who can offer service to you; we can introduce you to them, if you need this local service.
PENGLAI INDUSTRIAL CORPORATION LIMITED