CERTIFICATES

CONTACT US

Email:jackdu999@yahoo.com

Tel:+8675586718316
Phone:+86-15811882441
Automated olive oil filling ROPP capping labeling machine Oil production line Abfuell-verschliessmaschine fuer Olivenöl
The production line for olive oil bottling is consist of three parts:
1.YX-5030 Automatic inline olive filling machine with four heads
2.YX-C250 Automatic ROPP capping machine for olive bottle
3.Double sides labeling machine Model:YX-750A
Optional equipment: Bottles feeding turntable;
Bottles rinsing equipment;
N2 flushing System;
Ink printer;

Description
automatic olive filling capping labeling production line constitutes the automatic inline olive filler machine with 4 filling nozzles,ROPP capping machine with automatic caps falling system as well as double sides labeling machine.Below are the basic data of the machines one by one
1.YX-5030 Automatic inline olive filling machine with four heads

The 4heads olive filling machine,controlled by the microcomputer,combines the photoelectricity with pneumatic operation,thus widely is applied for the liquid filling of the agriculture chemical、solution、liquid detergent、cosmetic as well as olive.The filling volume is precise,foamless and stable.The machine can fill the liquid with the range from 25-1000ml,meanwhile there is no special requirement on the shapes of bottles.That is to say,it can fill the liquid for the normal bottles as well as the irrugula-shaped bottles.
Model YX-5030
Filling range 50~3000ml
Filling speed  <20-30b/m(for 500-1000ml liquid)
Accuracy ±1%
Power/suppy power 0.8kw、220v
Working pressure  5~6kg/cm3
Air consumption  0.5-0.7mpa
N.W 500kg
Outer dimention 2000×800×1900mm
Mark:The filling nozzels can be designed and manufactured according to requirements from customers on the filling range and filling speed

2.YX-C250 Automatic ROPP capping machine for olive bottle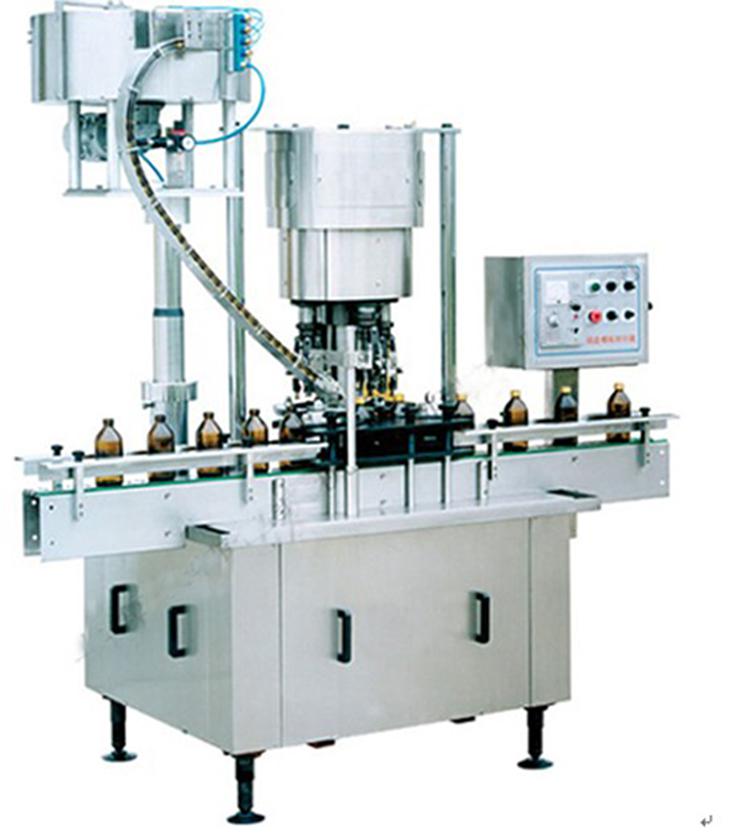 The capping machine is a suitable equipment for roll-press-sealing the Aluminum caps for the plastic bottle、pet bottle、as well as glass bottle.It precesses the screw-press capping for the bottle under the rolling press from hobs,automatically feeding bottle caps,removing the reverse caps .The capped bottle favors the characteristics like the stable capping effect,convenient uncapping,so that it function as conterfeit and anti-theft
Basic parameters of ROPP metal caps capping machine:
Supply powder (V/Hz) AC 220/50 380/60
Capacity (m/min) ≧4000B/M
Cap size (mm) 250-1000
Application Alum-caps
Air exhaust from Vacuum pum (m3/h) 5KG
Outer dimention(L×W×H)(mm) 2000×1000×2300
N.G (kg) 300

3.Double sides labeling machine Model:YX-750A
The labeling equipment is for the round bottle labeling in the industry like food、oil、pharma、wine、cosmetics and so on.The machine with elegant design can be easily operated and maintained by the common worker,who requires no special training in operation this machine.Just give a simple adjustment to produce another product when you want to swap the different kinds bottle labeling.
The youtube video site about the operation of labeling machine .click the link

The bottle labeler is thus out from as belwo-mentioned characteristics:
1:The main body of equipment is made of SUS304 and advanced Aluminum products.
2:The labeling heads is drived by the stepping motor that is imported from Japan.
3:All the light sensor equipment is imported from both Japan and Germany
4:PLC Controlled by the human-machine interface with 60 memory units
5:The machine is the best choice for single worker's operating.
6:The machine has the function as bottle-uprighting,bottle-distributing、labeling、flating as well as counting.
7:The position、height、angle of labeling can be adjusted easily.
8:Equipped with the conveyor belt,the machine is applied to set of the production line.
Baic parameters of double sided labeling machine:
Supply power (V/Hz) AC 220/50 110/60
Power (W) 1500
Labeling precision (mm) ±1.0
Labeling size (mm) Height 15-100mm Length 20~300mm
Bottle size (mm) Outer Diameter 12-100mm Height 30-200mm
Capacity (b/m) 40-120
Dimension(L×W×H)(mm) 2200×1400×1550
N.W(kg) 320
Payment term: T/T 50%deposit, the balance paid before delivery.
Package: Each machine wrapped by PO film, then packed to standard wooden case.
Delivery time: Within 20 days after received your deposit.
This machine shall enjoy 1 year warranty and life-long maintenance service (Remark: Customer should use the consumption material appointed by us, or the failure of machine hereby induced shall not be in the warranty range).
How to choose the suitable oil filling bottling machine for olive oil package?
BOTTLING EQUIPMENT
Many producers think they must buy an expensive bottling line or bring their oil to a bottler, but there are a variety of inexpensive alternatives. There are several decisions to be made, described below.

When to Bottle

The first decision is when to bottle. Oil keeps better in drums or tanks than in bottles, so bottling small quantities, only as much as needed for ongoing sales, is a wise decision. Better to let the oil settle in a conical tank or drum where it can be decanted than in your bottle. Drums topped with inert gas or tanks with floating lids keep out light and minimize oxidation.

You can buy containers and accessories at The Olive Oil Source Wholesale Store.

You may also find you are selling more of your 250ml size than your 500ml, for instance. If you have already bottled the whole year's harvest it will be too late to shift bottle sizes. Some producers decide to change their label or closure or have a demand for a special event or promotional label. Bottling as you go gives you greater packaging flexibility.

The decision you make on when to bottle will partly drive what equipment you need. For example, bottling 500 gallons of oil in one day is best done on a mechanized line. If you bottle once a week throughout the year it would only be 10 gallons at a time.

Bottling by Hand
For small quantities, the simplest and cheapest way to bottle is to fill a 20 to 50 liter fusti from a drum with a hand pump, then fill the bottles by hand using the fusti equipped with a quarter turn spigot. You could fill 150 bottles (250ml each) in 2 hours this way, just eyeballing the fill level.

You can buy fusti at The Olive Oil Source Wholesale Store.

For those who need to go to a mechanized bottler, there are several small ones on the market. Be aware that machines designed for wine or other water-based products may not work for oil, which can swell seals and gaskets.

You can buy bottling equipment at The Olive Oil Source Wholesale Store.

Gravity Fillers
Gravity fillers use an overhead tank and a siphon to fill bottles to a specified height. There are usually several spigots in a row as the bottles fill relatively slowly, stopping at a set fill level. The operator goes down the row replacing filled bottles with empty ones. When the fill spigot is raised, flow is cut off.

Vacuum Fillers
Vacuum fillers suck air out of the bottle, pulling oil in, which speeds the filling process. The operator of a small vacuum filler does one bottle at a time. Such fillers can be adjusted to different fill levels and bottle sizes. The speed at which the bottle fills is also adjustable. With the machine at its highest setting, an operator could fill hundreds of bottles an hour.

For those who need faster throughput, the next option is a pump filler. These usually have several filling spouts and the oil can be simultaneously filtered.

All of the above solutions assume hand corking and finishing. A note of caution: remember not to fill the bottle too full or, as described above, bar top corks may pop in hot conditions.

Integrated Bottling Line

The next step would be a complete filling line. These can be put inline with a capper and labeler. Automated filling lines have a variety of options but one of the most useful is filling by weight or exact volume. Glass bottles are not all created equally and filling to a height on the neck does not put an equal amount of oil in each bottle. To make sure each bottle has the minimum quantity stated on the label, most of the bottles must be overfilled by a small amount. That adds up for large producers. Automated lines can deliver a precise quantity of oil to each bottle. The fill height will be slightly different for each bottle but this is usually hidden by the shrink-wrap closure. Bottles with tall thin necks will show this discrepancy the most and may need to be filled to a certain height on the neck instead.

To deliver a set amount, some machines weigh the empty bottle, and then add a set weight of oil. Bottlers can also be ordered which fill by volume. In some, a piston draws up a calibrated amount of oil, then injects it into the bottle. A less precise method uses a pump and a timer to deliver a set amount of oil per second. Both weight and volume must be adjusted for temperature, as a given amount of oil will fill a greater volume at a higher temperature.

Automated lines are usually custom-designed to your specifications. The size and type of bottle that can be filled are variables which need to be specified. Some fillers can accommodate very small bottles and odd shapes. Some blow air into the bottles first to clean them. Some lines are set up to sterilize the bottles and/or have nitrogen injections to protect the oil.

Capping can be done with a separate machine or with options added to your bottler. Bar top cork, screw cap, or Ropp top options can be specified. You can even order equipment to automate shrink-wrapping for a complete finish. Prices for automated lines are quite variable depending on these options.
Warranty: 3Years for bottling line
Installation: after the machine arrive your factory,if you need,our technician will go to your place to install and test the machine and also training your worker to operating the machine (The time of train depend on you worker). The expenses (air ticket ,food , hotel,the travelling fee on your country) should be on your account and you need paid for the technician USD50 per day. also you can go to our factory to do training.
After service: If you get the problem on the machine ,our technician will go to your place to fixed the machine as soon as possible. The cost should be in your account.(as above).
ALL RIGHTS RESERVED by ®PENGLAI INDUSTRIAL CORPORATION LIMITED