CERTIFICATES

CONTACT US

Email:jackdu999@yahoo.com

Tel:+8675586718316
Phone:+86-15811882441
Multichannal Gels Capsules Tablets Counter Filler Bottling Equipments Automatic Photo Cell Electronic Capsule Counting Machine
Model YX-TC03
Applicable for 00-5# capsules, chewing gum, soft gels, ф22normal tablets, special shape
tablets, coating tablets,ф20 pills
Capacity 10-40BPM
Bottles diameter 20-120mm
Bottles height 40-280mm
Working range 1-9999tablets/capsules/pills/chewing gum (adjustable)
Air supply 0.6 Mpa
Power supply and consumption 220V/50HZ 1.5kw
Size 1200*1280*1560mm
N.W. 880kg

Description
The equipment for the pharmaceutical industry, solid preparations (such as tablets, sugar coated tablets, pills, hard and soft capsules and other forms of drug tablets) and other similar solids count bottling operation.
Features of filling counting capsule into bottles machines:
Wide applicability.Used for tablets (including abnormal tablets), capsules, gels (including abnormal gels, transparent gels and opaque gels) pills and most solid granules.
Controlling system.
The machine adopts full-auto PLC and human -computer touch screen control system. For different volumes adjustment, we set several procedures,
mode 1, mode 2, mode 3 and so on. Operators do not need too much complicated adjustments, the filling machine can switch between
the three models easily.
Detection function.No bottle will not count and fill. Automatically remove bottles of filling abnormalities
and a certain size broken tablets. Self-diagnose errors and stop working to make alarm at errors.
Anti - dust.Using our own original high anti -dust sensor technology, the machine works accurately with good stability in heavy dust conditions
Protect materials from harm.Feeding evenly with quiver, special patent filling part, no breakage of the material.
Avoid the materials jam.Hopper mouth of the special structure, to prevent the materials jam, small mouth
bottle can quickly bottling.(Optional)
Specification of model YX-TC03 capsule counting filling bottling machine:
Applicable for

00-5# capsules, chewing gum, soft gels, ф22normal tablets,

special shape

tablets, coating tablets,ф20 pills

Capacity

10-40BPM

Bottles diameter
20-120mm
Bottles height
40-280mm

Working range

1-9999tablets/capsules/pills/chewing gum (adjustable)

Air supply

0.6 Mpa

Power supply and consumption

220V/50HZ 1.5kw

Size

1200*1280*1560mm

N.W.

880kg

Remarks

1. Capacity is subject to the type and size of the bottle and tablet,

as well as the quantity filled per bottle;

2. *BPM=Bottles per minute
Main components parts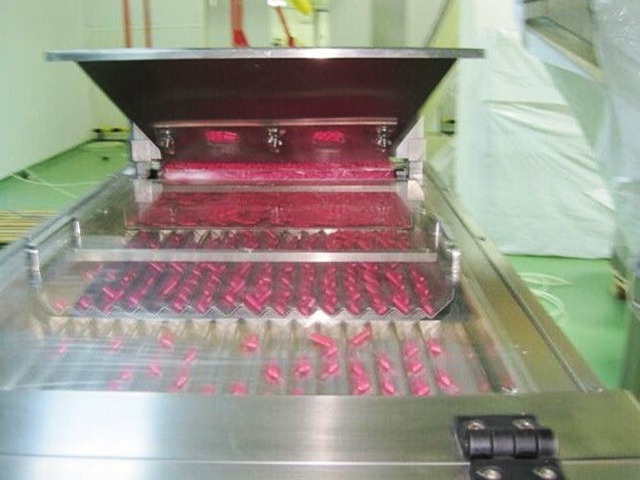 Name

Producer

Motor

TAIQI TRANSMISSION(SHANGHAI)CO LTD

(CE,3C authentication)

Photoelectric sensors

USA.microchip chip and Taiwan electronic elements

Counting photoelectric sensor system

Optical components is from Taiwan ,and the microchip

chip is from U.S., then developed and produced byour company

Pneumatic components

Air Tac

Leakage protection

Schneider

Switch

Schneider

Control Panel

Using the microchip chip is from U.S ,

developed and produced by

our company

Interface

HITECH(Beijer Electronics Co., Ltd.),Color touch screen
Working principle

1.Electronic digital counting and filling machine introduces the most advanced CCD camera detection
2.technology, adopts imported high- speed industrial control computer, together with the entire English language operating system for dynamic graphic display interface. All parameters can be adjusted in its last to set oradjust.
3.This machine can store 10 sets of parameters. It will not need any other adjustment when filling other products. It also has the function of automatic fault diagnosis to facilitate the comprehensive real -time monitoring alarm and display system.


Our advantages
1.We provide our customers with all components for free within 1 year.
2.We offer long life maintenance, technical support is available. We offer videos of installation and debugging.
3.Our machine is easy for installation. We will take pictures of the disconnect parts of machines, you
4.can install the machines according to pictures. We attach marks on the machines that need to connect,
5.you caninstall the machines by yourselves. It is cost saving for you.
6.The spare parts are optional according to customers needs.
Working process on Filling counting machine integrated with the fully automatic line like capping labeling dissicant inserting equipment:
Inserting machine for dessicant into bottles:
High speed capping machine bottles capper equipment
Round bottles labeling machine
Final capsule bottles