CERTIFICATES

CONTACT US

Email:jackdu999@yahoo.com

Tel:+8675586718316
Phone:+86-15811882441
Pharmaceutical pipe containers syringe labeling machine semi automatic customized labeler equipment with date expiry codes thermal printing function
Model YX-SL25
Customized syringe labeling machine with date coding function:
Accuracy ±0.5mm
Speed 15~25bpm
Diameter Ø 15mm~Ø 150mm
Label size Length:20mm~200mm;width:20mm~220mm;
Dimension L920mm×W470mm×H500mm
supply power 220V/50HZ;
N.W 45Kg
Inner diameter of label Ø76mm
Outer diameter of label Ø 240mm
Voltage 220V-240V/50-60HZ


Description
Model YX-SL25 Pharmaceutical pipe containers syringe injection needles labeling machine semi automatic customized labeler equipment with date expiry codes thermal printing function
Application◆ Suitable for all kinds of cylindrical objects labeling, small taper round bottle labeling, such as xylitol, cosmetics round bottles, wine bottles and so on. Can achieve full week / half weeks labeling, front and back labeling circumference, is back mark pitch can be adjusted. Widely used in food, cosmetics, chemical, pharmaceutical and other industries.
Bird view of labeling machine model YX-SL25
| | | |
| --- | --- | --- |
| | | |
| | | Putting the labels around it |
| | | The path of label for labeling process |
| | Supports for light sensor | Light sensor installation,movable up and down ward |
| | | Press the bottles during labeling,adjust its tension by controlling left button |
| | | |
| | | Adjust this left or right,up or down to position the bottles |
| | | Different positions for various bottles |
| | | Tract the bottom line to dispense the label,adjust its tension by moving the screws |
| | | controlling the labeling process with pressing on the pedal |
| | | electric components for labeling machines |
| | | Controlling the machines with changing the parameters |
| | | |
| | | Detecting the interval of labels |
Parameter of syringe labeler model YX-SL25: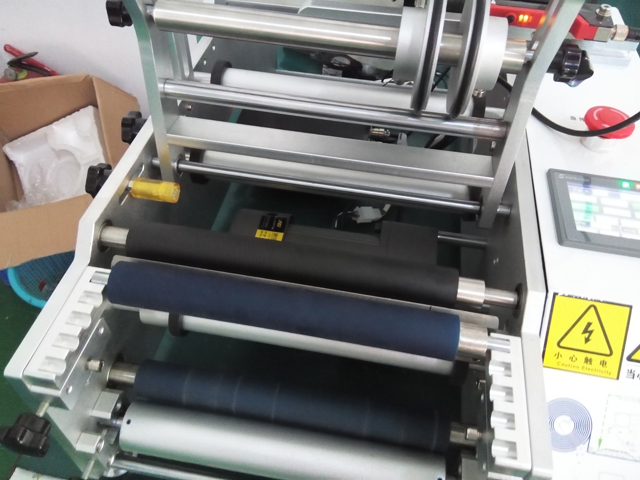 Model YX-SL25
Customized syringe labeling machine with date coding function:
Accuracy ±0.5mm Speed 15~25bpm
Diameter Ø 15mm~Ø 150mm
Label size Length:20mm~200mm;width:20mm~220mm;
Dimension L920mm×W470mm×H500mm
supply power 220V/50HZ; N.W 45Kg
Inner diameter of label Ø76mm
Outer diameter of label Ø 240mm
Voltage 220V-240V/50-60HZ
* Core works: single standard, double standard switching function principle, the principle circumferential positioning labeling, please consult factory.
* Procedure: put the product -> Labeling (device automatically) -> Remove the labeling products.
Making of matching labels
Optional functions choosed improve production management convenience, with labeling counting, power-saving mode, photoelectric tracking label and other functions, production management easier;
optional features and components:
② circumference circumferential positioning function;
③ Other features (according to customer requirements).
► About code printer: Chinese&enlish character, arabic number Roman letter (ifyou have th special requirements it can be customized)
►two sizes of printer letters2*3mm &1.5*3mm
►code printer can printer 3 lines ,16 letters for each line
►the syringe labeling machine YX-SL25 can label the syringe with the min diameter of 8mm,therefore after analyzing your drawings there is no problem about the labeling syringe. the labeling accuracy is ±0.5m
►The working principle for transparent label is thus illustrated: 1.the materials of foil ,if the foil is the transparent ,then it must be equipped with the transparent label light sensor; 2. if the foil is not transparent,it can stop and sensor the label by the common light sensor as long as to dot the hole in the label during making the label. the labels from you with the untransparent foil is okay for our syringe labeling machine.
►Above all ,the machine is the best choice for you to label.
►The manual operation cannot be released until our customer places the order.Sorry that is our company's rule,which is only kept by the engineer team and our sales department cannot have it.
Videos of thermal coding printer machine as below:
Samples for syringes final product from CUSTOMERS all over the world:
After-sales service of model YX-SL25 customized labeling machine semi automatic pharmaceutical packaging equipment:
Mark on after sales service for labeling machine PENGLAI YX series

@before delivery,machine be tested and adjusted at our factory
@English operation manual and relative spare parts offer
@English operation interface
@delivery term:30% of the amount in advance,finish machine within 25 working days,delivery after the balance paid
@after-sale service:1 year guarantee period and lifetime maintenance,as to the fee,damage not caused by personal and within the guarantee period,fix it up for free,otherwise,for charge