CERTIFICATES

CONTACT US

Email:jackdu999@yahoo.com

Tel:+8675586718316
Phone:+86-15811882441
Austrian customer Mr Jochen Zizka orders single heads liquid filling machine two sets filler capper
Published by: PENGLAI INDUSTRIAL CORPORATION
Date:2014-02-17 14:49:14
last week our old customer Mr Jochen Zizka from australia placed another order about the spare parts Omron relays (6sets)/1 set of wheel for screw capping machinery as well as two brand new sets of
high precision magnesis pump liquid filling machinery .As soon as we received the money from Paypal then we today is about to DHL the goods to our friend.
Here is the basic pictures of the relays and liquid filling machinery(freely offered with 6meter Laenger Schlauch tubes ):
---
The basic information about high precision magnesis pump liquid filling machinery semi automatic:
the trial run of operation of high precision liquid filling machine semi automatic:
1.pump and motor use Japanese import brand, timing control uses OMRON,
2. Pump head of the magnetic pump filling machine is made by 316L stainless, with acid
proof,anticorrosive,wildly used and suitable for any kinds of liquid, especially it used for oils,washing liquid ,Acid and Base liquid ,
high corrosive fluid.

3. Use inverter operate, keep high filling accuracy.
4. gear pump driven by magnetic.
5.The filling time,can be accurate to 0.01 second, so as to ensure the filling accuracy, the error is less than 2%.
6.The material mouth can be extended,the tubed flap can be moved ,the machine can meet 5ml-2000 ml filling capacity requirements,
it not restricted by the filling capacity.
7.You can operate the machine by hand or pedal ,Automatic intermittent filling, intermittent time can be adjusted.
This magnetic pump filling machine is a new-style filling machine adopted high precision Mini magnetic pump,
rotate speed and time to measure volume.
technical parameters of Magnetic Pump Filling Machine for pharmaceutical liquid: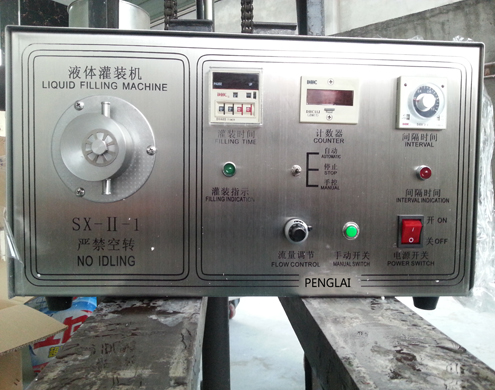 Model YX-I
Volt 220V 50/60Hz 40W
Filling range 5ml-500ml
Filling accuracy less than ±0.6%
Size 350×320×190mm
N.T. 23 KG
---
Standard plywood packaging for exporting
After sales service: After sales service shall be done by the buyer. PENGLAI machine will provide all kinds of technical support to the buyer by telephone, fax or e-mail free of charge.
But any service cost to buyer's country is not included.
Guarantee: Three years. The supplier can replace only the elements that are imperfect for material or handwork. Replacement is free and ex factory.
All imperfect elements have to be delivered within 12 months (carriage paid). Guarantee excludes every worn or torn parts.
Replacement handwork is excluded and it will be done by the buyer. The supplier is not responsible for any rewards for, damages or last earnings met by buyer.
Guarantee is not valid if the machine is used the wrong way or it is not serviced as shown in our technical handbook.