CERTIFICATES

CONTACT US

Email:jackdu999@yahoo.com

Tel:+8675586718316
Phone:+86-15811882441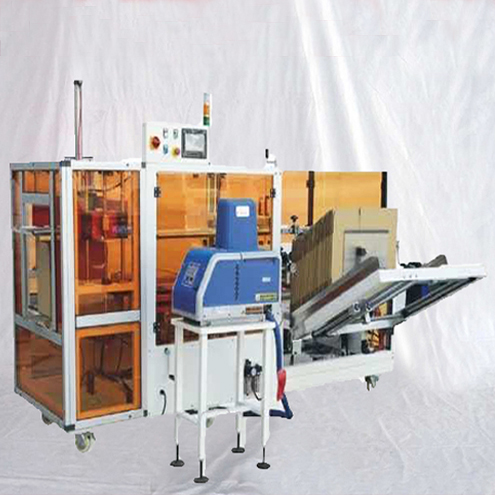 automatic hot melt adhesive carton boxes case opening erecting bottom forming sealing equipment end packaging integated line erector former sealer equipment
Model YX-CR5025-A
Package size 300≤ L ≤ 500MM
200≤ W ≤ 400MM
500≤ L+W ≤ 900MM
285≤ H+W/2 ≤ 620MM
Sealing speed 10-15boxes/min or 22-25boxes/min
Machine Size L3000*W1950*H1500mm(subject to
the actual machine)
Power supply 220/380V 50HZ
Poewer output 400W(not including melting machine)
Air pressure 6kgf/cm², 450nl/min
N.W 400kg

Description
The machine carton erector is operated and maintained easily with simple structure and high quality, for which it is widely used in various industries.
Safety precautions. The machine is integrated with hot melt glue applicator.
1.The operator and maintenance personnel should read the operating manual carefully before operating and maintaining this machine.
2.The operator must keep away from the back folding plate to avoid injury.
3.The power and gas must be closed when installing the tape and doing the daily maintenance.
4.Only the trained personnel can operate the machine.
Performance/Features(carton erecting machine)
Features of Machine Carton erecting with hotmelt glue applicator autoamtic
►Suitable for hot melt adhesive box and sealing from back cover
►Air cylinder structures
►Machine speed is up to the specification of the box
►Can be equipped with different machine or one unit machine:box suction, forming, folding, sealing from back cover
►Carton feeding alarm system
►.Cartons store in vertical way,can be filled any time without stopping the machine
►Suitable for the same size of carton at the same time for sealing in batches, manually adjusting when change to
other size of carton
►The height of the standard machine is 650mm
►Hot melt adhesive machine is optional to purchase
►Accept customized machine
Carton erecting packing machine Options:
Stainless steel version; Hot melt glue sealing type
Right hand or left hand; Specified machine color
Specified pneumatic and electrical elements brand
Open safety guard alarm, machine stop function
Isolate electrical cabinet
2 & 3 inch tape head; 24V low voltage control
Semi automatic carton sealing machine with hot melt glue applicator:
Fully automatic carton erector + top sealing+ strapping machinery automated line:
Basic parameter for hot melt glue applicator:
| | |
| --- | --- |
| Technical Parameters | ProBlue 7 |
| Glue Cylinder Volume | 7L |
| Holding Capacity | 6.8kg |
| Melt Speed*2 | 8.2kg/hr |
| Throughout | 10.9kg/hr |
| Max. Pump Rate | 32.7kg/hr |
| Air pressure Range | 48-415kpa(10-60psi) |
| Input Voltage Standard | AC200-240V 1PH 50/60HZ |
| Machine Size | 609*469*322mm |
| Machine Weight | 44kg |
| Ambient Temperature Range | 0-50 ℃ |
| Temperature Range | 40-230 ℃ |
| Max. Working Hydraulic Pressure | 8.7Mpa |
| Levels of protection | IP54 |
Basic parameter of automatic carton erector equipment model YX-CR5025 :
| | |
| --- | --- |
| Voltage (V/Hz) | AC 220/50(can be adjusted with US power supply) |
| Power (W) | 220 |
| Gas Pressure (Mpa) | 6-7kg |
| Max. Carton Size (W×H) (mm) | 500*400*400mm |
| Min. Carton Size (W×H) (mm) | 250*150*100mm |
| Taping Speed (m/min) | 24 |
| Adhesive Tape Used | BOPP Water-free Adhesive Tape PVC Adhesive Tape |
| Height of Table (mm) | 600mm |
| Width of Adhesive Tape (mm) | 60 (There will be some change on min. carton size if you use the tape in width 48mm or 76mm) |
| External Dimensions (L×W×H) (mm) | 2000*1900*1450mm |
| Net Weight (kg) | 480kg |
| | |
Illustration of carton erecting machine model YX-CR5025
Malfunctions and solutions on carton erection bottom sealing equipment:

Malfunction and Solution of the Sealer

Nr

Malfunction

Possible reason

Solution

1

Adhesive tape can

not be cut off

The reamer patch is not sharp enough.

The reamer tine isjammed by the bond.

Change the reamer patch

Launder the reamer patch

2

There is tail

after the adhesive tape

is cut off.


The reamer patch is not sharp enough.

There is stem on the reamer seating.

The pulling spring is too loose.

Check if the nut on the reamer

seating is too loose or not.

Lubricate the nut if necessary.

3

The adhesive tape

can't stick to the carton

completely.

Main spring is too loose

and there is glue

on the axis of the roller.

The adhesive tape is disqualification

Adjust the pull of main spring

and clear up the roller.

Change the adhesive tape

4

The carton is locked

in the midway.

The nut on the pasting wheel

is too tight,

the height adjustment of the carton's

transporting line is not suitable,

and the main spring is too tight.

Loosen the pasting wheel,

regulate the nut,

re-adjust the height

and loosen the main spring.

5

The adhesive tape

is cut down

during sealing.

The reamer patch protrudes

excessively long.

Lower the place

of the reamer patch.

6

The adhesive tape is

often off the track.

The pressure of the guiding roller

on the carton is not equal.

Re-adjust the space

of the guiding roller.

7

The adhesive tape

is not on the central line.

The anti-retrorse wheel is broken.

Change the anti-retrorse.

8

There is abnormity

during the sealing.

There is dust on the axletree seating.

Clean the axletree

seating and lubricate.

9

There is jut

before sealing

and drape after sealing.

The speed of different straps

is different, and the carton is not

at the proper place

when pushing into the machine.

Adjust each transporting line's

pull to be consistent

so that the carton

can be put at the correct place.

10

There is drape

after sealing

the strain of adhesive tape is too large

Carton erecting machine integrated with encasing equipment for bottles filling line

Carton erecting machine integrated with encasing equipment for bags packaging line
ALL RIGHTS RESERVED by ®PENGLAI INDUSTRIAL CORPORATION LIMITED