CERTIFICATES

CONTACT US

Email:jackdu999@yahoo.com

Tel:+8675586718316
Phone:+86-15811882441
Description
Colloid mill is the equipment thinning, grinding the fluid, semiliquids material. Can be used for different output.
Characteristics of colloid mill :
The equipment has characteristics of compact configuration,stabilization,high output,low temperature,thin granularity.The parts of contacting to the material are entirely made of stainless steel,so the equipment is unpolluted to processing material and be accord with the standard of the food sanitation completely.
The milling head of the colloid mill is through special heat treatment,it has a long service life,and easy to handle,convenient to clean and maintenance.This equipment can process many types of material and after the productions are processed by the machine can preserve intrinsic nutrition elements and fresh characteristics.
The milling head of the equipment can be changed and adjusted in liberty according to the material characteristics and fact use needs.
Application range
Food industry: aloe vera, coconut juice, pineapple syrup, emulsion pig, chicken mud, chili sauce, sesame, fruit tea, ice cream, moon cake filling (pie filling), butter, jam, fruit juice, soybeans, soybean paste, red bean, peanut milk, protein milk, soy milk, dairy products, malted milk, flavor, spices, beer, vegetable protein, animal protein and various food and beverages.
Chemical industry: paint, paints, dyes, paints, lubricants, synthetic grease, grease, diesel, petroleum catalyst, emulsified asphalt, adhesives, detergents, plastics, explosives, glass, steel, synthetic leather, leather and emulsion explosives.
Household Chemicals: toothpaste, detergent, shampoo, shoe polish, senior cosmetics, bath essence, soap and balm, etc.
Pharmaceutical industry: all kinds of syrup, nutrition, medicinal paste pharmaceutical, biological products, cod liver oil, pollen, royal jelly, vaccines, various creams, a variety of oral, injection and intravenous infusion of fluid, etc..
Construction industry: all kinds of paint. Including interior and exterior wall coatings, waterproof anti-corrosion coating, cold porcelain paint, colorful paint, ceramic glaze and spraying.
Other industries: plastic industry, textile industry, paper industry, coal flotation reagents, rare earth, nano materials and military fields and other new materials.
peanut butter colloid mill production line process
Shelling- Elevator--Roasting---Cooling--Peeling--Selecting --Milling
--Mixing--Cooling--degassing--Liquid filling machine
Basic parameter of model YX-130 colloid mill
Model

YX-80

YX-130

YX-180

YX-240

Output size

2----50 Micro

Capacity

30-40 kg/h

180-250 kg/h

400-450 kg/h

1000-1500 kg/h

Power

4kw,380v,50hz

15kw,380v,50hz

22kw,380v, 50hz

37kw,380v,50hz

Dia of rotor

80mm

130mm

180mm

240mm

Dimension

685*335*928

975*456*1054

981*456*1124

1319*500*1276

Weight

210kg

400kg

420kg

1300kg
Drawing of colloid mill fruit grinding equipments:
1.base; 2. main belt wheel; 3. Bearing 4.Axis ;5.base; 6.bearing ; 7.Output;
8.O ring; 9.Handle ; 10.Gland; 11.Hopper; 12.Self-cycling system ; 13.Lance
14.Milling plate ; 15.still milling plate 16.adjusting plate 17.Sealing parts;
18.Shell ; 19.Drain boles ; 20.motor 21.adjusting screw ; 22.triangle belt;
23.Motor base ; 24.Driven Pulley;
Spare parts&close pictures for colloid mill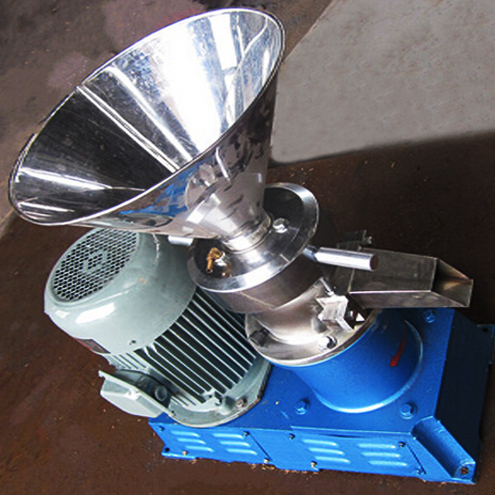 Tips:
1. keep equipment at horizontal place during operation
2. feed raw material when equipment get into stable running
3. no impurities such as stone, glass or metal can be feed
4. clean the equipment completely after each operation
Wooden case packing for colloid mill grinding equipment
After sales service &guarantee for vacuum emulsifier machine with load cell weighing system electric heating

Guarantee: for all the machine, it claims one year for guarantee.
(Excluded from the warranty are problems due to accidents, misuse ,
misapplication, storage damage, negligence, or modification to the Equipment or its components. ALSO THE EASY BROKEN SPARE PART IS NOT INCLUDED IN THE GUARANTEE)
Installation: after the machine arrive your factory,if you need,our technician will go to your place to install and test the machine and also training your worker to operating the machine
(The time of train depend on you worker). The expenses (air ticket ,food , hotel,the travelling fee on your country) should be on your account and you need paid for the technician USD50 per day.
also you can go to our factory to do training.
After service: If you get the problem on the machine ,our technician will go to your place to fixed the machine as soon as possible. The cost should be in your account.(as above).
PENGLAI INDUSTRIAL CORPORATION LIMITED