CERTIFICATES

CONTACT US

Email:jackdu999@yahoo.com

Tel:+8675586718316
Phone:+86-15811882441
Brasilian buyer for high shear homogenizer 4KW pneumatic mixing equipment cream making process
Published by: PENGLAI INDUSTRIAL CORPORATION
Date:2014-09-16 16:51:41
Our customers from Brasil ordered one (1*)set of 4KW high shear homogenizer pneumatic mixing equipment for his cream mixing process .
After 15work days we finally finished manufacturing the high shear mixer equipment for customers .after our customer came to our factory for a close check
and run on the machine model YX-4KW High shear homogenizer mixer for 50-300L cream emulsion,the buyer got satified at our machines and paid the
balance 70% for the mixer according to the agreed contract .
Another 15days later the buyer set up the forwarder and shipping ocean for the machine and we took the goods from our stock delivering it to the assigned
warehouse from which the mixing machine would be shipped to Brasil Itajai Port .
Below is the basic information for this deal international business :

Purchase order issued from our Mideast custuomer Mr Jose
Payment Slip under TT wire method for high shear homogenizer
Test run of model YX-4KW Pneumatic high shear homogenizer in video
Plywooden case packaging before ocean shipping for high shear homogenizer model YX-4KW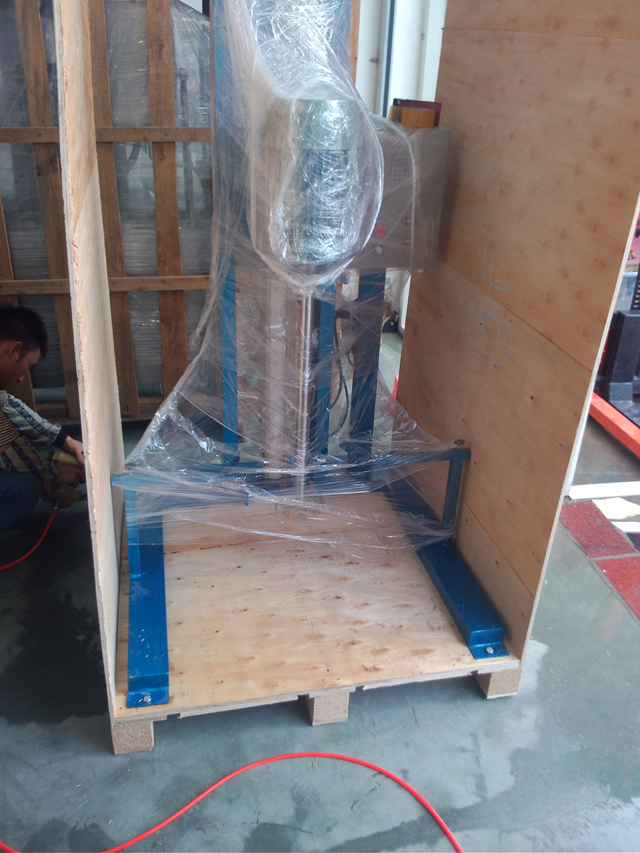 Shipping agent receiving the goods warehouse receipt
Below is the basic information about pneumatic high shear homogenizer PENGLAI brand model YX-4KW
pneumatic lifting moveable high shearing disperser in cosmetic food&pharmaceutical industry Moverable high shear disperser/homogenizer for emulsion cosmetic high shear dispersing equipment

Motor runs with full speed and drive main shaft, rotate emulsifying vane in the emulsifying groove through main shaft to make the liquid in the bucket sucked into ring groove by guide vanes at both sides through up and below end of groove, vane is rotated circularly and quickly with main shaft as center; cut and crush high frequency mightiness between emulsifying vane end blade and emulsifying frame continuously, then recur to vane high speed acentric rotating to push out, circle mixing continuous and finish homogenizing emulsifying treatment in very short time.
Working Process of high shear dispersing equipments:

The cutting wheel on main shaft drove by running motor imposes the material a high centrifugal speed.
Subject to the cut off, lash and mixing process caused by the interaction between the running cut wheel
and the fixed cut sheath,the materials were cut off in the cut slot.All the processes of crushing, emulsifying
can be accomplished within a short time.
Applicance:
This machine is used in homogenizing disperse and latex manufacture of medium and low viscosity emulsifying liquid and suitable to most of recipe requirement. Special rotor and stator bring out strong shearing.Rubbing.strike and convection to make oil water emulsifying grain reach stable condition1-2um).

Safety operation notice:
1)Mechanical length dimension of this machine is standard length, if
required, lengthen or shorten can be manufactured accordingly.
2)The best position of mechanical length is emulsifying groove and it is
best to go into 60% of effective liquid surface.
3)When choose emulsifying machine, here is reference:
capacity.viscosity.dealing time.reaction temperature.purpose. mail to
business department of our company.
4)Aquatic bearing of emulsifying machine adopts self-lubricated bearing
and it is forbidden to start machine when liquid is lower than
aquatic bearing to avoid damage of bearing.
5)Correct parameter accords with supplied practicality and if there is
any amendment, we will not inform in other way.
Specific example for 3KW portable pneumatic high shear disperser equipment

| | | | | | | | |
| --- | --- | --- | --- | --- | --- | --- | --- |
| Model | Power | Speed | Hydraulic pump | Capacity | Disc dia. | Stroke | Weight |
| YX-1.5 | 1.5kW | 0-1440rpm | 0.55kW | 20-100L | 100mm | 500mm | 350kg |
| YX-2.2 | 2.2kW | 0-1440rpm | 0.75kW | 50-150L | 150mm | 600mm | 400kg |
| YX-4 | 4kW | 0-1440rpm | 0.75kW | 50-200L | 200mm | 700mm | 450kg |
| YX-5.5 | 5.5kW | 0-1440rpm | 0.75kW | 80-250L | 200mm | 800mm | 600kg |
| YX-7.5 | 7.5kW | 0-1440rpm | 1.1kW | 100-300L | 250mm | 800mm | 700kg |
| YX-11 | 11kW | 0-1440rpm | 1.1kW | 100-400L | 250mm | 900mm | 750kg |
| YX-15 | 15kW | 0-1440rpm | 1.1kW | 100-500L | 300mm | 900mm | 800kg |
| YX-18.5 | 18.5kW | 0-1440rpm | 1.1kW | 100-800L | 300mm | 1100mm | 1000kg |
| YX-22 | 22kW | 0-1440rpm | 1.1kW | 150-1000L | 300mm | 1100mm | 1100kg |
| YX-30 | 30kW | 0-1440rpm | 1.1kW | 200-1200L | 350mm | 1100mm | 1200kg |
| YX-37 | 37kW | 0-1440rpm | 1.5kW | 300-2000L | 400mm | 1200mm | 1300kg |
| YX-45 | 45kW | 0-1440rpm | 1.5kW | 500-2000L | 450mm | 1200mm | 1400kg |
| YX-55 | 55kW | 0-1440rpm | 1.5kW | 1000-2000L | 500mm | 1300mm | 1500kg |
| YX-75 | 75kW | 0-1440rpm | 2.2kW | 2000-4000L | 550mm | 1800mm | 3000kg |
Besides the Moveable high shear dispersing equipments there also is the fixed high shear disperser equipment,below is the basic
information for the equipment:
Drawing of single bearing high shear dispersing equipment hydraulic lifting disperser machines
Pictures of single bearing high shear disperser homogenizer emulsifier fixed model
Final products samples of cream from high shear dispersing equipments:
After-sale service for high shear homogenizer mixing equipment pneumatic from PENGLAI INDUSTRIAL CORP
Guarantee: for all the machine, it claims one year for guarantee.
(Excluded from the warranty are problems due to accidents, misuse ,
misapplication, storage damage, negligence, or modification to the Equipment or its components. ALSO THE EASY BROKEN SPARE PART IS NOT INCLUDED IN THE GUARANTEE)
Installation: after the machine arrive your factory,if you need,our technician will go to your place to install and test the machine and also training your worker to operating the machine
(The time of train depend on you worker). The expenses (air ticket ,food , hotel,the travelling fee on your country) should be on your account and you need paid for the technician USD50 per day.
also you can go to our factory to do training.
After service: If you get the problem on the machine ,our technician will go to your place to fixed the machine as soon as possible. The cost should be in your account.(as above).