CERTIFICATES

CONTACT US

Email:jackdu999@yahoo.com

Tel:+8675586718316
Phone:+86-15811882441
double wire book binding machine calendar notes books stationary cutting bound punching equipment automatic
model YX-DWC520 Feeding mode
manual Double wire feeding
Automatic cutting insertion& closing Coil specification
(diameter)1/4—3/4, Pitch: 3:1, 2:1
Max paper width 520mm
Max binding width 507mm
Min paper width 75mm
Working speed 1,200-1,500
working table Size 600 X300mm
Power 220V,50HZ/1.5KW
Air compressor(not include)
Atmospheric pressure 6-8Pa
Dimensions(WX D XH) 1,030 X770 X1,200mm
Weight 220kg
Py-off unit dimensions 490X 760 X1,200mm
Py-off unit weight 65kg

Description
The semi automatic double coil binder is equipped with automatic computation mentions, the automatic partition, automatically puts on the book and automatically press fits takes shape .it might greatly save the manpower and reduce the double coil waste, widely will be suitable for the books, the notebook, records events thinly, product the and also used on calendar, calendar loose leaf binds. The machine is with Touches screen, PLC control, and all the important parts used Siemens brand. Hanger attachment as optional.
Double wire notebook binding machineYX-DWC520 are suitable to binding each kinds of print and so on books and periodicals,magazine,small capital,advertisement,instruction booklet .This machine uses the frequency conversion velocity modulation .The esssential spot uses imports the part,the reliability strongly,operation simple,high efficiency.
Features of automatic binding equipment
Uses double wire on spools, both pitch 3:1 and 2:1;
Great flexibility, 9 different double wire diameters can be used from 1/4" up to 7/8"
With proper tools-size-set (simply change the binding tools);
Microprocessor controlled with touch screen;
The machine operates electrically and must be connected to a compressed air supply;
Basic parameter of binding machine: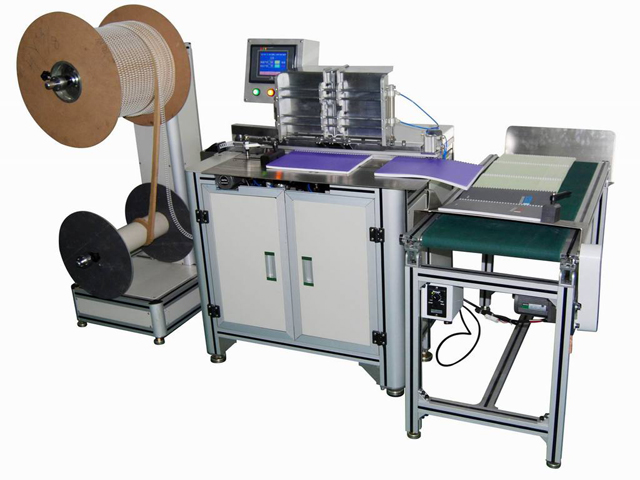 Function

Modelo

YX-DWC520

Feeding mode

Alimentando modo

manual

Double wire feeding

Alimentação do arame duplo

Auto cutting, Inserting closing

Coil specification

Bobina de especificação (diâmetro)

Diameter 1/4 to 3/4 inch

Pitch 3:1 , 2:1

Max paper width

Papel Largura máxima

520mm

Max binding width

Largura máxima de ligação

507mm

Min paper width

Largura mínima de papel

75mm

Working speed

Velocidade de trabalho

1200—1500B/H

working table Size

Tamanho trabalhar tabela

600X300mm

Power

Poder

220V ,50Hz

Air compressor(not include)

Compressor de ar (para não incluir)

1.5KW

Air pressure

Pressão de ar

6-8 Pa

Dimensions(LX WX H)

Dimensões (CxLxA)

1,030 x770x1, 200mm

Weight

Peso

220KG

Py-off unit dimensions

Dimensões Py-off da unidade

490x760x1, 200mm

Py-off unit weight

Py-off unidade de peso

65KG
Advantages:
Effective speed: 1200-1500 units per hour, 8 + times faster than manual binding;
Automatic cutting, automatic binding and closing, automatic collect the finished notebooks;
With the calendar hanger insertion;
Touch screen and multi-language available (English);
Panasonic PLC control system;
Skip-binding, up to 6 segments, greatly improve the efficiency and save double wires;
Binding samples books notes
Other details pictures for the binding machine books bund equipment model YX-DWC520
ALL RIGHTS RESERVED by ®PENGLAI INDUSTRIAL CORPORATION LIMITED