CERTIFICATES

CONTACT US

Email:jackdu999@yahoo.com

Tel:+8675586718316
Phone:+86-15811882441
Bag-in-Box aseptic packaging juice wine syrup filling capping machine dual heads filler capper automatic
Model YX-BB02
Filling volume: 2L-30L
Filling Accuracy:±0.5%
Filling Speed: 240-280 bpm(Calculated by the 5Liter bag)
Power: ≤0.40 KW
Inlet pressure:≤0.3~0.35Mpa
Power supply:AC220V/50~60Hz
Air pressure:0.4~0.6 Mpa
Air consumption:0.2m3/min
Dimension:710*1000*1500mm
Weight:450kg

Description
The BiB has many common commercial applications. One of the most common uses of BiBs by commercial users are to supply syrup to soft drink fountains and to dispense bulk supplied condiments such as ketchup or mustard in the foodservice industry specifically in fast food outlets.
BiB technology is still used for its original application of dispensing sulfuric acid for filling lead-acid batteries in garages and dealerships. As explained further below, BiBs have also been implemented for consumer applications like boxed wine.
For commercial syrup applications, the customer opens one end of the box (sometimes via a pre-scored opening) and connects a compatible connector to a fitment on the bag to pump out its contents.
The fitment itself contains a one-way valve which opens only with pressure from the attached connector and which prevents contamination of the syrup in the bag. For consumer applications like boxed wine, there is a tap already present on the bag, so all the consumer has to do is locate the tap on the outside of the box.
A bag-in-box or BiB is a type of container for the storage and transportation of liquids. It consists of a strong bladder (or plastic bag), usually made of several layers of metallised film or other plastics, seated inside a corrugated fiberboard box.
The bag is supplied to the company which will fill it as an empty pre-made bag. The company filling the bag with its product generally removes the tap, fills the bag (with wine, juice or other liquid) and replaces the tap and then the bag is placed in the box.
The bags are available as singles for semi-automatic machines or as web bags, where the bags have perforations between each one. These are used on automated filling systems where the bag is separated on line either before the bag is automatically filled or after.
Depending on the end use there are a number of options that can be used on the bag instead of the tap. The bags can be filled from chilled product temperatures up to 85 degrees Celsius.

Bag-in-box packaging can be made using form seal fill (FSF) technology, where the bags are manufactured on-line from reels of film, then the FlexTap is inserted then filled on an integral rotary head filler. This technology is currently limited to the packing of wine and soda fountain syrup products.
Bag-in-box is also used extensively in the packaging of processed fruit and dairy products in aseptic processes. Using aseptic packaging equipment, products can be packed in aseptic packaging.
Pasteurised or UHT treated products packed into this format can be "shelf stable", requiring no refrigeration. Some products can have a shelf life of up to 2 years, depending on the type of bag that is used.

The key to this unique system is that the product being filled is not exposed to the external environment at any stage during the process and as such, there is no possibility of a bacterial load being added to the product during the filling process. To ensure there is no contamination from the packaging, the bag is irradiated after the bag manufacturing process.

These packs are typically from 10 to 1200 litres and offer the advantage of cheap, disposable and transport efficient packaging.

Main features and performance: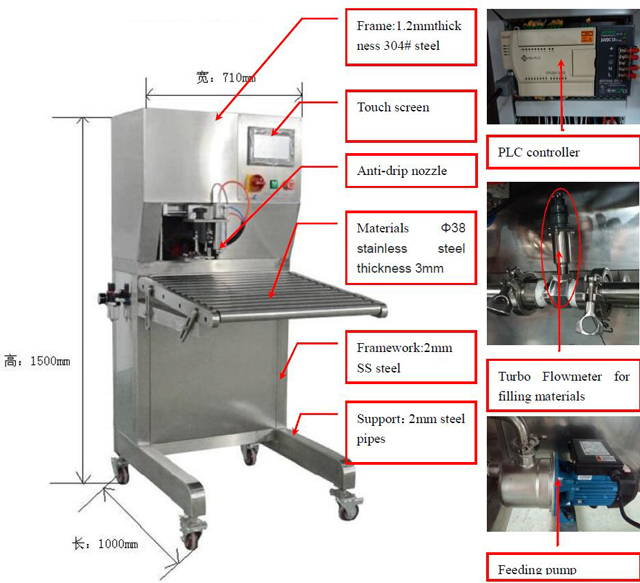 1. It features a beautiful appearance thanks to a housing and a machine frame fabricated with quality stainless steel; all tubing contacting the material is made of 304# stainless steel and food grade plastic tubes, which helps realize cleaning in place (CIP) and comply with hygienic standards for food;
2. It can complete some process steps automatically, including realizing net weight, uncapping following the bags delivered by people, vacuum pumping, quantitative filling, pressing the caps, and others, and therefore enjoys a high level of automation;
3. Thanks to use of a flow meter to control the quantity of material released in each discharge, the machine features high filling precision.
4. It is intuitive and rapid to set up and adjust the filling quantity within the scope of design;
5. The machine can fill at two speeds to avoid washover and keep high filling precision;
6. All its pneumatic and electric parts and components are imported products of well-known international brands and guarantee stable performance, excellent reliability and durability;
7. The machine can conduct vacuum pumping on the bags before they are filled, thereby helping extend the shelf life of the product. It also enables addition of a nitrogen charging system according to the customer's requirements (customized on the basis of the standard configuration);
Basic parameter of filling capping machine:
Model YX-BB02
Filling volume: 2L-30L
Filling Accuracy:±0.5%
Filling Speed: 240-280 bpm(Calculated by the 5Liter bag)
Power: ≤0.40 KW
Inlet pressure:≤0.3~0.35Mpa
Power supply:AC220V/50~60Hz
Air pressure:0.4~0.6 Mpa
Air consumption:0.2m3/min
Dimension:710*1000*1500mm
Weight:450kg
This Bag-in-Box Filling machine's working process:
Manually putting the bag in place -automatically pulling out the tap -Automatic vacuum pumping -Automatic metering and filling -Automatically pressing the tap in place
Configuration of model YX-BB023 dual heads filling capping machine:
Sr


Name


Model


Qty


Origin place


1

PLC

2402

1pc

AuTuo China


2

Touch Screen


MT6070IH5

1pc

WenView Taiwan


3

Turbo Flow meter


LWGY-15

1pc

HaoYi China


4

Vacuum generator


CV-15HS

1pc

Convum Japan


5

Magnetic sensor


CS1-J

5pc

Omron Japan


6

Pneumatic parts


1set

AirTac TaiWan


7

Materials feeding pump


BJZ037

1pc

Lingxiao China


Marks:The components can be customized according to customer's special requirements

Samples sent from customers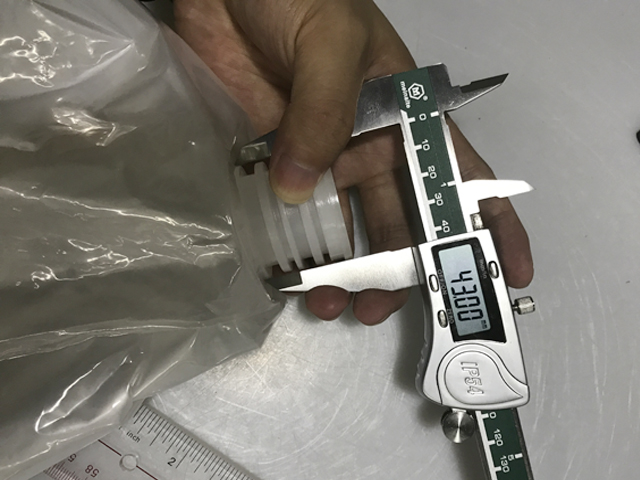 Bags samples for BIB filling machine
After-sales service for filling line
We guarantee the quality of the main parts within 12 months. If the main parts go wrong without artificial
factors within one year, we will freely provide them or maintain them for you. After one year, if you need
to change parts, we will kindly provide you with the best price or maintain it in your site. Whenever you
have technical question in using it, we will freely do our best to support you.
Guarantee of quality :
The Manufacturer shall guarantee the goods are made of Manufacturer's best materials, with first class workmanship,
brand new, unused and correspond in all respects with the quality, specification and performance as stipulated in this Contract. Quality guarantee period is within 12 months from B/L date.
The Manufacturer would repair the contracted machines free of charge during the quality guarantee period.
If the break- down can be due to the improper use or other reasons by the Buyer, the Manufacturer will collect repair parts cost.
Installation and Debugging:
The seller would dispatch his engineers to instruct the installation and debugging. Cost would be bear on
buyer's side (round way flight tickets, accommodation fees in buyer country).The buyer should provide his site assistance for the installation and debugging.