CERTIFICATES

CONTACT US

Email:jackdu999@yahoo.com

Tel:+8675586718316
Phone:+86-15811882441
Fully automatic sticker labeling machine top surface labeller for cards plates covers with feeding &collection device
Cover sticker labeling machine fully automatic with feeder&accumulation device
Model YX-PL510A
Driving Mode Servo motor
Yield(pcs/min) 30-50 (depends on product and label size)
Operating direction Left or Right
Conveyor Speed(m/min) ≤40
Labeling Accuracy ±1.5 mm
Inner diameter of label roll 76 mm
Outer diameter of label roll 350 mm(max)
Suitable label size Height≤200 mm
Suitable labeling products size Can customized depends on client product
Printer use air 5kg/cm ²
Air source 0.6MPa
Voltage (can customized) 110V/220V/380V
Power(kw) 1.5KW
Size 2900*720*850mm
Weight 280kg

Description
Labeling systems are used to apply preprinted labels to products, individual packages, cartons, cases and pallet loads to identify those unique items. They are also often used to apply labels to products in order to promote the manufacturer's brand image. The content of these labels can vary from a simple black & white bar code, 1D or 2D code used for identification, to a complex multicolor product label carrying eye-catching brand identity.
The automatic flat labeling machine is the new generation of packaging equipment. It is special designed based on the automatic labeling machine technology and technical requirements. Can make the adhesive labels stick on the bottle surface smooth and tidy. Labeling process is stable and reliable, and labeling position can reach the ideal requirements.
The automatic flat labeling machine belongs to the electromechanical integration products with reasonable structure. It is used to rolling the adhesive label on the round bottles automatically, when there is lack of bottle, the control system will stop offering the labels, which can avoid the label paper waste effectively, and can adjustment stepless according to the scale of the bottle and the label characteristics.
Equipment labeling top surface products composition :

Electrical cabinet Automatic feeder device Conveyor Air cylinder brush label device labeling engineAutomatic collection device、Operation system and control system;
3. Equipment function characteristics
►Control system:SIEMENS PLC control system, with high stable operation and extremely low failure rate;
► Operation system:SIEMENS touch screen, with Chinese and English language, rich with help function and fault display function,easy operation;
►Check system: German LEUZE check label sensor, automatic check label position, stable and convenient don't have much higher requirement for the worker skill;
►Send label system:Panisonic servo motor control system, stable with high speed;
►Alarm function : such as label spill, label broken or other malfunction during machine working all will alarm and stop working.
►Machine Material : The machine and spare parts all use material S304 stainless steel and anodized senior aluminum alloy,with high corrosion resistance and never rust;
►Low voltage circuit all use the France Schneider brand.
Working process of labeling machine

1 The workers put products on the automatic feede device, products been though 4 pieces feeder cylinder, make sure the bottom products been separate, then delivery to labeling engine;
2 When sensor check Product, send signal to PLC, PLC received signal deal with information first, then output signal to servo motor driver, driven by the drive motor send label.
The brush label device past label on Product top surface, labeling finish.
3 The products labelled will delivery to automatic collection device, then workers take out all products from automatic collection device, collection working finish。
The Technical Parameter of sticker labeling machine:

Model YX-PL510A
Driving Mode Servo motor
Yield(pcs/min) 30-50 (depends on product and label size)
Operating direction Left or Right
Conveyor Speed(m/min) ≤40
Labeling Accuracy ±1.5 mm
Inner diameter of label roll 76 mm
Outer diameter of label roll 350 mm(max)
Suitable label size Height≤200 mm
Suitable labeling products size Can customized depends on client product
Printer use air 5kg/cm ²
Air source 0.6MPa
Voltage (can customized) 110V/220V/380V
Power(kw) 1.5KW
Main Electrical Configuration of top surface labeling machine fully automatic

No Name Model Unit Brand
1 HMI (Touch screen) 648-0CC11-3AX0 1Piece SIEMENS
2 programmable control (PLC) 288-IST20-0AA0 1Piece SIEMENS
3 Labeling engine (servo system )
MHMF042L1U2M(servo motor) 1Piece Panisonic MBDLN25SG(servo driver) 1Piece Panisonic
4 Sensor (check product) FS-N18N 1set Japan KEYENCE
5 Sensor (check label) GSU14D/66.3-S12 1set German LEUZE
6 Low voltage circuit breaker, terminal, relay Each 1set France
Schneider
7 Frequency converter
(conveyor) VFD007EL21W 1set DELTA
8 Conveyor motor 90YS120GY22/90GF10H(Ø12) 1Piece German JSCC
9 Digital temperature controller(printer) XMTG-8411 1set JDYB
10 cylinder(printer head) ACQ16-10 1set Taiwan AIRTAC
11 cylinder(printer ribbon) PB10×15-S-U 1set Taiwan AIRTAC
9. Free spare parts list:
No Name Model Unit Amount
1 Fuse Piece 3
2 Green Round Belt Φ3、Φ5 Meter 1m/size
3 Word grain (for printer) In English box 1
4 Printer ribbon (for printer) roll 2
5 Heating tube (for printer) Piece 2
6 Tools with machine Set 1
Labeling samples
What is A labeling System
Labeling systems are available in a variety of designs and configurations, each suited to applying labels that meet a specific need. Semi-automatic label printer applicators are set up to manually supply labels to be applied on individual products. Fully automatic labeling machines are integrated into the production process, applying labels to passing products at production line speeds.

These labeling solutions include print-and-apply label printer applicators that produce labels individually that are then applied to packages or shipping loads, and case labelers that record contents of the case. In addition to identifying products, these labeling solutions, to meet the requirements of distributors and retailers, can also place labels that record product ingredients, the temperature at which products have been stored, the brand owner's brand image, shipping address, etc. They can also print the size type the customer requires, as well as ensuring clear, readable characters and bar codes.

On the production line, labeling solutions are integrated with other line systems and automatically receive the products or packages that are to be labeled. Hand-held manual labeling machines apply a new label on command, which is then applied to the package or product to be identified.

Some labeling solutions and the labeling machines that activate them are a critical element in the need to supply products, packages and pallets with unique identifiers and/or shipping information. These labels are critical to moving products successfully through distribution channels. Pallet loads of products, for example, that arrive at retailers' docks without complete and accurate labeling may be rejected and returned at the manufacturers' expense.

Similarly, those labeling systems and label machines that apply brand labels to individual products and packages must be able to apply those labels very precisely, since a wrinkled or off-center label tends to reflect negatively on the product's brand image. In some cases, these labeling systems also incorporate vision inspection systems that confirm the proper placement and the condition of the applied labels.
Shipping&after-sales support: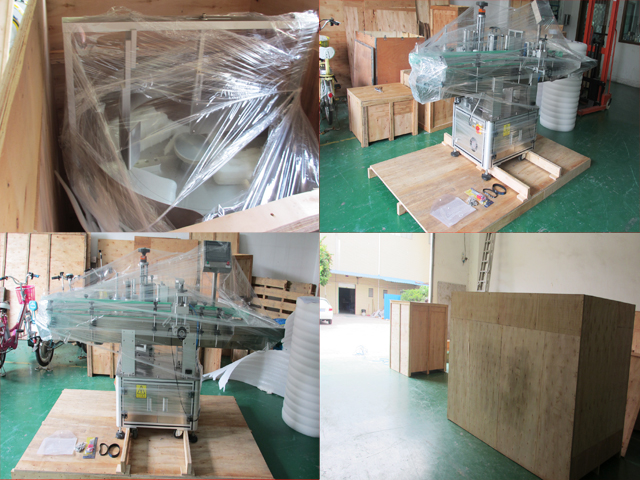 Guarantee: for all the machine, it claims one year for guarantee.(Excluded from the warranty are problems due to accidents, misuse , misapplication, storage damage, negligence, or modification to the Equipment or its components.ALSO THE EASY BROKEN SPARE PART IS NOT INCLUDED IN THE GUARANTEE)
Installation: after the machine arrive your factory,if you need,our technician will go to your place to install and test the machine and also training your worker to operating the machine (The time of train depend on you worker).The expenses (air ticket ,food , hotel,the travelling fee on your country) should be on your account and you need paid for the technician USD50 per day. also you can go to our factory to do training.
After service: If you get the problem on the machine,our technician will go to your place to fixed the machine as soon as possible. The cost should be in your account.(as above).
ALL RIGHTS RESERVED by ®SHENZHEN PENGLAI INDUSTRIAL CORPORATION LIMITED