CERTIFICATES

CONTACT US

Email:jackdu999@yahoo.com

Tel:+8675586718316
Phone:+86-15811882441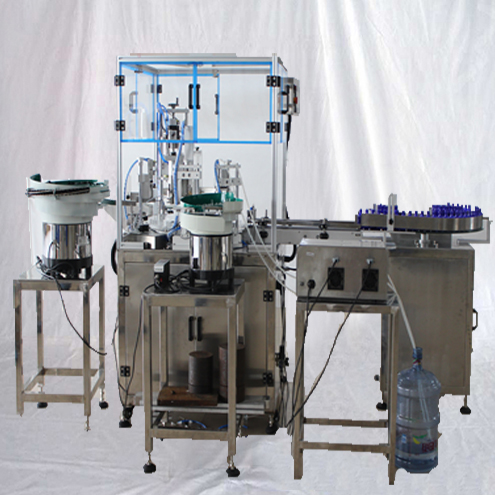 peristaltic pump liquid dosing filling capping labeling line with rotary table for extracts aromatherapy flavor essential oils
Model YX-50G:
Filling volume:1ml to 150ml
Filling nozzle:2set
Weight: around 550 k
Power supply: 220V 50Hz
Power consumption:1.75kw
Air pressure: 4-7kgf/cm2
Capacity :Around 20~30pcs/min
Overall dimensions : 3500mm*3000mm*1700mm

Description
The Good filling machine is the one that Maximizing output and simplify changeovers. We PENGLAI CHINA has been developing the machinery in dosing small bottles like filling Perfume、essential oil、E-liquid and other daily use fluid materials.
Click the list below-mentioned for easier navigation on the product page:
►1.5 Points to decide how to design a filling line
►2.Drawing of model YX-50G oil bottling line
►3.Choose the peristaltic pump to avoid cross contamination
►4.Must-Read notice before using model YX-50G machine
►5.Parameters of model YX-50G bottling machine
►6.Configuration of model YX-50G liquid bottling line
►7.Operation Process of how to operate machines
►8.Samples essential bottle filled
How to design a filling line with the related machines is up to the points FIVE given as below:
►Product is king When picking a specific filling machine, a good place to start is to know the exact characteristics of the liquid product. Is it a free-flowing liquid? This might work better with a timed-flow fill machine where the same volume of product is delivered each cycle.
What if the product is more viscous? For that, a positive displacement liquid filler might be the way to go.
►Product and container versatility Because of the wide variety of products being packaged at plants, more processors are looking for fillers that can handle multiple concepts. Equipment providers understand this, but might not be able to deliver a panacea yet.
Customers are demanding that new filling equipment is more versatile and can handle a full range of varying productsAdditionally, the fill nozzles are designed for specific applications and can be easily exchanged.
►Accuracy and efficiency Having properly filled containers is one of the key elements to ensure product quality and control giveaway. Under-filled bottles, at best, can result in consumer complaints and, at worst,
can land a company in court. However, overfilling can be costly and wasteful. This means a filler must be accurate and consistently maintain that accuracy over the years.
►Minimizing changeover time through hygienic design With many processors increasing the variety of products to fill, minimizing cleaning and changeover time continues to be a major focus. Fillers with automatic clean-in-place (CIP) capabilities have long been identified as a way to speed up the cleaning process.
However, Sundberg says this is only possible if the filler bowl and valves have a self-draining design, which traditional piston fillers did not have, but the PENGLAI Unifiller does.
►Operator interaction Even though filling machines are trending toward more automation, equipment must be easy for operators to use. More attention is being paid to designing intuitive human machine interface (HMI) with panels that are easier to use and read.
Taking into consideration the 5points to design one machine our model YX-50G essential oil filling-capping-labeling line is specially suitable to fill the essential oil.
Actual filling capping labeling line with in-feed&out-feed rotary table
Drawing of model YX-50G filling capping line:
Peristaltic pump filling way to avoid the materials cross contamination:
Essential oils and extracts are high value, low viscosity products typically sold in small size glass vials. The peristaltic pump filler machine is Ideal for these products because of accuracy of small fill sizes, ease of cleanup, and because there can be no cross contamination of different products run on the same filling machine.
Cross contamination is avoided because the only thing that touches the liquid is the peristaltic tubing itself which is composed of silicone or other inert specialty polymer materials. This tubing is inexpensive and can be easily cleaned, dedicated to a particular liquid, or simply thrown away after use. The size of tubing chosen in this machine depends on the fill size and accuracy required. The smaller diameter of tubing used, the higher the accuracy but the slower the fill rate. This explains why this machine is best utilized on small fills where high accuracy is needed. Large fill sizes greater than 1 liter are typically not filled on this type of machine because the fill cycle time can be lengthy. But for a typical fill size of 5 to 10 ml, again this is the ideal machine. The peristaltic filling machine dominates this industry because there is little to no waste of an expensive product.
Must read before first use *

1: Before the machine is plugged in, make sure the power switch is in the 【close】 state, and then follow the instructions.
2: The machine should be wiped with dry cloth if it does not run for a long time; corrosive cleaning agent should not be used.
3: It is strictly prohibited to splash liquid into the electricity box of the machine, so as to avoid corrosion of internal electrical components and resulting in short circuit.
4: According to the equipment packing list, check that the equipment, material model, specification and quantity should meet the requirements of design and product standards, and have certificate of product qualification.
5: Check that the appearance of the equipment should have no deformation, damage or corrosion, the rotation of the rotating shafts should be flexible and without clighting stagnation.
6: This machine is single phase AC 110V, the power plug is flat 2 plug, which should be inserted into power socket with ground wire.
Overview
The 3 in1 filling machine is mainly applied for automatic labeling on the product flat or curved surface in various shapes in the fields of medicine, daily chemical, toy and foodAdopted high-precision labeling position is suitable for the product labeling in various sizes.It saves labor and improves labeling precision and consistency.Imported electric eyes and programming controller are adopted to control cylinder labeling; all exposed parts are made from stainless steel, engineering plastics and high-strength alloy aluminum whose surface is treated by anodic oxidation, with corrosion resistance, complying with GMP standard.
Technical parameters of filling-capping-labeling with 2rotary turntables
Model YX-50G:
Filling volume:1ml to 150ml
Filling nozzle:2set
Weight: around 550 kg
Power supply: 220V 50Hz
Power consumption:1.75kw
Air pressure: 4-7kgf/cm2
Capacity :Around 20~30pcs/min
Overall dimensions : 3500mm*3000mm*1700mm
Configurations of model YX-50G filling capping bottling line:
Line

Components

Brand or Specification

Qty.

1

PLC

Mitsubishi

/Panasonic

1

2

Touch Screen

WeinView

1

3

Splitter

70DF

1

4

Three phase motor with brake

200W

1

5

Conveyor Speed Motor

90W

2

6

Cylinder

Airtac/SMC

11

7

Capping 86 step motor

SEAWERY

1

8

Turntable motors

120W

2

9

Dual head peristaltic pump

1

10

Insert vibratory bowl

1

11

VFD

ENCOM

12

Sensors

KEYENCE

N

13

Machine cabinet with SS304, Structural components adopt oxidized aluminum,chrome plated rods and SS304
Precautions before running the filling machine:
♦Precautions before starting up.
1. The machine adopts single-phase 1100V AC. Check whether the wiring is correct before starting up.
2. Check whether the air source is normal.
3. Check whether there are any foreign matters on the machine and mould. If yes, please clear it timely.
4. Check whether the water intake of peristaltic pump is completely put into water.
5. Before it is started automatically, please check whether the needle is alignment with the bottleneck and whether it is available to press the plug.
♦Technical parameters of rotary filling capping labeling line: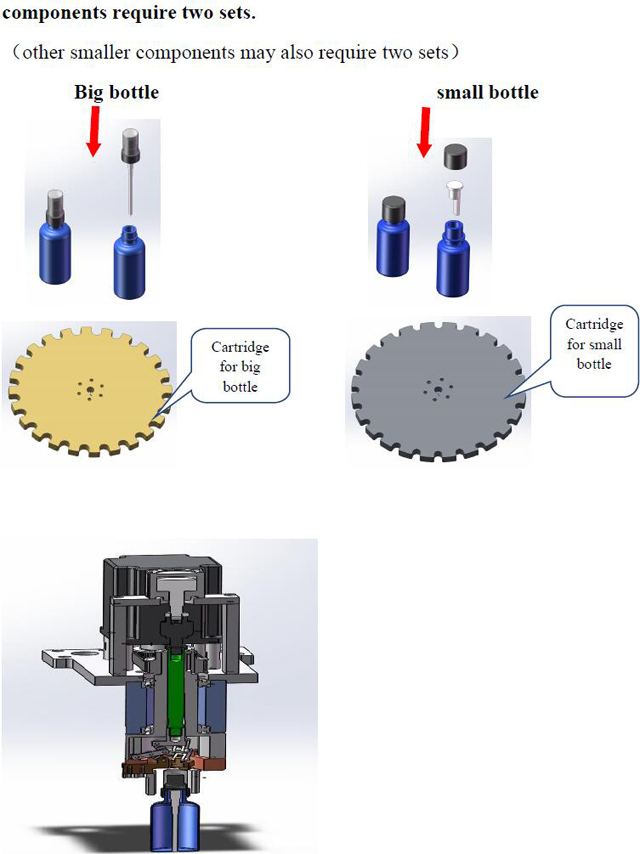 Model YX-50G:
Filling volume:1ml to 150ml
Filling nozzle:2set
Weight: around 550 k
Power supply: 220V 50Hz
Power consumption:1.75kw
Air pressure: 4-7kgf/cm2
Capacity :Around 20~30pcs/min
Overall dimensions : 3500mm*3000mm*1700mm
1. Startup picture
Click the window on the screen and enter into the next page.
2. Monitoring operation.
(1) Output:
Setting of yield means the actual needed quantity of products. If the set yield equals to the current yield, the equipment will stop automatically.
(2) Monitoring
Running situation and completion situation of all stations
Operating data and situation of peristaltic pump
(3) Alarm strip
Display the current condition of equipment and the alarming content of the equipment.
Automatic/manual
Automatic/manual Choose buttons based on the current operation.
Automatic starting, when the automatic one is chosen between automatic/manual, and press the button, the equipment will get into the automatic operating condition
Automatic stop, when the equipment operating, press this button and the equipment will stop after finishing works at every work station in case of no alarming.
It is automatic; if unfinished semi-finished products in the turntable are removed, this function can be used to remove all materials in the turntable, and then stop the machine.
3. Manual operation
Manual operation refers to make every operation of the equipment separated respectively for adjustment and testing.
(1). Automatic/manual

When entering into manual page, firstly see whether the manual condition is selected between automatic/manual buttons.
(2)Discharging motor

Upon completion of finished products, conveying belt
(3). Manual turntable

Press this button by manual, and the turntable will rotate 1 station.
(4). Single action of station
(1. Name of station is determined as per the action of each station.
(2. Names of all actions mean that each action can be operated separately for each station.
(3. Action of single station means single circulation, whose function is to connect single actions for each station, as a work mode. Action parameters are the same with these of automatic operation. Main function is convenient for debugging.

The following stations are same with these.
Matters needing attention when manual operation:
(1. In the case of single action by manual, please notes that whether the materials exist under all stations and whether they are placed properly.
(2. Prior to action, check whether this action can result in the material damages.
(3. For filling station, if manual filling is needed, be sure to determine whether there is a container to hold the liquid.

4. Parameter settings
(1). Peristaltic pump
Adjust filling time and speed of peristaltic pump and these two factors can impact the filling quantity.
(2). Motor speed
For speed setting of all motors, maximum frequency of "turntable motor" is only set to be 50HZ.
(3).
If all stations complete the works, the turntable motor starting time is delayed.
(4).
When peristaltic pump completes filling at the filling station, filling rise is delayed for the purpose of avoiding liquid falling off.
(5).
When inserted pressing bar is pressed thoroughly, the pressing bar rising is delayed.
(6).
When cover pressing bar is pressed thoroughly, the pressing bar rising is delayed.
(7)
Tightness of lock lid can be adjusted.
(8)
Speed of lock lid.

The parameters setting are basic parameters for device running; when the setting is completed, all actions of the device will run as per the parameters. Since the product is fixed, all parameter setting is fixed generally.
Essential liquid bottles samples&Wooden case packing for shipping
ALL RIGHTS RESERVED by ®PENGLAI INDUSTRIAL CORPORATION LIMITED