CERTIFICATES

CONTACT US

Email:jackdu999@yahoo.com

Tel:+8675586718316
Phone:+86-15811882441
Zimbabwean regular customer purchased filling racking sealing capping MC &labels materials
Published by: PENGLAI INDUSTRIAL CORPORATION
Date:2019-12-31 15:14:47
Our Regular customers from Zimbabwi (Sa) placed another order on Four(4*) pcs of machines: one is filling pneumatic tabletop model YX-LC01-2000ml; one desktop screw capping machine model YX-SCM002,One model YX-H1000 Bags sealing machine,Another model YX-PF999 granules powder racking filling machine. Labels packaging materials 200,000pcs.
For all the machines purchased it is clear to confirm all the information on the products so we often ask our customers to freight the samples to test and commission the machines in order that the machines and customer's products gains the best compatibility and adaptability.
After getting the confirmation &samples of the product in sizes and drawing for manufacturing the filling sealing machines
we spent only 10 working days finishing everything and made the machines ready after testing them in a satisfactory feedback.
Recently our customers sent us the positive commentar on the machines which keep running very well in their factory ever since the machines arrived their factory.
The machines was shipped via courier to Harare Zimbabwi . The documentaries certificated with ISO&CO&CE together with other files necessory are sent via DHL to customer for assisting customers to clear the custom.

As below there listed the basic information on the successful transaction between PENGLAI and their Zimbabwean counterpart:

Purchased order issued from Zimbabwean customer:


Samples sent from customers in East Africa


Bank copy of Down&balance payment for purchasing filling sealing racking capping machines

Testing videos on filling bags sealing racking filling tabletop capping machines

Wooden case packing of filling sealing capping racking machines.
As follow there given the description on the machines purchased respectively
This Semi automatic megadose spices powder packing machine has weighing and filling function,with high efficiency and precision.
With the microcomputer control system, this Semi automatic megadose spices powder packing machine can automatically show filling weight and filling times.
The Semi automatic megadose spices powder packing machine adapts adjustable filling speed and volume.

With shake filling type, this Semi automatic megadose spices powder packing machine could run smoothly and stably.
Whole stainless steel material makes the Semi automatic megadose spices powder packing machine beautiful and durable.
Low noise and small size can saving much space and being environmental.
Here we also can customize the filling weight of the Semi automatic megadose spices powder packing machine.
Application of racking equipment:
Basic parameter of semi automatic racking machines model YX-PF999:
| | |
| --- | --- |
| Model | YX-999 |
| Filling range | 10-999g |
| Filling matrial | granule and dry coarse powder |
| Filling Accuracy | 0-0 .3 G (depending on material) |
| Speed | 15-25 bag per minute |
| Power | 30w |
| Voltage | 110V and 220V |
| Dimension | 1300 x 660 x 380 cm |
| N.W/G.W | 50KG/75KG |
How to operate the machine step by step in pictures show:
Step1-Step2
Step3-Step4
Step5
The continuous band seraler is ideal for heat sealing of laminated or non laminate pre-made pouches.

Application of the machine

This machine is used for sealing various pre-made pouches and it is a best sealing equipment to be widely used in food & groceries, seed processing units, pharmaceuticals, chemical industries, dairy, cosmetic, automobile spare parts, electronic spare and online and offline packaging of respective product range.
Working principle for plastic bags sealing machine:


(1) Guide, (2) Driven Wheel Seat (Adjusting Block), (3) Driven Wheel, (4) Control Panel, (5) Heating Block, (6) Holding Plate, (7) Pinch Roller,
g Roller, (11) Silicone Wheel, (12) Guiding Wheel, (13) Conveyor Belt, (14) Conveyor Table, (15) Fastening Knob for Elevating
Table, (16) Transverse Tightening Knob for Conveyor Table, (17) Conveyor Support



a band sealer for continuous sealing cycle, a conveyor will move the material to seal between the heating jaws, mostly irons containing a heating cartridge. This element is always heating to allow a continuous scrolling of material.

Once the heating irons passed, the material passes between cooling irons effectively ventilated to allow heat to dissipate and material to congeal. Then follows the passage of knurling, the material passes between two knurled wheel that will give their final appearance to the seal.

Finally, the conveyor leads the material on other accessories(date coder, trimmer...), on a packaging line, or just let the material finish his race in a carton
Basic parameter of model YX-H1000 band sealing equipment:
Model YX-H1000 Horizontal plastic bags sealing machine
Operation: Electronic variable speed
Temperature control: electronic thermostat control
Printing method: Stamps
Power: 220V/50Hz 500W
Seal products speed :0-12m / min
Seal products Thickness :0.02-0 .80 mm
Seal width :6-10mm
Sealing length: 0 - infinity
Transporting loads: <5kg
Temperature range :0-300 °C
Dimensions: 840 × 380 × 320mm
Weight: 32kg(refered on horizontal model)
Features of band sealer semi automatic tabletop sealing equipment:

Your band sealer is equipped with a wide range of standard features and capabilities.
►Simple to use – minimal operator training
►Rust inhibiting stainless steel construction
►Equipped with bag entry guide for easy bag feeding and straight seals
►Unit feeds left to right (see CBS-880 for right to left feeding)
►Control panel includes industrial grade safety emergency stop switch
►10amp protection power surge breaker
►Includes pressure embossing coder
►Wide seal (8mm) to assure airtight seal / Optional 15mm width sealer model available
►PTFE sealing belts
►Extended forced-air cooling system with extra wide cooling bars and 6 heat transfer orifices
►One pair of brass sealing bars
►Sealing method – constant heat
►Adjustable 2-way pulley system for optimal stability and embossing clarity
►Knurled pressure rolls with variable pressure adjustment
►Fast warm up time
►PID digital temperature controller 0-300˚C (572˚F) with dual alphanumeric displays (target & current temp)
►Motorized rubber conveyor with speed control
►Capable of speeds up to 472 inches/minut
OperationSet-up

1. Our machines are equipped with a three-prong ground plug.Make sure the plug is well-connected with socket to ensure safe operation.
2. Make sure the circuit breaker is in the "ON" position.(Levers pointing up)
3. First time operation. Allow the machine to pre-heat by running at the low temperature for a few minutes.
This would apply if the machine has not been in operation for a long time. The machine can sometimes be damp from storage or shipment and running at a low temperature will dry out any
residual moisture.
4. For some materials, an adjustment to the clearance between the upper heating block and bottom heating block and upper cooling block and bottom cooling block may be necessary. Adjust the clearance between by
turning the stopping flake clockwise (increase distance) to raise the block our counterclockwise to lower the block (decrease distance). The clearance should be equal to the thickness of one layer of your material to be
packaged. This will ensure high seal quality and embossing.Please note that the majority of materials sealed will NOT need adjustments.

Figure 8. (1) Screw, (2) Stopping Flake, (3) Fastening Screw, (4) Nut .
How to install embossing letters for the band sealing machine:
Spare Parts List
Included with your band sealer are the following parts. Please note that spare parts included with your band sealer
are subject to change without notice.
►Typeset Box which includes numbers (0-9), Letters - EXD, embossing wheel, and key wrench
►Power Cord
►PTFE Sealing Belts
►Drive Belts
►Speed Adjusting PC Board
The model YX-SCM001 desktop screw capping machine is suitable for the cap screwing of different shapes of bottles in the industries of foodstuff, pharmaceuticals,
daily chemical, pesticide and cosmetics etc. Its four adjustable speed motors are used respectively for cap supplying, bottle clamping, delivering and cap screwing.
It is characterized by high level of automation, outstanding stability, easy adjustment, no need of spare parts for replacing bottle types or caps, which can be done only by adjusting.
¢ñ. Desktop Screw Capping Machine Function: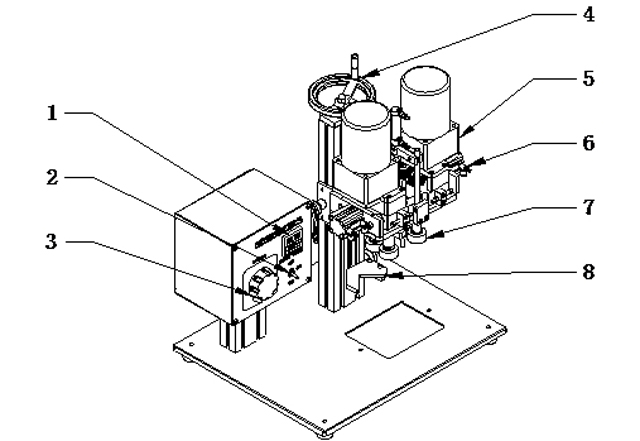 1.Control panel 2.Power switch 3.Torque regulator 4.up and down adjustment 5.capping motor 6.cylinder 7.capping head 8.position withstand
¢ò£ºMain technical parameters:
1. Power Voltage£ºAC220£¯50Hz
2. Cap Diameter£º¡é16-¡é45MM
3. Capping speed£º20-50PCS£¯min
4. Applied bottle height£º40-330MM
5. Air compressure£º0.2-0.6Kgf£¯cm
6. Weight£º25Kg
7. Size£º48(L)£Ø40(W)£Ø60(H)CM
¢ó£ºOperation Precautions:
1. Before using, add ISOVG32 pneumatic gas oil or equivalent oil on the gas source processor.
2. To adjust the capping head according to the bottle height.
3. To adjust the cap size, according to the bottle cap, two sides adjust at the same time.
4. To adjust the position withstand, let the bottle mouth under the center of the capping head.
5. To adjust the Torque regulator meet capping strength.
6. Switch on the power, open the hand sliding switch for gas.
7. Control valve operation, first to pull up the adjustment switch can adjust the air pressure.
8. Manual operation, to connect the food stamp switch under the electric box. Note: To be sure the manual/ automatic button on the red light position.
¢ô£ºTrouble treatment method
1. Machine cannot open, check if it is supply AC220V power or power is damage, transformer burn off, change a new one.
2. Cannot work automatic, manual/automatic doesn't switch, or not open start button, or the wire board in trouble, electromagnetic valve cause it.
3. Motor does not move, torque adjustment switch broken or transformer, capping motor, capping motor start button in trouble.
4. Capping lose or not tight, adjust the torque regulator.¡£
5. Capping motor does not move, check if the power, or electromagnetic valve, wire board in trouble.
6. Cap press cylinder does not move, check if the power, or electromagnetic valve, wire board in trouble.
¢õ£ºOperation panel function:

1. Torsion Force Adjustment
2. Capping pause interval tine display
3. Lock cap time display
4. Automatic
5. Stop
6. Manual
¢ö£ºSystem maintenance
1. Before or after opening the machine, keep the machine inside and outside clean, to make sure the machine normal movement.
2. In the morning and afternoon, check all screw of the machine, sure no loose, if find, tightening it with tool.
3. Keep other products away from the machine, to avoid stop the machine move.
4. Out of work time, turn off the power to avoid other trouble.
Wooden case packing for racking machine for shipping to customers' door
Fillers (or filling machines) are used for packaging, mainly for food/beverage but for other products as well. These are used to fill either a bottle or a pouch, depending on the product.
There are several types of fillers used by the packaging industry. The following are the most common:
► Auger/agitator filling machines: designed to fill dry mixes, such as flour and sugar. The fillers have a hopper shaped like a cone that holds the mix and puts it in a pouch using an auger conveyor that is controlled by the agitator. The mix is filled in a pouch that is made of paper or poly that is formed in a collar and the pouch gets sealed by a series of heaters and dies. The interface with the process supplying the powder is of prime importance to ensure an efficient filling[1].
► Flow filling machines: designed for liquids, oils, and thin food products. These fillers are designed when they fill a bottle or tub that enters the machine, the ejects the open bottle back onto another conveyor for sealing.
►Tablet fillers: These are designed for products that are counted by pieces instead of weight. These are designed for small bottles (similar to some of the flow fillers), but the hopper of the filler is set up to permit scan counting of tablets or candy pieces.
► Positive displacement pump fillers: positive displacement, pump filling machines easily handle a wide range of container sizes, fill volumes and product types. While originally designed for filling creams, gels and lotions these fillers also handle water thin and heavy paste products. Some of the products this machine easily fills are cosmetic creams, heavy sauces, thick shampoo and hair conditioners, honey, hair gels, paste cleaners, and car wax.
► Vertical form fill sealing machine
Introduction on model YX-LC02 cream filling machine:
The series of filling machine is a kind of creative and innovative product reference to foreign advanced filling machine technology. It features the more simple and reasonable structure, high precision, more convenient operation. And it can also applied in many areas like pharmaceutical, cosmetic, food, and special industries. For high viscosity fluid and paste, the kind of machine is the best choice.
All materials are used 304 stainless steel materials, in line with the GMP requirements. Filling volume and speed of filling can be arbitrary regulation and high accuracy.
Princeple of pneumatic liquid cream filling machine model YX-LC01 Series:

Driven by a cylinder and piston made from materials with one-way valves control the flow of materials, and magnetic reed switch control cylinder itinerary can be regulated filling volume.
Rational design of the aircraft, model compact, easy to operate, are used pneumatic part of Germany and Taiwan AirTac FESTO the pneumatic components.
materials are used 304 stainless steel materials, in line with the GMP requirements.
Filling volume and speed of filling can be arbitrary regulation, filling high accuracy.
Basic parameter for model YX-LC01 cream liquid pmeumatic filling machine:
Item Model YX-LC02 pneumatic filling machine
Fillable Range 100ml-2000ml
Air Pressure Range 0.4-0.6MPa
Filling Speed 5-25bottles per minute
High Filling Accuracy (+/- 1%)
Gross Weight 45KG
Filling Head Two Type: One Head, Two Heads
Automatic Grade Semi-Automatic
Driven Type neumatic
Machine Dimension 1000*880*950MM
Material SUS304/316
GMP standard
Packaging Material Standard Carton and Foam in Wooden
After-sales terms:
Guarantee: for all the machine, it claims three years for guarantee.(Excluded from the warranty are problems due to accidents, misuse , misapplication, storage damage, negligence, or modification to the Equipment or its components. ALSO THE EASY BROKEN SPARE PART IS NOT INCLUDED IN THE GUARANTEE)

Installation: after the machine arrive your factory,if you need,our technician will go to your place to install and test the machine and also training your worker to operating the machine (The time of train depend on you worker). The expenses (air ticket ,food , hotel,the travelling fee on your country) should be borne by the buyer and you need paid for the technician USD50 per day. also you can go to our factory to do training.

Service: If you get the problem on the machine ,our technician will go to your place to fixed the machine as soon as possible. The cost should be borne by the buyer;
ALL RIGHTS RESERVED by ®SHENZHEN PENGLAI INDUSTRIAL CORPORATION LIMITED