CERTIFICATES

CONTACT US

Email:jackdu999@yahoo.com

Tel:+8675586718316
Phone:+86-15811882441
Vietnamese customers bought ROPP capping machine desktop screw capper &cans sealer
Published by: PENGLAI INDUSTRIAL CORPORATION
Date:2022-04-21 11:30:40
Our Regular customers from Vietnam (South-eastern Asia) placed another order on three(3*) pcs of machines: one is ROPP caps sealing machine model YX-RC370; One Model YX-SCM001 desktop screw capping machine; The third one model YX-42AA cans sealing machine
For all the machines purchased it is clear to confirm all the information on the products so we often ask our customers to freight the samples to test and commission the machines in order that the machines and customer's products gains the best compatibility and adaptability.
After getting the confirmation &samples of the product in sizes and drawing for manufacturing the capping sealing machines
we spent only 10 working days finishing everything and made the machines ready after testing them in a satisfactory feedback.
Recently our customers sent us the positive commentar on the machines which keep running very well in their factory ever since the machines arrived their factory.
The machines was shipped via FEDEX courier to Str.,Dist.10,HoChiMinh City-S.R. The documentaries certificated with ISO&CO&CE together with other files necessory are sent via DHL to customer for assisting customers to clear the custom.

As below there listed the basic information on the successful transaction between PENGLAI and their Asian counterpart:

Purchased order issued &Key communiction points During Business Discussion:


Samples sent from customers in South-eastern asia


Bank copy of Down&balance payment for purchasing capping sealing machines semi automatic:


Testing videos on capping sealing machines three pcs semi automatic equipments:

Wooden case packing of bottles cans sealing capping machines:

As follow there given the description on the machines purchased respectively:
The Capping Machine Semi Automatic Aluminum Cap Thread Capper

Technical Parameters---Ropp Caps Sealing Capping Machine Semi Automatic:


Name Bacardi Ropp Capping Machine Semi Automatic Aluminum Cap Thread Capper
Capping head 1
Capping speed 25-30 bottles/ min
Applicable bottle height 35-320mm (Adjustable)
Applicable bottle diameter 12-33mm (Adjustable)
Voltage 220V,50Hz
Power 0.37KW
Weight 130kg
Size 620(L)*420(W)*1420(H)mm

Illustration of Semi Automatic Aluminum Cap Thread Capper:


Feature of ROPP caps sealing machine:

1. The capping rollers & chuck head are made of Chromium steel with hardness, rust proof and excellent sealing performance.

2. Each capping head is equipped with multiple hardened steel rollers to form the shell precisely to the bottle finish, assuring a secure, leak proof, tamper evident package.

3.It is widely used for oral liquid, wine, medicine, daily chemical, suitable for screw cap, stelvin closure, Ropp cap sealing & capping.
Working process of ROPP caps sealer machine:


2 threading rollers would forms the thread on the cap from the thread on the bottle finish, then 2 tuck under rollers form the tuck under which ensures tamper evident of closure at the same time.
¢ñ. Desktop Screw Capping Machine Function: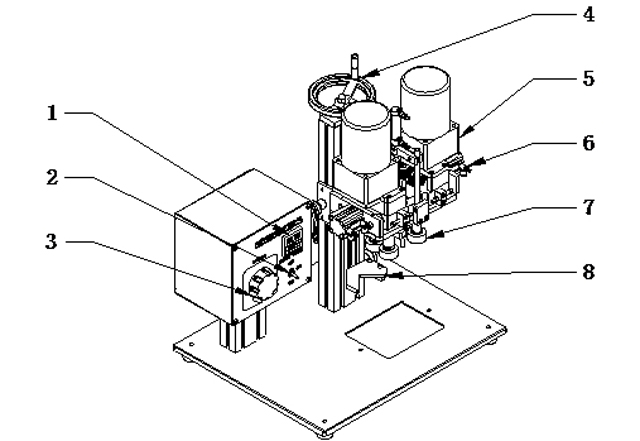 1.Control panel 2.Power switch 3.Torque regulator 4.up and down adjustment 5.capping motor 6.cylinder 7.capping head 8.position withstand
¢ò£ºMain technical parameters:
1. Power Voltage£ºAC220£¯50Hz
2. Cap Diameter£º¡é16-¡é45MM
3. Capping speed£º20-50PCS£¯min
4. Applied bottle height£º40-330MM
5. Air compressure£º0.2-0.6Kgf£¯cm
6. Weight£º25Kg
7. Size£º48(L)£Ø40(W)£Ø60(H)CM
¢ó£ºOperation Precautions:
1. Before using, add ISOVG32 pneumatic gas oil or equivalent oil on the gas source processor.
2. To adjust the capping head according to the bottle height.
3. To adjust the cap size, according to the bottle cap, two sides adjust at the same time.
4. To adjust the position withstand, let the bottle mouth under the center of the capping head.
5. To adjust the Torque regulator meet capping strength.
6. Switch on the power, open the hand sliding switch for gas.
7. Control valve operation, first to pull up the adjustment switch can adjust the air pressure.
8. Manual operation, to connect the food stamp switch under the electric box. Note: To be sure the manual/ automatic button on the red light position.
¢ô£ºTrouble treatment method
1. Machine cannot open, check if it is supply AC220V power or power is damage, transformer burn off, change a new one.
2. Cannot work automatic, manual/automatic doesn't switch, or not open start button, or the wire board in trouble, electromagnetic valve cause it.
3. Motor does not move, torque adjustment switch broken or transformer, capping motor, capping motor start button in trouble.
4. Capping lose or not tight, adjust the torque regulator.¡£
5. Capping motor does not move, check if the power, or electromagnetic valve, wire board in trouble.
6. Cap press cylinder does not move, check if the power, or electromagnetic valve, wire board in trouble.
¢õ£ºOperation panel function:

1. Torsion Force Adjustment
2. Capping pause interval tine display
3. Lock cap time display
4. Automatic
5. Stop
6. Manual
¢ö£ºSystem maintenance
1. Before or after opening the machine, keep the machine inside and outside clean, to make sure the machine normal movement.
2. In the morning and afternoon, check all screw of the machine, sure no loose, if find, tightening it with tool.
3. Keep other products away from the machine, to avoid stop the machine move.
4. Out of work time, turn off the power to avoid other trouble.
PENGLAI INDUSTRIAL CORPORATION LIMITED
The instinctive different between model YX-42AA Cans sealing machine semi automatic with the model YX-41AA Cans sealing machine is the design of keeping stationary for cans during sealing ,which can avoid the demage to the cans and products effectively during sealing .
Here is the basic pictures for the model YX-42AA as below:
You can check the capping head for the model YX-42AA
Compared with model YX-41AA cans sealing machine with rotary cans during sealing .the pictures displayed as below:
Basic description of cans sealing machine model YX Series
Application:for easy open cans with various shapes like round&square with the materials like iron&glass&plastic,
is characteristic of its high quality and easy operation,thus an ideal small machine in the industry like food packaging as well as drinking field.
Features of cans sealing machine model YX-42AA cans sealing machine with still cans non-rotary can during sealing
1.The cans sealing machines model YX-42AA is the one specially designed for cans non-rotary during cans sealing process . Because for the normal cans sealing

it sometime flips off the cans after fininishing the cans sealing so you must with the hand stop it during sealing .The model YX-42AA can solve this unconvenience

by adopting the specially capping head and moulds which can keep the cans stable and stationary during cans sealing .It avoids the risk of any damage to the cans and

the materials inside it .
2.Reliable Quality, simple and convenient operation. This semi automatic can sealing machine is an ideal equipment for the food, drinks, tea and other industries essential.
3.Customzied service for this semi automatic can sealing machine is available. According to customer different can size.
4.This semi automatic can sealing machine is suitable for small capacity production, economice price.
Basic parameter of Beer tin cans PET jars sealing machine container screw capping machine metal drinking bottles capper equipment stainless steel cans sealer capper machinery

Model

YX-42AAsealing machine

Package



Wooden crate


Material

stainless steel

Material

Power and W

~220V/50Hz

550W

Suitable height

30~350mm

Suitable diameter

50~200mm

Sealing speed

700~1800 cans/h (depend on workmanship)

Machine size

660*400*1350mm

Weight

105kg

Structure

made of motor, rotation-part, major axis,

wrench, pallet, pedal switch, rack mount.
Cans sealing machines model YX-42AA operation steps (as reference with Paper cans)
Some of Cans samples sent from customers for testing run with our machines cans sealing listed as below:
Samples sent from customers in Oceania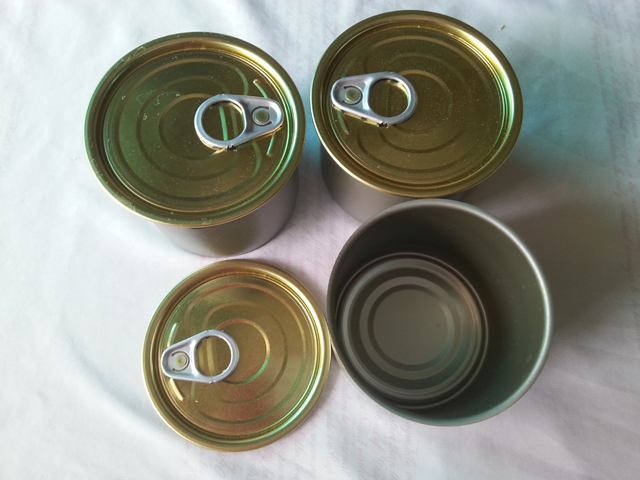 Different sizes of cans require the changing of capping tools:
Machines in plant for assembling&installation for our customers
Shipping and delivery of cans sealing machine to the warehouse for Ocean Transportation&air shipping:

Horizontal type packaging for safer transportation compared with the vertical type wooden case packaging:
Mark
@before delivery,machine be tested and adjusted at our factory
@English operation manual and relative spare parts offer
@English operation interface
@delivery term:30% of the amount in advance,finish machine within 25 working days,delivery after the balance paid
@after-sale service:1 year guarantee period and lifetime maintenance,as to the fee,damage not caused by personal and within the guarantee period,fix it up for free,otherwise,for charge
ALL RIGHTS RESERVED by ®PENGLAI INDUSTRIAL CORPORATION LIMITED