CERTIFICATES

CONTACT US

Email:jackdu999@yahoo.com

Tel:+8675586718316
Phone:+86-15811882441
Vacuum filling machine 10 heads high speed screw capping line for perfume volatile liquid with explosive-proof motor
Basic parameter for filling capping line
vacuum filling part:
Model YX-VF10
Filling speed 100 bottlers
Filling scope 0-1000ml
Filling precision within±1mm
Working air pressure 4-6kg/m³
Filing nozzles 10
Screw capping part model YX-C03
Production speed : 6000bottles/HR
Applicable bottle :35-250mm(can be customized)
Available cap : 12-70mm (can be customized)
Power supply : 220v / 50HZ Power : 2KW
Dimension : 2000*900*2000mm Weight : 550KG

Description
The Special designed-manufactured filling line by PENGLAI corporation for perfume filling line is suitble for filling volatile liquid like alcohol.patrol.mathylated spirit etc.
In this filling line there in totally made of two part :
►filling machine vacuum filler with 10 heads fully pneumatic
►High speed screw capping machine with explosive-proof pump
Videos illustration as below:
Pictures as below
Before putting the machine into the production of manufacturing the drawing is necessory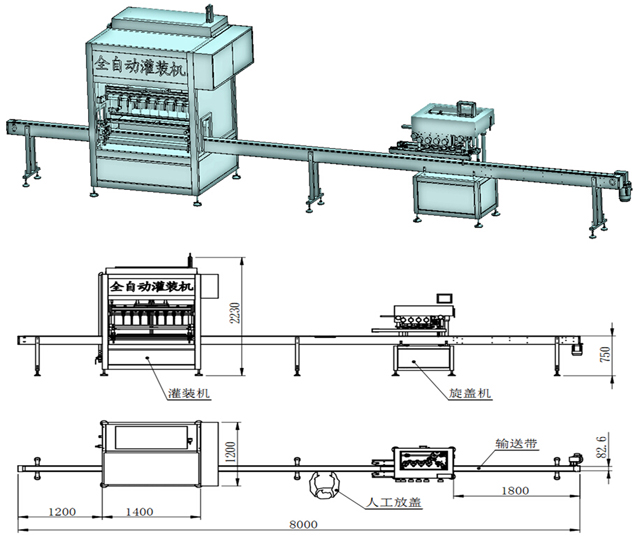 As follow there listed the detailed description for the filling+capping part repectively:
►Model YX-V10 vacuum filling machine 10 heads perfume filling line fully automatic:
This liquid vacuum filling machine as a pure pneumatic equipment, no need of electricity. Liquid vacuum filling machine is one of the most economical filling machines,
especially for perfume, toilet water and other low-dose aqueous products' filling.
The type of liquid vacuum filling machine is your ideal choice of product line or stand-alone use .
vacuum glass&plastic bottle filling machine used for follow industry:
1.Cosmetic Industry: Lotion, Lipstick, Shampoo
2.Pharmaceutical Industry: Syrup, Injection
3.Food Industry: essential oil, edible oil, liquid flavouring and etc.
4.Chemical Industry: Liquid Detergent, chemical raw material, Lubricating Oil., paint
Technical parameter of vacuum filling machine 10 heads:
| | |
| --- | --- |
| Model | YX-VF10 |
| Filling speed | 100 bottlers |
| Filling scope | 0-1000ml |
| Filling precision | within±1mm |
| Working air pressure | 4-6kg/m³ |
| Filing nozzles | 10 (according to customer) |
| Electrical power | AC220V, 50HZ |
| Dimension/weight | 1200*700*1400mm |
| Conveyor belt | 4M LENGTH |
Features of 10 heads pneumatic vacuum filling machine for all kinds of liquid linear automatic filler equipment
1.Liquid vacuum filling machine equipped with vacuum liquid level filling systems.
2.This type of liquid vacuum filling machine is pure pneumatic one, in line with explosion-proof requirements.
3.The liquid vacuum filling machine equipped with return barrel of automatic drainage systems.
4.The liquid vacuum filling machine's filling bottle shape and consistency is noT critical required.
5.Liquid vacuum filling machine with simple structure, easy operation and maintenance
6.The liquid vacuum filling machine filling agent especially for small doses.
7.No need of power, economical type of liquid vacuum filling machine.
Filling theory
This series of machine adopt "Vacuum calibrating liquid level filling" theory. Filling liquid will remain the same no matter the volume of bottles are the same or not.
The series machines easy to operate, the operator simply stuck in the bottle under the filling head or use pedal control, the filling will be executed.
►High speed screw capping machine model YX-C03
The whole automatic capping machine adopts elaborate DIY design.By eliminating unnecessary complex and heavy machinery, it adopts suit type assembly.The maintenance and servicing can be completed without professionals.when it is necessary to replace the product,just make some simple adjustments, it can be immediately put online for production.
The machine is suitable for capping various types of round bottles in such industries as food, condiment,medicine,wine,oil and cosmetics etc.
Characteristics of model YX-C03 High speed screw capping machine fully automatic:
Model YX-C03
1 ,Production speed : 6000bottles/HR
2 ,Applicable bottle :35-250mm(can be customized)
3 ,Available cap : 12-70mm (can be customized)
4 ,Power supply : 220v / 50HZ
5 , Power : 2KW
6 ,Dimension : 2000*900*2000mm
7 ,Weight : 550KG
8 ,Coverage : food, beverage, cosmetics ,medicine , chemical industries etc.
Bottles samples from filling capping machine
How to operate the vacuum filling 10 heads +screw capping machine automatic:
Packaging pictures about our machine exported

Guarantee: for all the machine, it claims one year for guarantee.(Excluded from the warranty are problems due to accidents, misuse , misapplication, storage damage, negligence, or modification to the Equipment or its components. ALSO THE EASY BROKEN SPARE PART IS NOT INCLUDED IN THE GUARANTEE)
Installation: after the machine arrive your factory,if you need,our technician will go to your place to install and test the machine and also training your worker to operating the machine (The time of train depend on you worker). The expenses (air ticket ,food , hotel,the travelling fee on your country) should be on your account and you need paid for the technician USD50 per day. also you can go to our factory to do training.
After service: If you get the problem on the machine ,our technician will go to your place to fixed the machine as soon as possible. The cost should be in your account.(as above).