CERTIFICATES

CONTACT US

Email:jackdu999@yahoo.com

Tel:+8675586718316
Phone:+86-15811882441
USA OK customer purchased whole line anti-corrosive liquid filling capping shrink labeller line
Published by: PENGLAI INDUSTRIAL CORPORATION
Date:2020-12-31 14:11:03
Our new customers from USA (North America) placed the order on the angle neck bottles filling line which includes filling capping machine model YX-AF16 and model YX-SL200 shrink labeling machine with steam heating tunnel.
For all the machines purchased it is clear to confirm all the information on the products so we often ask our customers to freight the samples to test and commission the machines in order that the machines and customer's products gains the best compatibility and adaptability.
After getting the confirmation &samples of the product in sizes and drawing for manufacturing the filling capping labeling machines
we spent only 35 working days finishing everything and made the machines ready after testing them in a satisfactory feedback.
Recently our customers sent us the positive commentar on the machines which keep running very well in their factory ever since the machines arrived their factory.
The machines was shipped via ocean to OK state U.S . The documentaries certificated with ISO&CO&CE together with other files necessory are sent via DHL to customer for assisting customers to clear the custom.

As below there listed the basic information on the successful transaction between PENGLAI and their American counterpart:

Purchased order issued from American customer:

Samples sent from customers in U.S


Bank copy of Down&balance payment for purchasing Angle neck bottles filling line

Testing videos on model YX-AF16 Angle neck bottles filling capping labeling line


Wooden case packing of anti-corrosive filling capping labeling machine.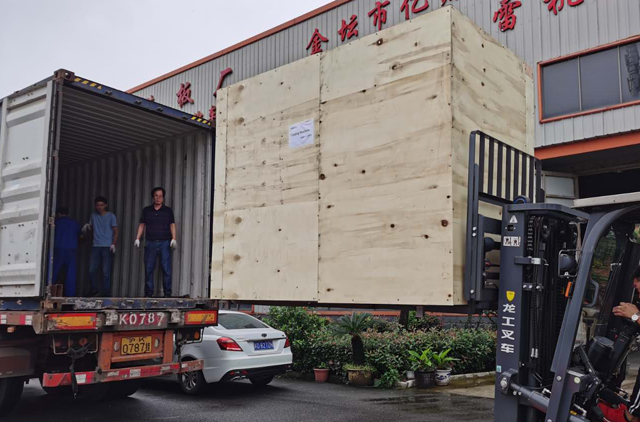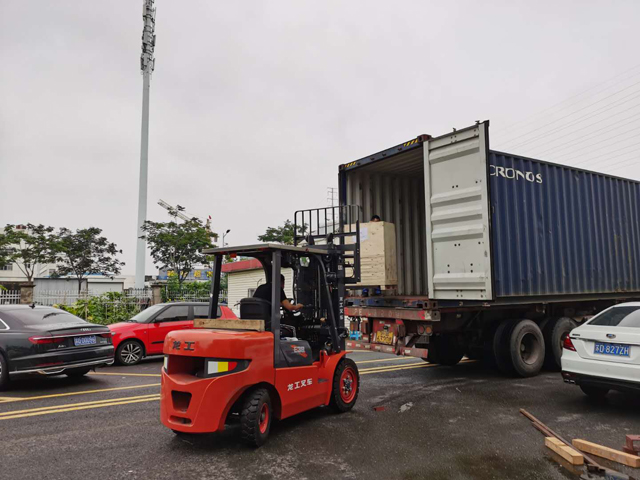 As follow there given the description on the machines purchased respectively
model YX-AF16 automatic gravity liquid filling capping machine is the 3rd version of our anti-corrosive filling made specially customized according to customer's irregular-shaped bottles with angle or bent neck. It is made wholly in anti-corrosion PP standard. It is a high-tech filling equipment which is a combination of microcomputer (PLC) controlled photoelectric sensor and pneumatic actuator.
It is specially used for high corrosive such as disinfection liquid, toilet clean fluid, and so on.With features, anti-corrosive , precise filling volume, no drip, photoelectric detection, no filling when without bottle, it is the most advanced filling machine for corrosive liquid filling in china mainland.
(1) Whole machine outside frame making material uses pp material,inner structure is made of PP material, Filling nozzles are made of strong PP and high quality Alloy. more stronger than PVC and stainless steel.
(2)Filling nozzles in 3rd version, made of PP and Alloy, more stronger and longer life, in function of "Snuffback " and "eliminate bubbles" , no drop and no leak.
(3)There is a Overflow sensor in liquid tank, will automatically let overflow liquid into the Source, not drop in machine and ground. More clean.
(4)Liby Group, the largest supplier of liquid cleaner in china, has purchased total 8 filling lines.

Customized filling nozzles system for curved-neck bottles
specifications of oblique bottles filling machine chemical liquid filler:

(1) Model: YX-AF16 (in PP material)--10 filling nozzles
(2)Filling range: 400ml(can be set through PLC)
(3)Filling accuracy: ±1%
(4)working air pressure: 6-7kg/cęO
(5) operation voltage: 220V/380V(available to be customized)
(6)machine weight: 650 kg
(7) machine size:850x650x1900mmmm

►YX-AC60 cap inserting and capping machine
The caps inserting feeding capping machine for irregular-shaped bottles is made of PP materials for the holding turning system
This automatic capping machine is one of our R&D products. We add a new function on it, which can automatically install the inner cap, not only can cap for out capping. (The one quoted to you is only used to tight the outside cap)
This machine is a high-tech inner cap and cap screwing machine which is a combination of PLC controlled, photoelectric sensor, servo drive and pneumatic component.


YX-AC60A automatic inner cap and cap screwing machine is specific to high corrosive liquid, can automatically install inner cap and screw cap for complicated-shape bottle in bleaching liquid, disinfectant, toilet cleaner, insecticide and the corrosive liquid. And designed with automatic arranging inner caps, automatic inner-cap falling, sucking, installing, automatic caps arranging, falling, screwing. Greatly reduce the manual operation
Characters:
* Liby Group uses our above capping machine.
* Made of PP material, anti-corrosive.
*New and Creation function: Automatically install the inner mouth of cap.
*Automatically feed the cap and capping.
* PLC control.
Technical Parameters of customized capping machine for oblique bottles:

| | |
| --- | --- |
| Model | YX-AC60A |
| Capping Speed | Max 60 bottles / minute |
| Cap Screwing Precision | 99 % |
| Working Air Preasure | 6-7 kg / cm² |
| Working Voltage | 220 V |
| Weight | 350 kg |
| Overall Size | 2000*900*1100 mm |
Filling-capping samples for special-shaped bottles:
It can be equipped with the automatic bottles unscrambling system before filling for automatically feeding the bottles onto the delivery conveyor belt;
Shrinking labeling machine with steam heating tunnel model YX-SL200
Automatic shrink sleeve labeling machine, with steam shrink tunnel and generator ,PVC,PET lable machine is specially customizedly manufactured for our EU customer for the drinking industry packaging;

Feature of basic parameter of Model YX-SL200 labeling machinery shrink sleeve labeller with steam heating tunnel máquina de etiquetado automática::
1 Synchronized transmission, any change of transmission belt will be finished quickly. Compared to the type of traditional multilayer whose change and maintain need more than six hours, its maintenance is easy and
maintain is simple, so it doesn't influence production.
2 Unit cutter head plane design in China which apply to the container of 30mm—130mm.you never need to change
or debug it. It also has unique light touch human-machine screen, that means,auto search original location as well as safety and convenience which is aheadof other congener products.
3 Single shrinking label feed plane ,reasonably height which is convenient to fix the label; micro-computer auto figure which avoid enactment and adjustment .you only need to press it lightly ,the label will detect and locate automatially.The change of label is quick and convinent,besides,the cut place is absolutely exact .
4 Label feeding equipment;driving synchronized tensility control the supply of label ,the supply ability is 90meters per minite,volume
label supply plane is 500mm,the internal diameter of paper tube will be 4' ,8',10' .the configuration of label feeding is
stable tensility which enable the exact length of label and the stable ,quick supply of label.
5 The center pillar applies step by step shoot label structure and the speed is 150B per minute.
6 The newly designed cutter head use step by step motor driving which speed is high, action is exact, the cut is in order and the shrinking is beautiful. This design cooperates with the label synchronized location structure enable the precision of cut location within 1mm.
7 Many emergency stop buttons enable emergency stop at the proper position along the production which guarantee the safe production.
Basic parameter of Model YX-SL200 PET bottles sleeve shrinking labeling machine with steam tunnel labels applicator bouteilles rétractable étiqueteuse:

1 Host machine; AC220V, 50/60HZ, 1.5-2KW, single-phase
2. Production speed;7000-9000 b/h
3.The standard length of label is 100mm
4. Diameter of bottle body; 28mm-125mm
5. Length of label;30mm-250mm
6. Thickness of label;0.035mm-013mm
7. Material of label;PVC, PET, OPS
8. Size of equipment;
Size of the label sleeving
host machine;L2000MM*W850MM*H2000MM
Final shrink-labelled product:
Our Services on oblique bottles filling capping machine fully automatic:
1.Installation & adjustment
After the equipment are arrived at the customer's site, the customer is responsible for unpacking and arranging the equipment according to the placement drawing; and does under our install-adjust technicians' guidance. Costs of the staff are decided at last.
2.Training
We are responsible for offering the technical training to user. The training content includes the structure and maintenance of the equipment, control and operation of the equipment. Through training, users' technical staff can grasp and the skill of operation and maintenance proficiently, and deal with the general troubles in time. We will appoint qualified technical staff for the guidance.
3.Quality assurance
We guarantee the line achieve product technical performance indicators within 5 days after feeding operation through the correct guidance of the installation and commissioning.
We are responsible for the fault and damage of the production line caused by our design, technology, manufacture, installation, adjustment and material defect etc. that all belong to our responsibility.
The warranty period is 12 months after acceptance check of the production line. If there is any different between the furnished equipment in the customer's factory and the equipment concerned in the contract, the users have the right to pass the inspection book to the legal department to claim for compensation to our company within goods warranty period.
4.Warranty
Offer 36 months maintenance period to the problem that caused by our design, manufacture and the material quality, and offer the relevant parts and effective service for free for above reason. We will offer a widely and favorable technical support, after service all the time after guarantee period.
ALL RIGHTS RESERVED BY ®SHENZHEN PENGLAI INDUSTRIAL CORPORATION LIMITED