CERTIFICATES

CONTACT US

Email:jackdu999@yahoo.com

Tel:+8675586718316
Phone:+86-15811882441
USA TX Repeat customers another order on powder packing machine &packaging roll films
Published by: PENGLAI INDUSTRIAL CORPORATION
Date:2018-08-08 18:27:24
Our Regular customers from USA(North America) placed another order on one(1*)packing machine model YX-398D and 500KG roll film packaging materials.
For all the machines purchased it is clear to confirm all the information on the products so we often ask our customers to freight the samples to test and commission the machines in order that the machines and customer's products gains the best compatibility and adaptability.
After getting the confirmation &samples of the product in sizes and drawing for manufacturing the filling sealing packaging machines
we spent only 7days finishing everything and made the machines ready after testing them in a satisfactory feedback.
Recently our customers sent us the positive commentar on the machines which keep running very well in their factory ever since the machines arrived their factory.
The machines was shipped via courier to USA . The documentaries certificated with ISO&CO&CE together with other files necessory are sent via DHL to customer for assisting customers to clear the custom.

As below there listed the basic information on the successful transaction between PENGLAI and their USA counterpart:

Purchased order issued from USA customer:


Samples sent from customers in USA TEXAS State


Bank copy of Down&balance payment for purchasing packaging bagging powder equipment model YX-398D


Testing videos on packaging machines model YX-398D

Wooden case packing of packing powder machines. model YX-398D


As follow there given the description on the machines purchased respectively
The integrated line including Ribbon mixing machinery-elevator for feeding materials-packing machine .The whole line is controlled by the electric boxes for the automated line
from powder mixing(several kinds of powder mixture) to the bagging part .
the Drawing for Ribbon mixer connected with packing machine
Drawing of mixer&Silo/Bin/hopper for several kinds of powder mixture process:
there is our customzied boxes electric that can control and integrate the Ribbon mixer with our model YX-398D VFFS powder
packing machine .Here posted for the pictures for these two main machines
The basic description for part by part in this powder mixing filling bagging line
►Ribbon mixer machine for powder mixing process
YX Series Horizontal Ribbon Mixer belongs to low speed rotary machine. The wide ribbon makes the convection of the material to achieve the mixing effect.
It consists of container, main shaft, and the drive transmission part. The container is U shape. The machine can be made of Carbon Steel (C model) and Stainless Steel (P model). It can be also equipped with the jacket for the container. It can heat, cool or vacuum in the jacket. The inside pressure of the jacket is less than 0.1 Mpa (The pressure can be customized). Two layers screw ribbons makes the convection of the material to achieve the mixing effect rapidly. There is a discharging valve in the middle of the container bottom. The drive parts adopt separated devices, that is, the motor is connected with reducer by the strap. Thus, It can save the space and has the overload protection.
Application of powder mixing equipment
For the big load factor, small work area, this machine is applied to mix the sticky powders or granule with large capacity and stable variety. Therefore, it is widely used in pharmaceutical, foodstuff, chemical, pesticide, plastic, dyestuff industries, etc.
Technical Parameter of powder mixing equipment model YX-R01
Model/Project

All Volume (m3)

Loads coefficient

powder (kw)

Size

weight (kg)

YX-R0.1

0.1

0.4-0.8

3

1190×740×770

330

YX-R 0.3

0.3

4

2030×630×980

720

YX-R0.5

0.5

7.5

2320×730×1130

980

YX-R 1

1

11

2800×920×1320

1700

YX-R1.5

1.5

11

3180×1020×1550

1800

YX-R2

2

15

3310×1120×1640

2100

YX-R 3

3

18.5

3750×1290×1820

3000

YX-R 4

4

22

4220×1400×1990

3980

YX-R5

5

22

4220×1500×1990

4620

YX-R 6

6

30

4700×1610×2260

6180

YX-R8

8

37

4420×2150×2470

8200

YX-R-10

10

45

5520×2960×2720

8920

YX-R12

12

45

5720×3010×2840

9520

YX-R15

15

55

5840×3540×2940

9950
►model YX-398D powder packing machine automatic VFFS packaging equipment with elevator auger measuring system
1.Chinese and English language touch screen display, easy to operate.
2.PLC computer control system, working is stable, adjust parameters without stopping 3.the machine.
4.It can save ten parameters, simple to change goods.
5.Adopted to servo system machine drawing film, position accurately.
6.Temperature control system independently, accuracy is within ±1°C.
Application:
Suit for the quantitative weighingof Popcorn, dry pasta, Meatball, Macaroni, hamburgers, oats, washing powder, puffed food, French Fries, biscuit, rice crust, jelly, candy, pistachio nut, apple flake, dumpling, rice dumpling, chocolate, hardware and medicine such particle, platy, strip and irregular shape.
Video information from our business youtube site:
Technical Specifications of model YX-398D packing machine powder VFFS: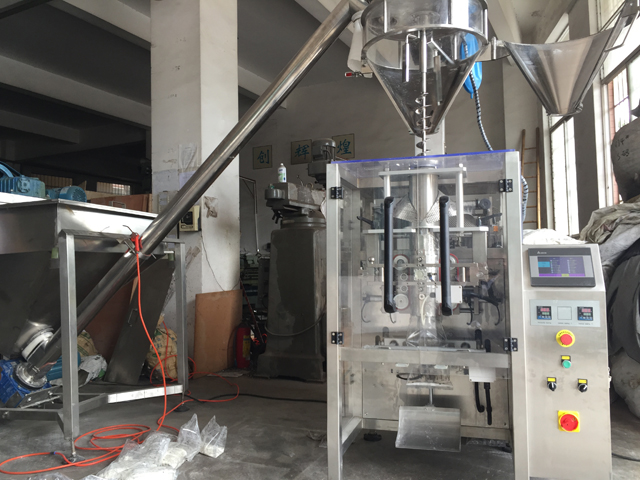 | | |
| --- | --- |
| Bag size | L (80-400) ×W (80-250) mm |
| Packing speed | 5-60 bags/min |
| Measuring range | 500-2000 ml |
| Max width of film roll | ≤520 mm |
| Air consumption | 0.65 mpa |
| Gas consumption | 0.4 m3/min |
| Power requirement | 220 V, 50 HZ, 2.2 KW |
| Machine size | L 1150 * W 1795 * H 1650 mm |
| Machine weight | 600KG |
Basic configuration of model YX-398D powder packing equipment VFFS:
| | | | |
| --- | --- | --- | --- |
| Number | Name | Brand | Country |
| 1 | Touch sensitive screen | WEINVIEW | TAIWAN |
| 2 | PLC | MITISUBISHI | JAPAN |
| 3 | Servo motor | PANASONIC | JAPAN |
| 5 | Vertical cylinder | SMC | JAPAN |
| 6 | Cutting cylinder | SMC | JAPAN |
| 7 | Two units system | SNS | TAIWAN |
| 4 | Horizontal cylinder | SNS | TAIWAN |
| 8 | Solid state relay | FOTEK | TAIWAN |
| 9 | Intermediate state relay | OMRON | JAPAN |
| 10 | Photoelectric eye | AUTONICS | KOREA |
| 11 | Power | MW | TAIWAN |
| 12 | Transducer | HONGQUAN | CHINA |
| 13 | winding motor | VTV | TAIWAN |
| 14 | Thermometer control | OMRON | JAPAN |
Other details about model YX-398D packing machine automatic VFFS packaging equipment for calcium powder equipment:

Bags former
main body of packing machine form fill seal
Egineer sizes adjusting the model YX-398D powder packing machine
Sensor for materials level sensing
Bags samples with/out inflation air
Wooden case packing for powder packing machine
After-sales Service for PENGLAI Mixing machines
Guarantee: for all the machine, it claims one year for guarantee.(Excluded from the warranty are problems due to accidents, misuse ,
misapplication, storage damage, negligence, or modification to the Equipment or its components.
ALSO THE EASY BROKEN SPARE PART IS NOT INCLUDED IN THE GUARANTEE)
Installation: after the machine arrive your factory,if you need,our technician will go to your place to install and test the machine
and also training your worker to operating the machine (The time of train depend on you worker).
The expenses (air ticket ,food , hotel,the travelling fee on your country) should be on your account
and you need paid for the technician USD50 per day. also you can go to our factory to do training.
After service: If you get the problem on the machine ,our technician will go to your place to fixed the machine as soon as possible.
The cost should be in your account.(as above).
ALL RIGHTS RESERVED by ®PENGLAI INDUSTRIAL CORPORATION LIMITED