CERTIFICATES

CONTACT US

Email:jackdu999@yahoo.com

Tel:+8675586718316
Phone:+86-15811882441
USA OH purchased filling capping labelling with lot# printer machines filler capper labeller line
Published by: PENGLAI INDUSTRIAL CORPORATION
Date:2017-04-29 14:35:17
Recently we got the order from our USA customers who purchased Several machines like filling-capping-labeling; the machine given as follow in model no is as one(1*) set of semi automatic rollling labeling
machine model YX-LM520A/ model YX-V06 foamy liquid filling machine and model YX-SCM001 Screw capping machine desktop type as well as model YX-L60T labeling machine with date printer .According to his labels&flat bottles sent from Ohia State we customized the machine within 10work days but the customer
delayed paying the balance when we finished manufacturing all the machines. Finally when we resumed our work after our traditional chinese new year our customers paid the cost remaining then we ship the machines to the port assigned,thus the time ticked the Mid-March.
As below there is the basic information between the PENGLAI CORP and the USA counterparts in the international transaction:
Purchased order for filling capping labeling machines
Bank copy for the machines ordered

Samples sent from customer

Testing video for machines given as below:

Model YX-V06 overflow filling machine

Model YX-LM520A rolling labeling machine

Model YX-L60T labeling machine with date printer

Model YX-SCM001 screw capping machine

Wooden case packing for the machines before shipping
There given as below for the basic information on the machines ordered respectively:
►Model YX-V06 Foamy liquid filling machine:
YX Series Six heads perfume filling machine (one head and four heads) is customized with the diaphragm pump for all the bottles filling at the same time,which mainly used in liquid products such as toilet, water, perfume or foamy liquid as liquid soap etc. PLC controller.
This filling machine has the feature of compact structure, rationality, simple operation and convenient maintenance and also the performance of fixing the surface and counting.The height of surface can be adjusted. Components and parts which touched will adopts304 stainless steel. It suitable for the glass bottle, plastic bottle which draw out vacuum and uneasy to distortion. Generally, it has two kinds: common one and explosion resistant one. When customer order it, please point out which one you want.
Explosion resistant ones or adopts explosion resistant measure. Other part of the machine is same.

Main Technology Parameters of Customized foamy liquid detergent handwashing filling machinery semi automatic 6heads diving nozzles personnalisé machine de remplissage liquide model YX-V06:

Bottle height less than 450 mm
Bottle Mouth Maximum Diameter less than 50 mm
Minimum Diameter more than 4.5 mm
Filling volume 50-2500ml
Adjustable liquid High-Level (Away from the bottle) 26-50 mm
Profile Dimensions (Excluding liquid storage bottle) L×W×H 960×670×1430mm
Adaptable environment temperature (0—30) °C
Power 3AC 380V
Diaphragm pump 1.1kw
Pumping rate 5.5(Explosion-proof type 4) L/second
Motor power 0.75kw
►Model YX-LM520A rolling labeling machine

Equipment operating instructions on rolling labeling machine: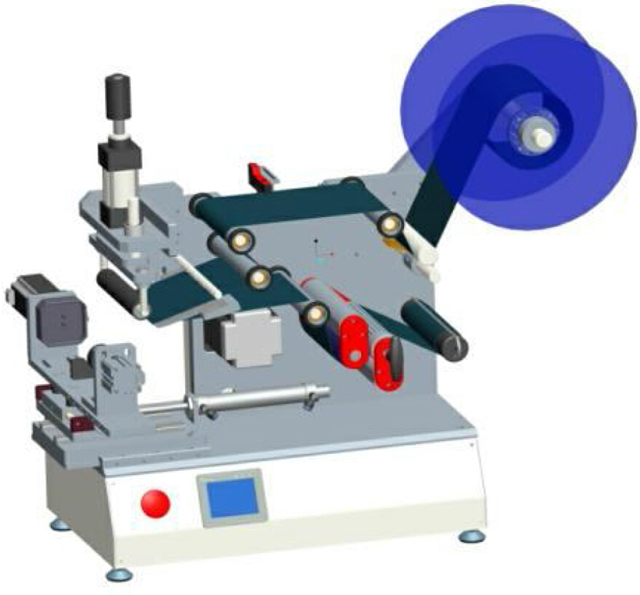 Device model£ºYX-LM520A
Name: semi-automatic plane & round bottles labeler machinery
Circumstance for operating the rolling labeling machine
1.Use this device is strictly prohibited in the following environments,
lFierce local temperature change
lWhere high humidity and dew
lVery strong vibrations or shocks
lPlace in the dust
lWhere the splash of water, oil, chemicals
lWhere there are explosive, inflammable dangerous goods
2£® Make sure the power outlet and the power supply interface can be in close contact or loose contacts may be resulting in a fire hazard.
3£® Do not place heavy objects on the power cord and damaged power cord may cause electrical shock or fire hazard.
4£® Before cleaning or in antirust oil, be sure to unplug the power cable from the device, otherwise in danger of fires and damage to equipment.
5£® Do not use loose or damaged power outlet, or of electric shock and fire hazards.
6£® Use the correct grounding, use is not properly grounded outlet will cause risk of electric shock and damage to equipment.
7£® Do not wet the hand when touching the power outlet, or risk of electric shock.
8£® When the mobile device, make sure the power cord from the power supply, or they risk of fires and damage to equipment.
9£® At the right voltage/current standard using devices, without appropriate voltages/currents work will lead to the risk of electric shock, fire, or damage to your equipment.
Chapter I Labeling machine
1-1Labeling machine introduce
Labeling machine is automatically label affixed to the product surface the short name of an automation device,
it can replace manual labeling, improve production efficiency and quality. According to the degree of automation
can be divided into manual labeling machines, semi-automatic labeling machine and automatic labelling machines;
according to the shape of the product can be divided into round bottle labeling machine, partial-around labeling machine
and special-shaped bottle labeling machine; according to the labeling and product placement can be divided into vertical and horizontal labelling machines.
1-2 Drawing explanation on model YX-LM520A rolling labeling machine for round&flat bottles:
1-2-2Back of machine
1-3Technical parameters of model YX-LM520A rolling labeling machine:
1. apply label length:10 mm~150 mm
2. apply the label width:10 mm~150 mm
3. apply paper roll internal diameter:40mm or 76mm
4. the paper roll external diameter:φ≤250 mm
5.indoor temperature: -10° c ~40° c
6.indoor humidity: 35~85©‡
7.power supply:220V,50HZ
8.overall dimension:550*550*650 (L*W*H)
9.weight:78kg
1-4The scope of
1.widely used in food, pharmaceutical, cosmetics, cosmetic, electronic and other industries.
2.for semi-finished products or finished products in print and partial arc surface semi-automatic labeling.
►Model YX-L60T labeling machine with date printer

The round bottles labeling machine is mainly composed of main unit, paper feeder, paper collector and bottle locator, YX-L60T semi-automatic round bottle labelling machine is suitable for all kinds of round articles' labelling. Manually place the bottles onto the locator, pull down the hand pull switch after locating the bottles and then the the labels will be automatically applied on them.
¢ñ.Main Technical Parameters of model YX-L60T labeling machine with batch number coding

1.Productivity:10—50 b.p.m
2.Labelling accuracy: ±0.5mm
3.Percent of Pass: ≥99%
4.Power Supply: 220V 50Hz/110V 60Hz
5.Total Power: 0.2KW
6.Dimensions: 600(L)×300(W)×400(H)mm
7.Weight:50KG
8.Label Roll Outer Diameter: 260mm Max£¬Inner Diameter:75mm.
¢ò.Adjustment of Main Components
1.Paper Feeding
Open the front lid of paper feeder, then put the labels in the label tray. Confirm the right positioning the forward and reverse direction and hang it as per the labelling direction
2.Bottle Locating
Place the bottle into the local after confirming the labelling direction, and then trial label one label to observe if the positioning of labelling is correct. Then adjust the front, back, left and right positions of locator to confirm the position of labelling.
3.Labelling Light sensor
Confirm the label is in alignment with the stripping mouth by adjusting the front and back positions of the light sensor.
¢ó.Installation & Test Run
►After confirming the position to install the unit, adjust the four machine leg screws to make the main unit at level with desktop.
►User must get familiar with the structure, work principle, methods of adjustment and technical parameters of the unit.
►Check if each component is in good condition and lubrication status of each transmission part. Lubrication oil must be supplemented if in shortage.
►The unit can be used for normal operation once there is no abnormity is found after half an hour's test run.
►Light Sensor Sensitivity Adjustment
COARSE & FINE Adjustment.
Set to Minimum on COARSE and to Middle on FINE.
Put an object in front of the detecting head, rotate COARSE to the right slowly until OUT is on.
Then adjust Fine knob, rotate to the left until light is off, then to the right until light is just on.
¢ô.Operation
►Check the voltage of power source to be same with machine's power supply.
►Connect to power source, switch light will be on.
►Check if labels are well hung and positions are correct.
►Trial labelling on an object, then adjust the label light sensor to make label out position in alignment with stripping plate and the mould position to the appropriate.
¢õ.Maintenance
►Change lubrication oil for the gearbox and reduction box once each month.
►Oil each drive sprocket, cam and gears regularly with butter.
►Scrub each component with ethyl alcohol, but never spray-wash with water.
►After each use, scrub clean each drive belt-driven roller clean and store in clean places.
¢ö Common Faults & Trouble Shooting
| | |
| --- | --- |
| Faults | Trouble-shooting |
| Labels drift left and right | Check if the bottle locator and bottle bottom's contact is in place each time and also if the label locating ring is adjusted in consistency and in place |
| Label crinkles | Adjust the position between labels and stripping plate, to make it in alignment with the stripping plate or 1-2mm above |
| Does not label | Check if the hand pull structure is in good contact with the microswitch and the distances between bottle locators are appropriate. |
►Model YX-SCM001 screw capping machine desktop
The model YX-SCM001 desktop screw capping machine is suitable for the cap screwing of different shapes of bottles in the industries of foodstuff, pharmaceuticals,
daily chemical, pesticide and cosmetics etc. Its four adjustable speed motors are used respectively for cap supplying, bottle clamping, delivering and cap screwing.
It is characterized by high level of automation, outstanding stability, easy adjustment, no need of spare parts for replacing bottle types or caps, which can be done only by adjusting.
¢ñ. Desktop Screw Capping Machine Function: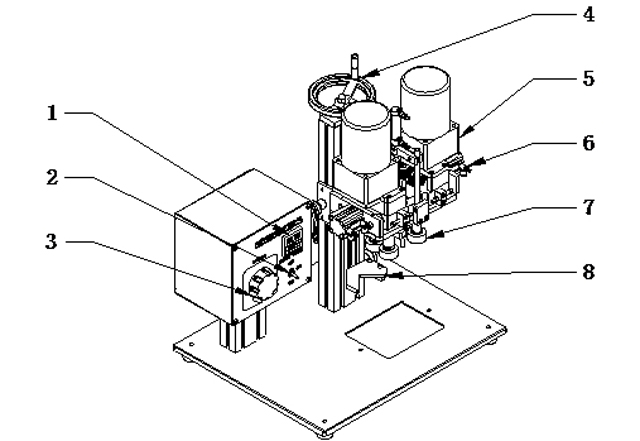 1.Control panel 2.Power switch 3.Torque regulator 4.up and down adjustment 5.capping motor 6.cylinder 7.capping head 8.position withstand
¢ò£ºMain technical parameters:
1. Power Voltage£ºAC220£¯50Hz
2. Cap Diameter£º¡é16-¡é45MM
3. Capping speed£º20-50PCS£¯min
4. Applied bottle height£º40-330MM
5. Air compressure£º0.2-0.6Kgf£¯cm
6. Weight£º25Kg
7. Size£º48(L)£Ø40(W)£Ø60(H)CM
¢ó£ºOperation Precautions:
1. Before using, add ISOVG32 pneumatic gas oil or equivalent oil on the gas source processor.
2. To adjust the capping head according to the bottle height.
3. To adjust the cap size, according to the bottle cap, two sides adjust at the same time.
4. To adjust the position withstand, let the bottle mouth under the center of the capping head.
5. To adjust the Torque regulator meet capping strength.
6. Switch on the power, open the hand sliding switch for gas.
7. Control valve operation, first to pull up the adjustment switch can adjust the air pressure.
8. Manual operation, to connect the food stamp switch under the electric box. Note: To be sure the manual/ automatic button on the red light position.
¢ô£ºTrouble treatment method
1. Machine cannot open, check if it is supply AC220V power or power is damage, transformer burn off, change a new one.
2. Cannot work automatic, manual/automatic doesn't switch, or not open start button, or the wire board in trouble, electromagnetic valve cause it.
3. Motor does not move, torque adjustment switch broken or transformer, capping motor, capping motor start button in trouble.
4. Capping lose or not tight, adjust the torque regulator.¡£
5. Capping motor does not move, check if the power, or electromagnetic valve, wire board in trouble.
6. Cap press cylinder does not move, check if the power, or electromagnetic valve, wire board in trouble.
¢õ£ºOperation panel function:

1. Torsion Force Adjustment
2. Capping pause interval tine display
3. Lock cap time display
4. Automatic
5. Stop
6. Manual
¢ö£ºSystem maintenance
1. Before or after opening the machine, keep the machine inside and outside clean, to make sure the machine normal movement.
2. In the morning and afternoon, check all screw of the machine, sure no loose, if find, tightening it with tool.
3. Keep other products away from the machine, to avoid stop the machine move.
4. Out of work time, turn off the power to avoid other trouble.
ALL RIGHTS RESERVED by ®PENGLAI INDUSTRIAL CORPORATION LIMITED