CERTIFICATES

CONTACT US

Email:jackdu999@yahoo.com

Tel:+8675586718316
Phone:+86-15811882441
USA NY customers purchased filling sealing labelling packaging equipments filler sealer line
Published by: PENGLAI INDUSTRIAL CORPORATION
Date:2017-08-02 10:56:17
Our Regular customers from NY state (USA) placed another order on several machines for packaging line which are listed as below:
Bottle Unscrambler YX-BS12-A China 8422200000 1SET
Jars sealing machine four heads Model YX-FS40 8422309090 1SET
Sleeve Applicator with shrink tunnel YX-SL150 8422400000 1SET
Air dryer YX-AN600 8414519900 1SET
Nuts filling sealing machine YX-900 8422303090 1SET
COMPLETE SET STAINLESS STEEL LINEAR CONVEYORS INCLUDING 2 90DEGREE SECTIONS AS PER DRAWING 3926901000 21.33FT
MOULDS FOR 16OZ AND 32OZ PAILS 8422909000 2SETS
COST OF SPLITTING THE CONVEYOR BETWEEN SHRINK TUNNEL&SLEEVE APPLICATOR WITH SEPARATE MOTOR AND SPEED CONTROL
For all the machines purchased it is clear to confirm all the information on the products so we often ask our customers to freight the samples to
test and commission the machines in order that the machines and customer's products gains the best compatibility and adaptability.
After getting the confirmation &samples of the product in sizes and drawing for manufacturing the filling+sealing+labeling packaging machines
we spent only 25workdays finishing everything and made the machines ready after testing them in a satisfactory feedback.
Recently our customers sent us the positive commentar on the machines which keep running very well in their factory ever since the machines arrived their factory.
The machines was shipped via courier to NY . The documentaries certificated with ISO&CO&CE together with other files necessory are sent via DHL to customer for assisting customers to clear the custom.

As below there listed the basic information on the successful transaction between PENGLAI and their USA counterpart:
Layout drawing of customer's factory for purchasing the machines


Purchased order issued from USA customer: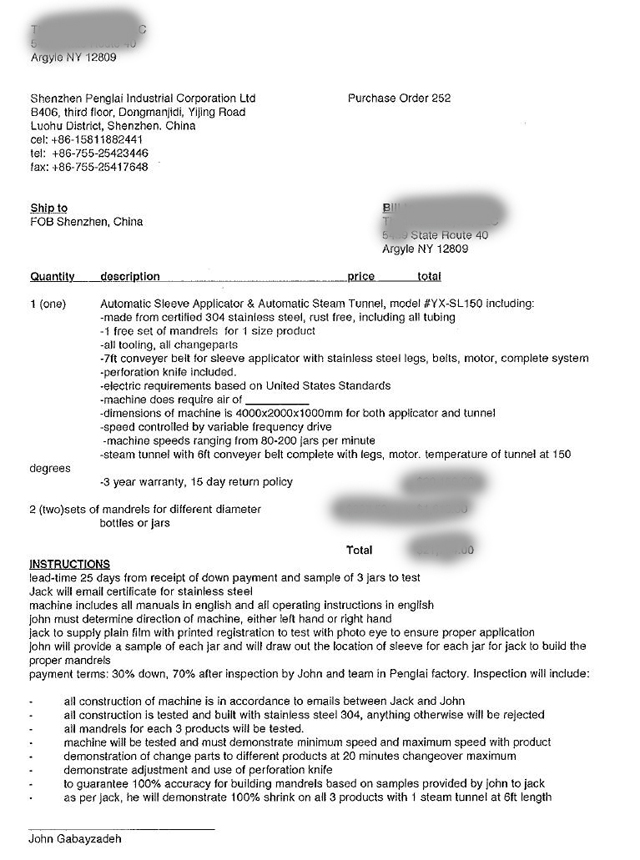 Samples sent from customers in America


Bank copy of Down&balance payment for purchasing filling sealing labeling machines


Testing videos on filling labeling packaging machines
Bottles&jars unscrambler arranging equipment model YX-BS12-A
Bottles air knives drying equipment model YX-AN600
Cups filling sealing machine for nuts model YX-900
Bottles&jars sleeve applicator with steam shrink tunnel model YX-SL150
Jars sealing machine linear type model YX-FS40
Marks for the filling sealing labeling packaging machine


Wooden case packing of fing sealing labeling packaging machines.
ALL RIGHTS RESEREVED by ®PENGLAI INDUSTRIAL CORPORATION LIMITED