CERTIFICATES

CONTACT US

Email:jackdu999@yahoo.com

Tel:+8675586718316
Phone:+86-15811882441
USA NJ regular customer bought tubes filling sealing machines bottles filling sticker labellers
Published by: PENGLAI INDUSTRIAL CORPORATION
Date:2019-10-19 12:05:13
Our Regular customers from USA (NORTH America) placed another order on Five(5*) pcs of machines:1st one is model YX-UF100B tubes filling ultrasonic sealing machine; 2nd model YX-LM520A rolling labeling machine for flat bottles double face sticker; 3rd model YX-SL25 syringes bottles labeling machine round object labeller with date printer; 4th one model YX-HT02
filling machine piston filler with mixer heating function in the hopper; The last one is model YX-A02 tabletop pneumatic filling machine;
For all the machines purchased it is clear to confirm all the information on the products so we often ask our customers to freight the samples to test and commission the machines in order that the machines and customer's products gains the best compatibility and adaptability.
After getting the confirmation &samples of the product in sizes and drawing for manufacturing the filling sealing tubes bottles labeling filling machines
we spent only 15 working days finishing everything and made the machines ready after testing them in a satisfactory feedback.
Recently our customers sent us the positive commentar on the machines which keep running very well in their factory ever since the machines arrived their factory.
The machines was shipped via DHL to Closter NJ USA . The documentaries certificated with ISO&CO&CE together with other files necessory are sent via DHL to customer for assisting customers to clear the custom.

As below there listed the basic information on the successful transaction between PENGLAI and their American counterpart:

Purchased order issued from USA customer:


Samples sent from customers in North America

Bank copy of Down&balance payment for purchasing YX series filling tubes machine bottles labeling filling machinery:


Testing videos on filling sealing tubes machine tabletop heating mixing filling bottles machines YX series:


Wooden case packing of tubes filling and sealing machine bottles labeling filling machinery YX series


As follow there given the description on the machines purchased respectively
The Ultrasonic sealing machine tubes filling equipment model YX-UF100B is linked with ultrasonic sealing, the heat required for melting is only generated inside the thermoplastic sealing layer. For localized conversion of vibrations to friction heat, the anvil or sonotrode profiles are mostly linear and include radii or small plateaus. These profiles ensure focusing of the energy input and therefore short sealing times between 100 and 200 milliseconds. With ultrasonic sealing heat is generated at the inside of the film, not by heat input from the outside as is the case with heat sealing, for example. The tools (sonotrode and anvil) that come into direct contact with the packaging material, remain cold during the entire weld process. The support layer remains almost cold and upon termination of energy input, the heat dissipates faster to the outside due to the temperature difference between the support layer and the sealing layer so that the hot-tack resistance is significantly higher.
Ultrasonic sealing is particularly well suited for:
►Thermoplastic films (pouches and bags) Tubes, trays, and cups
►Tubes, trays, and cups
►Cardboard packaging with thermoplastic coating
►Valves and vents on films / filter materials
►Screw caps on coated cardboard packaging / films
When choosing tube filling equipment for plastic tubes, it is very important to understand the various types of tube sealing options available. Tube filling machinery comes with hot-air sealing, ultrasonic sealing, impulse sealing or hot-jaw sealing options. Matching the type of squeeze tube with the correct tube sealing equipment is very important to ensure strong, professional tube seals. Each tube material behaves differently so what works well for a mono layer polyethylene cosmetic tube, may not work so well with a multi-layer COEX tube. Depending on the industry for a given product, such as cosmetic tubes, personal care tubes, pharmaceutical tubes, or household & industrial tubes, choosing the correct tube filling & sealing equipment can be challenging. Lets take a look at the two most popular options currently used in the tube packaging industry today.
Hot Air Tube Sealers
The most popular tube sealing machinery option is hot-air tube sealing. With this system hot air is generated and blown into the open end of the plastic or laminate tube. This heated air penetrates the plastic tube wall heating the material enough to make it soft and pliable. A set of tube sealing jaws then crimps the softened plastic to weld the open end closed. The primary advantage of this tube sealing technology is it's speed. Another advantage is hot air sealers work with the largest range of laminate or plastic tubes. Whether the tube material is LDPE, MDPE, HDPE, PP, Mono layer or multi-layer with or without EVOH barrier protection, hot air tube sealing should work. A disadvantage however is the need for specific hot air nozzles sized to each diameter tube that is filled and sealed. This will add to the cost of change parts needed for the tube run. The cost of format parts are minimal however when factored over the production run size at higher throughput. We recommend this style of tube filler if the production run sizes are greater than 20,000 tubes.
Ultrasonic Tube Sealers
Ultrasonic tube sealing is another popular option found in the packaging industry today. Standalone tube sealers using ultrasonics are popular for small volume tube runs. Tube filling machinery can also be retrofitted with ultrasonic tube sealing systems as an alternative to hot air sealing. With ultrasonic tube sealing, plastic and laminate tubes are sealed by high frequency vibration of an ultrasonic sealing horn. This high frequency vibration generates intense heat at the tube wall which causes the polyethylene tube plastic to soften. The open end of the plastic tube is held closed under pressure from the sealing horn and matching sealing anvil, thus forming a strong weld. Advantages of sealing tubes with ultrasonic technology are the ease of use, no need for custom-made size parts, and ability to seal through product contamination in the seal area such as happens when overfilling a tube with product. The disadvantage however is lower tube sealing speed compared to hot-air sealing.As far as our ultrasonic sealing machine model YX-UF100b is concerned,the basic information given as below:
Plastic composite hose filling and sealing machine made of stainless steel, using the buttons to control the work process: artificial tubes, automatic rotary,quantitative filling, automatically cut off, heating sealing, cut tail, finished exit.
All work using the full cylinder stroke control, easy to adjust filling volume, the filling speed can be adjusted.
It applies to all kinds of plastics and composite hose filling, sealing, date printing, cut tail. Sealing neat appearance, sealing strong, high accuracy, good stability.
Basic parameters of tubes filling sealing machine ultrasonic model YX-UF100B
| | |
| --- | --- |
| Compressed air | Pressure: 0.4-0.6MPA Consumption: 0.3M3/MIN |
| Scope of work | A type :5-15ML B type :10-75ML C-type :20-150ML D-type :50-300ML E-type :100-500ML F type :200-1000ML |
| Production capacity | 10-80 times / min |
| Filling accuracy error | <2% |
| Table adjustable height | 100MM |
| Tank Capacity | 20L, 30L, 40L, 50L |
| Filling the container diameter | according to the material viscosity and filling volume set |
*Note: The above parameters for reference only.
The machine constantly upgrades parameters may cause the actual discrepancies, please understand.
How ultrasonic sealing works


The Model YX-UF100B ultrasonic tube sealer is designed to be mounted onto virtually all styles of filling machines. As the tube is advanced to the ultrasonic tube sealing station,
a switch closes to initiate the weld cycle. Air is directed into cylinders to advance the weld anvil and ultrasonic horn towards the center line of the tube.
The tube is closed to a preset gap and held for the applica-tion of sonic energy.
An ultrasonic power supply takes the 50/60 Hz electrical energy and converts it to 30,000 cycles per second thorough a power oscillator.
This high frequency electrical energy is applied to the convertor which transforms the electrical current to high frequency mechanical vibrations.
The sonic energy causes the horn to vibrate against the tube end at 30,000 cycles per second.
The intense vibration disperses any contamination from the seal area and generates heat to bond the material.
The energy is then stopped and the tube is held closed for a brief time (typically .05 to .150 seconds).
Then the tube goes to the next station on the filling line. Typically cycle times range from 45 to 80 units per minute, depending on tube diameter and material.
Product Features from model YX-UF100B horizontal filling ultrasonic tubes filling sealing machine
►The machine can be used for explosion-proof units.
►Mainly used for quantitative filling of water, oil, lotion, paste-like material. According filling needs, adjustable work surface lift.
►Filling volume 5-1000ML, Divided into six series :A, B, C, D, E, F.
►Feeding mode: Normal Gravity / automatic suction type Choose one.
►Control: pneumatic control
Workplace for tubes filling sealing machine semi automatic model YX-UF100B
1.Laboratory
2.Industrial production operations with continuous processing line
Detailed Pictures of filling ultrasonic tubes sealing machine semi automatic model YX-UF100B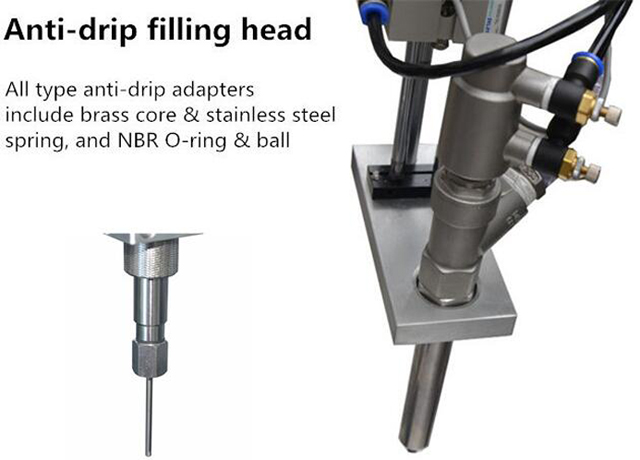 Tubes samples of filling sealing machine semi automatic model YX-100B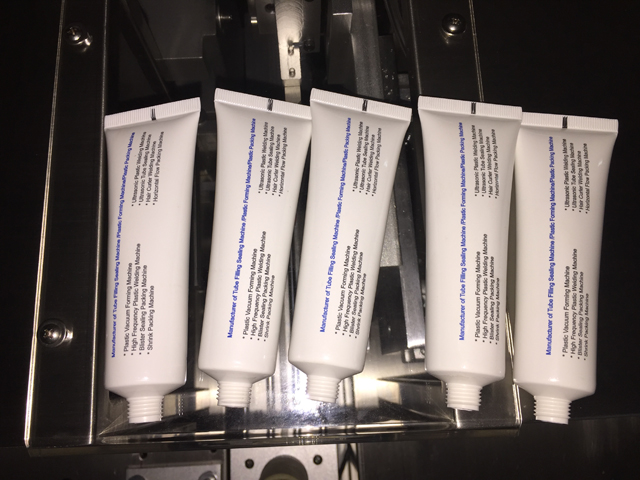 Wooden case packaging for model YX-UF100B ultrasonic tubes sealing machine +horizontal filling equipment
The model YX-LM520A rolling labeling machine semi automatic customized oval flat plastic bottles is the updated version based on model YX-LM520 by replacing the pneumatic driving part with the stepping motor .With stepping motor the model YX-LM520A labeling machines work in a more stable way . The highly-performance machines labeling is specially designed for oval soft plastic bottles in order to avoid the insufficient labels in edge or lower accuracy labeling for irregular bottles .
Labeling is one of the most critical components in a bottling line. A customer's perception of the quality of a product is directly related to the quality of the label on that product.
Labelers must therefore be precise to show quality and also flexible to meet changing regulatory demands. Inline Filling Systems offers a host of labeling machines for the most simple, low cost, semi manual applications to the most demanding high speed, state-of-the-art applications.
Below is the Drawing for rolling labeling machine model YX-LM520/A series
The basic purpose on semi automatic plane surface labeling machine semi automatic model YX-LM520A

◆ applies to products on flat or curved, concave labeling, labeling accuracy up to ± 0.2mm, mainly used in electronic components, precision labeling of digital products, such as SD cards, cell phone batteries, FPC, mobile phone charger labeling and so on. Precision labeling, highlighting the excellent quality of products, improve competitiveness.

Optional features for labeling machine custom rolling labeler equipment semi automatic for plane&oblong bottles objects: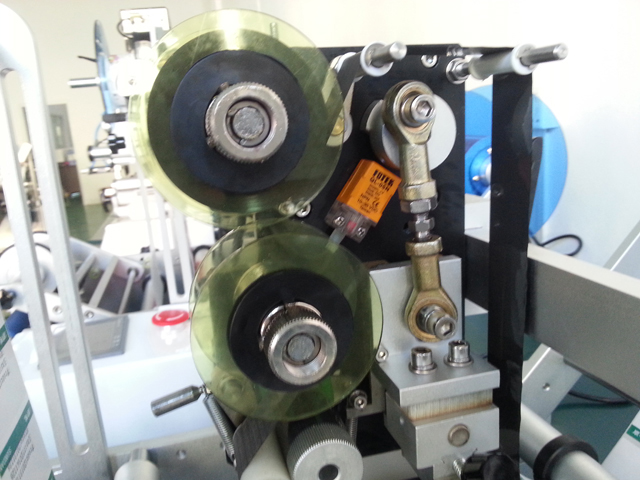 Coder: thermal coder word tablets print production date, expiration date, batch number and other information.
Scope of customized labeling machine rolling labeler equipment model YX-LM520A
◆ Applicable Label: Label, electronic monitoring code, bar code, etc.
◆ Application: require flat or curved, circular surface, concave, convex, or other surface attached label.
◆ Industry: Widely used in food, toys, cosmetics, electronics, pharmaceutical, metal, plastic, printing and other industries.
◆ Applications: SD card labeling, labeling and other batteries. (Canon Charger: no bubbles)
Working Process
◆ core principle: This principle is part of our R & D alone, if interested, please inquire.
◆ Procedure: put the product -> Labeling and covered standard (device automatically) -> Remove any labeling products.
Technical Parameters of MODEL YX-LM520 high precision rolling custom labeling machines semi automatic for cambered surface oblong plane subjects bottles containers rotary labeler equipment

Model YX-520A
Labeling accuracy ±0.2mm
Labeling speed 10~25Pieces / min
Applicable Dimensions (Length) 20mm~250mm
Applicable Product Size (width) 20mm~150mm
Applicable Dimensions (height) 0.2mm~120mm
Applicable Label Size Length:15mm~250mm Width:15mm~150mm
Inner diameter of label roll Φ76 mm Label largest diameter Φ280mm
Dimensions (L × W × H) 850mm×410mm×720mm
Power supply 220V 50HZ Total Power 145W
Pressure (Mpa) 0.4~0.6Mpa
Features on semi automatic bottles labeling machine model YX-LM520A

◆ precision, domestic original labeling technology, labeling accuracy of ± 0.2mm, meet the needs of high-precision labeling;
◆ Easy to operate, stripping standard, standard delivery, suction mark, labeling and other actions automatically cover standard, manual loading to complete the labeling process;
◆ safety, transmission components wrapped with pneumatic circuit arranged separately, to avoid an exception occurs, the use of safer;
◆ high stability, using stepper motors + PLC + electronic control system consisting of fiber optic sensors, equipment stability, long time working;
◆ Optional automatic scale turntable device, can significantly improve the efficiency of loading and unloading, improve labeling efficiency;
◆ Optional features and components: ① automatic feeding function; ② automatic rewinding function (combination of product considered); ③ other features (according to customer requirements).

Final labeling product from YX-LM520A square bottles labeling machine semi automatic: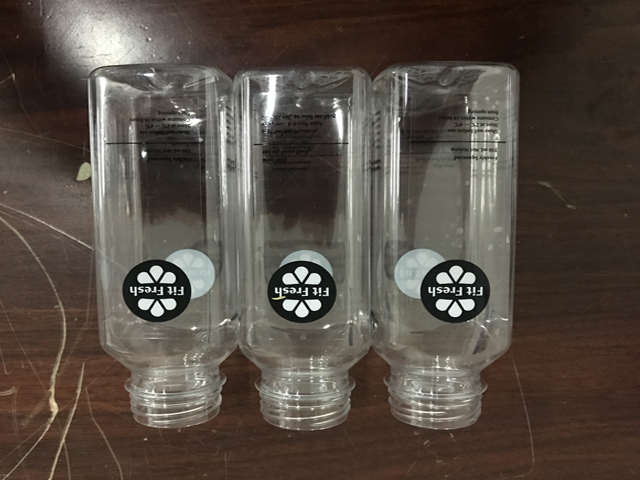 Wooden case packing of rolling labelling machine.

Model YX-SL25 Pharmaceutical pipe containers syringe injection needles labeling machine semi automatic customized labeler equipment with date expiry codes thermal printing function
Application◆ Suitable for all kinds of cylindrical objects labeling, small taper round bottle labeling, such as xylitol, cosmetics round bottles, wine bottles and so on. Can achieve full week / half weeks labeling, front and back labeling circumference, is back mark pitch can be adjusted. Widely used in food, cosmetics, chemical, pharmaceutical and other industries.
Bird view of labeling machine model YX-SL25
| | | |
| --- | --- | --- |
| | | |
| | | Putting the labels around it |
| | | The path of label for labeling process |
| | Supports for light sensor | Light sensor installation,movable up and down ward |
| | | Press the bottles during labeling,adjust its tension by controlling left button |
| | | |
| | | Adjust this left or right,up or down to position the bottles |
| | | Different positions for various bottles |
| | | Tract the bottom line to dispense the label,adjust its tension by moving the screws |
| | | controlling the labeling process with pressing on the pedal |
| | | electric components for labeling machines |
| | | Controlling the machines with changing the parameters |
| | | |
| | | Detecting the interval of labels |
Parameter of syringe labeler model YX-SL25: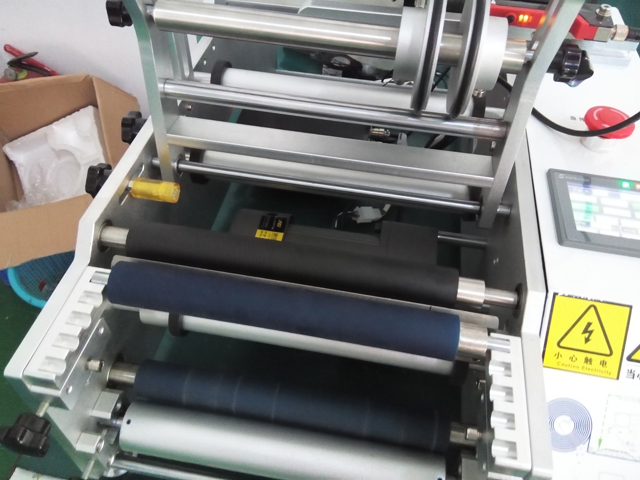 Model YX-SL25
Customized syringe labeling machine with date coding function:
Accuracy ±0.5mm Speed 15~25bpm
Diameter Ø 15mm~Ø 150mm
Label size Length:20mm~200mm;width:20mm~220mm;
Dimension L920mm×W470mm×H500mm
supply power 220V/50HZ; N.W 45Kg
Inner diameter of label Ø76mm
Outer diameter of label Ø 240mm
Voltage 220V-240V/50-60HZ
* Core works: single standard, double standard switching function principle, the principle circumferential positioning labeling, please consult factory.
* Procedure: put the product -> Labeling (device automatically) -> Remove the labeling products.
Making of matching labels
Optional functions choosed improve production management convenience, with labeling counting, power-saving mode, photoelectric tracking label and other functions, production management easier;
optional features and components:
② circumference circumferential positioning function;
③ Other features (according to customer requirements).
► About code printer: Chinese&enlish character, arabic number Roman letter (ifyou have th special requirements it can be customized)
►two sizes of printer letters2*3mm &1.5*3mm
►code printer can printer 3 lines ,16 letters for each line
►the syringe labeling machine YX-SL25 can label the syringe with the min diameter of 8mm,therefore after analyzing your drawings there is no problem about the labeling syringe. the labeling accuracy is ±0.5m
►The working principle for transparent label is thus illustrated: 1.the materials of foil ,if the foil is the transparent ,then it must be equipped with the transparent label light sensor; 2. if the foil is not transparent,it can stop and sensor the label by the common light sensor as long as to dot the hole in the label during making the label. the labels from you with the untransparent foil is okay for our syringe labeling machine.
►Above all ,the machine is the best choice for you to label.
►The manual operation cannot be released until our customer places the order.Sorry that is our company's rule,which is only kept by the engineer team and our sales department cannot have it.
Videos of thermal coding printer machine as below:
Besides the thermal coder printer there is the other sort for printer machine : Ink printer computer controlling system inkjet printing machine
Samples for syringes final product from CUSTOMERS all over the world:
Model YX-HT02 Pneumatic horizontal mixing thick sauce filling machine with heating function Pneumatic horizontal mixing thick sauce filling machine, the machine suitable for high viscosity, paste, thick sauce with particles, the ideal equipment for filling liquid. Jams, sauces, peanut butter, tomato sauce, bean paste, chili sauce, shrimp paste, apple sauce, salad dressing, caviar, sauce all can filling.
This series of semi-automatic piston liquid mixing filling machine with heating function, reasonable design, compact, easy to operate,the pneumatic part adopts Taiwan AirTac, SHAKO pneumatic components.
Material contact parts are made of 304 stainless steel material, meet the GMP requirements.
Filling volume adjustment handle, filling speed can be adjusted with high filling accuracy.
Filling head adopts anti-leakage, anti-pull and lifting filling device. Hopper with adjustable speed stirring device, so that the material is more uniform filling.
Horizontal mixing heating filling machine:
If there are two or more kinds of materials, and two kinds of materials is not the same
weight, the material will be re-precipitation in the following, the drift in the light of the above materials,
a horizontal stirring of the material can be stirred in the horizontal plane, so that more uniform mixing of materials together.
Model YX-HT02
Gas pressure 0.4NPA-0.6NPA
Filling range:5-100ml 10-280ml 20-500ml 100-1000ml 500-2800ml, 1000-5000ml
Filling precision ≤± 1%
Hopper volume 50L
heating temp 0-100°C
Filling speed ≤50 times/min
Weight 50KG
Size 1200mm×300mm×700mm
Working way By air compressor
Other details of machine mixing heating filling for thick sauce materials processing:
Operation of heated mixer filling machine:
The machine is pneumatic, you need to have the ai compressor. If you don't have air compressor, you can choose our electric model.
You can set the interval time to let it fill continuously or use the pedal switch to control each filling time.
Vertical mixing and horizontal mixing difference:
Vertical mixing: Just a simple mixing, if it is of a material, stirring, to help better cutting material.
Filling materials into Jars bottles samples:
A02 series manual filling machine adopts a piston type structure, the liquid, paste and other materials for 5-50g quantitative filling.
Filling of liquid, liquid food, oil, shampoo, shampoo cream liquid substance, with paste liquid filling machine function.
Applicable to the pharmaceutical, cosmetic, food, pesticides and special industries,
and also can be used for sealing the hose has the quantitative filling, is the ideal paste liquid filling equipment.
The A02 manual filling machine is specially designed by our factory for mrdium or small size enterprises,
laboratory,hospital pr beauty parlor in daily use chemical section.
Its configuration is compact,acts agility and easy to use,all the parts which dip in the materiel are made of
stainless steel and polytertrafluorprthylene.
The machine has simple and reasonable structure, convenient manual operation, without any energy.
With the filling volume regulator knob,
quantitative discharging, filling rate and filling speed can be controlled manually.
The material contact part uses stainless steel, suitable for use under acidic medium,
to meet the food, pharmaceutical production and health requirements.
The machine hopper capacity of 10 kg, the user can be set on the filling capacity.
Technical parameters of pneumatic filling machine manual model YX-A02
Model YX-A02
Filling range:5-50gMeasurement accuracy: ± 0.2-1ml
Filling speed:20-60 times / minute
Working pressure: 0.4-0.6Mpa
Hopper capacity:10 liters Weight:28kg (after packaging)
Dimensions:L × W × H: 340 × 340 × 780 (mm)

Packaging part together with the machine
►Nozzles:2 pcs
► 0-Ring:2 pcs
►Guide Manual:1 pcs
►Hexagon:2 pcs
►Screwdriver :1 pcs
►Foot pedal: 1pcs
Operational approach for model YX-A02 Pneumatic filler:
►Connect the machine to an air pump by using a 8mm diameter pipe.
►Presses the pedal switch to work in Jog mode and step on the pedal switch to work automatically.
►Use speed controller for inlet and outlest to adjust the filling speed.
Then adjust the filling volume the same as model YX-A manual filler.
Attention: This machine is not fit for filling the materials concretionary such as face cream or beef fat etc or
any materials with medium or high viscosity.
Shipping&delivery for manual filling machine with pedal pneumatic controlling system
Project cases from PENGLAI INDUSTRIAL CORPORATION LIMTED
Wooden case packaging for horizontal filling heating mixing machine semi automatic:
After-sales service for filling sealing tubes labeling machines manufactured by PENGLAI factory:
Guarantee: for all the machine, it claims one year for guarantee.(Excluded from the warranty are problems due to accidents,
misuse , misapplication, storage damage, negligence, or modification to the Equipment or its components.
ALSO THE EASY BROKEN SPARE PART IS NOT INCLUDED IN THE GUARANTEE)
Installation: after the machine arrive your factory,if you need,our technician
will go to your place to install and
test the machine and also training your worker to operating the machine
(The time of train depend on you worker).
The expenses (air ticket ,food , hotel,the travelling fee on your country)
should be on your account and you need paid
for the technician USD50 per day. also you can go to our factory to do training.
After service: If you get the problem on the machine ,our technician will
go to your place to fixed the machine
as soon as possible. The cost should be in your account.(as above).

ALL RIGHTS RESERVED by ®PENGLAI INDUSTRIAL CORPORATION LIMITED