CERTIFICATES

CONTACT US

Email:jackdu999@yahoo.com

Tel:+8675586718316
Phone:+86-15811882441
USA MA customer for conveyor belt bottles turntable roll labeling inline capping sealing machines
Published by: PENGLAI INDUSTRIAL CORPORATION
Date:2016-05-13 08:07:19
Our Russian-born american customer three weeks ago ordered three(3*)pcs of machines like model YX-LM520A rolling labeling machine +model YX-SCM002 inline capping machine
plus model YX-IS1800 induction sealing machines .
Our customer let their china suppliers send us many samples including bottles and foil wad for testing running of our machines .After receiving these samples
we spent about 10working days finishing all the machines .
We booked the hotel for our customer in Guangzhou after confirming our customer's schedule. On 16th Mar we received our customer in Airport then next day our customer
in our factory checked the machines in every details . the Labeling machine due to the invertor requirement embedded with the machine the lead time put off . After
inspecting our machines like induction sealing and capping machines our customer got rather satified at our machines . On the spot our customer placed another
two machines in the order like bottles collection as well as the conveyor belt.
As below there is the basic information for this sucessful business transaction:
Samples sent for testing run of machinery

Bank Copy for machinery capping labeling sealing conveyor belt turntable

Testing videos for machinery screw capping+induction sealing+rolling labeling+collection table+conveyor belt:
Bottles rolling labeling machine model YX-LM520A

Bottles collection turntable model YX-BS12

Bottles&big boxes conveyor belt YX series

Bottles Induction sealing machine model YX-IS1800

Bottles screw capping machine model YX-SCM002
Wooden case packing for shipping the machines to USA port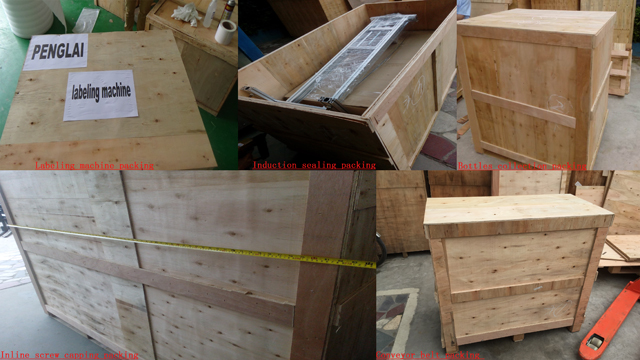 As below there is the basic parameter of the machines respectively :
Inline screw capping+induction sealing machine:
The line including two main machine like model YX-SCM002 inline capping machine and model YX-IS1800 induction sealing machine;
The machines are suitable for capping-sealing medical bottles which is used in the analytical agent Lab use . The whole line can be equipped with
the auxiliary equipment like bottles turntable or the batch coding function.
As below there are basic data for the machines respectively :
Model YX-SCM002
Production capacity 40-60 Caps /min
Cap size 10-50/35-140mm
Bottle diameter 35-140mm
Bottle height 38~300mm
Size(L×W×H) 1000×800×1200mm
Weight 350kg
Model YX-IS1800
Rated voltage AC220V50/60Hz
Machine Net Weight 68kg 50kg
The maximum power 1800W
Cooling Method
Cool Air/water double cooling way
Sealing diameter φ15-75mm 15MM-45MM 30MM-60MM
Bottle Height 20-180mm
Working methods continue working
Application Scope Large Patch of Production
Sealing speed 0-200 bottle/min
Packaging Dimension 1600*450*1500mm
Generator size 1450*410*1300mm
Description Stainless Steel
Drawing of model YX-SCM002 inline capping machine:
| | | | |
| --- | --- | --- | --- |
| 1 | Bottles | 2 | Bottles fixing |
| 3 | Handle for adjust position | 4 | Friction Pulley |
| 5 | Stroke position module | 6 | Caps pressing Cylinder |
| 7 | Handle for positional | 8 | Capping adjusting module |
| 9 | Capping cylinder | 10 | Capping Motor |
| 11 | Controlling box | 12 | Hand wheel |
Capping adjustment from A to Z
A. Bottles fixing adjustment
1. Loose the handle (3)
2. Put the pre-fixed bottles(1
3. Eyeball if the caps center is coincident with cylinder (9)center; once coincided fix the handle(3)
B. Capping height adjustment©q
1. Loose the handle(7)
2. Adjust the handle(12) to make the capping friction wheel(4) bottom distance at 2mm to the caps bottom,fix the handle (7)
C. Capping friction gaps adjustment:
1. Close the air source
2. Put the fixes caps between the friction wheels(4)
3. Approach the caps by moving the friction wheel(4) to adjust the stroke module(5)screw (both sides should be symmetrical by eyeballing measurement).The right fas should be 2mm to 3mm for each side ;
D. Capping cylinder height adjustment (according to caps samples)
1. Loose the screw(8) make the capping cylinder (9) protrude;
2. Leave the distance at 1mm-2mm from the capping nut to the tops of caps
3. Tighten the screw(8)
E. Capping cylinder speed adjustment
1. Connect the supply power and air source to adjust the pressure setting for air pressure (standard 0.74mpa-0.6Mpa)
2. Adjust the capping time and capping interval (standard 1s to 1.5s) select the state as Manual ,Point the pedal switch to adjust the left-right friction wheel pneumatic speed ,finally it should make the speed at both speed at an equal level;
3. Adjust the capping cylinder speed ¡£
F. Testing run of machine
1. Take out one product for the testing run of capping ; Refurbish the capper according to the capping effect;
2. Adjust the torque according to the torsion force.
Drawing of model YX-IS1800 induction sealing machine:
1¡¢Ammeter: Shows the current status during the operation of the whole machine.
2¡¢Working indicator: Shows the working exceptional status
3¡¢Overcurrent indicator: shows the abnormal working status.
4¡¢Power control: power controller.
5¡¢Protection reset: Recover the normal working status.
6¡¢Power switch: Controls the power of the whole machine.
7¡¢Voltmeter: Shows the voltage status during the operation of the whole machine.
8¡¢Conveyor: bottles conveying.
9¡¢Hand Wheel: adjustments for the different bottles height size.
10¡¢Lift shelves£ºIt used to fixed and rise or fall height and low function of sealing head.
11¡¢Sealing head: Heats and seals the aluminum foil in the bottle cap.
12¡¢The speed of adjustment: the adjustment speed of conveyor belt operation button.
13¡¢Start Switch: Conveyor control switch.
Use method on induction sealing machine model YX-IS1800:
1¡¢ Bottles height size adjustment : Put the bottle under the "sealing head", adjust the "hand wheel", make sure the distance between the "sealing head" bottom and the bottle cover face at about 1-3mm, turn the "start switch" to "on" so that the conveyor belt starts running and let the bottles go across the belt to check whether they touch the sealing head. The smallest distance without tough is the best.
2¡¢Adjust the speed of the conveyor belt with the "speed control" . The aluminum foil sealing is related to the belt speed and the power. Put some bottles on the belt, turn on the "power switch" and make the sealing test. The operation formally begins once bottles are sealed firmly.
3¡¢Wait for the soft startup upon boot-strap and start the sealing 30 seconds later when the after the ammeter shows 3.2A.
4¡¢Turn off "power switch" and "startup switch" in machine shutdown.
Videos of inline capping machine+induction sealing machine:
Bottles samples for capping+sealing
Rolling labeling machine+bottles turntable+conveyor belt:
The model YX-LM520A rolling labeling machine semi automatic customized oval flat plastic bottles is the updated version based on
model YX-LM520 by replacing the pneumatic driving part with the stepping motor .With stepping motor the model YX-LM520A labeling
machines work in a more stable way . The highly-performance machines labeling is specially designed for oval soft plastic bottles in
order to avoid the insufficient labels in edge or lower accuracy labeling for irregular bottles .
Below is the Drawing for rolling labeling machine model YX-LM520/A series
The basic purpose on semi automatic plane surface labeling machine semi automatic model YX-LM520A

¡ô applies to products on flat or curved, concave labeling, labeling accuracy up to ± 0.2mm, mainly used in electronic components, precision labeling of digital products, such as SD cards, cell phone batteries, FPC, mobile phone charger labeling and so on. Precision labeling, highlighting the excellent quality of products, improve competitiveness.

Optional features for labeling machine custom rolling labeler equipment semi automatic for plane&oblong bottles objects: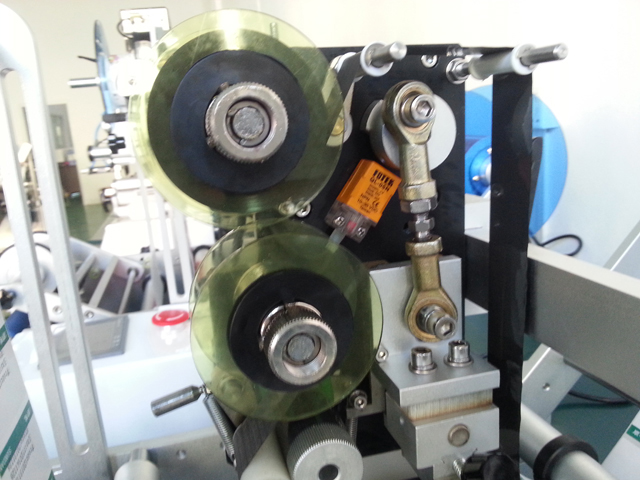 Coder: thermal coder word tablets print production date, expiration date, batch number and other information.
Scope of customized labeling machine rolling labeler equipment model YX-LM520A

¡ô Applicable Label: Label, electronic monitoring code, bar code, etc.
¡ô Application: require flat or curved, circular surface, concave, convex, or other surface attached label.
¡ô Industry: Widely used in food, toys, cosmetics, electronics, pharmaceutical, metal, plastic, printing and other industries.
¡ô Applications: SD card labeling, labeling and other batteries. (Canon Charger: no bubbles)
Working Process
¡ô core principle: This principle is part of our R & D alone, if interested, please inquire.
¡ô Procedure: put the product -> Labeling and covered standard (device automatically) -> Remove any labeling products.
Technical Parameters of MODEL YX-LM520 high precision rolling custom labeling machines semi automatic for cambered surface oblong plane subjects bottles containers rotary labeler equipment

Model YX-520A
Labeling accuracy ±0.2mm
Labeling speed 10¡«25Pieces / min
Applicable Dimensions (Length) 20mm¡«250mm
Applicable Product Size (width) 20mm¡«150mm
Applicable Dimensions (height) 0.2mm¡«120mm
Applicable Label Size Length£º15mm¡«250mm Width£º15mm¡«150mm
Inner diameter of label roll Φ76 mm Label largest diameter Φ280mm
Dimensions (L × W × H) 850mm×410mm×720mm
Power supply 220V 50HZ Total Power 145W
Pressure (Mpa) 0.4¡«0.6Mpa
Features on semi automatic bottles labeling machine model YX-LM520A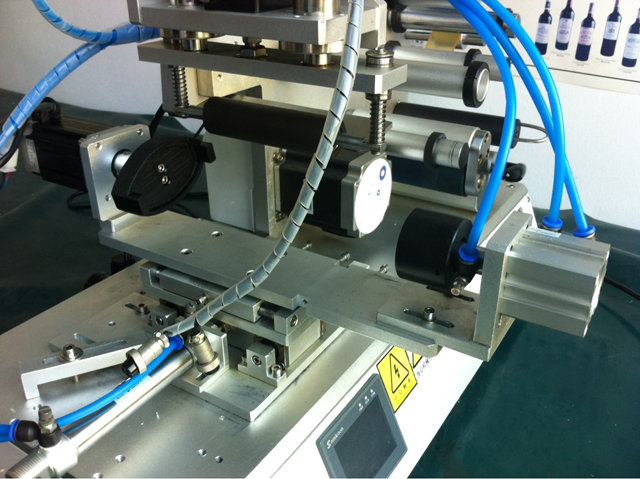 ¡ô precision, domestic original labeling technology, labeling accuracy of ± 0.2mm, meet the needs of high-precision labeling;
¡ô Easy to operate, stripping standard, standard delivery, suction mark, labeling and other actions automatically cover standard, manual loading to complete the labeling process;
¡ô safety, transmission components wrapped with pneumatic circuit arranged separately, to avoid an exception occurs, the use of safer;
¡ô high stability, using stepper motors + PLC + electronic control system consisting of fiber optic sensors, equipment stability, long time working;
¡ô Optional automatic scale turntable device, can significantly improve the efficiency of loading and unloading, improve labeling efficiency;
¡ô Optional features and components: ¢Ù automatic feeding function; ¢Ú automatic rewinding function (combination of product considered); ¢Û other features (according to customer requirements).

Final labeling product from YX-LM520A flat bottles labeling machine semi automatic:
Wooden case packing for capping+induction sealing machine: