CERTIFICATES

CONTACT US

Email:jackdu999@yahoo.com

Tel:+8675586718316
Phone:+86-15811882441
USA IA Regular customers bought 2pcs powder granules tabletop racking filling machines
Published by: PENGLAI INDUSTRIAL CORPORATION
Date:2022-03-10 09:58:45
Our Regular customers from USA (North America) placed another order on two(2*) pcs of machines: one is large volume filling machine; the other tabletop racking filling machine for powder &granules.
For all the machines purchased it is clear to confirm all the information on the products so we often ask our customers to freight the samples to test and commission the machines in order that the machines and customer's products gains the best compatibility and adaptability.
After getting the confirmation &samples of the product in sizes and drawing for manufacturing the powder &granules filling racking machines
we spent only 5working days finishing everything and made the machines ready after testing them in a satisfactory feedback.
Recently our customers sent us the positive commentar on the machines which keep running very well in their factory ever since the machines arrived their factory.
The machines was shipped via courier Fedex toMarion, IA 52302 . The documentaries certificated with ISO&CO&CE together with other files necessory are sent via DHL to customer for assisting customers to clear the custom.

As below there listed the basic information on the successful transaction between PENGLAI and their American counterpart:

Purchased order issued &Key communiction points During Business Discussion:


Samples sent from customers in North America


Bank copy of Down&balance payment for purchasing Small filling machines


Testing videos on 10g-999g racking filling machine &tabletop type filler equipment:

Wooden case packing of racking filling machines model YX-PF50&YX-PF999:


As follow there given the description on the machines purchased respectively
1-50g Powder Filling Machine YX-PF50
Equipment Introduction
Automatic weighing packing, multi-functional package,
Suitable for several of substances, materials.
Stainless steel body in bright and attractive appearance, digital control design, the use of infrared sensors inductive discharge,
quantitative precision sensors, micro-vibration cutting speed weighing, respectively, three vibration level speed, fast, medium and slow.
Speed, high performance, small errors can filling, bag, 1 g -25 grams quantitative between the number of grams
you can set the number of grams of packaging weight above the PC board. 25 pack about one minute. 2-year warranty and lifetime maintenance.
Application: various particles, Tieguanyin, powders, seeds, herbs, foods, cereals, rice, sugar, monosodium glutamate,
salt, wolfberry, spices, sesame, beans, chemicals, small pieces of metal, small electronic parts, each kinds of small products, etc.,
Technical Parameters of tea powder filling machine semi automatic:

Model: YX-PF50
Voltage: 220V/110V
Power: 180W
Filling Range: 1-25g/1-50g adjustable
Filling Accuracy: 0.2g (depends on various substance)
Filling Speed: 25times/min adjustable
Outside Size: 39*23*49CM
Weight: 10kg
10-999g Intelligent Powder Granules Filling Racking Machine Semi automatic Rice Hardware Filling Packing Machinery
♦Introduction on model YX-PF999 tea hardware granules peanuts rice flour filling racking machine semi automatic large volume filler rack equipment ♦
Modified version of installed capacity, can repackage fine powder, the powder does not stick to weighing up to fight. Automatic Weighing packaging, multi-functional packaging, suitable for many types of goods, stainless steel housing, the appearance of fine high-end. Full of intelligent design,
simple operation, infrared sensor switch sensor block discharge, quantitative precision sensors, three level vibration cutting, adjustable, microcomputer motherboard more energy-efficient and durable, fast, error is small, high performance, filling bags loaded,
about one minute 10-20 pcs depending on the package items weighing hopper to increase internal use, the installation of a geared motor, weighing 25-999g can be quantitative, between the number of programs according to their needs in the PC board set adjustment above.
Applicable scope from semi automatic filling racking machine model YX-PF999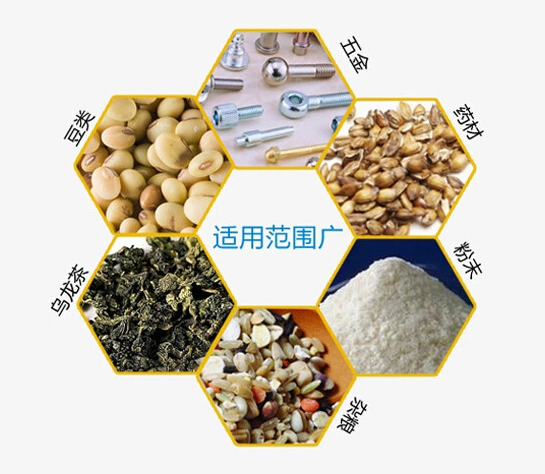 ♦Features of model YX-PF999 Racking machine semi automatic for tealeaf hardware♦
1)High Precise degree:1g according to your powder
2)Automatic weighing before packaging
3)Micro-computer mainboard control save energy
4)Stainless steel Machine material to help you fill healthy
5)Suitable for packaging many different kinds of powder:Fine powder,flour, milk powder, wall powder, chemical powder, edible powder,coffee powder, the powder, coarse, granular, Tieguanyin, herbs, seeds, food, sesame seeds,grains, wolfberry, rice, MSG, salt suitable items , spices, beans, chemical components, electronic components, hardware components etc.
♦Specifications of granules&powder racking packing filling machine♦
| | |
| --- | --- |
| Model | Model YX-PF999 |
| Working Voltage | 220V/110V |
| Power | 200W |
| Range | 25-999g(adjustable) |
| Precision | 1g (Depending on the items) |
| Speed | 10-20 times |
| Dimension | 230*380*580MM |
| Weight | 70kg |
*Note: The above parameters for reference only. The machine constantly upgrades
parameters may cause the actual discrepancies, please understand.
♦How to use the machine♦
1.Put the powder into he hopper.
2.Set the weight of the powder you need to fill per time.
3.Press start button then the machine start to fill.
♦Pictures♦
Final products samples from semi automatic Filling racking machine model YX-PF999
Wooden case packaging before DHL or ocean shipping
ALL RIGHTS RESERVED BY ®SHENZEHN PENGLAI INDUSTRIAL CORPORATION LIMITED