CERTIFICATES

CONTACT US

Email:jackdu999@yahoo.com

Tel:+8675586718316
Phone:+86-15811882441
USA FL regular customers bought two heads liquid filling machinery gear oil filler equipment
Published by: PENGLAI INDUSTRIAL CORPORATION
Date:2017-12-01 14:52:16
Our Regular customers from USA(North America) placed another order on one(1*) pcs of machines: one is filling pneumatic tabletop model YX-F2-500
For all the machines purchased it is clear to confirm all the information on the products so we often ask our customers to freight the samples to
test and commission the machines in order that the machines and customer's products gains the best compatibility and adaptability.
After getting the confirmation &samples of the product in sizes and drawing for manufacturing the filling machines
we spent only 7days finishing everything and made the machines ready after testing them in a satisfactory feedback.
Recently our customers sent us the positive commentar on the machines which keep running very well in their factory ever since the machines arrived their factory.
The machines was shipped via courier to USA. The documentaries certificated with ISO&CO&CE together with other files necessory are sent via DHL to customer for assisting customers to clear the custom.

As below there listed the basic information on the successful transaction between PENGLAI and their USA counterpart:

Purchased order issued from USA customer:


Samples sent from customers in USA


Bank copy of Down&balance payment for purchasing filling machine


Testing videos on two heads filling machines

Wooden case packing of filling machines.


As follow there given the description on the machines purchased respectively
5Liters filling volume double heads fully pneumatic cream thinner gear oil filling machine explosion-proof semi automatic filler machinery
model YX-F2-500
Drawing of double heads filling machine semi automatic model YX-F2 double heads series
This machine is used for filling cream or paste or liquid with thick-viscosity like skin care cream lotion thinner paint etc
double heads 500-5000ML filling machine Parameter: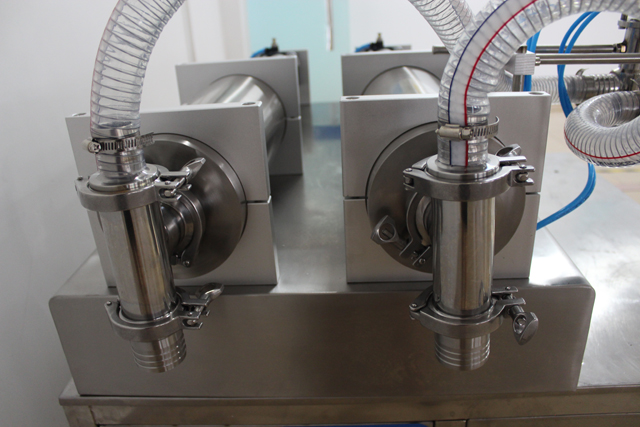 Voltage: 220V/60Hz, 110V/50Hz
Air pressure: 0.4-0.6MPa
Filling speed: ≤3000pcs/Hour
Hopper Capacity: 50L
Shipping package size: 950*420*380mm
Tank shipping package size: 450*450*500mm
Filling accuracy: ≤±1%
Filling Range: 500--5000ml
Filling Heads: double heads
the weight of the packing machine is 90KG
Working principle of fluid power in the double heads filling machine:
Fluid power is a way to move big stuff, move it fast, and do it in a really small package. Fluid power uses a gas or liquid under pressure to move a piston or shaft to do work.
Pneumatic and hydraulic systems, otherwise referred to as fluid power systems, function based on interplay between competing forces. Fluid power means transmitting power, converting power to a usable form and transferring the power to where it's needed. Fluid power systems use liquids (hydraulic systems) and gases (pneumatic systems) to transmit power.
Why Choose Fluid Power Systems over Electrical or Mechanical Systems?
Fluid power produces linear motion using pneumatic or hydraulic cylinders as opposed to electrical and mechanical methods. You don't need electrical power for fluid power systems, eliminating the risk of shocks, fire, sparks or even explosions. They do not use electricity to operate, meaning a large and expensive explosion proof case is not needed.
Pneumatic systems will simply stall when broken instead of possibly exploding like electrical motors. Medical facilities also use pneumatics in place of hydraulics for the same reason as food manufacturers. They are much safer and cause almost no contamination if they break.
Pneumatics are also favored for their resistance to heat; electric motors are prone to overheating but with gas, pneumatic systems do not produce nearly as much heat due to the compressed air constantly carrying heat away.
Understanding the Difference Between Pneumatic and Hydraulic Systems
Hydraulic systems are typically preferred in heavy equipment and machines requiring major power transmission.
The important principles of pneumatics are essentially the same as hydraulic system, but there are several distinctions to keep in mind.
Pneumatics utilizes gas instead of liquid to transfer power
Because gas can be compressed, there is a delay in movement in pneumatic systems
Pneumatics generates higher energy costs due to energy lost from heat production during compression
Hydraulics handles greater force than pneumatics
Air is pumped into a receiver and compressed, ready to be used by the pneumatic system as needed. The air taken from the area around the compressor is filled with contaminants such as dirt, dust and water vapor. To combat this, strong filters are installed keep the air clean and dry.
Advantages of Pneumatics over Hydraulics
The use of gas offers pneumatics several advantages over hydraulics.
Pneumatics are used in food applications more often than hydraulics because there is less chance for contamination, whereas hydraulics are used in industrial equipment for their power and control.
Pneumatic systems are common in medicinal facilities due to their range of sizes; they are installed where space cannot be taken up by large equipment.
Lower pressures in pneumatic systems make them more appropriate for components made of lighter and thinner materials like plastics and aluminum. Hydraulic systems work better for parts made of steel or ductile/gray cast iron
Positioning accuracy rivaling electromechanical applications can be achieved in pneumatics through electronic controls. As a result, chemical plants favor pneumatic systems for their precision over hydraulics and electromechanical systems. Fluid power systems combined with electronics adds incredible control and flexibility to pneumatics
The use of pneumatics technology has led to advances in medical and industrial technology which were previously unheard of.
Applications of Pneumatic Systems
Versa-Bar's unique metallurgical makeup makes it perfect for custom parts for the fluid power industry.
Factory automation is the most common sector for pneumatics operations, most packaging and manufacturing requires precise, repetitive movement and pneumatic systems are perfect for those applications. Pneumatics are capable of much more than just fast repetitive motion. The gas used in these systems allows for a cushioning effect. Knowing this, manufacturers have implemented pneumatics into squeezing and pressing functions as well.
Additionally, because pneumatic systems use lower pressure than hydraulics, they can be built using lighter and cheaper materials, making them an absolute favorite for industrial companies.
Common Examples of Pneumatic Systems
Air brake systems
Pipe organs
Handheld jackhammer
Pneumatic mail tube systems
Conveying systems
Waste collection
Office chairs with adjustable height
Pneumatic bladders
Medical tools
This is a tiny list. Pneumatics are used in almost every industry you can think of, from food and medicine to theme parks, aircraft, farm equipment and more. Pneumatic systems are present everywhere. There is always incentive to make more out of less, and that's just what pneumatic power offers: more power in less space.
Wearing Parts:Silica gel O-ring System (when delivery, I will prepared enough for you use in one year.
Customer can buy in the future in their country)

semi-automatic filling machine piston filler. Driven by a cylinder and piston made from materials with FIVE-way valves control the flow of
materials, and magnetic reed switch control cylinder itinerary can be regulated filling volume.
Rational design of the aircraft, model compact, easy to operate, are used
pneumatic part of Germany and Taiwan AirTac FESTO the pneumatic components.Some contact materials are used 304 stainless steel materials, in line with
the GMP requirements.
Filling volume and speed of filling can be arbitrary regulation, filling high
accuracy.
Features: This machine adopts full pneumatic control and owns a wide application scope, simple measuring regulation, good shape and convenient cleaning, suitable for the explosion-proof unit.
►The machine is suitable for filling food trades(such as: pearl milk tea nata de hick broad-bean sauce chili sauce peanut sauce etc);cosmetics(shampoo frost shower gel);daily health product(toothpaste)
►The machine adopts pneumatic working principle, simple operation, high filling precision,is a certain concentration or certain size granular materials ideal filling equipment.
After-sales service for double heads filling machines
Trouble shooting for model YX-F02-500 filling machine: