CERTIFICATES

CONTACT US

Email:jackdu999@yahoo.com

Tel:+8675586718316
Phone:+86-15811882441
USA CA customers purchased two bowls screw packing machine VFFS hardware bagging set
Published by: PENGLAI INDUSTRIAL CORPORATION
Date:2023-04-27 10:30:45
Our Regular customers from CA USA (North America) placed another order on One(1*) pc of machines: Model YX-SPM02 screw packing machine Two bowls bagging set with the roll films 300KG;
For all the machines purchased it is clear to confirm all the information on the products so we often ask our customers to freight the samples to test and commission the machines in order that the machines and customer's products gains the best compatibility and adaptability.
After getting the confirmation &samples of the product in sizes and drawing for manufacturing the screw packing machines
we spent only 10 working days finishing everything and made the machines ready after testing them in a satisfactory feedback.
Recently our customers sent us the positive commentar on the machines which keep running very well in their factory ever since the machines arrived their factory.
The machines was shipped via UPS courier to Elkhorn Blvd North Highlands, CA 95660. The documentaries certificated with ISO&CO&CE together with other files necessory are sent via DHL to customer for assisting customers to clear the custom.

As below there listed the basic information on the successful transaction between PENGLAI and their American counterpart:

Purchased order issued &Key communiction points During Business Discussion:


Samples sent from customers in North America


Bank copy of Down&balance payment for purchasing Two bowls screw packaging machine model YX-SPM02


Testing videos on two bowls screw packaging machine model YX-SPM02:


Wooden case packing of Model YX-SPM02 screw packing machine.


As follow there given the description on the machines purchased respectivel
The automatic screw packaging machine adopts the newest technology application from our factory, substituted has prefabricated the bag to take shape the way, greatly enhanced the working efficiency, was various screws application enterprise widespread use. This company develops the development the DXD series automatic screw packaging machine, is the domestic origination, the technological advance, the ease of operation, the success applies to the domestic each large-scale electric appliance well-known enterprise.
Widely applies to the electrician, the electric appliance, the decorative lighting and the hardware building materials manufacture industry attached installs the screw automatically to count the packing.


Main characteristic:

1. Aims at the screw sample quantity body to make to order, the straight-line oscillation arrangement installment, with precise counts the control device, accurately guarantees each bag to be unmistakable.

2. Uses the Japanese Mitsubishi PLC programmable control, and is equipped with the Chinese and English body man-machine operation contact surface, thus causes the equipment operation simply, adjustment convenient, the automaticity is high.

3. Warm uses the intelligence to control a meter pair of road to control horizontally, vertical seals the temperature, thus causes the seal reliably, the leak-proof quality good, the bag smooth, fine, the packing efficiency is high.

4. Systems bags system uses step machine subdivides the technology, the automatic tracking, locates the sack the color code, with ease completes the system bag the operation, the adjustment, the speed quickly, the movement steady, the noise is low.

5. In fixed scope stepless adjustment packing speed, localization yawn engine off.

6. Can automatically complete the system bag, the measurement, fills, seals gathers, shuts off, the register, the printing batch number and so on completely works.

7. Uses the grain of type measurement, installs the material measurement regarding the density even bedding bag to be accurate, conforms to the national measurement standard.

Usage:
It is suitable style='width: 80%'for packing Nails, bolts, nuts, small electronic parts etc hardware parts.

Main technical parameter of hardware screw packing machine: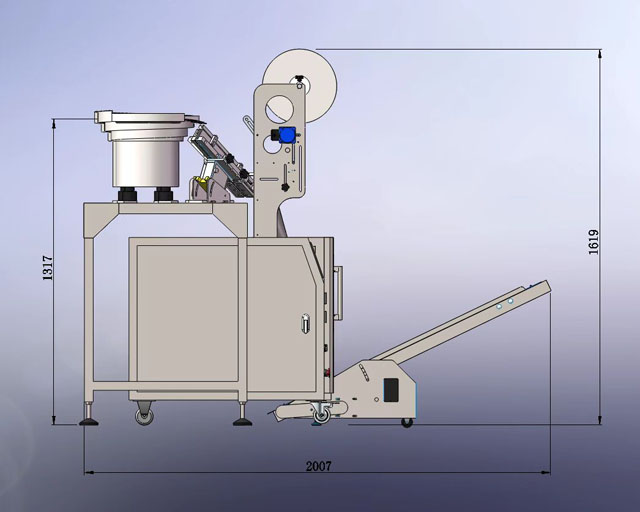 Model DXD-80L-2
Range of filling 1-50pcs
Pouch width: 40-80mm( change formers)
Pouch length: 50-120mm( adjustable)
Speed: 30-60 pouches/min
Film Material: PET/PE, NY/PE etc complex film
Type of sealing: back seal or 3 side seal or 4 side seal
Power supply: 220V , single phase, 50 HZ
Total Power: 1.4KW
G.W.: 200KGS
Dimension: L850*W800*H1550mm
Finished samples by two bowls packing machine:
ALL RIGHTS RESERVED by ®PENGLAI INDUSTRIAL CORPORATION LIMITED