CERTIFICATES

CONTACT US

Email:jackdu999@yahoo.com

Tel:+8675586718316
Phone:+86-15811882441
USA CA customers purchased tubes filling sealing machinery for high viscosity sanitizer gel
Published by: PENGLAI INDUSTRIAL CORPORATION
Date:2021-01-07 10:51:38
Our Regular customers from USA (North America) placed another order on one(1*) pcs of machines:Model YX-FS60 high viscosity santizer gel filling sealing machine 4 sizes of tubes filler and sealer with heating mixing function&SUS316 as contact parts;
For all the machines purchased it is clear to confirm all the information on the products so we often ask our customers to freight the samples to test and commission the machines in order that the machines and customer's products gains the best compatibility and adaptability.
After getting the confirmation &samples of the product in sizes and drawing for manufacturing the filling+sealing machines
we spent only 15 working days finishing everything and made the machines ready after testing them in a satisfactory feedback.
Recently our customers sent us the positive commentar on the machines which keep running very well in their factory ever since the machines arrived their factory.
The machines was shipped via UPS courier to CA U.S . The documentaries certificated with ISO&CO&CE together with other files necessory are sent via DHL to customer for assisting customers to clear the custom.

As below there listed the basic information on the successful transaction between PENGLAI and their American counterpart:

Purchased order issued from American customer: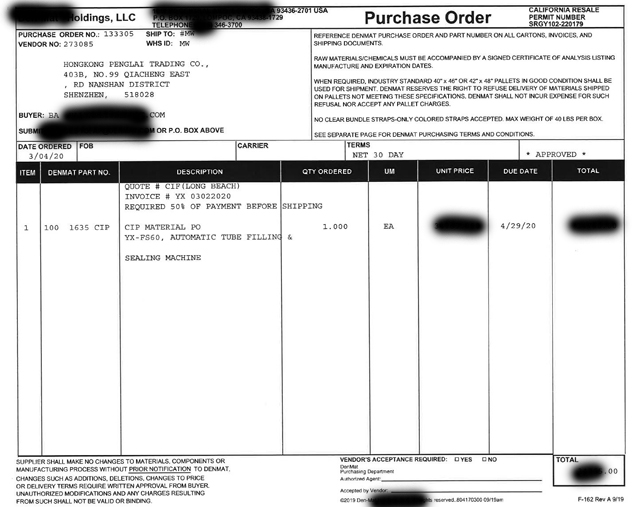 Samples sent from customers in North America


Bank copy of Down&balance payment for purchasing filling and sealing tubes machine


Testing videos on model YX-FS40 tubes filling and sealing machine high viscosity tubers filler and sealer:

Wooden case packing of Model YX-FS60 tubes filling and sealing machine high viscosity tubers filler and sealer: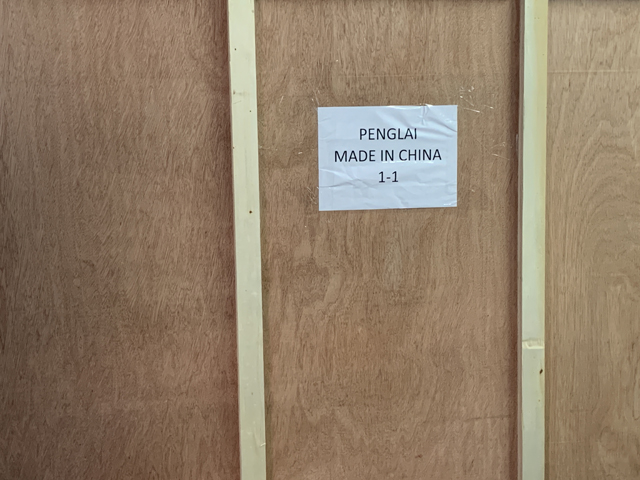 As follow there given the description on the machines purchased respectively
The control parts of the machine are composed of intelligent man-computer interface, large touch screen display/operation control panel, including temperature setting, motor speed, filling speed, direct screen display and screen control.The components of the machine which touches the filling material are made of stainless steel SUS304 and SUS316L. Transparent cover, feeding hose, feeding device are also supplied with the machine. The machine is featured with safety switch, auto-stop, soft tube positioning, photoelectric sealing control etc.
During the process, hose-feeding and setting, filling and sealing, ejecting are all auto matically controlled. Digital count device is installed at the low front part of the machine. During filling process the filling head is put inside the material pot to avoid air-entrance. For high viscosity filling material, blow-off device is installed to ensure a complete sealing. Many choices of sealing type are available to meet different need of clients.
Different sizes of tubes require different tubes holders:
Mixing and heating function with the materials pump feeding system:
Tubes filling and sealing Machine Contact parts SUS316 certification:
Main technic of model YX-FS60 tubes filling sealing machine automatic with auto loading feeding system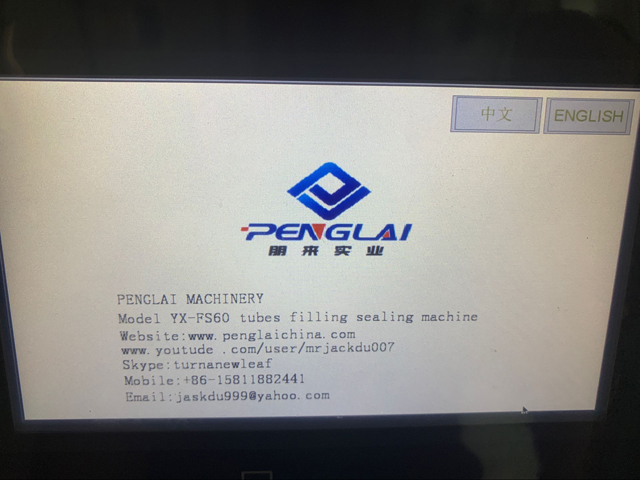 Item
Specification
1
tube materials
plastic tubes/laminated tubes/metal tubes
2
filling volume
5ml-250ml/tube(Adjustable)
3
filling precision
1%(or less than)
4
output capacity
45tube per minute
5
tube diameter
ø10mm-Ø50mm
6
max tube length
220mm
7
power source
220v/380v/50-60hz
8
air pressure
0.55mpa-0.65mpa
9
auxiliary motor
1.1KW
10
thermosealing power
3.0KW
11
overall dimension(LXWXH)
2000*900*1500
12
weight of tubes filling sealing machine
850KG
Main features of automatic tubes filling sealing machine model YX-FS60


1.the following transmission part enclosed in the platform, safe, reliable, non-polluting;
2.filling and sealing parts mounted on the platform above semi-closed static-frame viewing hood, easy to observe, easy to operate, easy to maintenance;
3.PLC control, man-machine conversation interface;
4.circuitous dial to cam drive, high speed, high precision;
5.box and Inclined tube position, optionally;
6.curved armrest with a vacuum adsorption unit, handrails and pressure tube device interaction, the hose is fed into the upper tube station;
7.photoelectric standard workstations, high-precision sensor, stepper motor control hose pattern in the correct position;
8.movable injection materials head deep inside the hose injection material, side exit side note, the end of injection material delivery nozzle with integrated manner to ensure filling blow cut quality;
9.no tube no filling;
10.sealing adoption (Leister hot air gun) tail pipe internal heating , cooled by cooling means external configuration;
11.the workstation automatically typing the code number printed on the process requirements of the position;
12.cut plastic robot at a right angle or a rounded end of the hose for selection;
13.fault Baojing, no pipe alarm , the door opened shutdown, overload shutdown;
14.counting and quantitative downtime;
Drawing of tubes filling sealing machine model YX-FS60
Mixer part inside the hopper drawing:
working principe of tubes filling sealing machine

the empty tubes neatly ready in the big container flow in order on a conveyor automatically
plugged with the forming dies,and turn over into each station by a robot;
meanwhile under the action of a quantitative piston valve which is directly connected
to the cone-shaped lockable hopper,the paste materials is automatically injected into the tubes
at each interval station.The turntable thereupon takes the filled tubes to next station at which
the manipulators seal the tube's bottom immediately.
The machne can change filling volume by adjusting a flow gauge.When employed with various
manipulators it is capable to deal with multi-metal materials tubes including aluminum and furthurmore
fold the bottom with two -layers three layer of saddle shape.Besides it can thermo-seal all
plastic tubes and laminated hoses as well .
A coder's manipultor types dates,series number and expiry date on the end of tubes .After that the
final products will be led into a colluction container tubes automatically.
How to install tubes filling sealing machine fully automatic:
How to adjust the safe-clutch for tubes filling sealing machine with automatic loading feeding tube system
How to operate the machine for different tubes
Maintenance of tubes filling sealing machine hose filler sealer equipment automatic
Accessory for cooling the inner-outer heating process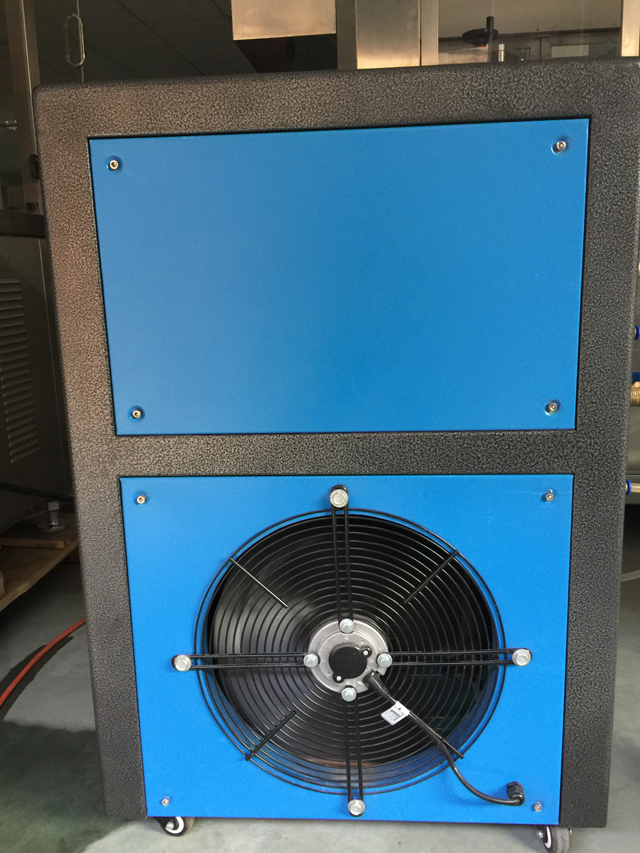 tubes filling sealing samples final product based on customer's tube
Packaging pictures about our machine exported

Guarantee: for all the machine, it claims one year for guarantee.(Excluded from the warranty are problems due to accidents, misuse , misapplication, storage damage, negligence, or modification to the Equipment or its components.
ALSO THE EASY BROKEN SPARE PART IS NOT INCLUDED IN THE GUARANTEE).
Installation: after the machine arrive your factory,if you need,our technician will go to your place to install and test the machine and also training your worker to operating the machine (The time of train depend on you worker).
The expenses (air ticket ,food , hotel,the travelling fee on your country) should be on your account and you need paid for the technician USD50 per day. also you can go to our factory to do training.
After service: If you get the problem on the machine ,our technician will go to your place to fixed the machine as soon as possible. The cost should be in your account.(as above).