CERTIFICATES

CONTACT US

Email:jackdu999@yahoo.com

Tel:+8675586718316
Phone:+86-15811882441
USA Wisconsin customer ordered semi automatic bottles blowing machines PET bottles blower
Published by: PENGLAI INDUSTRIAL CORPORATION
Date:2015-02-13 07:51:07
Our customer from Wisconsin ordered one(1*) set of two cavity bottles blowing machine model YX-BL02 which containers two moulds one air filter and one HP air compressor together
with the bottles blower main body machine.
About 15days later we sucessfully finished manufacturing of the machine before our traditional chinese new year.The machine now runs very well in test .
Due to our new year,however,the time is tight and customer in urgence for the ordered machines finally our customer gave up the contracted shipping way via ocean shipping .Instead he
choosed another costy way to get the machine via air freight to Chicago Airport .Anyway the time delivery is about 3-5days .rather quickly but the price rather high .
We have prepared for the MANUAL INSTRUCTION&PACKING SLIP&COMMERCIAL INVOICE and sent them to our customer for clearing custom.Hope our customer can get the machine immediately.
Below is the Basic information for this international businesss trading:
Samples sent from customer for PET bottles blowing
Drawing of bottles design by our engineer
Testing videos of model YX-BL02 bottles blowing machines :
Finally bottles blowing machine before shipping via freight
In fact the machine including the part as below :
1.air filter; 2. mould; 3.HP air compression; 4. Bottle blowing machine main body
In the email our customer stressed the supply power should be up to 480V/60HZ see below communicated letter
We for every details manufactured the machine according to our customers' special requirements .Here is the basic information for model YX-BL02
bottles blowing machine
YX-BL02 bottles blower equipment is the fastest liner blow molding machine in mainland of China by now. The bottle blower reaches around 4200BPH for 350ML bottle. Its baking tunnel is separated from the blow station so that time for mold opening is shortened with a result of speedy blowing and high output, damage to machine is lessened so as to keep reliable performance and prolong service life, as well as machine runs more smoothly and steadily.
♥YX-BL02 automatic stretch blow molding machine
is equipped with patented preform loading system, which consists of two manipulators: rectilineal manipulator and overturning manipulator. The rectilineal manipulator moves preform with neck up to the preform holder, after heating, the overturning manipulator grips heated preform and overturn 180 put preform to blow station with neck down. After stretching and blowing, the bottle is taken off by overturning manipulator. The specially designed preform loading & bottle discharging system avoid possible damage to preform & bottle during transportation
♥ Semi Automatic Bottle blowing Machines for PET Bottles
Control system
Together with HITECH Man-Machine Interaction (MMI) control panel with user-friendly, the whole control system presents super performance with precise control, convenient parameter setup, obvious display and reasonable memory.
Operation:
The standard operation of YX-BL04 stretch blow molding machine includes four steps as follow
Step 1. Put the preform into preform container and the conveyer will take the preform to orientation units automatically.
♥Semi Automatic Bottle blowing Machines for PET Bottle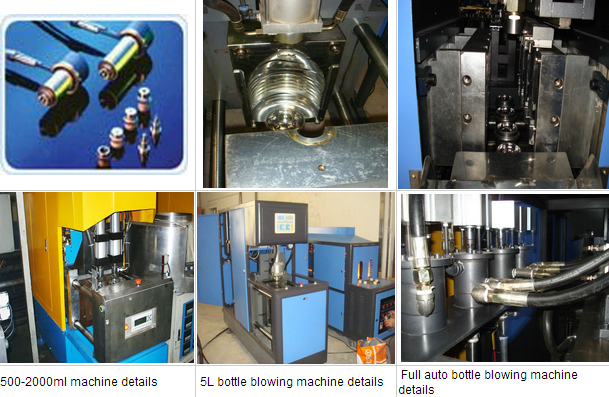 Features:
A. Stable performance with advanced PLC.
B. Conveying preforms automatically with conveyor.
C. Strong penetrability and good and swift distribution of the heat by letting the bottles rotate by itself and revolute in the rails simultaneously in the infrared preheater.
D. High adjustability to enable the preheater to preheat preforms in shapes by adjusting the light tube and the length of the reflecting board in the preheating area, and eternal temperature in the preheater with an automatic thermostatic apparatus.
Basic parameter of 2cavities/4cavities semi automatic bottles blowing machines
Type

Item

YX-BL02 Model

Host Machine

Volume of produvt

L

2(2-cavity)

Output

pcs/h

450-1000

Max.neck diameter

mm

15-75

Max.container diameter

mm

105

Mold size

mm

350*450

Mold thickness

mm

120-170

Open and close mold schedule

mm

170

clamping force

KN

50

Stretching lenght

mm

360

Operating pressure

Mpa

<=1.0

Blowing pressure

Mpa

<=4.0

Blowing power

KW

0.2

Weight

Kg

700

Size

mm

1520*580*1780

Oven

Power

KW

10

Weight

Kg

450

Size
Warm reminder
all staff warmly welcome new or old customers come for consultation, we will be making detailed project plan, to realize low cost, high efficiency and scientific process combination.
In order to make bottle blowing machines achieved your ideal requirements(Semi Automatic Bottle blowing Machines for PET Bottle)
Samples of bottles in showroom in various sizes PET containers
Wooden case pictures for bottles blowing machine
After-sales service for bottles blowing machines
Guarantee: for all the machine, we have give one year for guarantee.(Excluded from the warranty are problems due to accidents, misuse , misapplication, storage damage, negligence, or modification to the Equipment or its components. ALSO THE EASY BROKEN SPARE PART IS NOT INCLUDED IN THE GUARANTEE)
Installation: after the machine arrive your factory,if you need,our technician will go to your place to install and test the machine and also training your worker to operating the machine (The time of train depend on you worker). The expenses (air ticket ,food , hotel, the travelling fee on your country) should be on your account and you need paid for the technician USD50 per day. also you can go to our factory to do training.
After service: If you get the problem on the machine ,our technician will go to your place to fixed the machine as soon as possible. The cost should be in your account.(as above).