CERTIFICATES

CONTACT US

Email:jackdu999@yahoo.com

Tel:+8675586718316
Phone:+86-15811882441
UK customer bought bottles jars sticker labeling machines with clear labels sensor & printer
Published by: PENGLAI INDUSTRIAL CORPORATION
Date:2021-09-06 18:39:23
Our customers from UK (United Kingdom) placed the order on two(2*) pcs of machines: one is labeling oval bottles machine model YX-LM520A; the other round bottles labeling machine semi automatic jars labeller model YX-SL25-A.
For all the machines purchased it is clear to confirm all the information on the products so we often ask our customers to freight the samples to test and commission the machines in order that the machines and customer's products gains the best compatibility and adaptability.
After getting the confirmation &samples of the product in sizes and drawing for manufacturing the labeling machines
we spent only 10 working days finishing everything and made the machines ready after testing them in a satisfactory feedback.
Recently our customers sent us the positive commentar on the machines which keep running very well in their factory ever since the machines arrived their factory.
The machines was shipped via DHL courier to London,UK SE15 5EB. The documentaries certificated with ISO&CO&CE together with other files necessory are sent via DHL to customer for assisting customers to clear the custom.

As below there listed the basic information on the successful transaction between PENGLAI and their UK counterpart:

Purchased order issued from UK customer:


Samples sent from customers in Western Europea


Bank copy of Down&balance payment for purchasing labeling machines semi automatic


Testing videos on jars bottles labeling machine semi automatic

Wooden case packing of 2pcs labeling machines semi automatic


As follow there given the description on the machines purchased respectively:
Oval bottlers labeling machine semi automatic rolling labeler
The model YX-LM520A rolling labeling machine semi automatic customized oval flat plastic bottles is the updated version based on
model YX-LM520 by replacing the pneumatic driving part with the stepping motor .With stepping motor the model YX-LM520A labeling
machines work in a more stable way . The highly-performance machines labeling is specially designed for oval soft plastic bottles in
order to avoid the insufficient labels in edge or lower accuracy labeling for irregular bottles .
Below is the Drawing for rolling labeling machine model YX-LM520/A series
The basic purpose on semi automatic plane surface labeling machine semi automatic model YX-LM520A

¡ô applies to products on flat or curved, concave labeling, labeling accuracy up to ± 0.2mm, mainly used in electronic components, precision labeling of digital products, such as SD cards, cell phone batteries, FPC, mobile phone charger labeling and so on. Precision labeling, highlighting the excellent quality of products, improve competitiveness.

Optional features for labeling machine custom rolling labeler equipment semi automatic for plane&oblong bottles objects: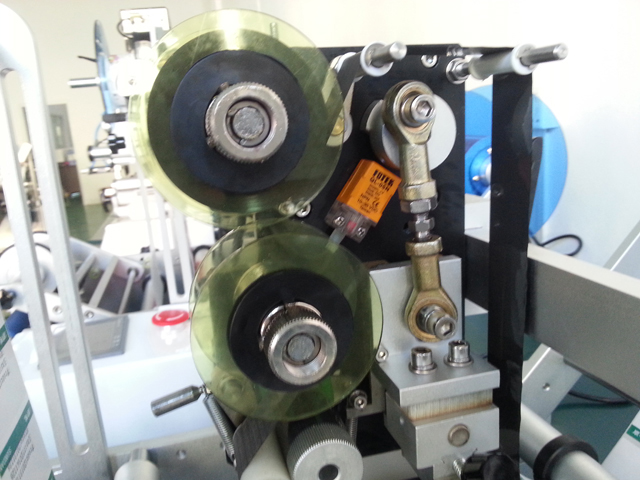 Coder: thermal coder word tablets print production date, expiration date, batch number and other information.
Scope of customized labeling machine rolling labeler equipment model YX-LM520A

¡ô Applicable Label: Label, electronic monitoring code, bar code, etc.
¡ô Application: require flat or curved, circular surface, concave, convex, or other surface attached label.
¡ô Industry: Widely used in food, toys, cosmetics, electronics, pharmaceutical, metal, plastic, printing and other industries.
¡ô Applications: SD card labeling, labeling and other batteries. (Canon Charger: no bubbles)
Working Process
¡ô core principle: This principle is part of our R & D alone, if interested, please inquire.
¡ô Procedure: put the product -> Labeling and covered standard (device automatically) -> Remove any labeling products.
Technical Parameters of MODEL YX-LM520 high precision rolling custom labeling machines semi automatic for cambered surface oblong plane subjects bottles containers rotary labeler equipment

Model YX-520A
Labeling accuracy ±0.2mm
Labeling speed 10¡«25Pieces / min
Applicable Dimensions (Length) 20mm¡«250mm
Applicable Product Size (width) 20mm¡«150mm
Applicable Dimensions (height) 0.2mm¡«120mm
Applicable Label Size Length£º15mm¡«250mm Width£º15mm¡«150mm
Inner diameter of label roll Φ76 mm Label largest diameter Φ280mm
Dimensions (L × W × H) 850mm×410mm×720mm
Power supply 220V 50HZ Total Power 145W
Pressure (Mpa) 0.4¡«0.6Mpa
Features on semi automatic bottles labeling machine model YX-LM520A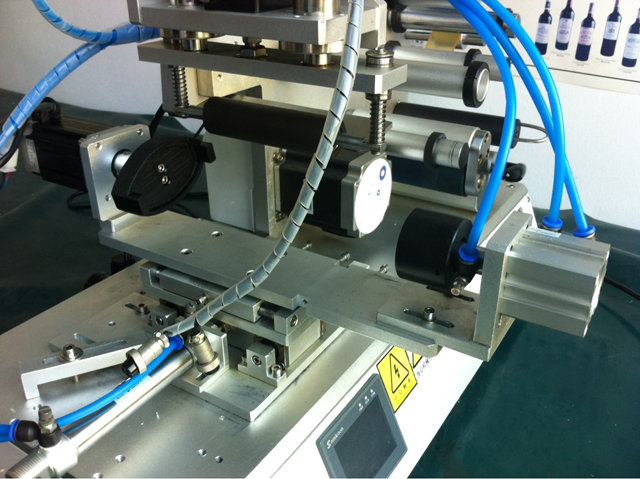 ¡ô precision, domestic original labeling technology, labeling accuracy of ± 0.2mm, meet the needs of high-precision labeling;
¡ô Easy to operate, stripping standard, standard delivery, suction mark, labeling and other actions automatically cover standard, manual loading to complete the labeling process;
¡ô safety, transmission components wrapped with pneumatic circuit arranged separately, to avoid an exception occurs, the use of safer;
¡ô high stability, using stepper motors + PLC + electronic control system consisting of fiber optic sensors, equipment stability, long time working;
¡ô Optional automatic scale turntable device, can significantly improve the efficiency of loading and unloading, improve labeling efficiency;
¡ô Optional features and components: ¢Ù automatic feeding function; ¢Ú automatic rewinding function (combination of product considered); ¢Û other features (according to customer requirements).

Final labeling product from YX-LM520A oval bottles labeling machine semi automatic:
Model YX-SL25-A round jars labeling machine
Application¡ô Suitable for all kinds of cylindrical objects labeling, small taper round bottle labeling, such as xylitol, cosmetics round bottles, wine bottles and so on.
Can achieve full week / half weeks labeling, front and back labeling circumference, is back mark pitch can be adjusted. Widely used in food, cosmetics, chemical, pharmaceutical and other industries.
Basic parameter of model YX-SL25-A labeling machine
| | |
| --- | --- |
| Labels sizes | £¨L£©15mm¡«380mm;(W) 10mm¡«180mm; |
| Applicable products | φ15mm¡«φ160mm |
| Rolls of labels | OD£º≤φ250mm£»ID£ºφ76mm |
| Labeling Speed | Labels speed£º8m/Min£»speed£º20¡«40Pcs/Min |
| Labeling accuracy | ±0.5mm |
| Air pressure | 0.4~0.7MPA |
| Weight | 42kg |
| Power Supply&power consumption | Voltage£º220VAC Frequency£º50Hz Power£º250w |
| Size of machine | (L)920×(W)420×(H)500 mm |
1.labels putting; 2. labels rolling ; 3.Sensor support; 4.Sensor; 5. Sudden stop; 6. HMI;

7.Pressing system; 8.Electric boxes; 9.Star Wheel; 10.Food Pedal; 11.tracting system;

12.Labels wrapping; 13.Labeling support; 14.Position-fixed part; 15.Peeling components;

16.tracting motor; 17.coding adjusted part(optional); 18.Printing reserving hole; 19.Printer support;

20.Date coding(optional); 21.label-pressing components; 22.Plate support; 23.automatic pressing;

24.Positioning components; 25.sensor for detecting bottles; 26.Calibration components;
Optional devices on labeling machinery: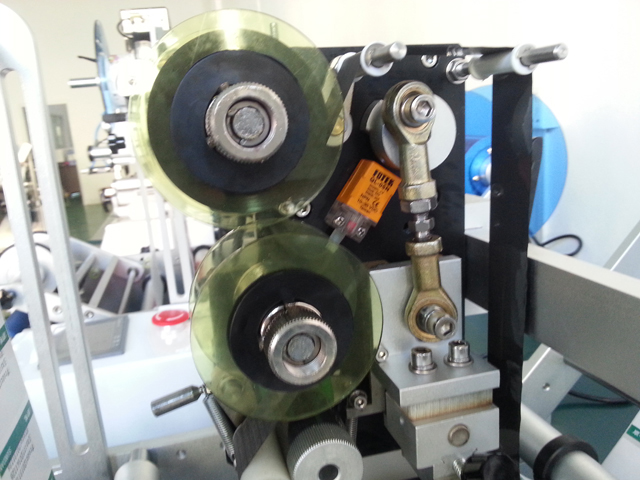 Reader£ºRead the bar codes in various kinds ¡£
Electric light sensor£ºThe common sensor cannot detect the transparent label,which requires the light sensor device imported from Germany.
Printing machine£ºprinting the texts on the label
Date coding£ºHot coding for shelf date,products series etc¡£
Bird view of whole syring labeling machine
* Core works: single standard, double standard switching function principle, the principle circumferential positioning labeling, please consult factory.
* Procedure: put the product -> Labeling (device automatically) -> Remove the labeling products.
Making of matching labels
Labeling samples for USA&EU customer:

Wooden case packing for labeling machine model YX-SL25-A
After-sales service for labeling machines PENGLAI YX series
Guarantee: for all the machine, it claims three years for guarantee.
(Excluded from the warranty are problems due to accidents, misuse ,
misapplication, storage damage, negligence,
or modification to the Equipment or its components.
ALSO THE EASY BROKEN SPARE PART IS NOT INCLUDED IN THE GUARANTEE)
Installation: after the machine arrive your factory,
if you need,our technician will go to your place to install and
test the machine and also training your worker to operating the machine
(The time of train depend on you worker).
The expenses (air ticket ,food , hotel,the travelling fee on your country)
should be on your account and you need
paid for the technician USD50 per day. also you can go to our factory to do training.
After service: If you get the problem on the machine ,
our technician will go to your place to fixed the machine
as soon as possible. The cost should be in your account.(as above).
ALL RIGHTS RESERVED by ®PENGLAI INDUSTRIAL CORPORATION LIMITED