CERTIFICATES

CONTACT US

Email:jackdu999@yahoo.com

Tel:+8675586718316
Phone:+86-15811882441
Thailand customer bought three pcs caps wadding machines automatic cap liner equipments
Published by: PENGLAI INDUSTRIAL CORPORATION
Date:2021-06-29 16:52:11
Our Regular customers from South-eastern Asia (Thailand) placed another order on three(3*) pcs of machines: Model YX-WI01 caps wadding machine automatic two heads cap insertion liner machine.
For all the machines purchased it is clear to confirm all the information on the products so we often ask our customers to freight the samples to test and commission the machines in order that the machines and customer's products gains the best compatibility and adaptability.
After getting the confirmation &samples of the product in sizes and drawing for manufacturing the caps liner machines
we spent only 15 working days finishing everything and made the machines ready after testing them in a satisfactory feedback.
Recently our customers sent us the positive commentar on the machines which keep running very well in their factory ever since the machines arrived their factory.
The machines was shipped via DHL courier to SAMUTPRAKAN 10270 . The documentaries certificated with ISO&CO&CE together with other files necessory are sent via DHL to customer for assisting customers to clear the custom.

As below there listed the basic information on the successful transaction between PENGLAI and their Thailand counterpart:

Purchased order issued from south-east asian customer:


Samples sent from customers in Thailand


Bank copy of Down&balance payment for purchasing caps wadding machine model YX-WI01:


Testing videos on two heads caps liner wadding machines model YX-WI01:


Wooden case packing of three pcs caps wadding inserting equipments:


As follow there given the description on the machines purchased respectively

Cap lining material is inserted into the caps or closures prior to the caps being supplied or used for the packaging process. Cap lining machinery becomes a requirement for cap manufacturers and in some rare cases end users when their demand reaches more than 10,000 lined caps per day.

Whether you need to insert lining material supplied in a pre-cut format or a roll format is something that can be discussed. Much will depend on the scale of the project and the budget for equipment and there are some surprising options and outcomes available. An example is that for the very smallest and the very largest cap lining projects there are pre-cut lining machine options to consider carefully. For the medium to the largest scale operation there are roll form lining machines available.

Sometimes the choice of machinery will depend on a particular project and its lining requirements. Because of our knowledge of cap lining machinery, cap lining material, cap manufacturers and in the case of induction seal cap lining materials, the induction sealing equipment, we are able to consider the complete process.

Features of caps wadding machine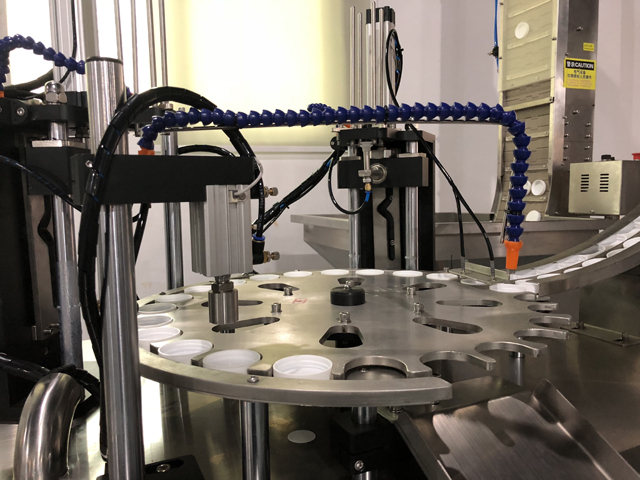 PLC controller, panel operation, stable running and easy operation, 24-hour running available
Automatic checking to remove inverted cap
Rotary positioning for accurate capping
Punching device to achieve different capping by changing mould size or specification
Calculation function, liner shortage and tie-in checking function

Technique Parameter(standardized):


VDD: 220VAC±10%, single-phase, 50/60Hz, total power: 1KW
MPa: 0.6-0.8MPa, cfm: 300L/min at most;
Narrow Volume thickness (mm): 0.2-1.0, plate volume in (mm): 76, out (mm): 500 at most
Punching Speed (unit/min): 0-90 (liner with 22mm diameter, 0.3mm thickness and 26mm diameter cap as the testing medium, others according to actual usage)
Application for cap diameter (mm): 18-110, height (mm): 10-25. Customized machine is for your special size and form capping.

Optional Configuration:

1. Dispense device
2. Inhaler(filtration sterilization core included) adding
3. Liner unfold grip device
4. Upper vibratory feed unit or climbing deliverer
Configuration of caps wadding machine:
| | | |
| --- | --- | --- |
| 1 | Main electronic parts | SIEMENS |
| 2 | Electric protection switch | SIEMENS |
| 3 | Circuit breaker | SIEMENS |
| 4 | PLC | MITSUBISH |
| 5 | Touch screen | WEINVEW |
| 6 | Transducer | MITSUBISH |
| 7 | Photoelectricity switch | AUTONICS |
| 8 | Pneumatic element | AIRTAC |
| 9 | Pressure sensor | SMC |
| 10 | Motor | SIEMENS OR ZHONGDA |
Tutorial how to operate &switch changing tools for different sizes of caps(demo for model YX-WI01 caps wadding liner)
Wooden case packing for caps wadding machinery cap liner equipment model YX-WI01:
Guarantee: for all the machine, it claims one year for guarantee.(Excluded from the warranty are problems due to accidents, misuse , misapplication, storage damage, negligence, or modification to the Equipment or its components. ALSO THE EASY BROKEN SPARE PART IS NOT INCLUDED IN THE GUARANTEE)
Installation: after the machine arrive your factory,if you need,our technician will go to your place to install and test the machine and also training your worker to operating the machine (The time of train depend on you worker). The expenses (air ticket ,food , hotel,the travelling fee on your country) should be on your account and you need paid for the technician USD50 per day. also you can go to our factory to do training.
After service: If you get the problem on the machine ,our technician will go to your place to fixed the machine as soon as possible. The cost should be in your account.(as above).
ALL RIGHTS RESERVED by ®PENGLAI INDUSTRIAL CORPORATION LIMITED