CERTIFICATES

CONTACT US

Email:jackdu999@yahoo.com

Tel:+8675586718316
Phone:+86-15811882441
Tahiti customers order honey jars filling capping machine semi automatic filler capper machines
Published by: PENGLAI INDUSTRIAL CORPORATION
Date:2017-04-24 10:44:30
Our Tahiti customer ordered six(6*) pcs of machines like vacuum capping model YX-30B and magnetic pump filling machine model YX-III as well as model YX-LC06-1000ml honey filling machines .
We spent 10 work days finishing manufacturing of all the machines while one month passed that our customers came to our factory for a check and prepared for the shipping to Tahiti.
Now the customer have operated the machine for nearly 8month and they reverted the feeback on our machine that everything runs very well.
As below there is the basic information for the business cooperation between PENGLAI CORP and Tahiti counterpart:
Bank copy for customer who paid the machine via chinese Bank:

customers' samples in drawing

Testing video for vacuum capping model YX-30B

Testing video for honey filling machine model YX-LC06-1000ml

Testing video for magnetic pump filling machine model YX-III

Wooden case packing for the machines 6pcs filling capping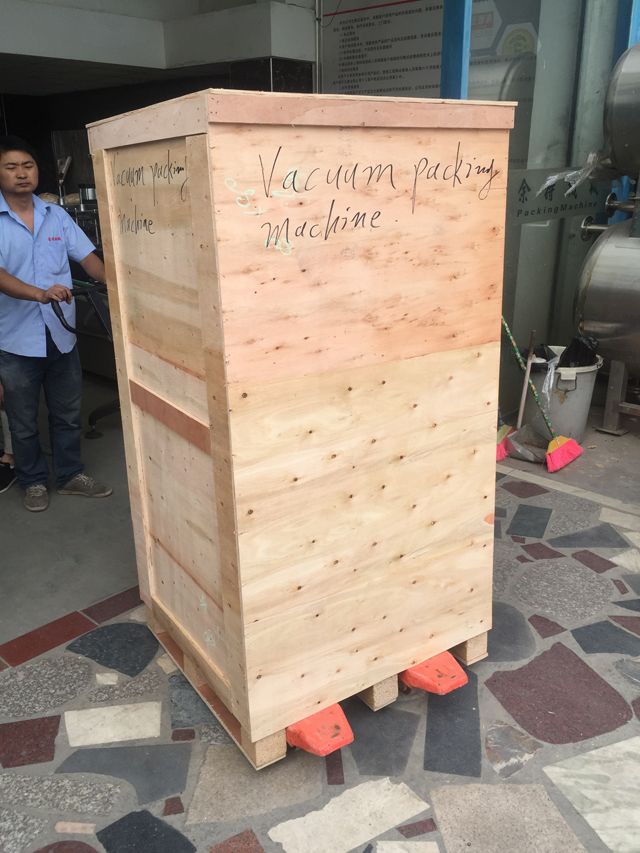 As below there is the basic information for the machines irrespectively
Model YX-30B vacuum capping machine
This series capping machine is researched and produced by ourself with years of production experience,
is the domestic original creation, it uses a vacuum pump to vacuum, available high vacuum degree,
capping torque and vacuum level can be set on demand compatible with a variety of different shapes and sizes of bottles for capping, strong compatibility and easy to adjust.
The main pneumatic and electrical components are from world famous brands, stable and reliable performance.
Widely used in glass bottles with tinplate caps vacuum capping for the food, canned food, beverages, condiments, health care products and other industries.
Rather than tightening from the sides as in an inline screw capper a chuck capper has a chuck that firmly grasps the cap and spins the cap onto the bottle from above and therefore the clutching mechanism can be set very accurately to control cap torque.
Chuck Capping machines are available from single head to multiple head high speed machines. The big advantage of a chuck capping machine is its scalability for high speed operation and of course its precise torquing of the cap.
The disadvantage of a chuck capper is that each bottle size requires change parts and if the cap sizes change all of the chucks also have to change (not to mention the possiblity that sorting and cap conveying might also require change parts).
When considering a chuck capping machine, one should seriously consider using the same caps for all bottles on the line, as bottle change parts are relatively inexpensive to changing chucks for a variety of caps.
1.2 Main technical parameter of model YX-30B vacuum capping machine semi automatic for glass jars:
Model YX-30B
Power supply: AC220V/50-60Hz
Capping speed: 1200-1500bph
Power: ≤1.3KW (include vacuum pump)
Cap diameter: Φ30-Φ85mm 、Φ85-Φ110mm
Bottle height: 50-180mm 、120-250mm
Bottle diameter: Φ30-Φ80mm Φ80-Φ150mm
Limiting vacuum degree: -0.08Mpa
Capping torsion: 5-25N.M
Air consumption: 0.5m3/0.7Mpa
Machine should be customized according to the actual jars/bottles samples sent from customers:
►Model YX-LC06-1000ml Honey jars filling machine:
The customized filling machine for sticky materials model YX-LC06 is the updated machine based on the model YX-LC02 cream filling machine .
The custom cream sauce filling machine is characteristic with convenience in operation and elegance in appearance when adapted with piston and push-pull rod structure.
The machine can fill the high viscosity&low fluid materials like peanut butter because the machine works causing the vacuum tube which can suck the materials with more powerful force.
The sticky materials filling machine functions with advantage of quantity filling/filling at uniform moation/adjustable speed as well as boosting pressure for materials filling.
All the control parts and acutator parts in the filling machine consists of pneumatic part ,and there is no strong friction and collison during operation of machine.
The main parts from the machine like main body/T-joint/hopper/feeding hose/filling nozzles is composed through scuffle-like clamp which can make easy the maintenance installation
dissambly of machine.The machine can be used in the explosive-proof circumstance.
The application of machine is suitable for filling liquid sauce oil milk and such like material without granules ; also the filling machine suitable for materials with microgranules or soft
granules like cream sauce etc .The machine can be chosend in the field like pharmacy/food packing/lubractive oil/petroleum/chemical/cosmetic etc .It is the ideal equipment for improving
production efficiency and saving labor from heavy work when the products require filling process .
Machine features :
1)Controlling and acutator parts are made from brand like Festo in Germany/ AirTac in Taiwan/SNS in China.
The contact part is made of SUS316 or SUS304 stainless steel materials,GMP standard; The non-metallic part with high quality materials.
The sealing part is made of Silicon and polyfluo; The Polfluo stands out with its anti-corrosion/temperature-resistance and anti-abrosion.
2)The Pneumatic parts for acutation is driven with compressured air without needing power supply; explosion-proof and safe in operation;。
3)The Measure way adopts fixed volume and push-pull rod structure which is controlled by the subtle switch and positional stroke ; As well the single-direrction valve is the swift and accurate
cylinder valve so the filling accuracy is in high standard and lower indifference .
4)The filling nozzle adapts cylinder valve or mechanical valve inside which there is installed with the anti-drop blocking in order to avoid drops or fiber drawing .
The length and diameter of filling nozzles (various sizes available)can be adjustable when installed with the lifting support.
5)There is no need special tools for assembling the machine.
6)There is two modes for machine controlling : auto and manual ; The "Manual" is controlled by pedal switch while the "Auto" in continuous filling way
Basic parameter of filling machine customized for high viscosity materials with pressure boosting system:
| | | | |
| --- | --- | --- | --- |
| Model | YX-LC06-1000 | Series number | YXLC10-2046 |
| Air pressure | 0.6MPa-0.8MPa | Power | --- |
| Filling volume | 50ml-1000ml(adjustable) | Nozzle | 1pc |
| Indifference | ≤±0.5% | Filling Speed | ≤30bpm |
| Temperature | 10℃-90℃ | Relative Humidity | 10%-85%,undensable |
| Protection level | IP 32 | Hopper size | 15Kg30Kg(Standard)Customized |
| Materials | Stainless steel | Nozzle diameter | 10/16mm()19mmcustomizable |
| Dimension | 1160mm×200mm×400mm(Standard) | Weight | 45Kg |
►Model YX-III magnetic pump filling machine
• Check the packing list and configuration of machine after getting the machine
• The machine enjoys one year guarantee,during which we take charge of the maintenance and reparation without charging our customer(excluding the case that customer operates the machine without following strictly the instruction)。
• The machine adopts the magnetic pump as the actuator .Turn off the power supply before dissembling the magnetic for cleaning and repairing least it cause the damage on the motor and filling part.
• The controlling part and magnetic parts are commissioned before shipping. Don't dissemble these parts after receiving the machine.
• The supply power should be 220/50hz or 110V/60HZ
• The machine should be kept away from the strong interference source like air compressor/Arc Welding machine/High frequency furnace etc .
• The machine should be kept away from the High temperature source like ultraviolet oven in case the machine suffers the overloading;
• The machine should be placed on the dry place and never let the liquid or water splash into the radiator outlet in order to avoid the short circuit。
Basic parameter of three head magnetic pump filling machinery:
Model

YX-I

Series


PLPE10-2010

YX-II


PLPE10-2011

YX-III


PLPE10-2013

Filling volume

≤20 bpm

Power

40W

≤40 bottles/min

80W

≤60 bottles/min

160W

Flow rate

≤20ml/s(water)

Power supply

AC220V 50/60Hz

Filling volume

1ml-5000ml(Adjustable)

Outlet diameter

φ6mm(Standard)

φ8mmCustomizable

Filling error

≤±0.5

Relative Humidity

10-85,Non-condensing

Filling head

1 nozzle/2 nozzles/4 nozzles

Temperature

10℃-90℃

Machine materials

Stainless steel

Protection Level

IP 32

Size

385mm×295mm×210mm

Machine weight

15Kg(Excluding spare parts)

485mm×295mm×240mm

22Kg(Excluding spare parts)

685mm×295mm×240mm

37Kg(Excluding spare parts)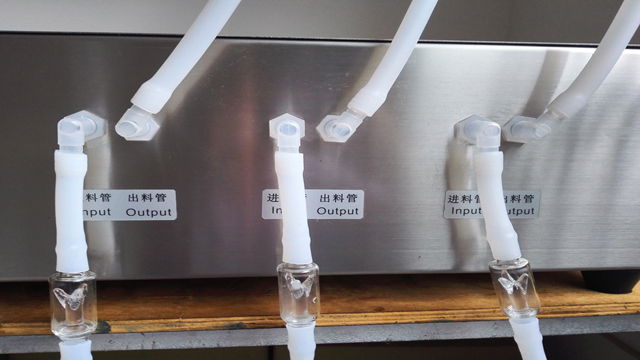 Characteristics:
1. It adopts world-famous brand frequency control, and is equipped with imported high-precision multi-circle potentiometer and lockable dial, so the flow can be regulated to
be steady and accurate, with the negative deviation to be less than 0.5%, and the positive deviation to be less than 1.5%.
2. The magnetic gear stainless steel pump is originally imported from Japan, with reliable quality and long life.
3. Durable stainless steel cabinet.
4. With small volume, so can be operated conveniently.
5. Convenient for cleaning and sterilizing.
6. With full function, with automatic or manual. Can be operated
together with the production line.
7. Can be equipped with several filling nozzles, and the usual models include: single pump machine, double pump
machine and four-pump machine.
8. Can fill most types of liquids, including high-viscosity liquid.For instance, such agranular liquids as: medicine, chemical, oil, cosmetics and food.
9. The filling capacity of YX-III can be regulated from 1ml to 10000ml, and that of SF- I can be regulated from 10ml to
80000ml, and they can be conveniently regulated.
ALL RIGHTS RESERVED by ®PENGLAI INDUSTRIAL CORPORATION LIMITED