CERTIFICATES

CONTACT US

Email:jackdu999@yahoo.com

Tel:+8675586718316
Phone:+86-15811882441
Spanish csutomer bought cartons opening with top sealer &tabletop banding &screw driver
Published by: PENGLAI INDUSTRIAL CORPORATION
Date:2021-08-04 10:21:27
Our visiting customers from Spain (West Europe placed the order on four(4*) pcs of machines: one is carton erecting machine with bottom sealing model YX-CR5025; One is flap folding carton sealing machine model YX-GPC50-A; The third is Benchtop type paper band sealing boxes machine; The last one is handheld screw driving machine model YX-GW4.
For all the machines purchased it is clear to confirm all the information on the products so we often ask our customers to freight the samples to test and commission the machines in order that the machines and customer's products gains the best compatibility and adaptability.
After getting the confirmation &samples of the product in sizes and drawing for manufacturing the end packaging machines
we spent only 15 working days finishing everything and made the machines ready after testing them in a satisfactory feedback.
Recently our customers sent us the positive commentar on the machines which keep running very well in their factory ever since the machines arrived their factory.
The machines was shipped via DHL to 03680 – Aspe (Alicante) Spain . The documentaries certificated with ISO&CO&CE together with other files necessory are sent via DHL to customer for assisting customers to clear the custom.

As below there listed the basic information on the successful transaction between PENGLAI and their European counterpart:

Purchased order issued from European customer:


Samples sent from customers in West Europe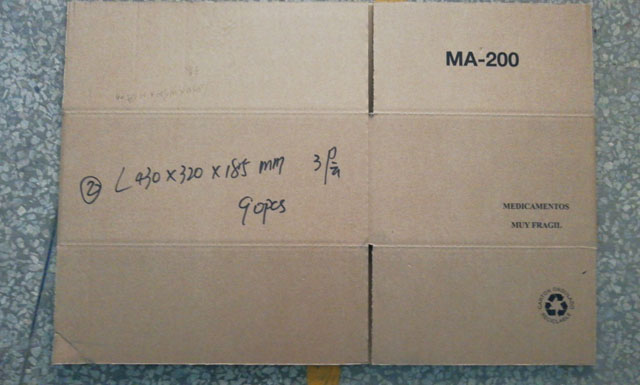 Bank copy of Down&balance payment for purchasing cartons machine &banding &tightening equipment:


Testing videos on cartoning banding screws driving machines:


Wooden case packing of carton erector sealing machine and benchtop type banding &screw driver machine.


As follow there given the description on the machines purchased respectively
Eleven points Conclusion before building machines:
1. Top cover plus side cover for the boxes former; Front cover 50cm with leaflap;
2. Add the stop button beside the emergency button in the boxer former;
3. Different Name plate for each machine;
4. Flap folding
5. 50cm cover added with the box former output part to stop worker's hand putting into the machine;
6. Blue PVC plastic part to cover all the aluminum profiles holes;
7. Add the sensor to detect BOPP tapes and give off the light alarm and notify warning in the TOUCH screen when there are few tapes remaining or breakoff in the taperolls.
8. Pneumatic circuit electric diagram and user manual offered
9. Cover for flap folding sealer/ no cover for banding machine
10. Easy-worn parts for all the machines
►The machine is operated and maintained easily with simple structure and high quality, for which it is widely used in various industries.
Safety precautions

1.The operator and maintenance personnel should read the operating manual carefully before operating and maintaining this machine.
2.The operator must keep away from the back folding plate to avoid injury.
3.The power and gas must be closed when installing the tape and doing the daily maintenance.
4.Only the trained personnel can operate the machine.
Performance/Features(carton erecting machine)
►Easy operation,machine can be used individually and combined with the packaging line.
►Vertical storage,cartons can be added at any time without stopping the machine.
►Suitable for forming and sealing cartons of the same size.
►Manually adjust to change the carton sizes(finishing in 2-3minutes).
►Advanced photoelectricity induction control system.
►Rationally designed, the forming, folding and sealing process are accomplished simultaneously.
►Cutter Safety system to prevent hands form stabbed by the cutter.
►Heavy duty built, both steel and stainless steel types.
►Equipped with PLC system, saving labor and easy to operate.
►Adopted international advanced technology, with imported parts and electrical components, this machine
has a stable performance and long life-using.
Carton erecting packing machine Options:
Stainless steel version; Hot melt glue sealing type
Right hand or left hand; Specified machine color
Specified pneumatic and electrical elements brand
Open safety guard alarm, machine stop function
Isolate electrical cabinet
2 & 3 inch tape head; 24V low voltage control
Fully automatic carton erector + top sealing+ strapping machinery automated line:
Basic parameter of automatic carton erector equipment model YX-CR5025 :
| | |
| --- | --- |
| Voltage (V/Hz) | AC 220/50(can be adjusted with US power supply) |
| Power (W) | 220 |
| Gas Pressure (Mpa) | 6-7kg |
| Max. Carton Size (W×H) (mm) | 500*400*400mm |
| Min. Carton Size (W×H) (mm) | 250*150*100mm |
| Taping Speed (m/min) | 24 |
| Adhesive Tape Used | BOPP Water-free Adhesive Tape PVC Adhesive Tape |
| Height of Table (mm) | 600mm |
| Width of Adhesive Tape (mm) | 60 (There will be some change on min. carton size if you use the tape in width 48mm or 76mm) |
| External Dimensions (L×W×H) (mm) | 2000*1900*1450mm |
| Net Weight (kg) | 480kg |
| | |
Illustration of carton erecting machine model YX-CR5025
Malfunctions and solutions on carton erection bottom sealing equipment:

Malfunction and Solution of the Sealer

Nr

Malfunction

Possible reason

Solution

1

Adhesive tape can

not be cut off

The reamer patch is not sharp enough.

The reamer tine isjammed by the bond.

Change the reamer patch

Launder the reamer patch

2

There is tail

after the adhesive tape

is cut off.


The reamer patch is not sharp enough.

There is stem on the reamer seating.

The pulling spring is too loose.

Check if the nut on the reamer

seating is too loose or not.

Lubricate the nut if necessary.

3

The adhesive tape

can't stick to the carton

completely.

Main spring is too loose

and there is glue

on the axis of the roller.

The adhesive tape is disqualification

Adjust the pull of main spring

and clear up the roller.

Change the adhesive tape

4

The carton is locked

in the midway.

The nut on the pasting wheel

is too tight,

the height adjustment of the carton's

transporting line is not suitable,

and the main spring is too tight.

Loosen the pasting wheel,

regulate the nut,

re-adjust the height

and loosen the main spring.

5

The adhesive tape

is cut down

during sealing.

The reamer patch protrudes

excessively long.

Lower the place

of the reamer patch.

6

The adhesive tape is

often off the track.

The pressure of the guiding roller

on the carton is not equal.

Re-adjust the space

of the guiding roller.

7

The adhesive tape

is not on the central line.

The anti-retrorse wheel is broken.

Change the anti-retrorse.

8

There is abnormity

during the sealing.

There is dust on the axletree seating.

Clean the axletree

seating and lubricate.

9

There is jut

before sealing

and drape after sealing.

The speed of different straps

is different, and the carton is not

at the proper place

when pushing into the machine.

Adjust each transporting line's

pull to be consistent

so that the carton

can be put at the correct place.

10

There is drape

after sealing

the strain of adhesive tape is too large

Carton erecting machine integrated with encasing equipment for bottles filling line

Carton erecting machine integrated with encasing equipment for bags packaging line
►Model YX-GPC50-A Semi automatic Carton Flaps Folding Machine carton baxes sealer equipment with adhesive tapes folding cover sealing machinery
This product is suitable for carton sealing and the tape,
Automatic sealing adhesive tape machine with automatic folding cover, is the ideal packaging equipment characteristics of the function of convience&economy and efficience.
Carton sealing machine with safety fence run Customer's factory
Machine without protective safety guard
Parts Adopted for carton folding sealing machine semi automatic model YX-GPC50-A
1.Motor : Taiwan Luyang
2.Power switch: Korea KACON
3.Bearing : Japan NSK
4.Cutter :Japan SKD11
5.Conveyor Belts: import from Italy
6.Caster :YX-200
7.Touched Switch:Japan OMRON
8.Intermediate Relay : Janpan IDEC
9.AC Contactor :CHINT
10.Cylinda : Taiwan SHARKO
11.Magnetic Valve:Taiwan SHARKO
Basic parameter of model YX-GPC50-A carton boxes flaps folding sealing machines :
| | |
| --- | --- |
| Model | YX-GPC50-A |
| Production speed | 0-20ctns/min |
| Carton size(mm) | L200-600xW150-500xH150-500 |
| Power supply | 220/380V、50HZ、1∮-3∮ |
| Power | 240W |
| Adhesive tape width | 48/60/75MM |
| Machine dimension | L1770xW850xH1520mm |
| Machine weight | 250KG |
Flow chart for carton sealing process from box cartons sealer equipment:
Working Flow for fully automatic carton sealing end packaging process:
Adhesive tapes equipped with the carton sealing machine for sealing the cartons :
Cartons samples after folding sealing by PENGLAI YX series carton boxes sealer equipment
Plant workshop for carton sealing machines various model for assembly&commissioning
►Model YX-WKK01-30B Banding machine

The paper bands banding machine is widely used for kinds of industries, such as medicine food, printing, cloth, journey, vegetables etc, which can strap big-sized box together and also wrap hard or soft products with multi-PC and multi-pack.
Features of benchtop paper banding machine hotmelt

1.Strapping diversification: Includes single straps, double straps, three straps, well type straps etc.
2.Strapping speed fast: It takes only 3 seconds to finish one strapping, which integrate press, tight, scaled cutter for one time.
3.High quality and low cost, more economical
4.Strapping function is better for heat sensitivity.
5.Touch screen: Adopt PLC control program, touch screen can adjust or operate about parameter, set convenient button and reach four model including handle, automatic, temporary stop, stick. All will satisfy users request.
Basic parameters of model YX-WK01-30B tabletop banding machine:

| | |
| --- | --- |
| Model Number | YX-WK01-30B |
| Binding tape width | 30mm paper tape or OPP tape |
| Binding tape length | 150m |
| Max binding size | 470*200MM(W*H) |
| Min binding size | 30*10mm(W*H) |
| Binding tape inner diameter | 40mm |
| Binding tape external diameter | 155mm |
| Binding speed | less than 2.5s per bundle |
| Binding tension | 5-50N |
| Binding way | hot heat to seal |
| Power | AC220V/50Hz/80W |
| Weight | 32KG |
| Volume | 596*364*504mm |
Note: Previous improvements or improvements to mechanical specifications,
dimensions will not be explained separately.
More detailed pictures on tabletop banding machine model YX-WK01-30B:
Repair and maintenance
Problem 1:not working
| | | |
| --- | --- | --- |
| NO. | Possible reasons | Solutions |
| 1 | Safety switch not closed | The right door is not closed and the safety switch contacts are not pressed |
| 2 | No fuse or damage inside the socket | Replace the fuse |
| 3 | Loose socket, plug or power cord | Check power supply and connection device |
| 4 | Circuit boards defected | Detect or replace the board |
Problem 2:Tape cutting abnormally
| | | |
| --- | --- | --- |
| NO. | Possible reasons | Solutions |
| 1 | Medium knife blade or front blade wears too much | Replacement |
| 2 | Loosening screw | Tighten the front head screw |
| 3 | Medium knife blade and front knife pressure is too small | Adjust the tightening screw pressure in the middle seat (the pressure of the two screws is even when adjusting, the pressure should not be too large, and the middle knife will not fall too much) |
Problem 3:Tape in stuck or make crease
| | | |
| --- | --- | --- |
| NO. | Possible reasons | Solutions |
| 1 | Over force of the bindling | Force decrease |
| 2 | The belt slot and the drive wheel gap are too large | Adjust the gap, the gap is ≤0.2 |
| 3 | There are burrs or foreign objects in the groove | Clean up burrs or foreign objects |
| 4 | There are burrs or foreign objects in the belt slot | Clean up burrs or foreign objects |
Problem 4:Tape can not close well
| | | |
| --- | --- | --- |
| NO. | Possible reasons | Solutions |
| 1 | The proximity switch does not detect the signal | 1. The contact does not reach the last position ; 2. The proximity switch position is too close |
| 2 | Motor failure | Check if the motor or wiring is normal |

Problem 5:Tape can not feed
| | | |
| --- | --- | --- |
| NO. | Possible reasons | Solutions |
| 1 | The proximity switch detects the signal | 1. The contact is not returned. 2. The proximity switch position is too far. |
| 2 | There are burrs or foreign objects in the groove. | Clean up burrs or foreign objects. |
| 3 | Motor failure | Check if the motor or wiring is normal |
| 4 | The drive wheel has friction with the grooved plate. | Adjusting the front and rear position of the drive wheel makes it flexible. |
Problem 6:Tape can not through the groove stably
NO.

Possible reasons

Solutions

1

The guide groove is unevenly

adjusted to level the front and rear guide grooves

at the same horizontal direction.

2

Misalignment of the interface with each slot


The slotted interface is higher than the slotted interface

3

The interface gap between each segment and slot connection is too large


Adjust the gap≤2.5
Mantainence

1. Turn off the power after resetting the machine before maintenance.

2. It is recommended to clean the inside of the machine after packing every day. The main performance is the dust inside the machine.  Please use the air gun with a pressure less than 0.1MPa to remove the dust at the bottom of the machine and the dust at the three cutter poles.

3. Regularly check the power cord and electrical components for damage and looseness.

4. Regularly check whether the moving parts such as the blade, rocker arm, skateboard and arbor are seriously worn.

5. Regularly check the bolts and nuts for looseness.

6. Regularly lubricate moving parts. Especially when the machine is not used for a long time, it should be lubricated with lubricating oil in the sliding part to achieve flexible effect. Add 2-3 drops of lubricant each time.

Refueling parts as shown below: 
1. Add the lubricating oil once a week to the arbor, chute and driven wheel frame of the three knives (or lubricate the lubricating oil when the knives are not falling), and remove the parts without adding lubricant.
2. The bushing and shaft moving piece need to be lubricated once a week.(Or when the frame is not flexible, it should be lubricated in time), and there are four places before and after.
Wooden case packaging for tabletop banding machine:
Vertical paper &OPP bands banding machine can used with large paper in width 50MM and the product size with Wdith more than 500MM*Height 200mm
►Handheld screw driving machine with automatic screws feeder

Parameters of model YX-G4 screw driving machine portable type:

Voltage AC220V/110V 50HZ/60HZ
Working pressure 2-3KGF/cm2
Working efficiency 50-70PCS/MIN(Depends on screw length)
Noise Lower than 65db
Conveying distance 1-4m
Hopper capacity 5000pcs for M 2x6 screws
Size L370*W250*H190MM
Weight 9KG
Screw length Less than 45mm
Suitable screws M2.0-M6.0
Automatic Yes, Auto feeding, sorting and locking screws
Main components:


Screw locking machine is made of 3 main parts: 1.Screw feeding system. 2. Screw sorting system. 3. Screw locking system.
These 3 systems are controlled by the machine's program.
Handheld automatic locking screw machine feeds screws in a turbine way and order screws on a vibration guide rail, and transport screws to Screw Sorting System through magnetic resonance, then sort one screw per time and send it to screwdriver nozzle, finally electric or pneumatic screwdriver will lock the screw into products.
Features :
1. Automatic screw feeding, sorting and locking for various shapes screws. One-hand operation.
2. Torsion precision and convenient adjustment, ensure the quality of screw locking
3. Turbine feeding, low volume and noise, convenient maintenance. Light weight and small, mobility and save space.
4. Warning function when lack of screws.(Acousto-optic alarm)
5. High efficiency. No need to pick up screws, move screws and put screws. Just need to lock the screws aimed at the screw hole.
6. Sensor controls screws feeding one by one to avoid feeding repetition.
7. Can lock screws very fast, around lock 60 screw per minute.
Advantages:
High efficiency---One hand working. Easily locking screws repeatedly, no need to pick up and put screws.
Easy to use---With training, New users can easily operate it. Long-term operation cause no tire.
Stable function--- Imported parts, precise processing, stable and safe.
Working conditions
1, Screw specification requirements:
The screw length should be over 1.3 times greater than the screw cap's diameter
If the screw cap is greater than the screw length, the screw cap may come out first, because the screw will turn over during feeding screws.
The screw length should be less than 45mm.


2, Product requirements:
No barrier within 3mm around the lock hole. The screwdriver nozzle and the locked products should have a plane contact. There is enough space for the screwdriver nozzle to press the screws into locked products.
Working Area
1, Available Screw head styles: Slotted, Phillips, Triangle, Six-Lobe, Hexagon, H-type, etc
2,Suitable Screws: M1-M6

3, Suitable Screw Finish Code: Ni-Plated, wreath, colored Zinc-plated, white zinc-plated, copper-plated, etc
4, Suitable screw materials: iron, copper, stainless steel, etc
5, Suitable lock screws product's materials: plastic, iron, aluminum etc.
6,Suitable for various industry: such as cell phone, keyboard,toy,LCD/LED module, Communication Equipment, and other electronics production and installation.
Plywooden crate&ocean Shipping for carton sealing machines
Guarantee: for all the machine, it claims one year for guarantee.(Excluded from the warranty are problems due to accidents, misuse , misapplication, storage damage, negligence, or modification to the Equipment or its components. ALSO THE EASY BROKEN SPARE PART IS NOT INCLUDED IN THE GUARANTEE)
Installation: after the machine arrive your factory,if you need,our technician will go to your place to install and test the machine and also training your worker to operating the machine (The time of train depend on you worker). The expenses (air ticket ,food , hotel,the travelling fee on your country) should be on your account and you need paid for the technician USD50 per day. also you can go to our factory to do training.
After service: If you get the problem on the machine ,our technician will go to your place to fixed the machine as soon as possible. The cost should be in your account.(as above).
ALL RIGHTS RESERVED by ®SHENZHEN PENGLAI INDUSTRIAL CORPORATION LIMITED