CERTIFICATES

CONTACT US

Email:jackdu999@yahoo.com

Tel:+8675586718316
Phone:+86-15811882441
South Africa customers order semi automatic different sizes tubes filling ultrasonic sealing MC
Published by: PENGLAI INDUSTRIAL CORPORATION
Date:2017-03-16 16:03:22
Yesterday we received the customers from South Africa who ordered our machine model YX-009 semi automatic tubes filling+ultrasonic sealing machine. Since they got the machine model YX-009 and after running the machine for nearly one month without out any hitch our
customers decided to visit our factory for futhur business cooperation. We then in our factory spent all the afternoon from 2pm to 8pm keeping talking different project. Very lucky that we both party had a great talk and signed a long business cooperation aggreement;
As below there listed for the basic information for our first order on model YX-009 tubes filling ultrasonic sealing machine:
Payment proof for model YX-009 tubes filler sealer equipment semi automatic:

Samples sent from South african customers

Testing run of model YX-009 ultrasonic filling sealing machine

Wooden case packing for filling sealing tubes filler sealer equipment model YX-009
As follow there given the basic description on model YX-009 Tubes filler ultrasound sealing equipment:
Model YX-009 single head filling Machine inline with ultrasonic sealing machine function and application
1.Use ultrasonic to weld plastic soft tube tail. Do not need any adhesive or filler or solvent when welding, do not consume large amounts of heat, and easy to operate, high welding speed, high efficiency.
2.This machine is widely used in toothpaste, cosmetic, medical product, food and industrial tubes etc.
Main parameters of simple inline filling sealing machine tubes filler sealer semi automatic:
| | |
| --- | --- |
| Model | YX-009 |
| Power Supply | 220V/50HZ/Single phase |
| Power | 1500kw |
| Frequency | 20Khz |
| Tube Length | 40-280mm |
| Tube Diameter | 10-80mm |
| Filling volume | A:5-30ml B: 6-60ml C: 10-120ml D: 25-250ml E: 50-500ml (Optional) |
| Size | 735*6701300mm |
| Weight | 130kg |
► Sealing Machine layout
1.Main body 2.Sensor 3.Tube Hight adjustment 4.Front mould 5.Back mould 6.Cutter
7. Gas-pressure meter 8.Gas-pressure adjustment 9.Emergency button 10.Start button
11.PLC 12.Holder 13.Moulds gap adjustment 14.Power lamp 15.Power switch
17.Tune 18. OSC check 19.Over load lamp 20.Loading meter
(Remark: Pls checking the Front mould Screw if with strong lock, as Afraid when the transportation and screw is loose)
Machine actual in stock ultrasonic tube sealer: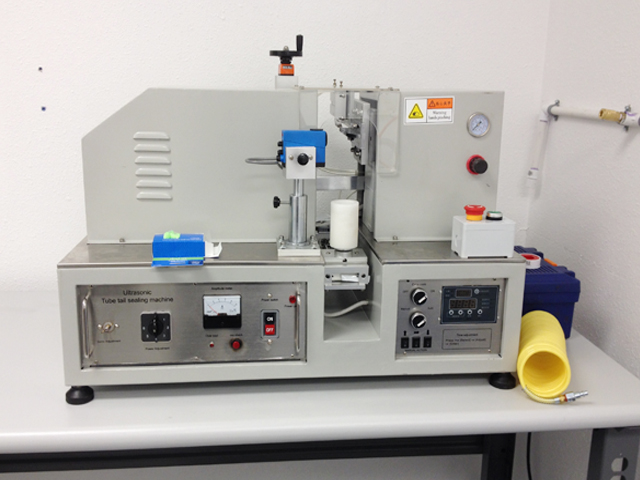 ►PLC
1.Press to English to next page , and press Auto to manual
►Sealing part
Motor start : this is for control the Tube holder running
Feeding cylinder start: this is for control the Tube holder feeding
Ultrasonic cylinder start: this is for control the up mould and down mould working.
Trimming cylinder start: this is for control the cutter
Fill Cylinder : This is for control the Filler head cylinder star or Stop when manual
Fill start: This is for control the filling star or stop when manual
Ultrasonic start: This is for control the frequency, this is same as the "18. OSC check"
Tube Orientation on : this is for control the Sense off/on
Time setting: This is for Adjusting the Delay time/ Welding time/Holding time
Delay time : 0.80
Welding time: Tube Dia 20,the time will about: 0.20,
Tube dia 30,the time will about 0.40
Tube dia 40, the time will about 0.50
Tube dia 50, the time will about 0.7
Holding time: 0.35
►Filling part
►Operation process
1.Connect power and compressed air correctly (suggest 0.5MPa).
2. Press the Power switch
3. Press 'OSC check' button and set 'Tune button' at the same time, Pls using the screw on the Tune button, you can turn to Left or Right, while find the minimum of 'Signal light' (it will about low than 1A) fixed 'Frequency adjustment'. (do not press 'OSC check' continuously, press it intermittently)
4.Put tube on the holder.
5.Press 'Ultrasonic cylinder start', front mould and back mould will be closed. set 'Moulds gap adjustment', let two moulds just touch and no gap. Press 'Cutter controller' and confirm the cutter will work smoothly.(need to put the plastic tube on the tube holder when you adjusting)
6.Set front mould and back mould and cutter at original position.
7.Put tube on the 'Holder' and press 'Feeding cylinder start', the tube will run between two moulds. Adjust the height of holder if necessary. (suggest tube is higher than back mould 2 to 3 mm)
8.Make tube back to original position.
9.Set to auto status, turn on sensor if tube has color code otherwise turn off it.
10.Press 'Auto' the machine will work automatically.
Remark: Pls also read the machine install video for reference !!!!
►Tubes filling-sealing samples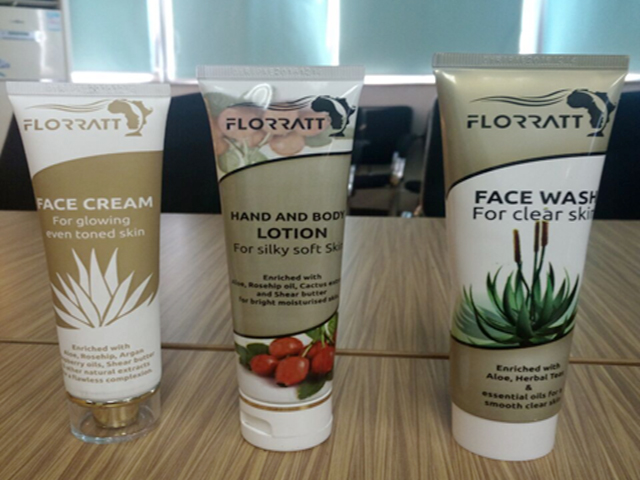 ►Failure and remedy
Failure

Cause

Remedy

Machine doesn't work or work abnormal

No power or compressed air

Connect power and compressed air

Low compressed air pressure

Enhance air pressure

Plastic overflow or not good after welding

Two moulds too closed or too parted

Adjust the gap between two moulds

rough edge after cutting

Cutter blunt

Sharpen cutter or replace sharp one

Cutter has large gap between back mould

Make cutter touch back mould
ALL RIGHTS RESERVED by ®PENGLAI INDUSTRIAL CORPORATION LIMITED