CERTIFICATES

CONTACT US

Email:jackdu999@yahoo.com

Tel:+8675586718316
Phone:+86-15811882441
Solid glue stick assembly machine automatic two heads assembler screw tightening sealing equipment for Stationary lipsticks pens
Model YX-GS02 assembler for solid glue stick
Two heads for assembling &driving sealing
Torsion:adjustable
Capacity:30-40pcs/min
Air pressure: 0.6Mpa
Air consumption: 0.2m3/min(Air compressor 5HP-10HP needed)
Capping percent of pass: 99%
Machine dimensions:2500mm* 2000mm * 1800mm
Machine weight: 350kg
Power supply: 220V 50HZ 1PH
Compressed air pressure: 0.6-0.8MPA

Description
This automatic assembly machine is applied to daily Stationery lipstick tube and solid glue stick(Glue sticks are solid and hard adhesives in twist or push-up tubes. Users can apply glue by holding the open tube to keep their fingers clean and rubbing the exposed stick against a surface.).
The assembler machine can feed the parts of solid sticks automatically to the assembling and screw-tightening stations to complete the process of assembling.The device will work when there is the product under the station while never do without the product which is detected by the optical sensor.

The equipment is provided with a variable frequency speed regulation function, the surface of stainless steel plate processing.
Features of automatic assembly machine:
1.Two products output at tone time
2.Automatic detection and rejection system for unyielded products.
3.Bowls three to automatic feeding the parts for assembling process.
4.Intermittent sectors to control the starwheel for different stations to process the programm.
5.Touch screen english &chinese &third language for operating the assembly machine.
6.Torsion can be adjusted due to screw tightening and assembling.
7.Whole body of machine is made of Stainless steel SUS316.
Technical parameters of automatic solid glue stick assembly machine model YX-GS02:
Model YX-GS02 assembler for solid glue stick
Two heads for assembling &driving sealing
Torsion:adjustable
Capacity:30-40pcs/min
Air pressure: 0.6Mpa
Air consumption: 0.2m3/min(Air compressor 5HP-10HP needed)
Capping percent of pass: 99%
Machine dimensions:2500mm* 2000mm * 1800mm
Machine weight: 350kg
Power supply: 220V 50HZ 1PH
Compressed air pressure: 0.6-0.8MPA
Configuration of automatic solid glue stick assembly machine model YX-GS02: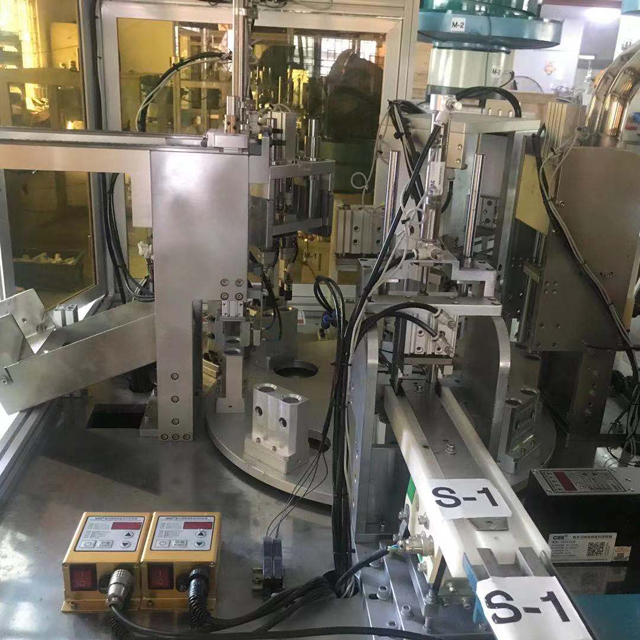 Line Part Name Model Manufacturer Qty.
1 PLC Siemens 1set
2 HMI Siemens 1pcs
3 Index driver MXH series Shandong Zhucheng 1set
4 Low voltage electrical components Schneider 1set
5 Main motor Shanghai 1set
6 Solenoid valve 3A100 series Airtac 5set
7 Intermediate relay Omron 5set
8 Frequency converter Delta
1set
9 SMPS Mean Well 1set
10 Capping motor Shanghai 1set
11 Optical fiber Autonis 3set
Samples&drawing of solid glue stick for assembly machine:
We guarantee the quality of the main parts within 36months. If the main parts go wrong without artificial factors within one year, we will freely provide them or maintain them for you. After one year, if you need
to change parts, we will kindly provide you with the best price or maintain it in your site. Whenever you have technical question in using it, we will freely do our best to support you.
Guarantee of quality :
The Manufacturer shall guarantee the goods are made of Manufacturer's best materials, with first class workmanship,brand new, unused and correspond in all respects with the quality, specification and performance as stipulated in this Contract. Quality guarantee period is within 12 months from B/L date.
The Manufacturer would repair the contracted machines free of charge during the quality guarantee period. If the break- down can be due to the improper use or other reasons by the Buyer, the Manufacturer will collect repair parts cost.
Installation and Debugging:
The seller should dispatch his engineers to instruct the installation and debugging. Cost would be bear on buyer's side (round way flight tickets, accommodation fees in buyer country).The buyer should provide his site assistance for the installation and debugging.
ALL RIGHTS RESERVED BY ®SHENZEHN PENGLAI INDUSTRIAL CORPORATION LIMITED