CERTIFICATES

CONTACT US

Email:jackdu999@yahoo.com

Tel:+8675586718316
Phone:+86-15811882441
Singaporean regular customer bought aloe gel cups filling sealing machinery rotary cup filler
Published by: PENGLAI INDUSTRIAL CORPORATION
Date:2021-08-25 13:35:50
Our Regular customers from Signapore (South-eastern Asia) placed another order on one(1*) pcs of machines: Rotary cups filling and sealing machine aloe gel cup filler and sealer Model YX-900A.
For all the machines purchased it is clear to confirm all the information on the products so we often ask our customers to freight the samples to test and commission the machines in order that the machines and customer's products gains the best compatibility and adaptability.
After getting the confirmation &samples of the product in sizes and drawing for manufacturing the filling and sealing machines
we spent only 10working days finishing everything and made the machines ready after testing them in a satisfactory feedback.
Recently our customers sent us the positive commentar on the machines which keep running very well in their factory ever since the machines arrived their factory.
The machines was shipped via Fedex courier to Hyflux Innovation Centre, Singapore 339949. The documentaries certificated with ISO&CO&CE together with other files necessory are sent via DHL to customer for assisting customers to clear the custom.

As below there listed the basic information on the successful transaction between PENGLAI and their Singaporean counterpart:

Purchased order issued from South-east Asian customer:


Samples sent from customers in South-east Asia


Bank copy of Down&balance payment for purchasing Model YX-900A cups filling and sealing machine


Testing videos on Aloe gel cups filling and sealing machine model YX-900A Rotary type filler:

Wooden case packing of filling and sealing machine rotary type model YX-900A.


As follow there given the description on the machines purchased respectively
Fully automatic rotary cup filling & sealing machine can auto loading the empty cups, empty cups detecting, auto quantitative filling product into cup, auto loading the aluminum foil seal lids, auto sealing cup, auto discharging the finish product. Base on different mold quantity, its capacity from 800-4800 cups per hour, suitable for the foods and beverage factory production needs.
Whole machine made by stainless steel 304 and anodizing aluminum, ensure it can running on bad food factory environment which has damp, steam, oil, acidity and salt etc. its body can accept the water rinsing clean.
Using high quality imported electrical parts and pneumatic parts which ensure the stable running in long time, reduce the stop and maintenance time.
►Feature of YX-900A cups filling sealing machines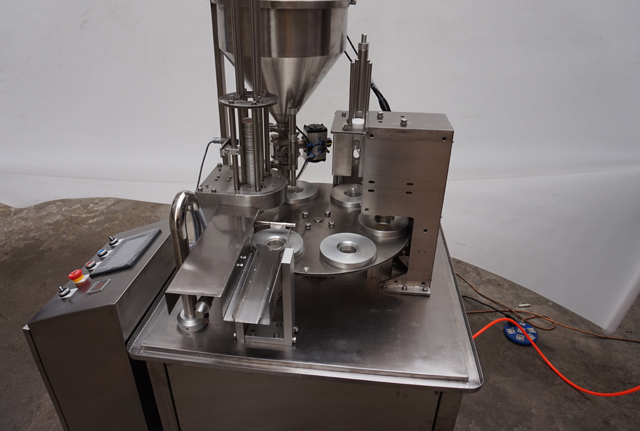 Pre-cut foil cups filling sealing machine
Roll stock films cups filling sealing machine
Rotary plate driven system: servo motor with precision planetary reducer for the rotary table stepping running, it can rotate very fast but avoid material splash because servo motor can start and stop smoothly, and also high positioning accuracy.
Empty cup loading function: it using spiral separating and pressing technology which can avoid the cup damage and deforming, it has vacuum sucker which can guide the cup enter into mold accuracy.
Empty cup detecting function: it use photoelectric sensor or optical fibre sensor to detect the mold have or haven't empty cup, it can avoid the mistake filling and sealing if the mold without the cup, reduce the product waste and machine cleaning.
Quantitative filling function: it use piston filling and cup lifting function, no splash and leakage, the filling system tool free disassemble design and also have CIP clean function.
Aluminum foil lids placing function: it make up by 180 rotate vacuum sucker and lids magazine, it can place the lid on the mold fast and accuracy.
Sealing function: it make up by double clamps heating seal molds which special design for aluminum cups, the sealing temperature can 0-300 degree adjustment, based on Omron PID controller and solid-state relay, temperature difference less than +/- 1 degree.
Discharge system: it make up by cup lifting and pulling system, faster and stable.
Automation control system: it make up by PLC, Touch screen, servo system, sensor, magnetic valve, relays etc.
Pneumatic system: it make up by valve, air filter, meter, pressing sensor, magnetic valve, air cylinders, silencer etc.
Safety guards: it is optional function, it make up by PC plates and stainless steel, has safety switches which protect the operator.
►Flow chart of packing(taking example as pre-cut foil liquid cups filling sealing machine):
►Specification of cups filling sealing machinery model YX-900A
Filling system in a whole without needing tool dissamble
Hopper equip with stirrer and liquid level indicator
Cups-holder different diameter cups different hold molds
Model
YX-900A Single filling head+cups filling sealing machine
YX-900AA double heads filling +sealing machine
Capacity
800-1200cups per hour
1600-2400cups per hour
Voltage
1P 220v50hz or customize
1P 220v50hz or customize
Total power
1.8KW
2.4kw
Filling Volume
20-100ml or 50-300ml
20-100ml or 50-300ml
Filling Accuracy
≤1%
≤1%
Air Pressure
0.6-0.8Mpa
0.6-0.8Mpa
Air Consumption
≤0.5m3/min
≤0.5m3/min
Machine size
1100*1250*1800mm
1100*1250*1800mm
Machine Weight
600kg
780kg
Marks:

Optional function:

♦Gas flushing function
♦Date coder
♦Sus304 safety cover & door switch
►Configuration of cups filling sealing machine model YX-900A
Pneumatic system: AIRTAC Taiwan
Servo system: Mitsubishi Japan
Planetary gear reducer: NewStart
Film pulling motor: Dongli
PLC: Mitsubishi Japan
Touch screen: Weinview Taiwan
PID temperature controller: Omron Japan
Sensor: FOTEK Taiwan
low-voltage: Omron, Schneider, CHNT
►Cups filling sealing samples
Wooden case packing for model YX-900A series cups filling sealing machine
Double heads cups filling filling nozzles+2 heat sealing heads rotary filler sealer model YX-900AA:
ALL RIGHTS RESERVED by ®PENGLAI INDUSTRIAL CORPORATION LIMITED