CERTIFICATES

CONTACT US

Email:jackdu999@yahoo.com

Tel:+8675586718316
Phone:+86-15811882441
Rwandan customer orders bottles blowing machinery 4 cavity PET making equipment semi auto
Published by: PENGLAI INDUSTRIAL CORPORATION
Date:2017-06-14 12:24:51
Two month ago we confirmed the order from our Subsahara customers in Rwanda who sent us the bottles samples and preform and the down payment for model YX-BL04 Bottles blowing equipment. We spent about 10work days
finishing manufacturing of the 4 holes bottles making equipment.When our african customers visited us for the finished machine we as well showed them the monoblock water filling line that our customers checked its operation in our
Factory. Finally every thing went smooth for the factoy visiting and our customers recently wanted us to ship the machine which has been kept for more month in our factory's warehouse!
There given as below the basic information for the international business transaction between PENGLAI CORP and their African counterpart:
Bank copy for paying via Western Union in Rwanda bottles blowing machine model YX-BL04:

Bottles samples sent from customers:

Bottles blowing testing video

Machine in wooden case carton for shipping
As follow there listed the basic description on model YX-BL04 PET bottles blower equipment:
Semi Automatic Bottle blowing Machines for 200ml to 2000ml PET bottles model YX-BL series from PENGLAI INDUSTRIAL CORP

Blow molding ( BrE moulding ) is a manufacturing process by which hollow plastic parts are formed: It is also used for forming glass bottles. In general, there are three main types of blow molding: extrusion blow molding, injection blow molding, and injection stretch blow molding. The blow molding process begins with melting down the plastic and forming it into a parison or in the case of injection and injection stretch blow moulding (ISB) a preform. The parison is a tube-like piece of plastic with a hole in one end through which compressed air can pass.The parison is then clamped into a mold and air is blown into it. The air pressure then pushes the plastic out to match the mold. Once the plastic has cooled and hardened the mold opens up and the part is ejected.

Injection Stretch blow molding process.
This has two main different methods, namely Single-stage and two-stage process. Single-stage process is again broken down into 3-station and 4-station machines. In the two-stage injection stretch blow molding process, the plastic is first molded into a "preform" using the injection molding process. These preforms are produced with the necks of the bottles, including threads (the "finish") on one end. These preforms are packaged, and fed later (after cooling) into a reheat stretch blow molding machine. In the ISB process, the preforms are heated (typically using infrared heaters) above their glass transition temperature, then blown using high-pressure air into bottles using metal blow molds. The preform is always stretched with a core rod as part of the process.
Advantages: Very high volumes are produced. Little restriction on bottle design. Preforms can be sold as a completed item for a third party to blow. Is suitable for cylindrical, rectangular or oval bottles. Disadvantages: High capital cost. Floor space required is high, although compact systems have become available.
In the single-stage process both preform manufacture and bottle blowing are performed in the same machine. The older 4-station method of injection, reheat, stretch blow and ejection is more costly than the 3-station machine which eliminates the reheat stage and uses latent heat in the preform, thus saving costs of energy to reheat and 25% reduction in tooling. The process explained: Imagine the molecules are small round balls, when together they have large air gaps and small surface contact, by first stretching the molecules vertically then blowing to stretch horizontally the biaxial stretching makes the molecules a cross shape. These "crosses" fit together leaving little space as more surface area is contacted thus making the material less porous and increasing barrier strength against permeation. This process also increases the strength to be ideal for filling with carbonated drinks.
Advantages: Highly suitable for low volumes and short runs. As the preform is not released during the entire process the preform wall thickness can be shaped to allow even wall thickness when blowing rectangular and non-round shapes.
Disadvantages: Restrictions on bottle design. Only a champagne base can be made for carbonated bottles.

YX-BL04 is the fastest liner blow molding machine in mainland of China by now. The bottle blower reaches around 4200BPH for 350ML bottle. Its baking tunnel is separated from the blow station so that time for mold opening is shortened with a result of speedy blowing and high output, damage to machine is lessened so as to keep reliable performance and prolong service life, as well as machine runs more smoothly and steadily.
♥YX-BL04 automatic stretch blow molding machine is equipped with patented preform loading system, which consists of two manipulators: rectilineal manipulator and overturning manipulator. The rectilineal manipulator moves preform with neck up to the preform holder, after heating, the overturning manipulator grips heated preform and overturn 180 put preform to blow station with neck down. After stretching and blowing, the bottle is taken off by overturning manipulator. The specially designed preform loading & bottle discharging system avoid possible damage to preform & bottle during transportation

♥ Semi Automatic Bottle blowing Machines for PET Bottles
Control system
Together with HITECH Man-Machine Interaction (MMI) control panel with user-friendly, the whole control system presents super performance with precise control, convenient parameter setup, obvious display and reasonable memory.

Operation:

The standard operation of YX-BL04 stretch blow molding machine includes four steps as follow

Step 1. Put the preform into preform container and the conveyer will take the preform to orientation units automatically.

♥Semi Automatic Bottle blowing Machines for PET Bottle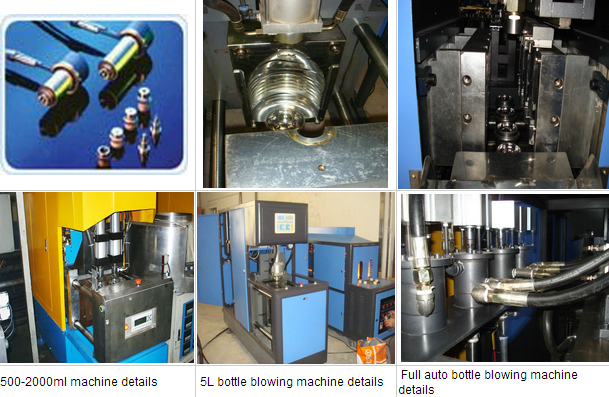 Features:

A. Stable performance with advanced PLC.

B. Conveying preforms automatically with conveyor.

C. Strong penetrability and good and swift distribution of the heat by letting the bottles rotate by itself and revolute in the rails simultaneously in the infrared preheater.

D. High adjustability to enable the preheater to preheat preforms in shapes by adjusting the light tube and the length of the reflecting board in the preheating area, and eternal temperature in the preheater with an automatic thermostatic apparatus.
Basic parameter of 4cavities semi automatic bottles blowing machines
MODEL

Unit

YX-BL04

production

Preform material

PET

Max. volume

L

2

Theoretical production capacity

BPH

2500

Max. neck diameter

mm

38

Max. bottle height

mm

360

Max. bottle diameter

mm

120

molding unit

Clamping force

Kn

180

Max. mould plate dimension(L*H)

mm

420*640

Mould opening stroke

mm

200

Max. Mould stretching stroke

mm

400

Max. Mould thickness

mm

240

Number of cavity

cavity

4

electricity

Total power consumption

Kw

12

Voltage/frequency

v/hz

380/50 220v/60

compressed Air system

Operation pressure

Kg

0.8-1.2

Blowing pressure

kg

30

High pressure Air consuming

M 3 /min

2.4

Air Cooling dryer

M 3 /min

2.0

Air filter

M 3 /min

2.0

Air tank

L

600

chilled water

water chiller

recyling cooled water 20degree

Machine size and weight

Blower dimension(L*W*H)

m

1.85*1.05*1.8

Blower weight

Kg

1100

Heater dimension(L*W*H)

mm

1.65*1.05*1.35

heater weight

Kg

800
Warm reminder

all staff warmly welcome new or old customers come for consultation, we will be making detailed project plan, to realize low cost, high efficiency and scientific process combination. In order to make bottle blowing machines achieved your ideal requirements(Semi Automatic Bottle blowing Machines for PET Bottle)

Fully automatic bottles blowing machine for Pet Bottle drinking industry

How to connect air pipes &change moulds for different sizes of bottles PET blowing equipment:


Instructed on how to connect in pictures:
How to change mould for different sizes of bottles:

Instructed on how to in videos:

instruction on how to change mold in pictures:
1.Closing the mould first and use a hold to hold the mould.

2. Loose the font and back nuts and take the nut off.

3. Press the green button to open the mould.

4. Take the mould out.

5. Putthe new mould of another size to the machine, then tighten the 2 nuts of front.

6. Close the mould and make sure it at a right position.

7. Tighten the back nut back.

Bottles&preform for model YX-BL series bottles blowing machine

After-sales Service on bottles blowing machine

Warrantee: Three years warranty since the date of delivery,if there is any wearing part broken within the warranty and isn't caused by improper operation.

The seller should offer the new parts within the warranty period to replace the broken ones while the buyer should bear the cost about the new parts and shipping fee.

installation and commissioning:the customer will pay the economic air tickets round trip & arrange the accommodation and food &the means for engineers 60USD/day

as salary for the maufacturer's engineers for installation and commissioning the equipments in the customer's plan

ALL RIGHTS RESERVED by ®PENGLAI INDUSTRIAL CORPORATION LIMITED