CERTIFICATES

CONTACT US

Email:jackdu999@yahoo.com

Tel:+8675586718316
Phone:+86-15811882441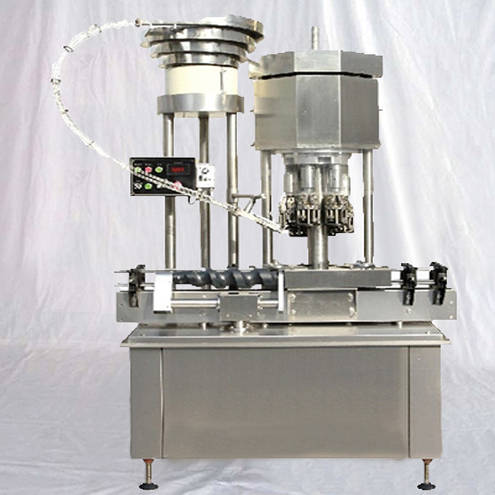 Ropp caps sealing machine multi heads glass bottles with metal Roll On Pilfer Proof cap sealer screw capper equipment high speed pharmaceutical machinery
Model YX-AC40-06
Capacity 3600-4800bottles per hour
Bottles height 90mm-400mm
Bottles diameter 32mm-90mm
Bottles type Glass bottles with metal caps
Sealing heads 6heads(1head to 8heads can be chosen accordingly)
Bottles broken rate ≤1%
Quality Yield ≧99.9%
Power supply 220V/50HZ 1.5KW(North American power supply customized)
Size 2000*1100*2100MM
Weight: 500KG


Description
ROPP Cap Sealing Machines are available in two different variants: The Rotary Chuck Capping system and The Spindle Capping Systems.
The Rotary Chuck Capping system is versatile machine designed to be installed within the existing conveyor line. Rotary Chuck Cappers are available in 1 and 8 heads Standard models. Rotary Chuck Cappers are adaptable to a wide range of caps (Cap Type: Screw or Lug) and containers which makes this a flexible machine with multiple products run on a single line. Rotary Chuck Cappers speed is based on the number of heads, container size, and configuration. The Rotary Chuck Cappers can run from speeds of 15 to 600 containers per minute. Rotary Chuck Cappers designs vary from a rotary centrifugal design to an elevator/hopper version. The Spindle Capping Systems have a unique 8 spindle design combined with the latest technology allows it to automatically place and torque a wide array of cap types (Cap Size: Min 22mm / Max 90mm) to an assortment of containers at higher speeds. The Spindle Capping Systems lowers operational costs and increases the cappers range of adjustability, to accommodate closure sizes from 10mm – 120mm, by eliminating many of the high maintenance parts. The Spindle Capping Systems are ideal machines for nearly every type of screw and lug cap including; flat caps, flip tops, pull spouts, safety caps, sport caps, even over-caps or containers with induction seals.
Basic parameter of model YX-AC40-06 Six heads Ropp Caps sealing machine:
YX-AC40-06 (Machine can be added with the dust-proof cover according to customer's requirement)

Capacity

3600-4800bottles per hour

Bottles height

Bottles diameter

90mm-400mm

32mm-90mm

Bottles type

Glass bottles with metal caps

Sealing heads

6heads(1head to 8heads can be chosen accordingly)

Bottles broken rate

≤1%

Quality Yield

≧99.9%

Power supply

220V/50HZ 1.5KW(North American power supply customized)

Size

2000*1100*2100MM
Drawing of ROPP capping working process(taking example as automatic line with conveyor platform)
The capping machine is a suitable equipment for roll-press-sealing the Aluminum caps for the plastic bottle、pet bottle、as well as glass bottle.It precesses the screw-press capping for the bottle under the rolling press from hobs,automatically feeding bottle、caps,removing the reverse caps .The capped bottle favors the characteristics like the stable capping effect,convenient uncapping,so that it function as conterfeit and anti-theft.

Automatic ROPP Capping Machine is suitable for round or other shape of glass, plastic, PET, LDPE, HDPE bottles. Machine constructed in stainless steel finish including M.S. frame structure with stainless steel cladding/enclosures. The capping machine is ideal for application in pharmaceutical, food, pesticides, cosmetic & other Industries.
Machine is equipped with vibratory type bowl feeder depending on cap shape and size for continues feeding of cap for online operation on any liquid or powder filling line. Machine is suitable for various sizes of bottles and ROPP cap with the help of change parts. Capping Machine is suitable for application in Pharmaceutical and other industries requiring higher production speed on automatic online operation.
How to operate model YX-AC40 Multi heads ROPP capping machine
The feed container moving on conveyor belt are feed into an in feed star wheel through In-feed worm, star wheel bringing the container below the sealing head in the subsequent indexing part, mean while the bottle pickup a cap from the delivery chute of cap filling bowl, where the body and the neck of the container are positioned below the rotating head, where the sealing head is performing perfect operation of threading & sealing.
Salient Features :

The unit is made compact & versatile.
S.S. Slat conveyor
S.S. Elegantly Matt Finished Body
Built in front control panel
Vibratory Bowl
With A/c Frequency Drive
ROPP caps in different sizes for Screw capping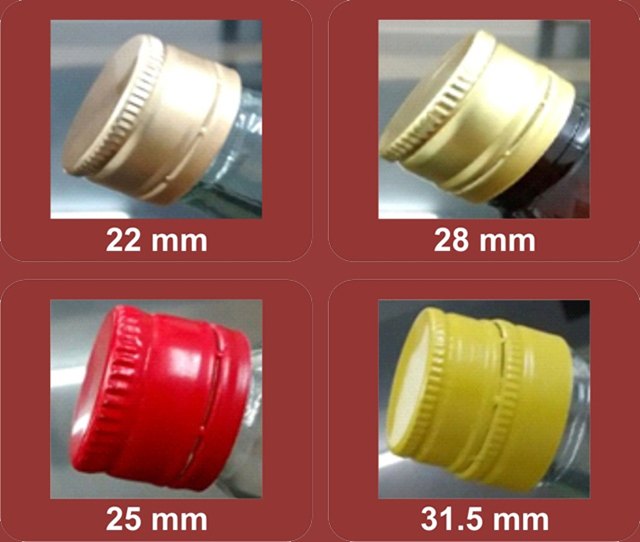 Different sizes of bottles require different start weel for moving feeding botles in
Different sizes of caps&bottles requires extra indexing disc
Machine ROPP sealing run in customer's factory
Wooden case packing for ROPP capping
Guarantee: for all the machine, it claims one year for guarantee.
(Excluded from the warranty are problems due to accidents,misuse ,
misapplication, storage damage, negligence,or modification to the Equipment or its components.
ALSO THE EASY BROKEN SPARE PART IS NOT INCLUDED IN THE GUARANTEE)
Installation: after the machine arrive your factory,
if you need,our technician will go to your place to install and test the machine and
also training your worker to operating the machine (The time of train depend on you worker).
The expenses (air ticket ,food , hotel,the travelling fee on your country)
should be on your account and you need paid for the technician USD50 per day.
also you can go to our factory to do training.
After service: If you get the problem on the machine ,our technician
will go to your place to fixed the machine as soon as possible. The cost should be in your account.
ALL RIGHTS RESERVED by ®PENGLAI INDUSTRIAL CORPORATION LIMITED