CERTIFICATES

CONTACT US

Email:jackdu999@yahoo.com

Tel:+8675586718316
Phone:+86-15811882441
Portion cups form fill and seal machine fairy &food application small butter jam ketchup trays former filling sealing equipment
Model: YX-70A-04
Power: 380V/3 PHASE/50Hz
Cutting frequency: about 15times/min
Motor power: 1.5Kw
Air pressure: 0.4-0.6Mpa
Air consumption: ≥ 0.3m³/min
Mould cooling: tap water or recycling water
Max shaping areas depth:160x320x24mm
(The Max depth can be customized to 35mm)
Applied forming materials: PVC, PET or PS
Applied plastic sheet roll max diameter: 380mm
Applied plastic sheet thickness: 0.2-0.5mm
Filling type: Piston rationed cup filling
Filling error: ≤±0.5 g
Dimension of the machine (L x W x H): 4000mm x 780mm x 1750mm
Weight 1600KG

Description
This form-fill-seal machine is innovated by our technicians for filling all kinds of free flowing liquid, such as fruit jam, chocolate jam, butter, ketchup, etc. as well as biscuit, candy, troche, capsule and so on.
Click the numbers below-listed for easier navigation in this article:
2.Working flow of form fill seal equipment
3.Features of model YX-70A-04 equipment
4.Detailed pictures of thermoform fill seal equipment
5.configuration of form fill seal equipment
6.Finished products done by portion cups form fill seal set
7.Wooden case packaging for shipping thermoform fill seal machine
The portion cups forming filling sealing equipment model YX-70A-04 adopts with the PLC controlling system, firming, filling, sealing, date printing, cutting, end-products coming out
The machine is with the photoelectric eye device to ensure neat sealing and cutting.
Sheet material: PVC, PS, PET.
Technical parameters of form fill seal equipment:
Model: YX-70A-04
Power: 380V/3 PHASE/50Hz
Cutting frequency: about 15times/min
Motor power: 1.5Kw
Air pressure: 0.4-0.6Mpa
Air consumption: ≥ 0.3m³/min
Mould cooling: tap water or recycling water
Max shaping areas depth:160x320x24mm (The Max depth can be customized to 35mm)
Applied forming materials: PVC, PET or PS
Applied plastic sheet roll max diameter: 380mm
Applied plastic sheet thickness: 0.2-0.5mm
Filling type: Piston rationed cup filling
Filling error: ≤±0.5 g
Dimension of the machine (L x W x H): 4000mm x 780mm x 1750mm
Weight 1600KG
Working flow: machine working full automatically

Sheet into the machine----forming----filling----sealing----cutting and end product

Machine assembly:
Machine frame is made of channel steel, another parts made of S.S 304
Feature of cream forming filling sealing equipment fully automatic:
1.The machine is specially for food packaging such as chocolate, jam etc. From cup form,fill,seal,cut and product discharge automatically.
2 machine-tool track type of casting machine-base, taken these processing like backfire, maturing, high benchmark and without distortion.
3 Each box of section processed through professioral, equiipmert,to assure high precision and good exchangeability.
4 Forming, sealing, slitting etc.parts are all could be adjust freely on the track with triangle string and flat string, strong applicability. Small oversize, save installation space.
5.Reducer adapts parallel-axes bevel wheel, to avoid loose and smooth between chain or strap when it is driving.
6.Stroke can be adjust freely, widely used, ease of operation, stable running.
7 .adapts up and down net pattern concavo-convex to conjugate,multi-step air cylinder, double-heat sealing. Quality sealing.
Details of thermoforming filling sealing equipment:
Configuration of butter cups form fill seal equipment:

Serial No. Description Manufacturer
1 PLC Japan MITSUBISHI
2 Frequency converter Japan MITSUBISHI
3 Servo motor Japan MITSUBISHI
4 Solenoid valve South Korea SANWO
5 Touch Screen France SCHNEIDER
6 Air switch France SCHNEIDER
7 Intermediate relay Japan OMRON
8 A.c contactor France SCHNEIDER
9 Gears switch France SCHNEIDER
10 Stop switch France SCHNEIDER
11 Button switch France SCHNEIDER
12 Pneumatic parts Taiwan AIRTAC
Finished products done by portion cups form fill seal equipment YX-70A series: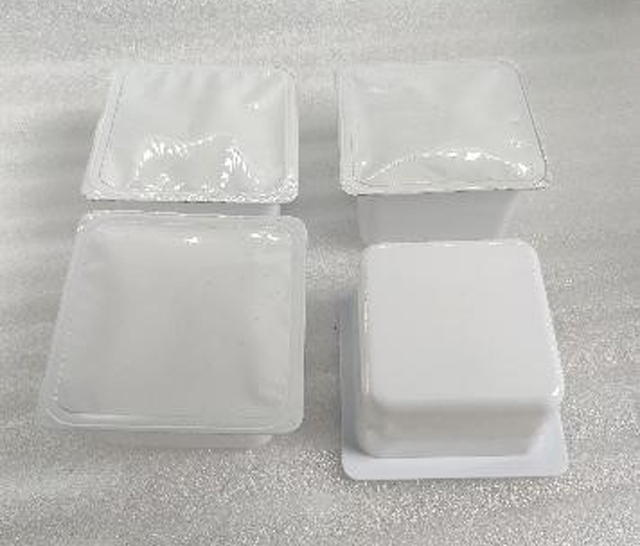 Wooden case packing of model YX-70A-04 liquid blister packing machines.
How the thermoforming works:
Thermoforming is a manufacturing process where a plastic sheet is heated to a pliable forming temperature, formed to a specific shape in a mold, and trimmed to create a usable product. The sheet, or "film" when referring to thinner gauges and certain material types, is heated in an oven to a high-enough temperature that permits it to be stretched into or onto a mold and cooled to a finished shape. Its simplified version is vacuum forming.
In its simplest form, a small tabletop or lab size machine can be used to heat small cut sections of plastic sheet and stretch it over a mold using vacuum. This method is often used for sample and prototype parts. In complex and high-volume applications, very large production machines are utilized to heat and form the plastic sheet and trim the formed parts from the sheet in a continuous high-speed process and can produce many thousands of finished parts per hour depending on the machine and mold size and the size of the parts being formed.
Thermoforming differs from injection molding, blow molding, rotational molding and other forms of processing plastics. Thin-gauge thermoforming is primarily the manufacture of disposable cups, containers, lids, trays, blisters, clamshells, and other products for the food, medical, and general retail industries. Thick-gauge thermoforming includes parts as diverse as vehicle door and dash panels, refrigerator liners, utility vehicle beds and plastic pallets.
Most thermoforming companies recycle their scrap and waste plastic, either by compressing in a baling machine or by feeding into a granulator (grinder) and producing ground flake, for sale to reprocessing companies or re-use in their own facility. Frequently, scrap and waste plastic from the thermoforming process is converted back into extruded sheet for forming again.
In the most common method of high-volume, continuous thermoforming of thin-gauge products, plastic sheet is fed from a roll or from an extruder into a set of indexing chains that incorporate pins, or spikes, that pierce the sheet and transport it through an oven for heating to forming temperature. The heated sheet then indexes into a form station where a mating mold and pressure-box close on the sheet, with vacuum then applied to remove trapped air and to pull the material into or onto the mold along with pressurized air to form the plastic to the detailed shape of the mold. (Plug-assists are typically used in addition to vacuum in the case of taller, deeper-draw formed parts in order to provide the needed material distribution and thicknesses in the finished parts.) After a short form cycle, a burst of reverse air pressure is actuated from the vacuum side of the mold as the form tooling opens, commonly referred to as air-eject, to break the vacuum and assist the formed parts off of, or out of, the mold. A stripper plate may also be utilized on the mold as it opens for ejection of more detailed parts or those with negative-draft, undercut areas. The sheet containing the formed parts then indexes into a trim station on the same machine, where a die cuts the parts from the remaining sheet web or indexes into a separate trim press where the formed parts are trimmed. The sheet web remaining after the formed parts are trimmed is typically wound onto a take-up reel or fed into an inline granulator for recycling.
ALL RIGHTS RESERVED by ®PENGLAI INDUSTRIAL CORPORATION LIMITED