CERTIFICATES

CONTACT US

Email:jackdu999@yahoo.com

Tel:+8675586718316
Phone:+86-15811882441
Pakistan customer bought tabletop foil stamping machine semi automatic paper printer equip
Published by: PENGLAI INDUSTRIAL CORPORATION
Date:2017-09-30 17:21:47
Our south Asian customers from Pakistan(South asian country) placed another order on one (1*)pcs of machines:Model YX-JMD330B hot foil stamping machine
For all the machines purchased it is clear to confirm all the information on the products so we often ask our customers to freight the samples to
test and commission the machines in order that the machines and customer's products gains the best compatibility and adaptability.
After getting the confirmation &samples of the product in sizes and drawing for manufacturing the tabletop stamping machines
we spent only 7days finishing everything and made the machines ready after testing them in a satisfactory feedback.
Recently our customers sent us the positive commentar on the machines which keep running very well in their factory ever since the machines arrived their factory.
The machines was shipped via courier to Pakistan. The documentaries certificated with ISO&CO&CE together with other files necessory are sent via DHL to customer for assisting customers to clear the custom.

As below there listed the basic information on the successful transaction between PENGLAI and their Pakistan counterpart:

Purchased order issued from Pakistan:


Samples sent from customers in South Asia


Bank copy of Down&balance payment for purchasing tabletop stamping machine

Testing videos on Model YX-JMD330B hot foil stamping machine
Wooden case packing of Model YX-JMD330B hot foil stamping machine.


As follow there given the description on the machines purchased respectively
Digital plateless gilding press gold bronzing machine hot stamp printer for sale YX-JMD330B
Features of digital bronzing machine
1. no need to make plate, computer to design
2. It can feed the materials automatically, no need to move the printing materials, each time you can put dozens of paper at the same time,the machine can repeat the same printing process automatically
3. printhead up and down automatically, no need by hand, save labor;
4.Adopt the advanced printing control program, accurate position
5. Adopt the latest mechnical structure, more stable
6. Large format printing design, can feed A3/A4 paper, fast and efficient
Application Industries of digital bronzing machine
Card design, sign, image, gift, personalized greeting card, celebration etc.
Printing Media of digital bronzing machine
Leather, Paper, sticker, plastic, PVC etc.
Foils of digital bronzing machine
Size: 260mm*120m, Can be customized according to customer requirements.
The length and width can be made according to the customers' requirement.
Color: Gold, silver, black, blue, red, green etc.
gross weight:0.657kg/roll
Storage: Protect hot stamping foil in cool, shade, ventilated place, keep hot stamping from heat, sunshine, pressure, dampness and acid.
Parameters of digital bronzing machine model YX-JMD330B:
| | |
| --- | --- |
| Software Compatibility | Windows Driver |
| Printing Interface | Network Interface/USB |
| Max Media Width | 330mm |
| Max Printing Width | 256mm |
| Speed | 80-100m/h |
| Resolution | 200dpi |
| Medium Type | paper leather PVC etc |
| Machine Power | 700w |
| Working Voltage | Ac110v-240v/50hz/60hz |
| Packing Size | 114*65*52cm |
| Gw/nw | 75kg/50kg |
| Max Printing Thickness | 3mm |
How to operate digital printer step by step
ó┘Put the foil roll in the feeder,unfold the foil roll in a clockwise way. Make sure the foil roll bottom faces downward when passing under the printer head;
ó┌ Insert the paper bin to collect the used foil. Make sure the side of axis is fixed with the materials-collecting plate;
ó█Wind the foil from downside of Guide bar via printer head to the other guide bar ;
ó▄Fix one side of foil with the top of materials-collecting plate,then glue it with the tape;
óŢ Turn the empty paper bin so that the paper foil will get tight; at the same time check if the foil paper move forward in a flat way; Make sure there is no knot or folding
in the foil roll;
Note: It is very import to install the paper foil in a right way; Folding in the foil will result in the printing defection; The quality of foil roll imposes a directly effect on the printing
quality and the machine life to use;
Samples for hot stamp machinery: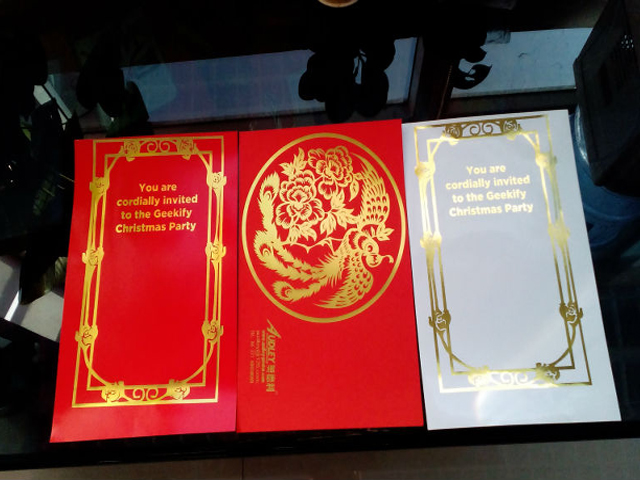 Machine in wooden case for shipping overseas:
ALL RIGHTS RESERVED by ®PENGLAI INDUSTRIAL CORPORATION LIMITED