CERTIFICATES

CONTACT US

Email:jackdu999@yahoo.com

Tel:+8675586718316
Phone:+86-15811882441
Nigerian repeat customers order bottles filling screw capping labeling semi automated line
Published by: PENGLAI INDUSTRIAL CORPORATION
Date:2018-06-22 16:52:59
Our Regular customers from Nigeria(West Africa) placed another order on Three(3*) pcs of machines: one is filling machine tabletop model YX-II-1000; the other round bottles labeling machine simple type Model YX-SL25-A; The third is model YX-SCM001 tabletop screw capping machines
For all the machines purchased it is clear to confirm all the information on the products so we often ask our customers to freight the samples to test and commission the machines in order that the machines and customer's products gains the best compatibility and adaptability.
After getting the confirmation &samples of the product in sizes and drawing for manufacturing the filling+capping+labeling machines
we spent only 7days finishing everything and made the machines ready after testing them in a satisfactory feedback.
Recently our customers sent us the positive commentar on the machines which keep running very well in their factory ever since the machines arrived their factory.
The machines was shipped via courier to Nigeria Lagos . The documentaries certificated with ISO&CO&CE together with other files necessory are sent via DHL to customer for assisting customers to clear the custom.

As below there listed the basic information on the successful transaction between PENGLAI and their African counterpart:

Purchased order issued from Nigerian customer:


Samples sent from customers in West Africa


Bank copy of Down&balance payment for purchasing filling capping labeling machines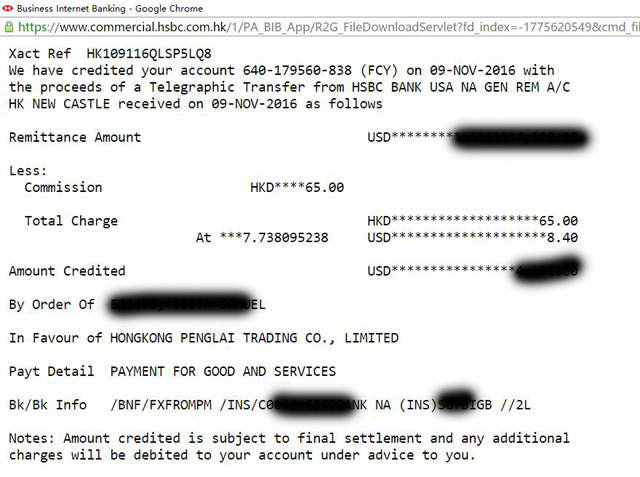 Testing videos on filling labeling capping machines

Wooden case packing of filling-capping-labelling machines.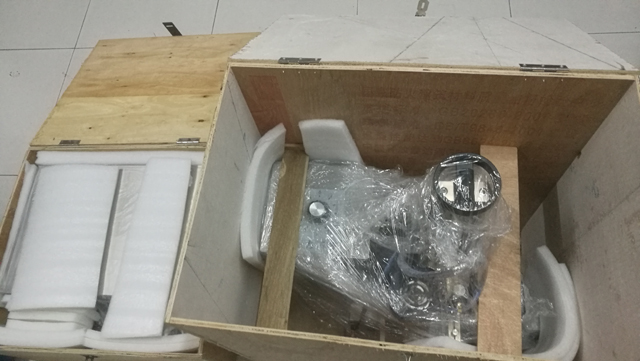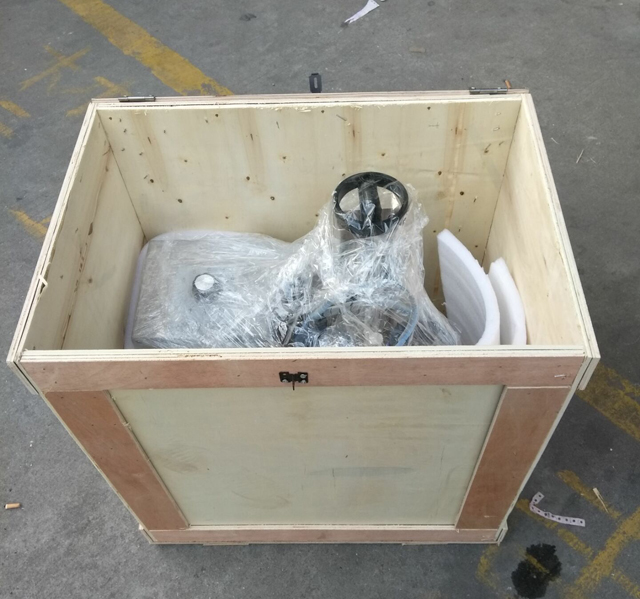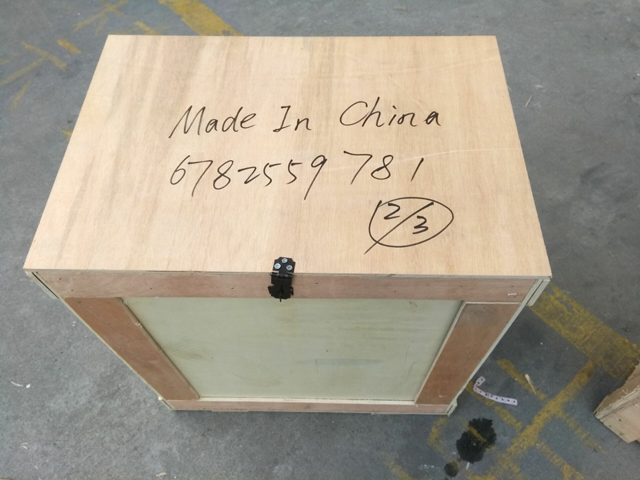 As follow there given the description on the machines purchased respectively
Introduction on model YX-II double heads liquid filling machine magnetic pump filler :
1)The gear pump is drived by magnetic power,the pump head and the motor is connectedWithout shaft.So there's no need to worry about the burnout of the motor because of the high load of the pump.
2)Pump head and motor is imported from Japan,other components are manufactured in Taiwan,the function is steady and useful life is long.
3)Pumper head is made from 316L stainless steel,acid alkaline, corrosion-resistant.
4)The motor run is adjusted by potentiometer,the degree of accuracy of filling time can be lower to 0.01 second,so that can guarantee the filling accurately,the deviation is under 2%.
5)Filling capacity is from 5ml-any volume according to your need.
6)Fully functional,can be operated by hand,intermittent pedal filling,automatic intermittent filling.Intermittent time can be adjusted.
7)Wide application,almost can be used to filling any flow liquid,especially suitable for oil,washing fluid,Acid base solution,,High corrosion resistance liquid.
Main Parameter of model YX-II liquid filling machine double heads liquid filler magnetic pump:
| | | | |
| --- | --- | --- | --- |
| Voltage | 220V 50/60Hz | Cooling Mode | Air cooled |
| Power | 80W | Max capacity | Unlimited for water |
| Deviation | ±2% | Machine Size | 450X420X300MM |
| Weight | 46KG | Capacity/min*nozzle | 2L/min*nozzle |
Features of Model YX-II liquid filling machine semi automatic:
1)micro-computer control system,digital display
2)Magnetic Gear Pump
3)Automatic and manual both accepted
4)316L stainless steel,High corrosion resistance
5)double heads
Application of liquid filling machine magnetic pump filler semi automatic:
1) can fill oil, juice, perfume, ink, water, etc for all containers such as bottles, jars, cans, etc
2) Widely used in cosmetic, drinks, chemical, medical, food industry etc, which can highly improve productivity and product quality.
Warranty :
One Year Warranty , Permanent Technical Service
Packaging including:
a) main machine x 1pcs
b) silicon pipe x 2meters
c) glass value x 2pcs
d) fuse x 1pcs
e) one-off injector x 1pcs
f) user manual x 1pcs
g) quality card x 1pcs
Desktop screw capping machine model YX-SCM001
The model YX-SCM001 desktop screw capping machine is suitable for the cap screwing of different shapes of bottles in the industries of foodstuff, pharmaceuticals,
daily chemical, pesticide and cosmetics etc. Its four adjustable speed motors are used respectively for cap supplying, bottle clamping, delivering and cap screwing.
It is characterized by high level of automation, outstanding stability, easy adjustment, no need of spare parts for replacing bottle types or caps, which can be done only by adjusting.
¢ñ. Desktop Screw Capping Machine Function: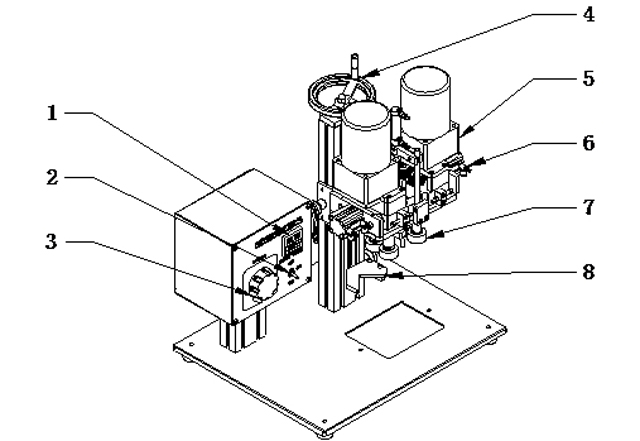 1.Control panel 2.Power switch 3.Torque regulator 4.up and down adjustment 5.capping motor 6.cylinder 7.capping head 8.position withstand
¢ò£ºMain technical parameters:
1. Power Voltage£ºAC220£¯50Hz
2. Cap Diameter£º¡é16-¡é45MM
3. Capping speed£º20-50PCS£¯min
4. Applied bottle height£º40-330MM
5. Air compressure£º0.2-0.6Kgf£¯cm
6. Weight£º25Kg
7. Size£º48(L)£Ø40(W)£Ø60(H)CM
¢ó£ºOperation Precautions:
1. Before using, add ISOVG32 pneumatic gas oil or equivalent oil on the gas source processor.
2. To adjust the capping head according to the bottle height.
3. To adjust the cap size, according to the bottle cap, two sides adjust at the same time.
4. To adjust the position withstand, let the bottle mouth under the center of the capping head.
5. To adjust the Torque regulator meet capping strength.
6. Switch on the power, open the hand sliding switch for gas.
7. Control valve operation, first to pull up the adjustment switch can adjust the air pressure.
8. Manual operation, to connect the food stamp switch under the electric box. Note: To be sure the manual/ automatic button on the red light position.
¢ô£ºTrouble treatment method
1. Machine cannot open, check if it is supply AC220V power or power is damage, transformer burn off, change a new one.
2. Cannot work automatic, manual/automatic doesn't switch, or not open start button, or the wire board in trouble, electromagnetic valve cause it.
3. Motor does not move, torque adjustment switch broken or transformer, capping motor, capping motor start button in trouble.
4. Capping lose or not tight, adjust the torque regulator.¡£
5. Capping motor does not move, check if the power, or electromagnetic valve, wire board in trouble.
6. Cap press cylinder does not move, check if the power, or electromagnetic valve, wire board in trouble.
¢õ£ºOperation panel function:

1. Torsion Force Adjustment
2. Capping pause interval tine display
3. Lock cap time display
4. Automatic
5. Stop
6. Manual
¢ö£ºSystem maintenance
1. Before or after opening the machine, keep the machine inside and outside clean, to make sure the machine normal movement.
2. In the morning and afternoon, check all screw of the machine, sure no loose, if find, tightening it with tool.
3. Keep other products away from the machine, to avoid stop the machine move.
4. Out of work time, turn off the power to avoid other trouble.
Model YX-SL25-A round bottles labeling machine semi automatic

The labeling machine is specially designed for various shapes of objects in whole-round or semi-round labeling.The labels distance can be adjusted by either positioning setting or date coding system;
The machine can be optional with the printing of expiry date. The labeling accuracy is ±0.5mm.
Application¡ô Suitable for all kinds of cylindrical objects labeling, small taper round bottle labeling, such as xylitol, cosmetics round bottles, wine bottles and so on.
Can achieve full week / half weeks labeling, front and back labeling circumference, is back mark pitch can be adjusted. Widely used in food, cosmetics, chemical, pharmaceutical and other industries.
Basic parameter of model YX-SL25-A labeling machine
| | |
| --- | --- |
| Labels sizes | £¨L£©15mm¡«380mm;(W) 10mm¡«180mm; |
| Applicable products | φ15mm¡«φ160mm |
| Rolls of labels | OD£º≤φ250mm£»ID£ºφ76mm |
| Labeling Speed | Labels speed£º8m/Min£»speed£º20¡«40Pcs/Min |
| Labeling accuracy | ±0.5mm |
| Air pressure | 0.4~0.7MPA |
| Weight | 42kg |
| Power Supply&power consumption | Voltage£º220VAC Frequency£º50Hz Power£º250w |
| Size of machine | (L)920×(W)420×(H)500 mm |
1.labels putting; 2. labels rolling ; 3.Sensor support; 4.Sensor; 5. Sudden stop; 6. HMI;

7.Pressing system; 8.Electric boxes; 9.Star Wheel; 10.Food Pedal; 11.tracting system;

12.Labels wrapping; 13.Labeling support; 14.Position-fixed part; 15.Peeling components;

16.tracting motor; 17.coding adjusted part(optional); 18.Printing reserving hole; 19.Printer support;

20.Date coding(optional); 21.label-pressing components; 22.Plate support; 23.automatic pressing;

24.Positioning components; 25.sensor for detecting bottles; 26.Calibration components;
Optional devices on labeling machinery: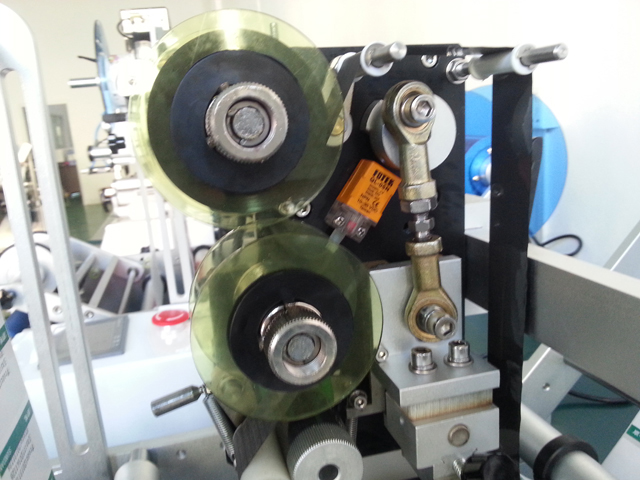 Reader£ºRead the bar codes in various kinds ¡£
Electric light sensor£ºThe common sensor cannot detect the transparent label,which requires the light sensor device imported from Germany.
Printing machine£ºprinting the texts on the label
Date coding£ºHot coding for shelf date,products series etc¡£
Bird view of whole syring labeling machine
* Core works: single standard, double standard switching function principle, the principle circumferential positioning labeling, please consult factory.
* Procedure: put the product -> Labeling (device automatically) -> Remove the labeling products.
Making of matching labels
Labeling samples for USA&EU customer:

Wooden case packing for labeling machine model YX-SL25-A
®ALL RIGHTS RESERVED by PENGLAI INDUSTRIAL CORPORATION LIMITED