CERTIFICATES

CONTACT US

Email:jackdu999@yahoo.com

Tel:+8675586718316
Phone:+86-15811882441
Myanmar customers purchased fermented tea leave filling machine single heads screw filler
Published by: PENGLAI INDUSTRIAL CORPORATION
Date:2019-06-25 10:55:38
Our Regular customers from Burma (South-eastern Asia placed another order on one(1*) pcs of machines: model YX-TF01 tea leaves filling machine
For all the machines purchased it is clear to confirm all the information on the products so we often ask our customers to freight the samples to test and commission the machines in order that the machines and customer's products gains the best compatibility and adaptability.
After getting the confirmation &samples of the product in sizes and drawing for manufacturing the model YX-TF01 tea leaves filling machine
we spent only 10 working days finishing everything and made the machines ready after testing them in a satisfactory feedback.
Recently our customers sent us the positive commentar on the machines which keep running very well in their factory ever since the machines arrived their factory.
The machines was shipped via courier to Myanmar . The documentaries certificated with ISO&CO&CE together with other files necessory are sent via DHL to customer for assisting customers to clear the custom.

As below there listed the basic information on the successful transaction between PENGLAI and their Myanmar counterpart:

Purchased order issued from Burma customer:


Samples sent from customers in South-eastern Asia


Bank copy of Down&balance payment for purchasing model YX-TF01 tea leaves filler


Testing videos on filling termented tea leaves machine model YX-TF01 single head filler:

Wooden case packing of model YX-TF01 filling machine semi automatic:
As follow there given the description on the machines purchased respectively
* Must read before first use *
1: Before the machine is plugged in, make sure the power switch is in the ¡¾close¡¿ state, and then follow the instructions.
2: The machine should be wiped with dry cloth if it does not run for a long time, corrosive cleaning agent should not be used.
3: It is strictly prohibited to splash liquid into the electricity box of the machine, so as to avoid corrosion of internal electrical components and resulting in short circuit.
4: According to the equipment packing list, check that the equipment, material model, specification and quantity should meet the requirements of design and product standards, and have certificate of product qualification.
5: Check that the appearance of the equipment should have no deformation, damage or corrosion, the rotation of the rotating shafts should be flexible and without clighting stagnation.
6: This machine is single phase AC 220V, the power plug is flat 3 plug, which should be inserted into power socket with ground wire.
YX-TF01 tea filler basic operation
a) a screw auger is driven by a stepper motor
b) the leaves are loaded via a stainless steel hopper
c) the leaves are fed into a collector by the operation of the screw auger
d) a valve actuator opens and close a valve inside the collector
e) when the valve is open, a compression piston
pushes the fed leaves into the glass bottle
f) the compression piston effectively feeds the leaves into the glass bottle and compacts it
Drawing of filling machine model YX-TF01 Filler:

Technic parameter of Model YX-TF01 tea leaves filling machine semi automatic: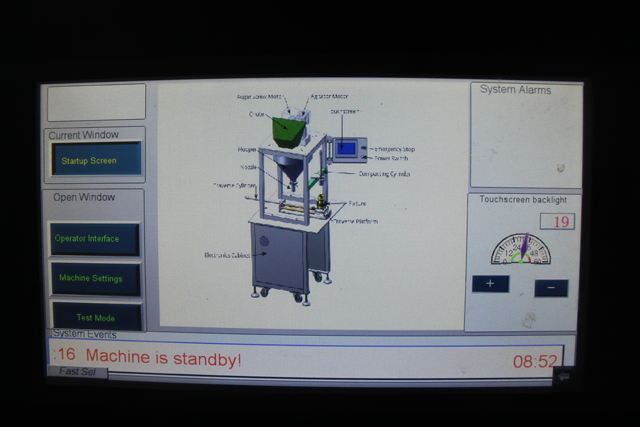 Size £º 1200mmX800mmX1300mm
Filling volume:250-300g
Filling speed£º 15pcs~25pcs/Min
Weight £º about 200kg
Filling accuracy £º 0.5~2%
Working power£º 220V
Air pressure£º 4-7kgf/cm2
Configuration of filling tea machine model YX-TF01:

Sr Name Brand Qty
1 PLC Panasonic 1
3 Step Motor JSCC 1
4 Feeding auger -- 2
8 Invertor ENC 2
10 Sensor Kenence N
11 Cabinet made of SS304,Main parts made of Alumina and Chrom-plating as well as SS304;
Wooden case packing for tea leaves filling machine:
ALL RIGHTS RESERVED by SHENZHEN PENGLAI INDUSTRIAL CORPORATION LIMITED