CERTIFICATES

CONTACT US

Email:jackdu999@yahoo.com

Tel:+8675586718316
Phone:+86-15811882441
Morroco customer for liquid filling machine small portable capping machine semi autoamtic filler capper
Published by: PENGLAI INDUSTRIAL CORPORATION
Date:2015-07-09 12:13:41
Our North African customer from Appt 26 Casablanca - Morocco recently ordered
two(2*)sets of small filling capping machine from our factory.the machines are
respectively 1set of model YX-160 numerical filling machine &the other one set of model YX-EC60 electric portable capping machine .
As below there is the basic information for this sucessful business transaction:
Payment proof for filling capping machine:
Bottles samples offered by north african customer:
Testing run of video for filling-capping semi automatic line
Packaging before DHL shipping of machines to Customer:
As below there is the basic information for these two small machine :
►filling machine digital liquid filler model YX-160:
Upgraded type Numerical digital Control Pump Liquid Filling Machine (2ML-3500ML) for lotion/ foamy equipment model YX-160
Appliance Range of small microcomputer controlled motor filling machine small liquid filler;
GFK series numerical control liquid filling machine use micro-computer to control the mini-pump on filling time and the rotatioin rate of electric motor so that the machine can fill the liquid fluently and at high accuracy,It's widely used in medical,chemistry,food,beverage,oil,and cosmetics,etc.It is suitable for filling low-viscous Liquid without pellets.

Separated with the electric motor,the pump is made of a variety of anti.corrosion imported material.There is no mechanical metal part or abrasion inside the pump.the pump can stand oil.heat.acid,alkali,abrasion and chemical products,This pump integraates the advantage of self-suck pump and chemical Pump,It can self suck,Heat protect,stable working and continuous idie or load operate for long time.
the case use stainless steel.easy to be clean.suitable for low viscous liquid like water,wine,solutions etc.
Don't suitable for very thick liquid (sauce, shampoo, detergent etc), or liquid containing small particles.


Technical Parameter of electric digital control pump liquid filling machine:
Model YX-160
Voltage: AC110v-140v for Americal and canada.or AC 180V-260V for western European or other country
Power: 30W
Filling Range: 2ml-3500ml
Max Flow Rate: 3.2L/min
Package Size: 400X380X200 (mm)
Weight: 5.5kgs
Max Suck Distance: 2meter
Anti-dripping Funtion: Available
Memory Function out of power: Available
Machine size:350*270*150mm
Diameter of Filling Nozzle,:8mm
suitable soft tube;17#(interior diameter: 6.4mm, thickness: 1.6mm, max pressure0.24Mp)
Note:The tube provided by us is silicone tube.Different liquid needs to choose different material of tube.
Characteristics of digital pump oil filling equipment model YX-160:
1. Import single-chip microcomputer control, high efficiency, low power consumption
2. Automatic counting function, effectively control filling quantiy
3. LCD display, touch screen is very easy to operate
4. High filing accuracy
5. Wide Voltage range
6. Working performance is stable and can be used for long time
7. This can self-suck the liquid.
8. The pump can stand acid and alkali
9. Anti-dripping design.
10. Reasonable design, made of stainless steel, meet GMP requirement.
Installation and operation:
Take the small filter out of the part.and install it below the feeding tube,Take the plastic filling Nozzle out and install it in the feeding tube(Notice the triangel head connects the discharge tube),Take out the filling-heat stand and install it on the left of the machine as shows, put the filling head in the clip and tighten it by socket wrench,Connect the pedal switch with machine,and put the tube with filter below the liquid level inside the storeage tank, the position of tank should be lower than the machine,start to test the machine after all is ready.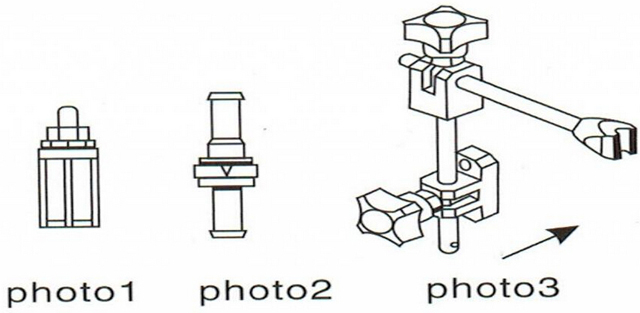 Turn on:
Switch on the mahcine,the LCD screen will show welcome words and the machine will be under standby status after 3 seconds,As photo4 shows,the screen shows filling quantity at the top left corner,filling speed at bottom left corner,once filling time at the top right corner,interval time at bottom right corner.
Adjustment;
when the machine on the condition of power on.you can ajust the parameter after press the key of on/off to make the machine under pause status.
Measurement proofreading;
This procedure is to check out if there is water coming out from the nozzle. By adjusting the filling time and speed to meet the requirement. The normal work can be carried out after the measurement proofreading is done.
Detailed pictures on Digital filling machine model YX-160 as below:
Front pictures of small filling machine
Bird view of digital filling equipments
Stainless steel parts for filling nozzles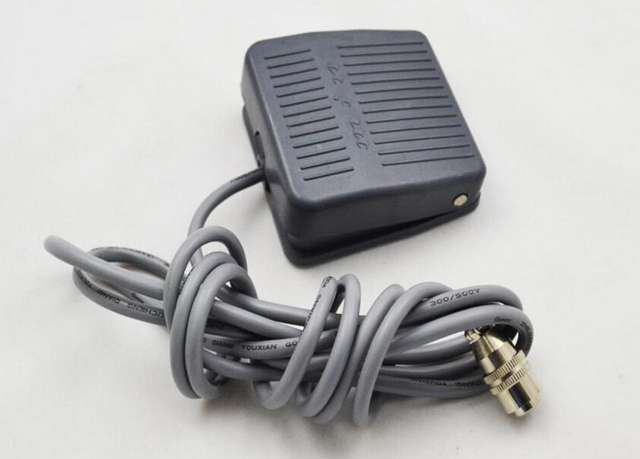 Pedal switch for controlling the filling process
Items units include:
►Portable capping machine model YX-EC60:
Hand-held electric Capping Machine easy to carry, can be easily used to tighten loose, or spin a variety of caps. The adjustable clutch can effectively avoid the cap damage and reduce the wear and tear inside the plug. Once the cap is fully tightened, the machine automatically stop rotating head that you can cap the next operation.
The capping machine include: host, aluminum capping head and buffer.
OPERATION on handheld capper equipment semi automatic:
Put Chuck onto the Cap to be tightened
Push down switch to active the Capper
The Capper starts and tightens the cap
The Capper automatically shuts off while reaching the pre set torque
SPECIFICATION of model YX-EC60 Handheld electric capping machine:
Power Supply

220V/60HZ

Chuck Size Available

10-20 MM

20-30 MM

30-40 MM

40-50 MM

Standard Units

Chuck x 2

Hand Tool x1

Spring Balancer x1

Rubber insert x4
Voltage:AC220V/50HZ/60HZ
Reactive rate(W):80
Work:electric capping
Type:Manual
Case:plastic material
Production capacity:(times/min),depending on the worker,s operation.
Applicable bottles of high:(mm):random
The size(cm):7(seven)by 30
how-to about Handheld capping machine
Operating Procedures:
(1) Directly plug in the 220V's 3-outlet power socket that connects with ground wire.
(2) Place the reversible switch to the required position (downward is forward rotation, upward is backward rotation, middle is for neutral).
(3) Insert the screw capping head into the main bearing mouth, and push it into the right place by positioning to the U-slot.
(4) Moving the moment adjusting collar to the required place(the moment increases in clockwise, otherwise decrease).
(5) Accurately position the screw capping caps to the screw and press the pressure lever switch, it will start.
Matters Need Attention
(1) This instrument must be used under a circuit that having a ground line.
(2) This instrument cannot be used in wet, corrosive and high-density dust atmosphere.
(3) To protect the breadboard and the electric motor, you cannot change the reversible switch that in operation. Or it will shorten the device lifetime.
(4) You should not dissemble the instrument in case of its failure within the warranty time, what is suggested is to take it to the appointed maintenance station, or you will take the consequences by yourself.
Express delivery:
We will ship the goods by express to you by DHL/Fedex/EMS express. within one days and e-mail to tracking numble immedicately.Shipping time: 5-8 working days will be arrival depend on location.
warranty:
We offer 12 months warranty. Within warranty period, all exchanges or repairment due to defects are free (Buyer is responsible for shipping charges).
International Buyers.Please Note:
a)we will specify low product value in the shipping invoice so that there maybe no import taxes or just very little.
b) Import duties, taxes and charges are not included in the item price
or shipping charges. These charges are the buyer's responsibility.
c) Please check with your country's customs office to determine what these additional costs will be prior to bidding/buying.