CERTIFICATES

CONTACT US

Email:jackdu999@yahoo.com

Tel:+8675586718316
Phone:+86-15811882441
Mexican regular buyer ordered one head 5gallon water based emulsion bucket filling machine
Published by: PENGLAI INDUSTRIAL CORPORATION
Date:2022-04-18 14:15:49
Ourcustomers from Mexico (Mid-America) placed the new order on one(1*) pc of machines: Model YX-FM20L-01 Water based emulsion filling machine.
For all the machines purchased it is clear to confirm all the information on the products so we often ask our customers to freight the samples to test and commission the machines in order that the machines and customer's products gains the best compatibility and adaptability.
After getting the confirmation &samples of the product in sizes and drawing for manufacturing the filling machines
we spent only 20 working days finishing everything and made the machines ready after testing them in a satisfactory feedback.
Recently our customers sent us the positive commentar on the machines which keep running very well in their factory ever since the machines arrived their factory.
The machines was shipped via DHL courier to NUEVA YORK 4017 FRACC INDUSTRIAL LINCOLN . The documentaries certificated with ISO&CO&CE together with other files necessory are sent via DHL to customer for assisting customers to clear the custom.

As below there listed the basic information on the successful transaction between PENGLAI and their Mexican counterpart:

Purchased order issued &Key communiction points During Business Discussion:


Samples sent from customers in Mid-America


Bank copy of Down&balance payment for purchasing model YX-FM20L-01 single head filling bucket machine


Testing videos on water based emulsion filling machine single head"

Wooden case packing of Model YX-FM20L-01 Water based emulsion filling machine.


As follow there given the description on the machines purchased respectively
Work flow for bucket filling machine:
Automatic weighing filling capping line YX-FM20L working process: Put pails manually ---Conveying automatically ----Locating & Filling automatically----Put Lids automatically /automatically optional ------Lids Pressing automatically------Conveying automatically.

APPLICATION of single head filling machine:


The Automatic Filling Line is suitable for Coating, paint, ink, adhesive liquid, hardener, resins,
dyes, washing liquid, glycerine, lubricant oil, edible oil, flavors, solvents, additives, pesticide, daily chemicals, diluter liquid
and a variety flowing liquid etc.
Painting/lubricants Filling Machine 1-30kg Barrel Weighing Machine with powered conveyor
Features of filling machine::
1. Filling Method: Filling from bottom to top.
2. Control Mode: Manual setting filling way, micro switch control.
3. Conveying Mode: Roller Type Conveying without motor
4. Own digital displaying filling quantity function, can finish multi-kinds filling quantity setting.
5. Automatic peeling, based on net weight filling function.
6. Own vacuum withdrawing function to avoid anti-drip.
7. With manual & automatic micro switch control system function.
8. Dual speed control function to prevent splashing.
9. With emergent treatment to avoid misuse and protect power-off.
10. With SUS316 material of inside pipeline, which is liquid contact part.
Application of 10kg automatic big lids buckets weighing filling caps falling press capping machinery automated line:
Weighing filling machine is made based on international technique, with filling and electronic weigh, electronic displaying functions.
5. corrosive liquid.
6. It is suitable for medium bucket filling of various kinds of viscous, non-viscous, corrosive and non-corrosive liquid.
Basic parameter of liquid filling capping machinery: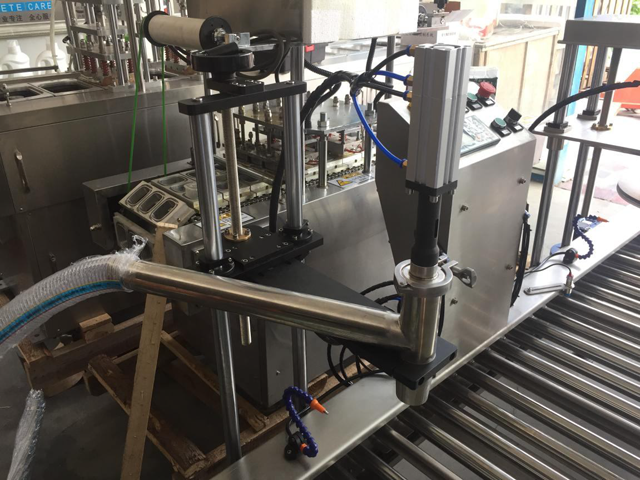 Metering of filling:weight
Accuracy:±0.2%
Weighing Range : 1-30kg
Filling Speed :80-120pcs/hour
Air consumption :1-1.6CBM/minute
Power Supply :110V 60HZ single phase(or customized as requested) 3.5kw
Dimension(mm) :1000x650x1450
Weight :80kg
Plastic pail press capping machine FC-P with powered conveyor
The lid hopper products are mainly used for open barrels, paint bucket, lubricating oil drums, drums, paint bucket, hand barrels (convenience barrels) Series: 4 liters, 5 liters, 10 liters, 12 liters, 18 liters, 20 liters Standard barrel cover essential tools. Widely used in barrels, cans, lubricants, coatings, chemicals, petroleum, grain and oil, and other liquid packaging industry essential supplies.
The capping machine is an important part of the production line, is to complete the capping of the heavy bucket, the capping machine is double gland to ensure that the gland is tight and the lid is closed after the gland. The capping machine is positioned under the gland plate. After positioning, the gland is gated and the gland is pressed and pressed.


"łProduct Series"ł
automatic press capping machine

weight:60KG
Standard size of capping head:¢ 34mm (can be customized)
capping range:1-20L
Dimensions:1000 (L) x 520 (W) x 1300 (H) (mm)
Control System:Electronic - pneumatic control
Material:Carbon steel spray frame, no motor roller conveyor
Capping:speed:(20L barrels) 120-150 barrels / hour;(4-10L barrels) 150-200 barrels / hour
ALL RIGHTS RESERVED by ®PENGLAI INDUSTRIAL CORPORATION LIMITED