CERTIFICATES

CONTACT US

Email:jackdu999@yahoo.com

Tel:+8675586718316
Phone:+86-15811882441
Saudi Arabian Regular customers bought 2lines milk powder filling sealing canning machines
Published by: PENGLAI INDUSTRIAL CORPORATION
Date:2021-12-10 12:07:34
Our Regular customers from KSA (Saudi Abaria) placed another order on two(2*) lines of canning machines which are listed as below:
►1.High speed powder filling machine model YX-PF02;
►2.Vacuum seaming machine model YX-44AA;
►3.Model YX-UT01 Sterilizing tunnel;
►4.Nitrogen gas flushing generator system;
►5.Optional equipment Spoon dropping feeder:
►6.Cans turntable
For all the machines purchased it is clear to confirm all the information on the products so we often ask our customers to freight the samples to test and commission the machines in order that the machines and customer's products gains the best compatibility and adaptability.
After getting the confirmation &samples of the product in sizes and drawing for manufacturing the filling canning milk powder machines
we spent only 30working days finishing everything and made the machines ready after testing them in a satisfactory feedback.
Recently our customers sent us the positive commentar on the machines which keep running very well in their factory ever since the machines arrived their factory.
The machines was shipped via DHL courier to SAUDI ARABIA RIYADH 11489 P.O BOX 39884 . The documentaries certificated with ISO&CO&CE together with other files necessory are sent via DHL to customer for assisting customers to clear the custom.

As below there listed the basic information on the successful transaction between PENGLAI and their KSA counterpart:

Purchased order issued &Key communiction points During Business Discussion:

Samples sent from customers in Mid-east


Bank copy of Down&balance payment for purchasing filling sealing milk powder cans machine


Testing videos on automatic milk powder filling sealing machines 2lines:

►First line in 2018
►Second line in 2021


Wooden case packing of powder cans filling seaming machines.


As follow there given the description on the machines purchased respectively
Powder line drawing:
Automatic powder filling machine for milk powder cans:
This automatic powder filling machine for bottles&bags is an economic applicable automatic powder and grain filling machine, can complete locate the bottle, filling and metering automatically, It consists of a filling head, a chain plate conveyor belt and a positioning device, adopt the servo (or step) motors, PLC and touch screen control, simple operation, high stability.
To unscramble bottle machine, screw cap machine, labeling machine, etc of a complete set of filling line.Suitable for packing powder and small granular materials, such as powder, small granules drugs, veterinary medicine, glucose, seasoning, solibeverage, carbon powder, talcum powder, pesticide, etc.
Features of automatic powder filling machine:


1.All the main parts ,except the motor, are made of stainless steel,composite transparent hopper,easy to clear.
2.Adopts servo (or step) motor driven,difficult to wear out, accurate positioning,manual control and stable working performance.
3.Adopt PLC control, stable work performance, high precision
4.English and Chinese Touch screen,shows the working state, operating instructions , fault status and production statistics clearly, very easy to operate.
5.Has the record function for the powder ingredients, could be storaged for later use. At most could record 10 ingredients.
6.By replacing the screw,the machine is also workable for either powder or some small granular material
7.Installation of centrifugal device to make sure higher packing precision of some good fluidity material
8.As to powder material,can also equipped with the dust collection device to make sure good working environment.

Basic parameter of semi autoamtic powder filling machine model YX-PF02

model YX-PF02
Couting way Auger
Precision Error≤±1%
Packing speed 20-40bottles/min
Power supply 3 phase 380V 50-60Hz
Power 1.2Kw
Air pressure 5-8kg/cm3
Conveyor width 150mm
Conveyor length 220cm
Conveyor stainless steel thickness 1.5mm
Weight 220Kg
Size 2000×850×1850
Details about semi automatic powder filling packaging machines model YX-PF02
Main body of Auger filling machine semi automatic

Screw feeding system with hopper for auger filling machine model YX-PF02

Coneyor belt for delivery the bottles or bags after powder filling

Configuraiton of powder filling machine:

Line Part Name Country of Origin
1 PLC FATEK(Taiwan)
2 Cylinder AirTAC (Twaiwan)
3 Servo motor£¨servo system£© Jin-bei£¨China£©
4 Servo driver£¨servo system£© Jin-bei£¨China£©
5 Reduction gearbox Delta(Taiwan)
6 Touch screen WEINVIEW(Taiwan)
7 Solenoid Valve SHAKO (Taiwan)
8 Photoelectric leuze (Germany)
10 Contact parts 304LStainless
11 relay OMRON(Japan)
12 Electronic components Schneider (France)

Machines together with bottles turntable

vacuum cans sealing machine with nitrogen gas flushing infilling funtion dried nuts cans tins sealing seaming equipment fully automatic

This product is suitable for all kinds of tinplate cans, aluminum cans, plastic cans and circular specifications cans vacuum first, then fill nitrogen, finally the sealing.
Quality is reliable, easyto operate and lighter, it is food, beverage, pharmaceutical and other industries essential ideal equipment.
This machine is with two pairs (four), single roll seam sealing round inflatable head automatic vacuum sealing device. Specifically for tinned,
aluminum cans of a variety of system size round shaped empty cans, paper cans cover or end real purposes. And has the seal on the tank while the vacuum suction function,
add sufficient nitrogen. To a machine. Milk and other food to be particularly suitable for encapsulating nitrogen gas filling. By replacing the corresponding pressure head molds

can form parts with different specifications can be sealed circular cans. Application scope is wide, adjust the easy to operate, use and reliable.
The machine is equipped with the following safety devices to ensure the safe operation of equipment.
1, the lid combination control device: When the body into the tank when the lid was allocated accordingly, no tank no cover.
2, "Volume without cover letters": When mistakes do not ration into the lid of the tank body, they can be passed seaming bodies
Cans will not bite as well as damage to the paper punch die seal body parts.
3, safety clutch device: When the transmission failure and overload, can interrupt transmission and stop sending tanks.
Drawing of vacuum seaming equipment with nitrogen gas flushing
THE PERFORMANCE CHARACTERISTICS 0F vacuum canning equipment model YX-44AA

1 the machine cover and main parts adopt SUS304 stainless steel production;
2. the vaouum system of seal materials are silica gel;
3. Tank lid from spreading devioe: when the body enters to the corresponding
Rationing tank cover,no tanks, no oover;
4. this machine automation control, using the panasonic brand of programmable
controller, parameters can be set on the touch screen;
5. all pneumatic components and solenoid valve adopt Taiwan's"guest" brand;
6.with high precision digital display pressure sensor detection of vacuum pressure;
7. Vacuum with German vacuum pump;
8. the whole process are conducted in a sealed interior.

Basic parameter of model YX-44AA cans sealing machine

Size:1950×800×1800
Weight:750kg
Supply power : AC380V 50Hz 4kW
Power:13A
Canning speed:7.5cans per min
Cans height:100¡«190mm
Cans diameter:99¡«127mm
Air compressor: ≥0.6MPa
Air comsumption: 150L/min
Nitrogen gas pressure:≥0.4MPa
Nitrogen consumption:50L/min
Noise: ≤ 80dB Vacuum power:-0.09Mpa
oxygen residue less than 1%

Configuration of model YX-44AA vacuum seaming equipment:
Name Components Brand Country
vacuum canning machine
model YX-44AA HMI MCGS

PLC Panasonic Japan
Photoelectric sensor Panasonic Japan
pressure sensor Panasonic Japan
Switch Power Ming Well Taiwan
Relay Omron Japan
Cylinder AirTac Taiwan
Selenoid AirTac Taiwan
Contactor Zhengtai China
Canning motor China
Conveyor Motor China
Vacuum MOtor Haokaodo Deutschland
Stainless steel SS304 Baosteel China
Filter China
Vacuum valve Haokaido Germany
conveyor belt and guide bar Shanghai Baosteel China
Auxiliary equipment for milk powder filling canning line:
Air storage tank 10P HP air compressor&air filter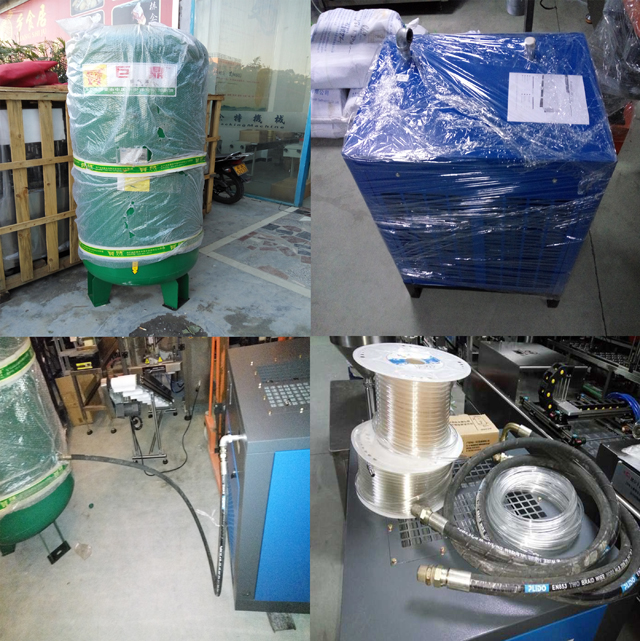 Nitrogen Generator for can seamer
Rotary Bottles In-Feed /Collection Turntable
Model:YX-BS12



Main Technical specifications


Applicable specifications 20-1000 ml
Bottle diameter φ 10-φ80 mm
The bottle height 85-300 mm
Production capacity 0-100 BPM (speed adjustable)
Voltage 220 v50hz
Power 0.5 kw
Weight 100kg
Machine size 1300*1000*1300mm
Stainless steel SUS304 material
Major Characteristics:


UV sterilizer tunnel
Model YX-UT01 UV sterilizer tunnel

This machine is mainly used in the pharmaceutical industry for ampoules,oral liquid bottles and vial bottles,glass bottles sterilizing.
This machine complete the whole procedure of bottle feeding, preheationg sterilizing, cooling and bottle outleting automatically
Use the laminar flow principle and hot air high-speed disinfection technology, which can make the container in the sealed tunnel achieve the national cleanliness class A standard,
is currently the most popular , best drying and sterilizing deffect equipment, even heat distribution and good depyrogenating.
The unit can be used as a single machineor be combined into a production line with the front bottle washing machine and the behind filling machine.
Parameter of Ultraviolet sterilizing tunnel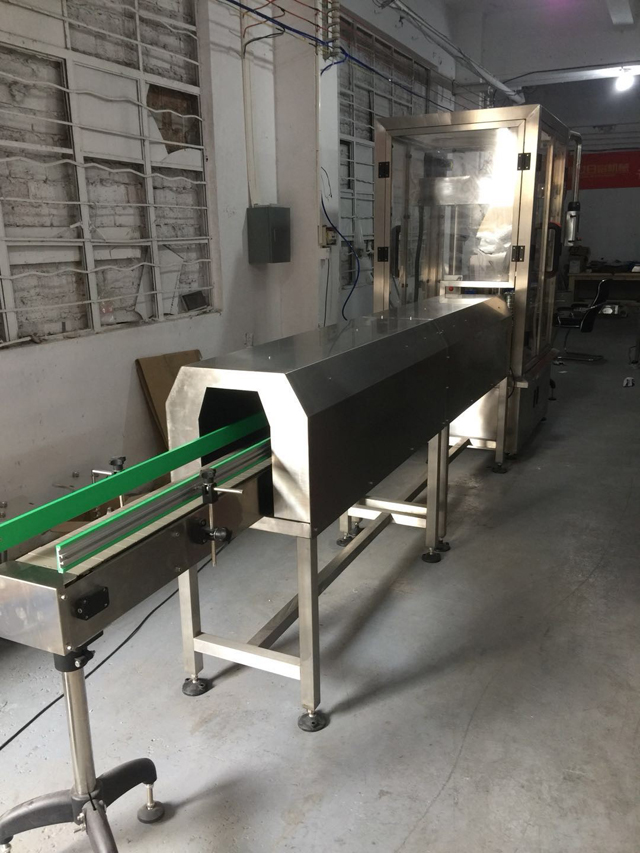 Model YX-UT01
Conveying Speed 10M/min
Power Supply 3P 208-415V 50/60HZ
UV light Power 0.96KW
Chain conveyor Power 0.55KW
Total Weight 200KGS
Overall size 3200*400*1150MM
Rotary type sterilizing tunnel
Speed 20-45cans per minute
Cans size cans diameter φ73-φ127mm
cans height 80-200mm
Power supply Three phases 380V 50HZ
Power consumption 1.1KW
Weight 250kg
Szie 2500(L)×1510(W)×2435(H)mm

After-sale service for milk powder canning line:


Guarantee: for all the machine, it claims one year for guarantee.(Excluded from the warranty are problems due to accidents, misuse , misapplication, storage damage, negligence, or modification to the Equipment or its components.
ALSO THE EASY BROKEN SPARE PART IS NOT INCLUDED IN THE GUARANTEE)
Installation: after the machine arrive your factory,if you need,our technician will go to your place to install and test the machine and also training your worker to operating the machine (The time of train depend on you worker).
The expenses (air ticket ,food , hotel,the travelling fee on your country) should be on your account and you need paid for the technician USD50 per day. also you can go to our factory to do training.
After-sale service: If you get the problem on the machine ,our technician will go to your place to fixed the machine as soon as possible. The cost should be in your account.(as above).

ALL RIGHTS RESERVED by ®PENGLAI INDUSTRIAL CORPORATION LIMITED